Advent and Christmas food in Germany have some of the nicest treats. Christmas is celebrated all over the world, and every country has their unique way of celebrating. In Germany, we have our own traditions and customs. Christmas is one of the most important families and religious holidays in Germany, and I will hope to give you an idea of how we celebrate it.
Let us find out all about German Christmas food:
What do Germans eat for Christmas?
Is there such a thing as a traditional German Christmas dinner?
How does the food on Christmas Eve differ from the food on Christmas Day?
Jump to: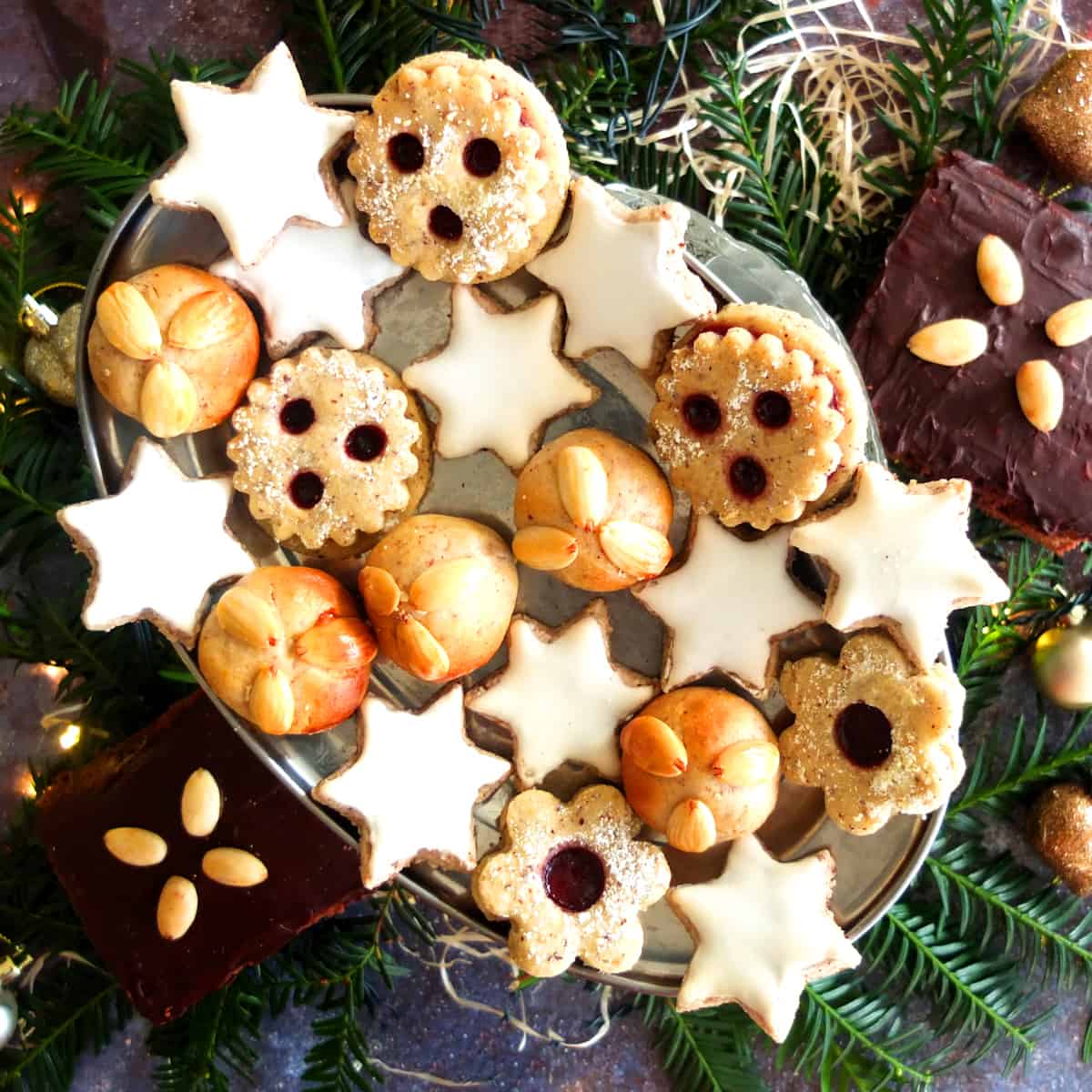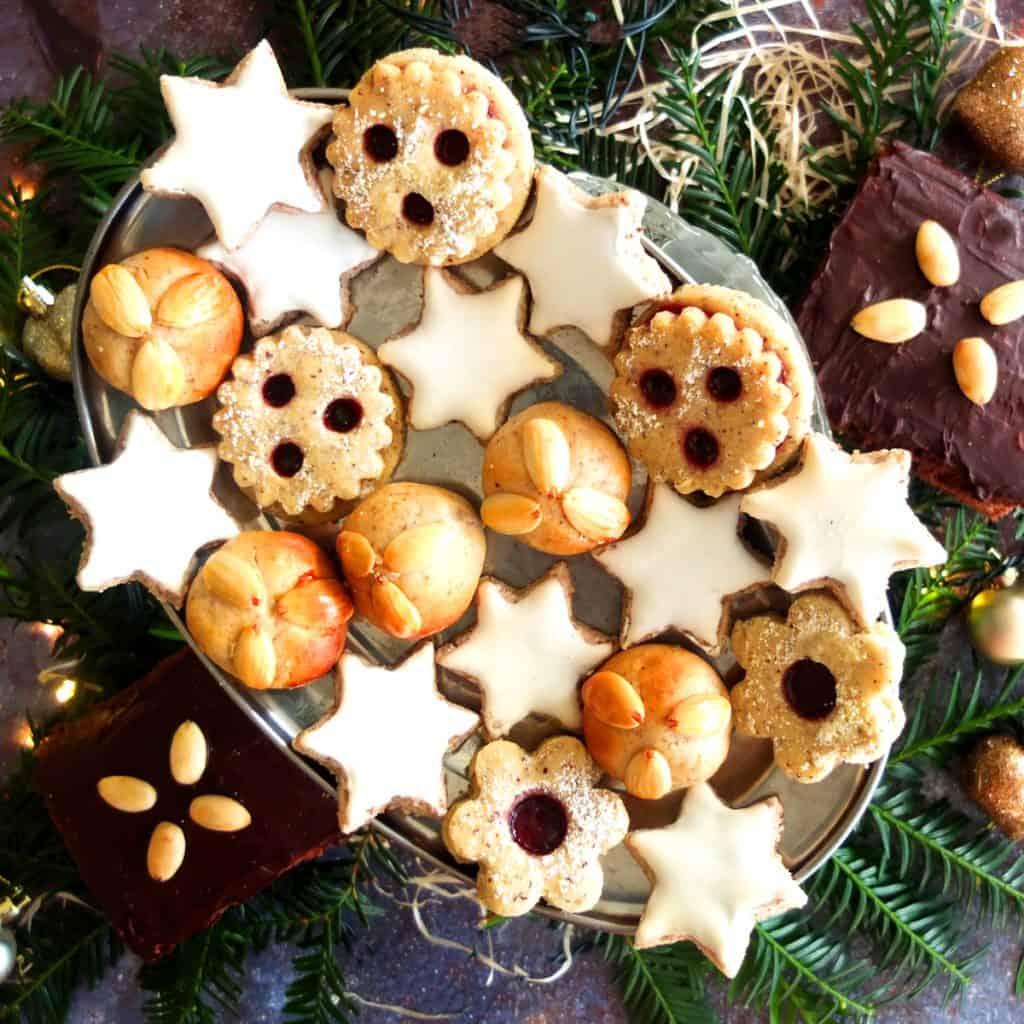 I grew up in Germany and am hoping to give you a little insight into traditional German Christmas food and drink. Of course, the experience depends much on your family. For example, we never had any extended family nearby, so we ate our big meal on the 24th and then set off for Switzerland on the 25th to go skiing. (At least the roads were empty) But this is not the average German Christmas - so I am going to present some statistics to give you a sense of the typical German Christmas food.
Not only will I give you an overview of the most common German Christmas dishes, but if possible, I will provide links to the recipes.
How do Germans celebrate Christmas?
Christmas itself is celebrated with two holidays on the 25th and 26th of December. However, the 24th of December, Christmas Eve, is also an important day (especially for the kids). This is when the baby Jesus (das Christkind) brings the presents. So we open our presents on Christmas Eve. This is unlike in the UK and USA, where Father Christmas delivers the present at night, and children open them in the morning.
Advent in Germany
The official run-up to Christmas in Germany is Advent which starts four Sundays before Christmas. An advent wreath is the centrepiece of the table and a candle is lit every Sunday to mark the approaching holiday. From the 1st December, children open a door on their advent calendar, which has a little treat for them, every day to count down to Christmas.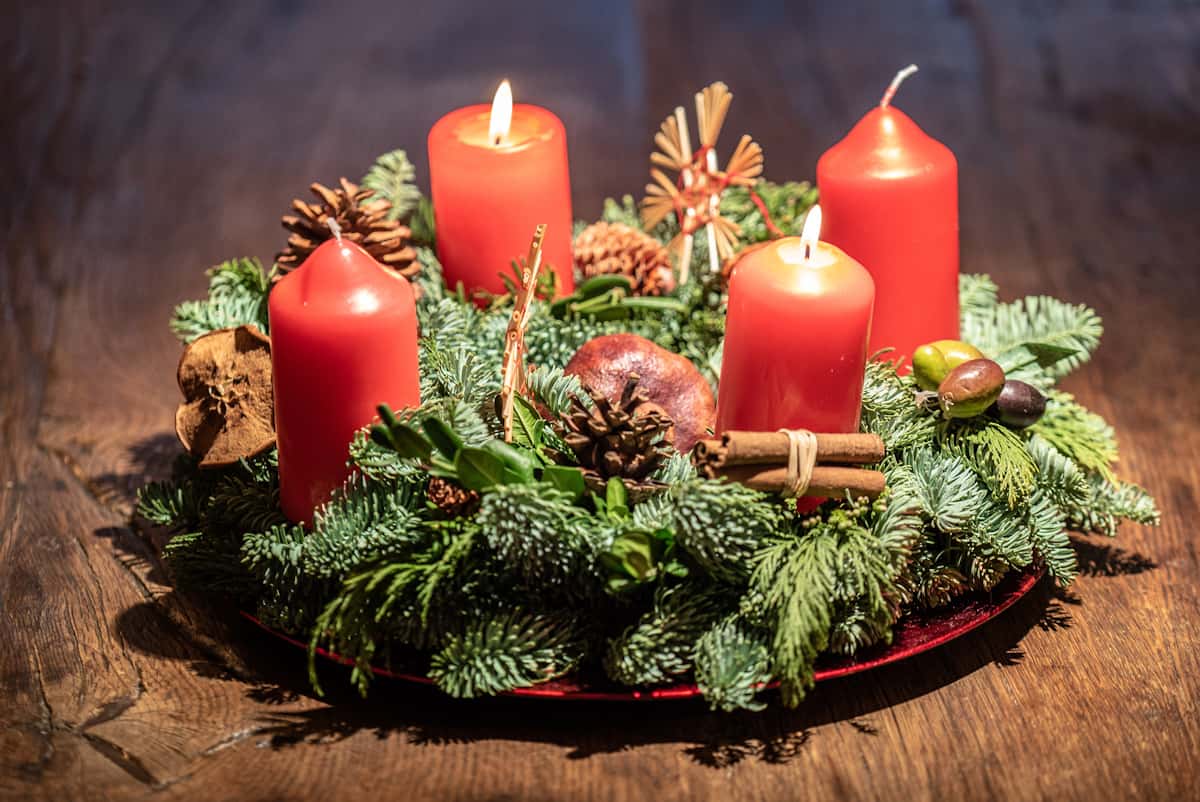 The start of Advent also usually marks the start of the Christmas festivities in Germany. In early December the oven is heated up and we start to bake all those Christmas cookies and cakes. Also, Christmas celebrations start taking place, such as Christmas markets and fairs.
On the 6th of December, we celebrate St. Nicolaus Day. Children leave their boots by the front door, and in the night St. Nicolaus fills them with fruit, nuts and chocolate. It is customary to leave a plate of Christmas cookies out for St. Nicolaus, to give him a treat on his visit. This is part of why the first week of December is usually the time the first batch of homemade Christmas cookies is made.
German Christmas Cookie Baking Tradition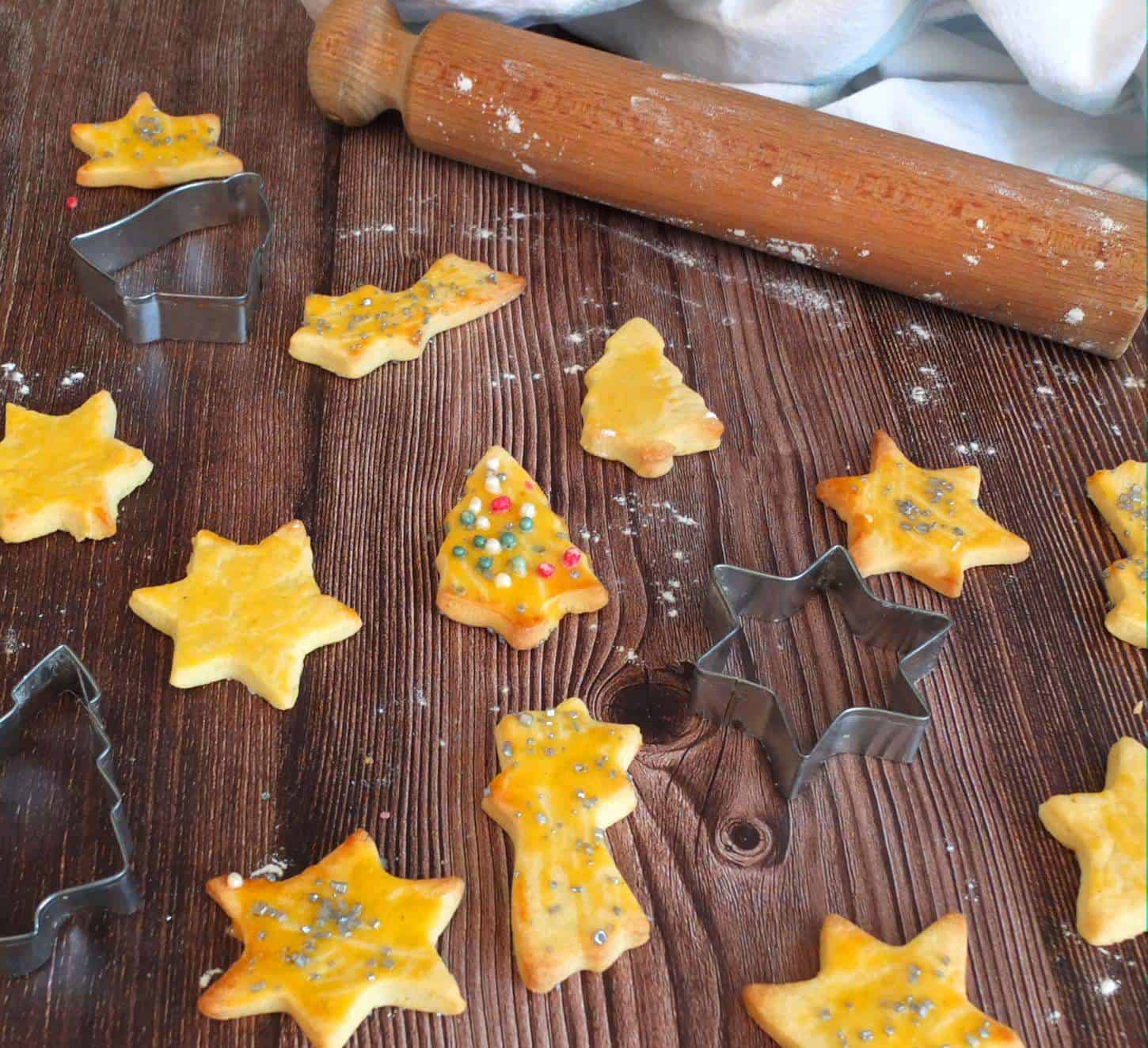 Christmas cookies (Weihnachtsplätzchen) are a much loved German Christmas tradition. The house is filled with the heady smells of cinnamon, chocolate and vanilla. Children and adults alike are busy preparing different German cookie recipes. You place the finished cookies in tins for safekeeping. However, if you have visitors during advent, then the cookie tins are being opened. You will find a Plätzchenteller (a plate full of Christmas cookies) at most German houses during advent. As a guest, you may have a choice of an array of different types of German cookies to choose from.
Weihnachtsplätzchen is, without doubt, the German Christmas snack of choice during these festive times. The more variety the better.
Here are some traditional German Christmas cookie recipes for you to try.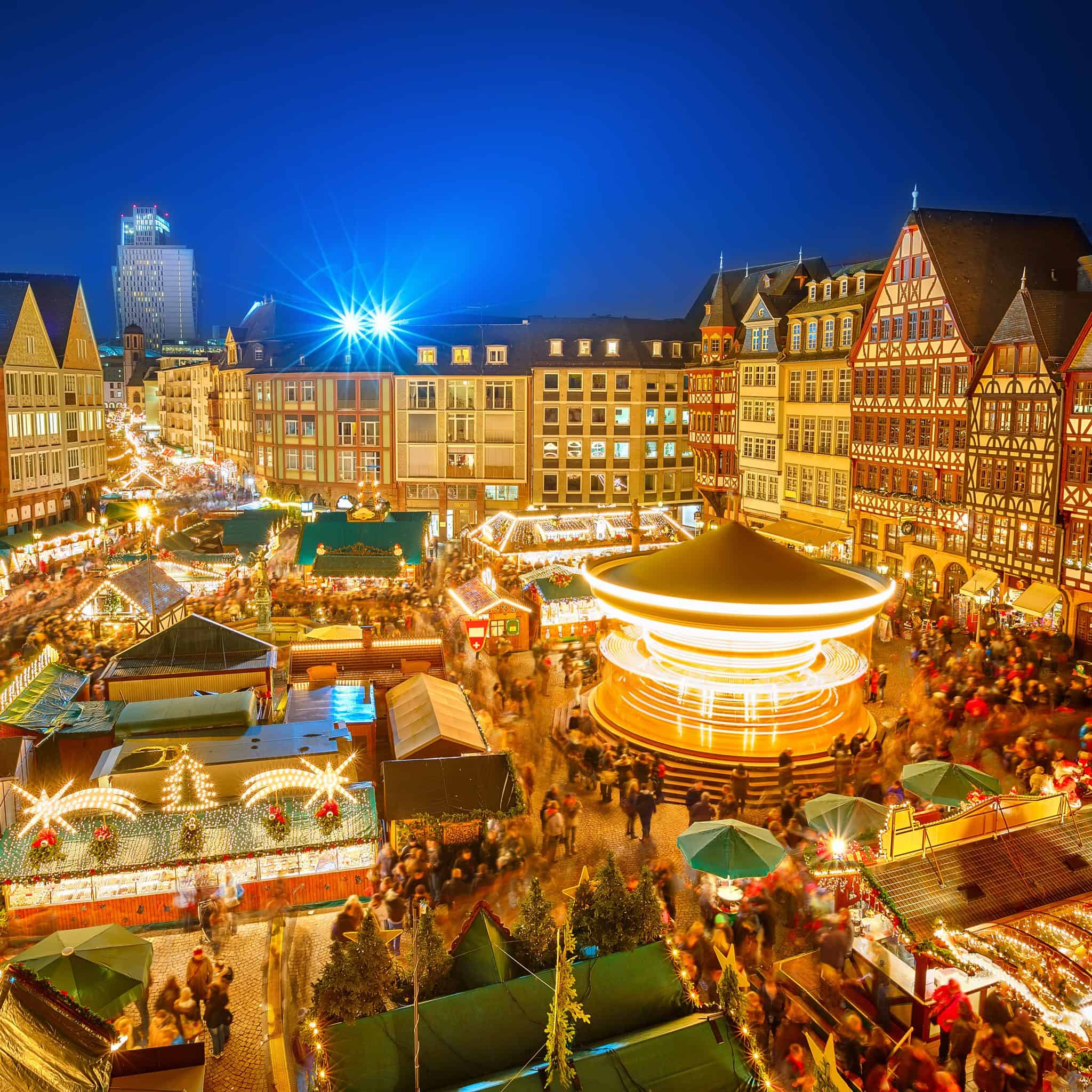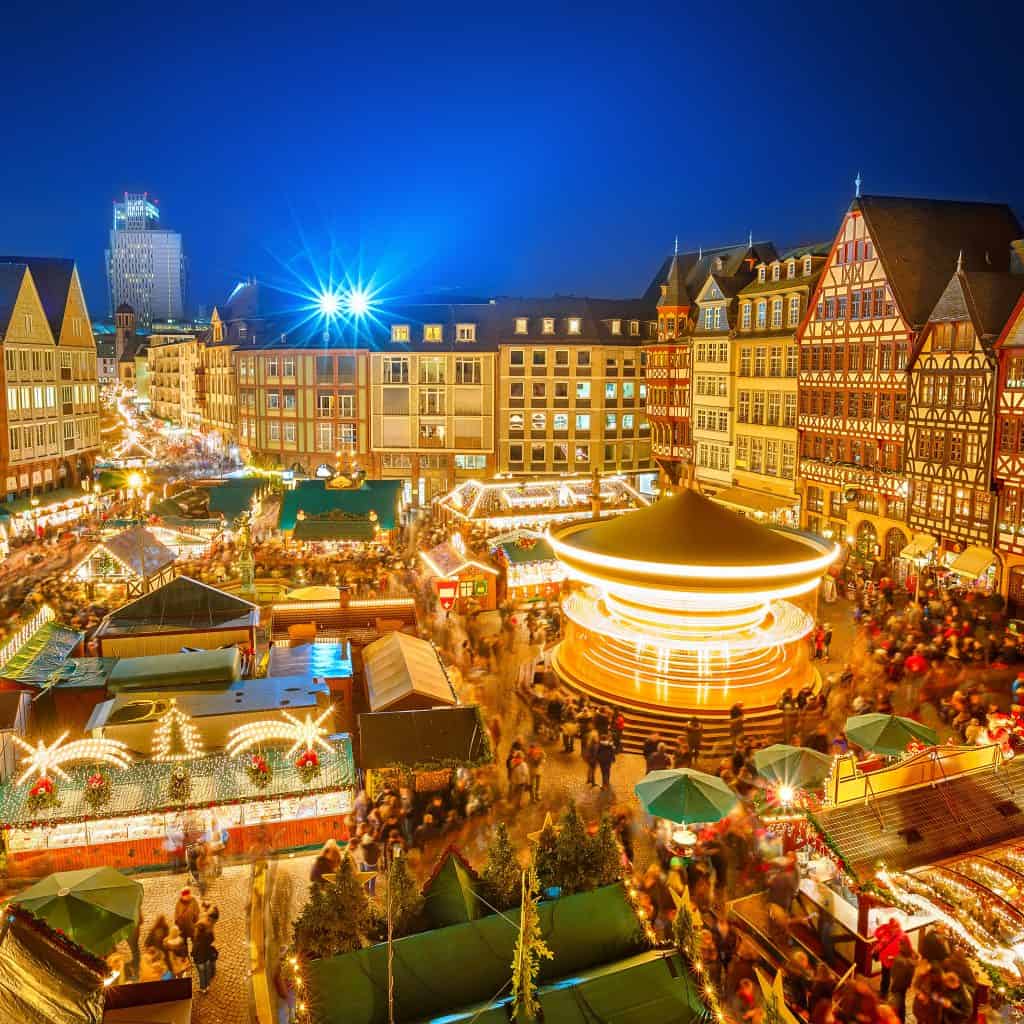 German Christmas Markets
Four to six weeks before Christmas you will also find the first Christmas markets popping up around Germany. Most towns in Germany will have their own. They used to take place before Christmas so people could prepare for winter. There they would buy meat and warm clothes for the colder season.
Today you will find plenty of traditional German market food there, such as Kartoffelpuffer, Currywurst and Waffles. It is also customary to drink warming alcoholic beverages at these markets such as Glühwein, Eierpunsch or Feuerbowle. Depending on where you visit the Christmas Market, you will also find traditional regional Christmas specialities.
The most famous Christmas markets in Germany are:
Strietzelmarkt in Dresden
Christkindlemarkt in Nurenberg
Weihnachtsmarkt Römerberg in Frankfurt
Christkindlemarkt in Munich
Weihnachtsmarkt am Dom in Cologne
Weihnachtsmarkt an der Gedächtniskirche in Berlin
Learn more about the traditional German Christmas markets food here.
German Christmas Drinks
Drinks during Christmas times are best enjoyed hot. When the weather is freezing cold, but the atmosphere is festive, you will welcome a warm Glühwein or Punch.
Glühwein is German mulled wine. It is a warm beverage made from red wine and spices. It is, without doubt, one of the most popular drinks at the Christmas market.
Another market classic is the punch drink "Feuerzangenbowle". Here a rum-soaked sugarloaf is set on fire and dripped into mulled wine.
Eierpunsch is another typical winter drink. For this drink, eggnog (Eierlikör in German) and white wine are heated and served with whipped cream.
Apart from the typical German Christmas drinks, nowadays it is also popular to have a Swedish Glögg or a hot caipirinha at the Christmas markets.
German Christmas Cakes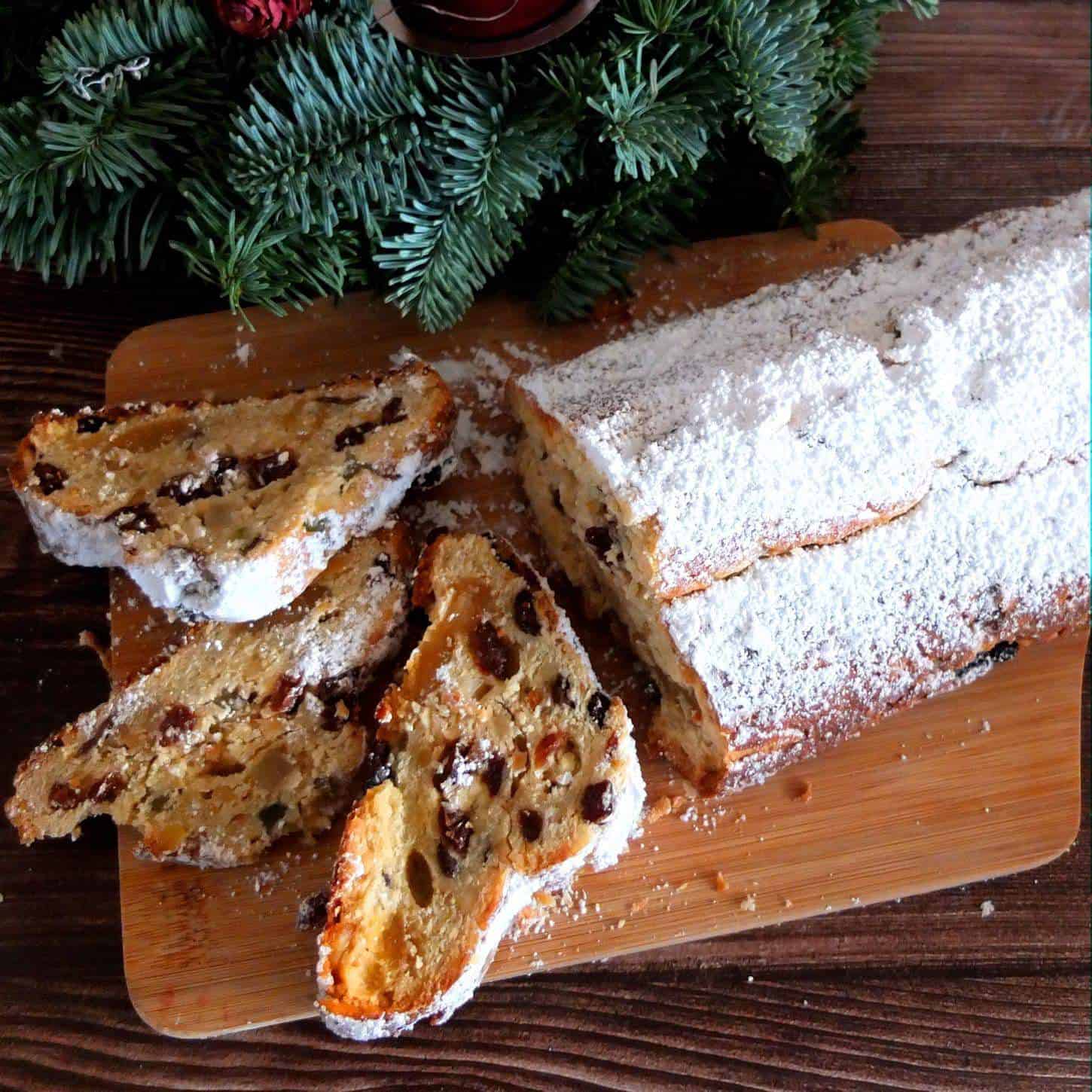 Stollen and Klaben
The most popular Christmas cakes in Germany are the Stollen and Bremer Klaben. Stollen is the more famous of the two. It is a sweet yeast cake, typically filled with marzipan, nuts and raisins. You can find it all over Germany and it is also very popular abroad.
The lesser-known sibling to Stollen is the Bremer Klaben. It does not differ too much from Stollen. Like Stollen, Klaben is a sweet yeast cake and is filled with dry fruits and nuts. The main difference is that Klaben is rectangular in shape. Stollen is more oval-shaped.
The finishing touches of Stollen are that you brush it with melted butter and then cover it with icing sugar. Klaben is served plain, but people do spread butter on it before eating it.
These German Christmas cakes take at least two weeks for the flavours to infuse so that the best time to bake these cakes are from the end of November to the beginning of December.
Lebkuchen - German Gingerbread Cakes
Another variety of traditional Christmas cakes are the German gingerbreads biscuits. You can find them in all shapes and sizes. The recipes differ between regions, so that in Bavaria the Elisen Lebkuchen from Nürenburg are very popular, whereas, in the East, the Aachener Printen are traditional. The traditional Lebkuchen are found in all shapes and forms. From cookies that are hung on the Christmas tree to s German Gingerbread Cakes (Gewürz Kuchen).
At the Christmas market, it is popular to buy a Lebkuchenherz (German Gingerbread Heart) with a funny or meaningful inscription.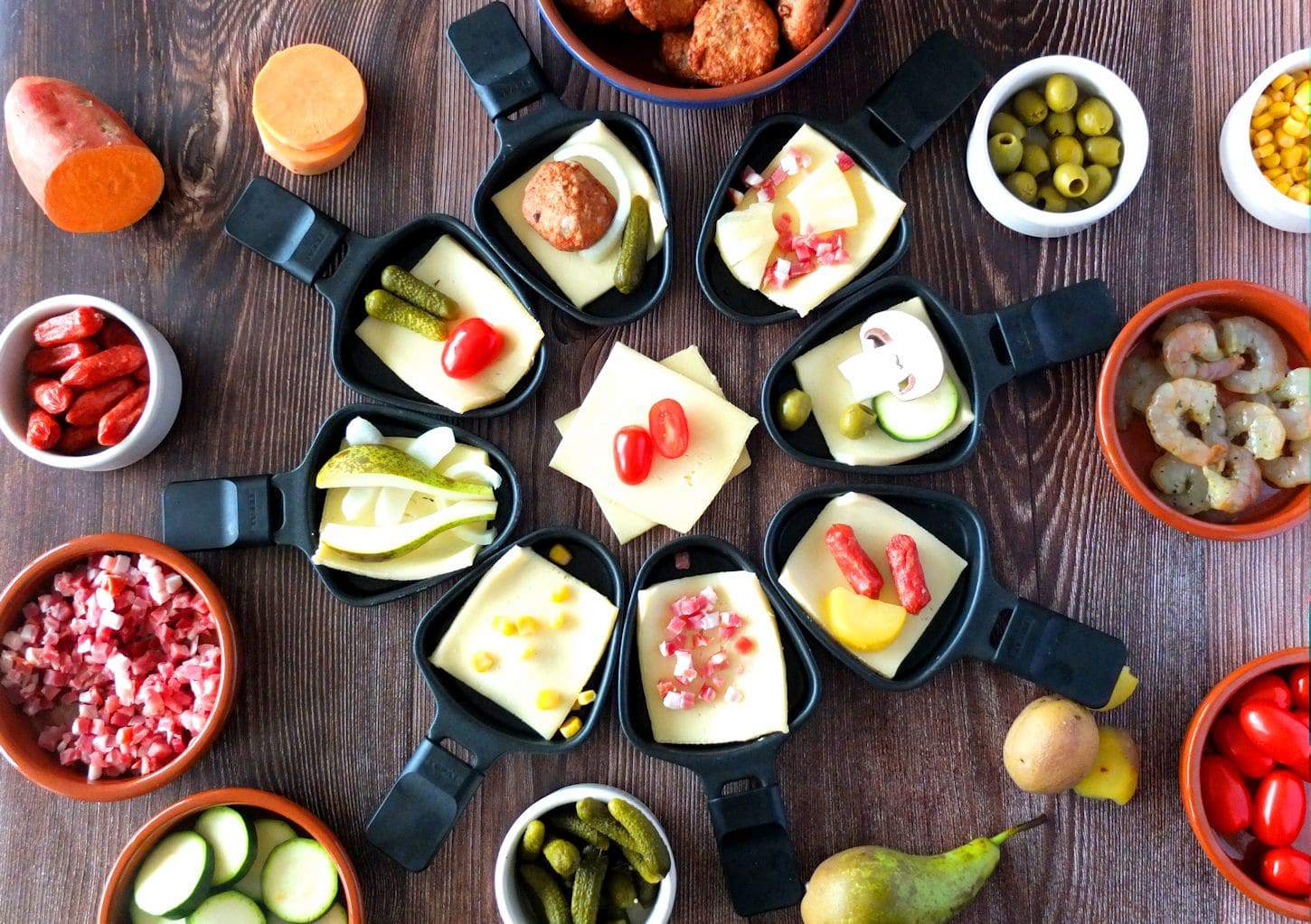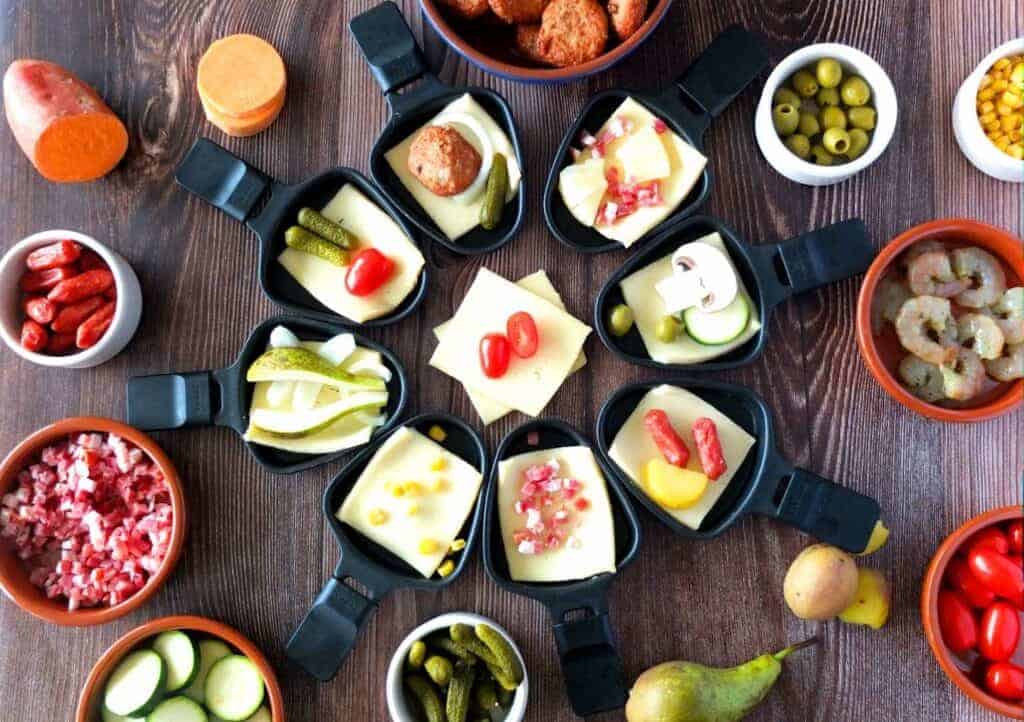 Traditional Food on Christmas Eve (Heiligabend)
There is not just one typical German Christmas dinner in Germany. The meal that is cooked on Christmas Eve depends as much on your family preferences as it does on where in Germany you live.
Until around the 1950s, you used to fast during the advent period and Christmas Eve still counted as part of the fast. It was typical to have a seafood dish, such as steamed fish or salad made from salted herrings and potatoes. In the countryside, you would bake dumplings (Rohrnudeln) and eat them with soup.
According to the survey done by the German Food Association, this is what Germans ate on Christmas eve in 2020:
Frankfurter sausages (affiliate link) and Bratwurst (affiliate link) are the Christmas sausages of choice, but these are easy to prepare and not very expensive. The traditional Christmas eve dinner in Germany is often quite humble and does not take a lot of preparation. This is because they are saving themselves for the big festive meal on Christmas Day!
Christmas Day (Erster Weihnachtstag) The Traditional German Christmas Dinner
The food on Christmas Day in Germany is the highlight for many. According to the survey of the German Food Association in 2020, this is a list of the favourite German Christmas dinners:
Roast Goose or Duck (28%)
Beef or Pork Roast (15%)
Game/ Deer/ Venison (7%)
Fondue / Raclette (5%)
Fish (4%)
Sausages with Potato Salad (2%)
Bratwurst

(affiliate link)

with Sauerkraut (1%)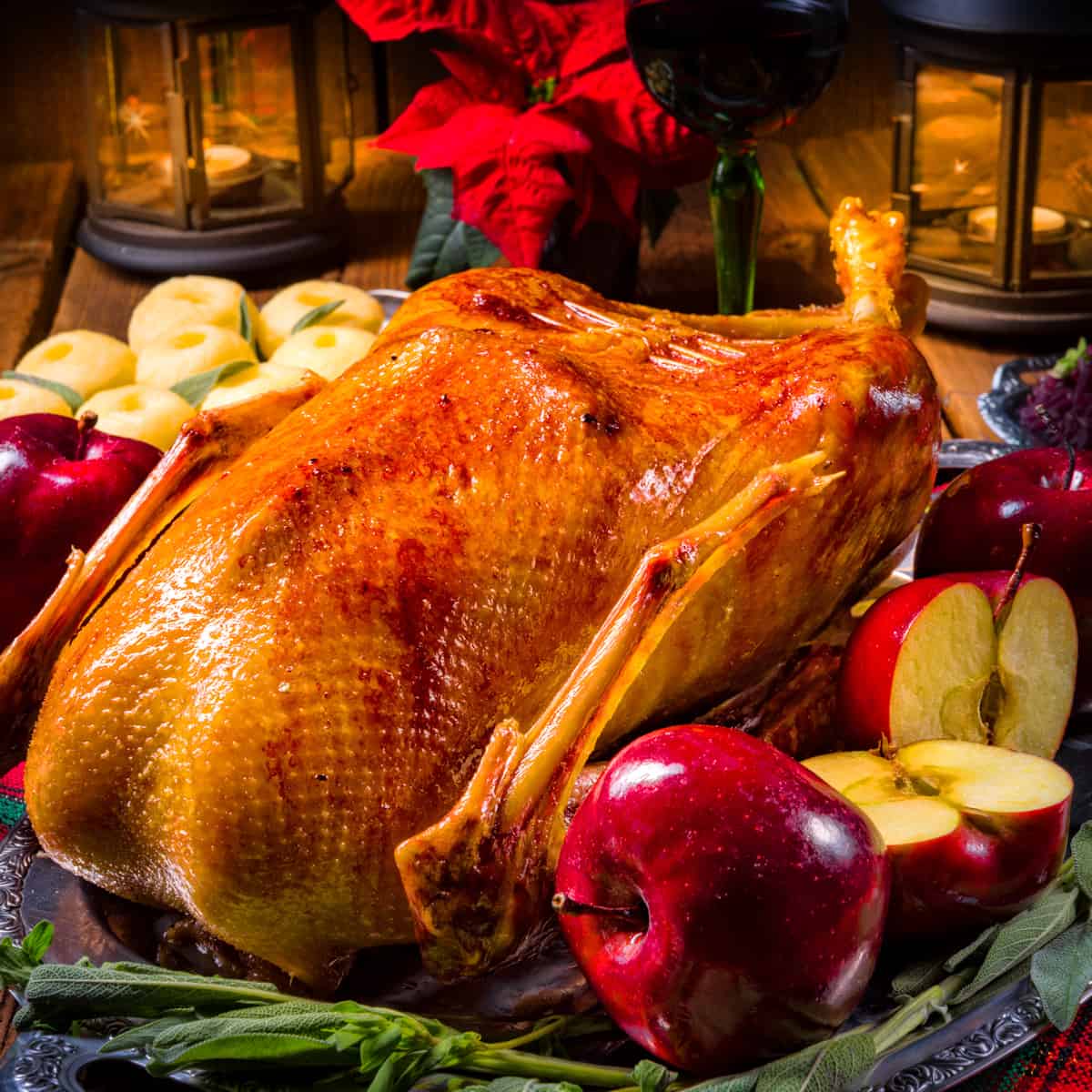 Goose is a traditional choice for the German Christmas meal. The preparations are time-intensive so this dish is normally reserved for special occasions. The traditional way to prepare your Christmas goose in Germany is to stuff the goose with apples and roast it in the oven. This dish is accompanied by potato dumplings and German red cabbage.
Other families enjoy vegetarian meals, potato salad and sausage, raclette, fish or fondue.
A typical German dessert for Christmas is Bratapfel. For this recipe you core apples, stuff them with nuts and marzipan and bake them in the oven. I think it tastes delicious with vanilla ice cream. Another popular option is creamy desserts, such as ice cream with compote, trifle or one of the German's favourites imported from Italy - tiramisu.
Example of German Christmas main courses are
Roasted Goose
Roasted Duck
Sauer Braten
Pork Roast
Christmas Side Dishes include
Potato Dumplings
Potatoes
Brussel Sprouts
German Christmas Dessert Examples
How do you celebrate Christmas with your family and in your country? Let me know in the comments.