No German culinary exploration is complete without having tried at least once the Swabian noodles called Spätzle (spelt with an "ä" instead of "ae" in German). Homemade German spaetzle are not as difficult to make as you may think. I am going to share my easy German spaetzle recipe with you. In addition, this article will explain the various types of spaetzle maker to you pointing out the advantages and disadvantages.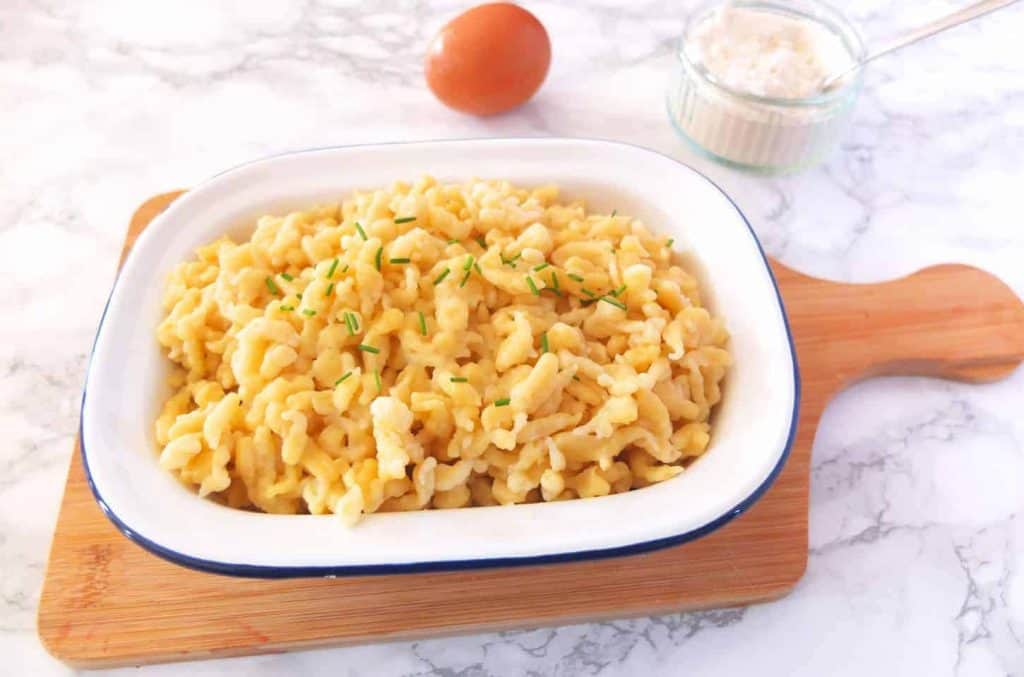 What are Spaetzle?
Spaetzle is often described in English as "German noodles", "German egg dumplings" or "German pasta". They are dumplings made from flour and a liquid (either milk or water) and served as a side with many German meals.
Are Spaetzle Pasta or Noodles?
It has always been controversial if Spaetzle can be classified as "Pasta" or "Noodles". What is not controversial is that Spaetzle is a dough product. The leading Spaetzle manufacturer Herrmann in Germany noted that the difference between pasta, noodles and Spaetzle is that Spaetzle is made from a runny dough that is added to water whereas pasta is made from harder dough that can be cut and formed. So although pasta and spaetzle may have the same ingredients, it is the difference in their quantities that distinguishes them.
Spaetzle and Knöpfle? What is the difference?
Knöpfle is a speciality from the Allgau region and is closely related to Spaetzle. They are made from the same dough (although the dough for Knöpfle is sometimes more liquid). Knpfle tends to be shorter than the longer Spaetzle. The name "Knöpfle" is derived from the German word "Knoten" (Knot). "Knöpfle means little knot.
Where do Spaetzle originate from?
Spaetzle originates from the German region of Swabia – colloquially called "'Schwabenländle', You can roughly divide the region into the Black Forest, Stuttgart, Leach and Lake Constance.
Spaetzle – origin of the name.
There are two theories of the origin of the term Spaetzle. The most popular is that Spaetzle are derived from the word Spatzen (in English Sparrow). This is because the form of the Spaetzle resembles little sparrows - one end looks like the beak of the sparrow, the other like a tail.
The second theory is that the term is derived from the Italian word "spezzato" – which means broken or chopped up.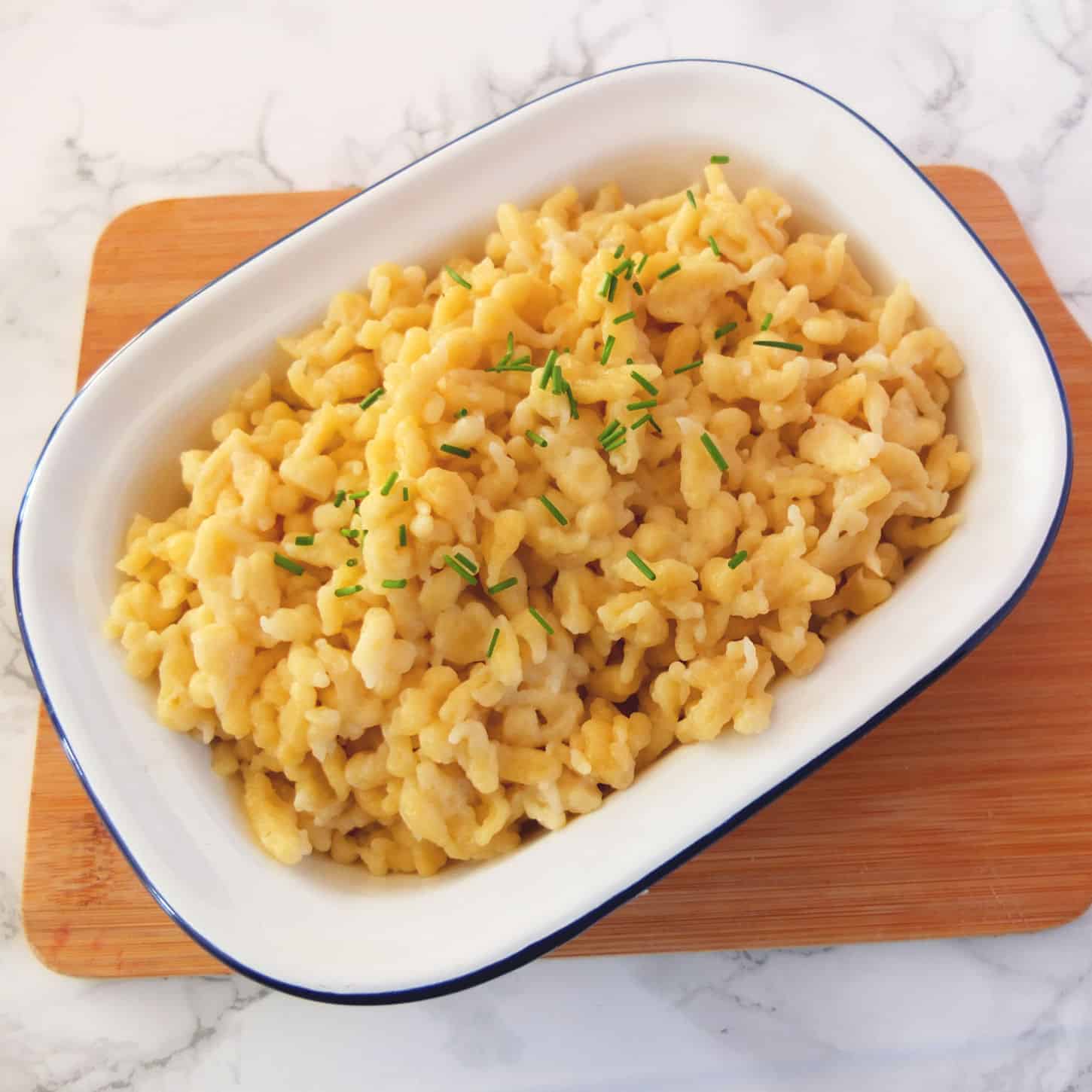 How to make Spaetzle?
There are several different recipes and methods to make Spätzle. I am going to try to outline the most popular ones to you. However, first let's start with the dough.
Basic Recipe for Spaetzle Dough
Ingridients:
Instructions to make the Spaetzle dough:
Place the flour in a large bowl and with your fingers form a little crater in the centre.
Add the eggs, milk and salt and melted butter into the crater.
Now mix everything into a liquidly, sticky dough using a hand or stand mixer.
Leave the dough to rest for about 10 minutes. This will allow for the gluten to develop.
In a large saucepan bring water to boil. Add a little salt to it.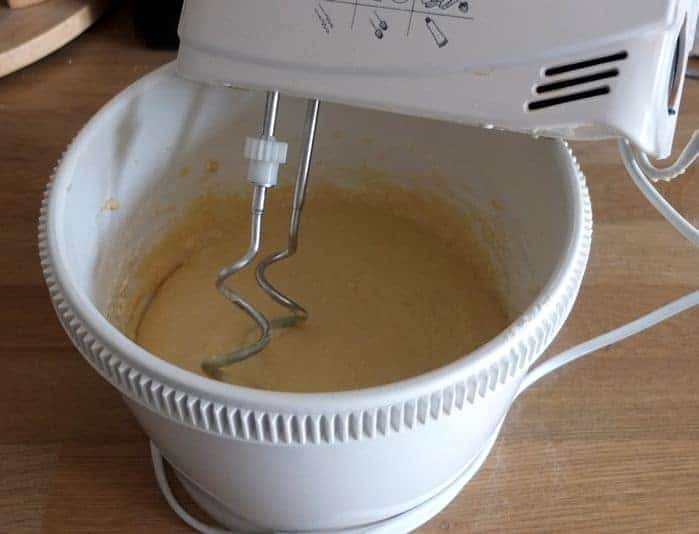 How to cook the Spaetzle – Overview of different methods and spaetzlemakers (affiliate links)
Method 1: Spaetzlehobel (Spaetzlemaker shaped like a wood planer).
This is my preferred method. You place the Spaetzlemaker over a pot of boiling water. You pour from a ladle a portion of the spaetzle dough into the opening on the top and then move the top part of the spaetzle maker forward and backwards until little Spaetzle falls into the water.
This method can be a bit messy, as the spaetzle dough might spill over the side. Also, the spaetzle with this spaetzle maker will be shorter than other methods. (as in my picture)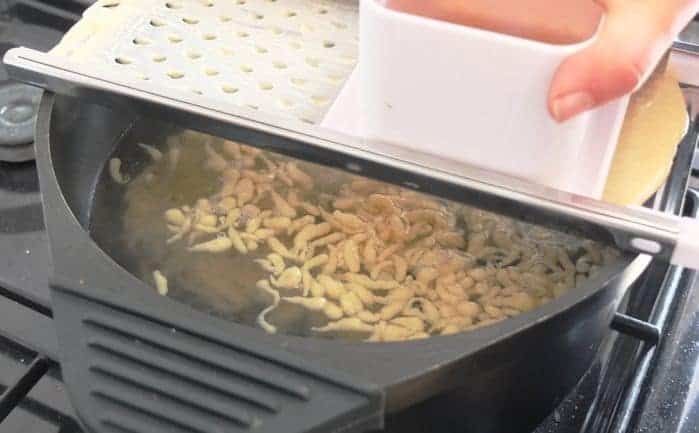 Method 2: Spaetzlepress (a Spaetzlemaker shaped like a potato ricer)
This method is perfect for making long Spaetzle. Similar to making mashed potato, you fill the dough into the opening then you press down the handle and press the long spaetzle into the hot water. This method is straightforward and recommended for beginners.
The only disadvantage is that the spaetzle press can be a little difficult to clean afterwards.
Method 3: Spaetzlesieb (a Spaetzlemaker that looks similar to sieve. You place them over your pot).
Place the sieve over the saucepan. You spread the dough over it and with a metal scraper, scrape the spaetzle dough into the pot. This method is the best way of making short Spaetzle, like Knöpfle. The sieve is also relatively easy to clean in the dishwasher. Another advantage is that by having the scraper you have more control over the form of the spaetzle.
Method 4: Spaetzlebrett ( Spaetzlemaker made from a wooden board and a scraper).
This is the most traditional method and needs the most practice. You spread the dough over the board. With scraper you scrape long thin spaetzle into the water. This is a great method if you are looking for thin long Spaetzle. Here is a youtube video on how spaetzle are made this way.


Method 5: How to make Spaetzle without a Spaetzlemaker?
If you don't have a Spaetzle maker at home, or want to try whether you like Saeätzle before investing in one then this should not top you. Use any device with holes in it. You can use a large slotted spoon, or a colander or sieve with larger holes or a potato ricer. Not every potato ricer works. If the holes are too small and close together the spaetzle won't have space to form.


PS. My Spaetzlemaker
I like using my spaetzle maker from GEFU. I dont have an affiliate link- this is just my opinion. It is very easy to make and has lasted me for year. Hopefully if you type GEFU into google you will find where to purchase on.
Cooking German Spaetzle- Frequently asked Questions
How do you know when Spaetzle is done?
Once the Spaetzle are in the water, they will take one or two minutes to cook. You know when they are ready, when they start swimming on (or to) the surface. Then you can remove them with a slotted spoon.
It is important to remember that short Spaetzle that are made with a spaetzlehobel or spaetzlesieb (methods 1 and 3), will have a shorter cooking time than the long-thin spaetzle that are made with a spaetzle press (method 2).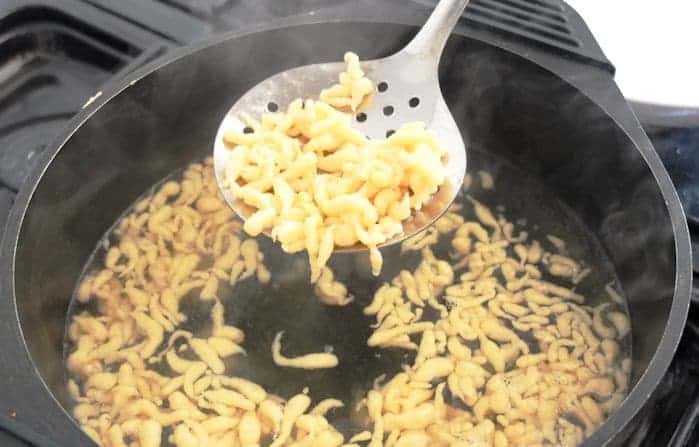 Which flour to use for spaetzle?
In short you can use almost any flour for spaetzle. Traditionally it was made with buckwheat flour (Buchweizenmehl in German). However, today the most common flour in Germany is type 405. The closest equivalent in the UK is plain flour, in the US pastry flour. Other flour types that are used for spaetzle are spelt and wholewheat flour.
What consistency should spaetzle dough be?
The consistency of spaetzle dough depends on which kind of spaetzle you want to achieve. For longer and thinner spaetzle it is advantageous to have a more liquid dough. If you want to make short and thicker spaetzle similar to Knöpfle for example it is better to have a thicker dough.
How to cook dried Spaetzle?
Thanks to the expansion of Aldi and Lidl, premade spaetzle are easily available. Actually in Germany they are very popular, as making homemade Spaetzle can be a messy and time consuming task. These Spaetzle are not as soft as homemade spaetzle but a welcome substitute when time is precious.
You can cook premade spaetzle similar to pasta. Add to boiled, salted water and leave to cook for 10-12 minutes. After strain the cooked spaetzle in a colander. If you want you can add a little butter to them before serving.
Can I prepare for Spaetzle in advance? How to store it?
Yes you can prepare Spaetzle in big batches in advance. If you don't plan to serve them immediately, I would suggest you shock them with some cold water, and then add some butter to them so they don't stick.
Spaetzle stays good in the fridge in an airtight container up to three days after cooking.
When warming them up again, you can add a little butter. Always warm up with a lid on otherwise the Spaetzle could dry out.
They also freeze very well and will stay good in the freezer for up to three months.
Troubleshooting your Spaetzle dough
Sometimes you can follow a recipe to a tee, but some things are still not right. Don't worry spaetzle dough is easily rectified.
My spaetzle dough is too hard. – this means you might have used too much flour. Don't worry you can just add more liquid to your dough.
My spaetzle dough is too liquid – This can easily be rectified by adding more flour to your dough until the desired consistency is achieved.
My Spaetzle dough is too sticky - This can happen if you use too much egg. A little more flour will help.
My Spaetzle are mushy and soggy - There might be too much liquid in your dough. Try adding more flour. Another method you could use is to have a bowl of cold water next to your pan. Once you have cooked your Spaetzle you can shock them in the cold water.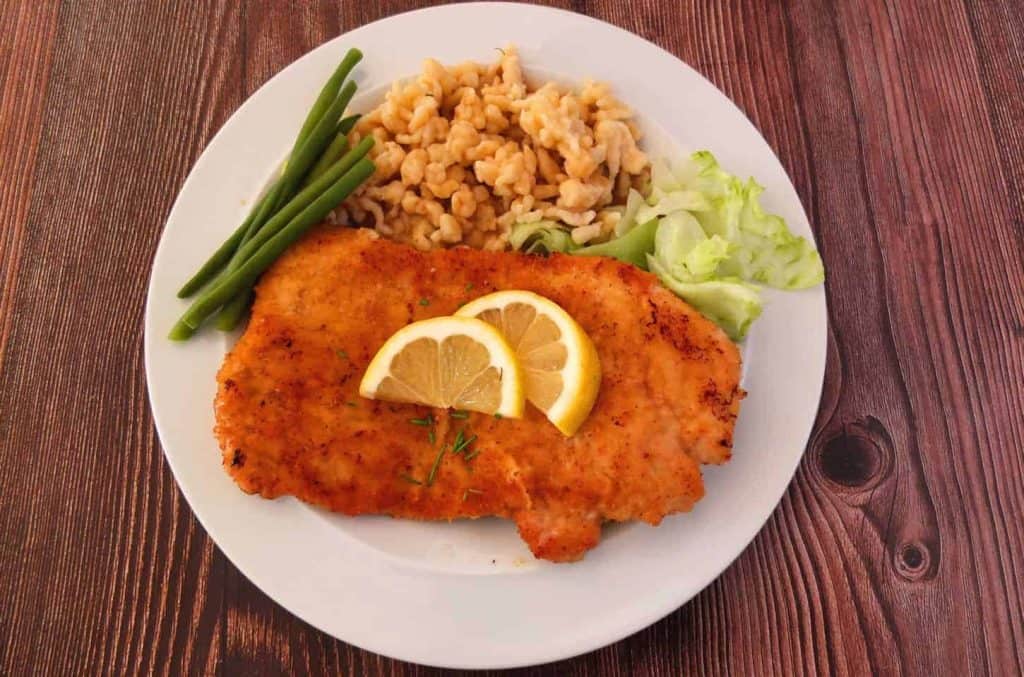 What do you serve with Spaetzle?
Spaetzle in Germany are often served as a side dish. However they can also be the main start in a dish for example when having kaesespaetzle or spaetzle with jager sauce (a mushroom sauce).
I suggest pairing them with the following recipes.
I also recommend you try this recipe for Kaesespaetzle (cheese spaetzle with caramelized onions)
This post was first published in May 2015 and upated in March 2021.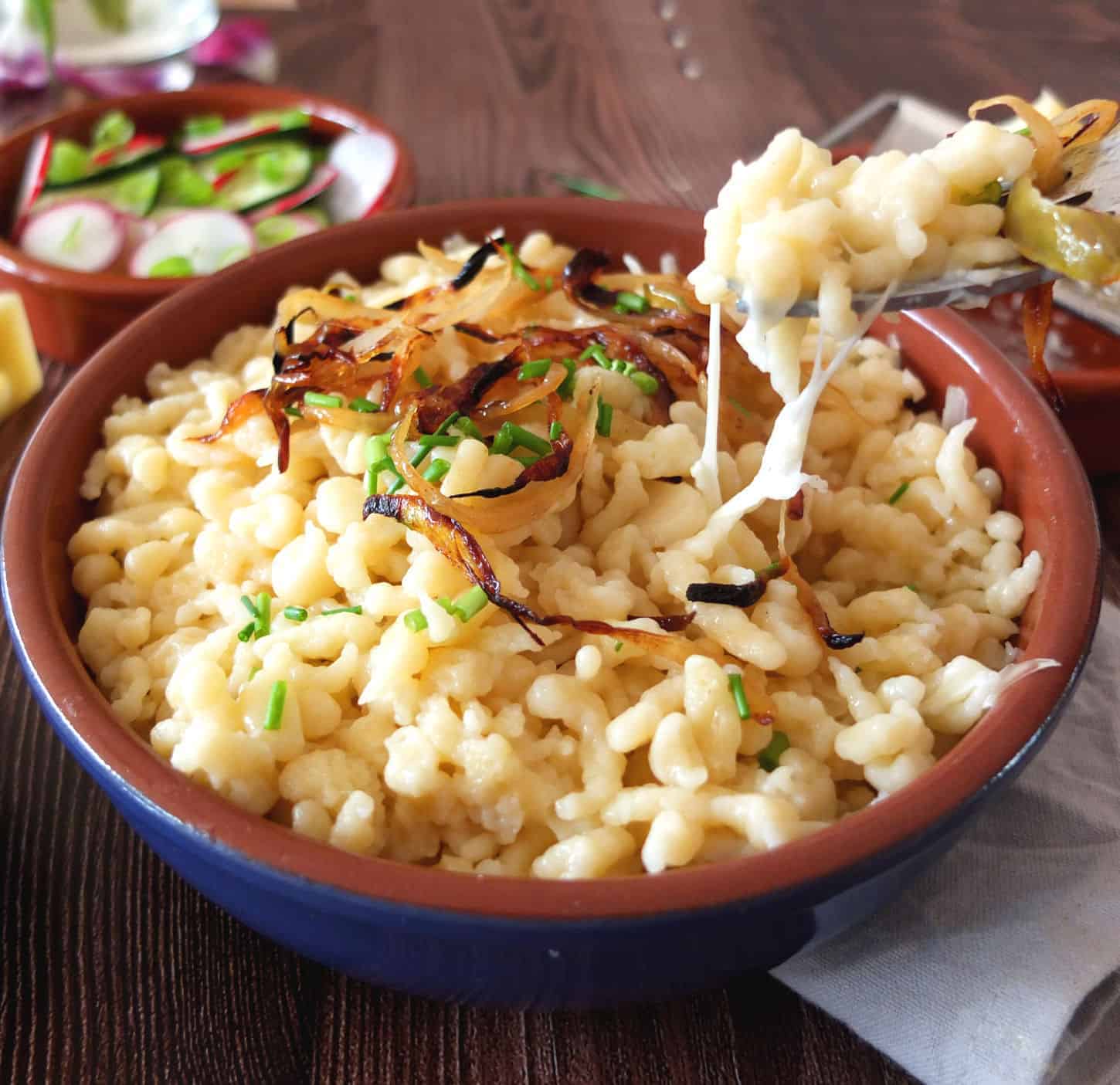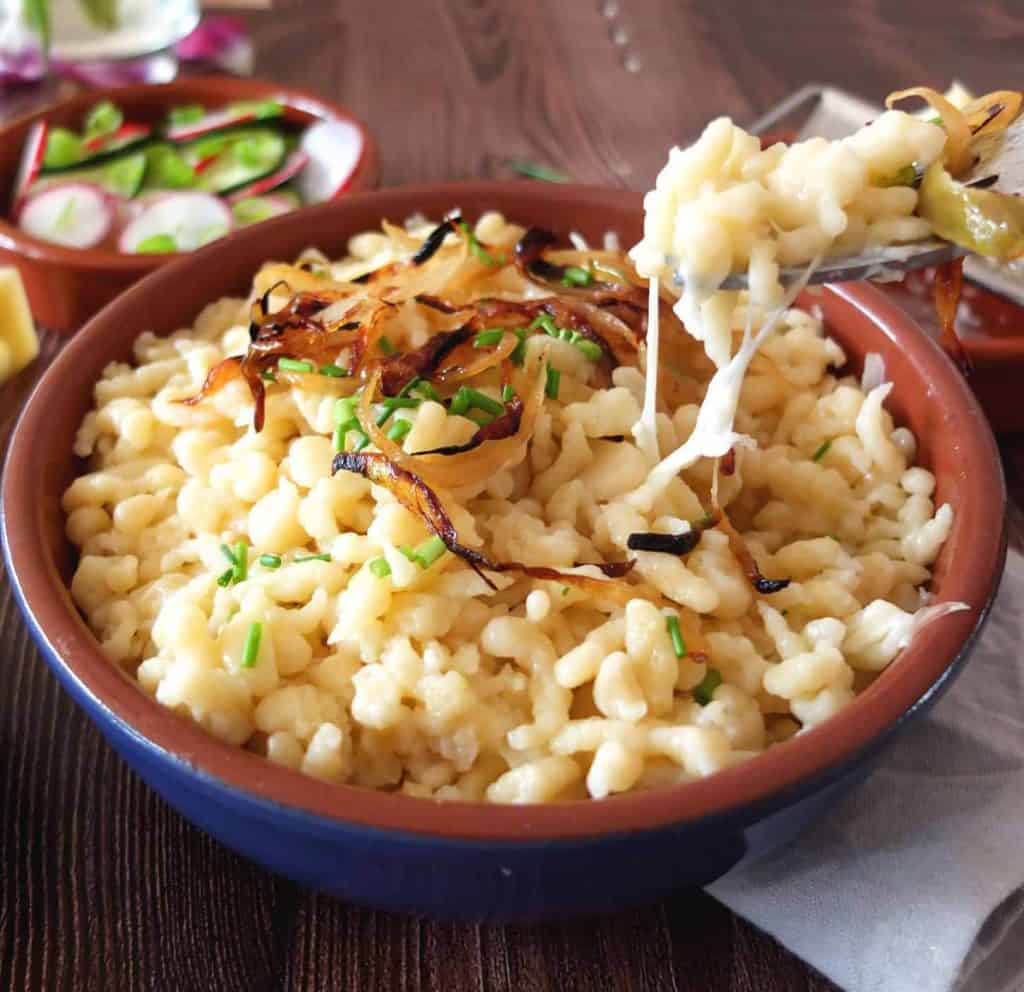 Homemade German Spaetzle for Beginners
This recipe will describe the basic recipe for German spaetzle to you. It will also explain in detail the various methods and spätzle making tools.
Ingredients
500

g

plain flour

6

medium eggs

200

ml

milk

20

g

melted unsalted butter

salt
Instructions
Place the flour in a large bowl and with your fingers form a little crater in the centre.

Add the eggs, milk and salt and butter into the crater.

Now mix everything to a liquidly, sticky dough.

Leave the dough to rest for about 10 minutes.

In a large saucepan bring water to boil. Add a little salt to it.

Now if you have a Spätzlemaker slowly pour in the dough and press the strands into the boiling water.

Alternatively use a sieve or colander with large holes.

The Spätzle will rise to the top once they are cooked. Try to fish them out with a ladle with large holes.

Do not try to make too many Spätzle at once, otherwise the dough might end up sticking to your saucepan.
Nutrition
Calories:
410
kcal
Carbohydrates:
66
g
Protein:
15
g
Fat:
9
g
Saturated Fat:
4
g
Polyunsaturated Fat:
1
g
Monounsaturated Fat:
3
g
Trans Fat:
1
g
Cholesterol:
174
mg
Sodium:
102
mg
Potassium:
195
mg
Fiber:
2
g
Sugar:
2
g
Vitamin A:
375
IU
Calcium:
76
mg
Iron:
5
mg