I am long overdue posting a Flammkuchen recipe – a German-French dish that has grown in popularity in recent years. Crispy, creamy and moreish this pizza-like dish is always a welcome treat. Sometimes the original recipe gets a bit forgotten as there are so many varieties today. This recipe is so versatile, that there are no limits to the number of flammkuchen versions you can create.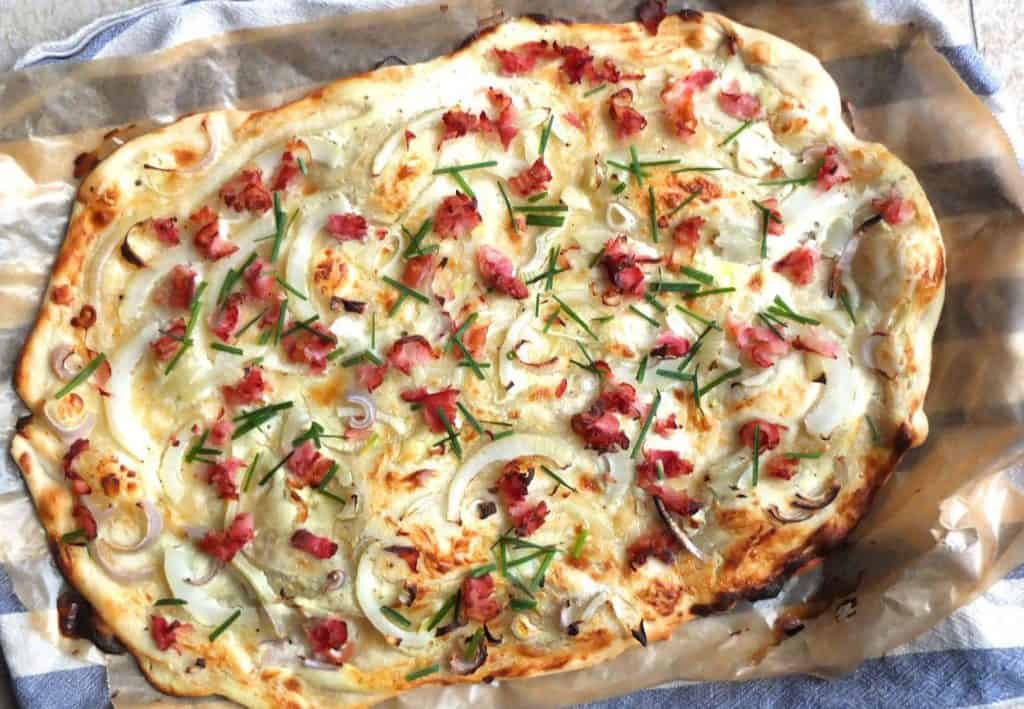 What is Flammkuchen?
Flammkuchen is also called "Flambée or Flammekueche". Translated to English it means "Flame Cake". It is a French-German flatbread that is topped with sour cream, creme fraiche, onions and bacon. It is sometimes referred to as German pizza. You can find it in German supermarkets in the frozen section with the traditional pizzas. But nothing compares to homemade flammkuchen.
Where does the Flammkuchen recipe originate from?
It originated from the Alsace area (Elsass) by the French-German border. Some argue whether it is a French or German dish, as the region changed borders in the last 150 years. However, everyone agrees it is Alsatian and delicious.
The recipe is very old and was invented in Alsatian farmhouses. At the time they used to make bread in wood-burning ovens. They would roll out a piece of dough very thin and place it on the hot stone. If the base became crisp the temperature was right for the bread. In time crème Fraiche, onions and bacon were added, and so the Flammkuchen recipe was born.
At first, flammkuchen was a dish you would make only at home. With the growing popularity of Italian pizza in the 1960s, flammkuchen started to appear in restaurants and markets all over Germany.  [source: Wikipedia]
Another German dish is Zwiebelkuchen, which is also made with onions and bacon but has a more creamy pie-like consistency.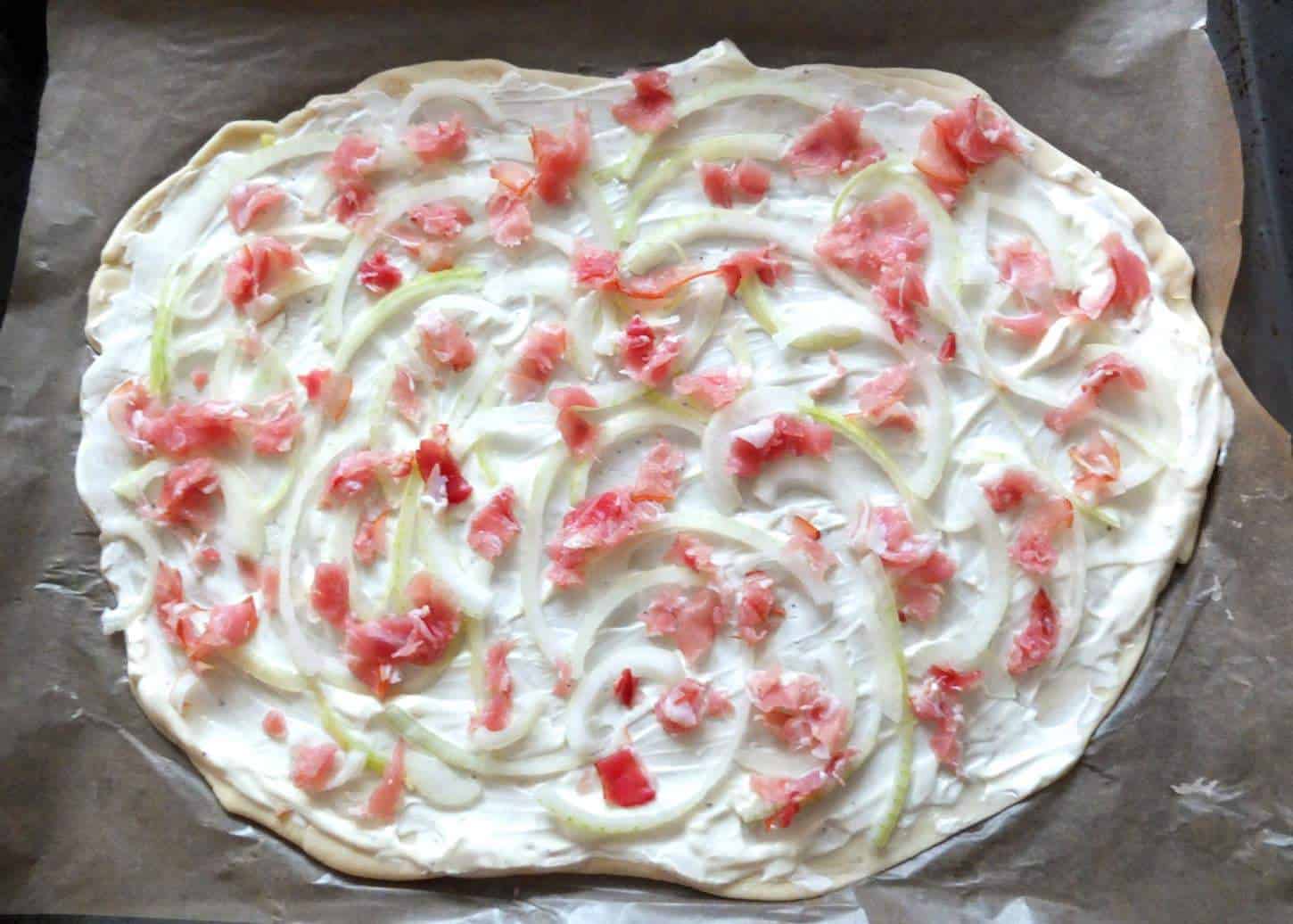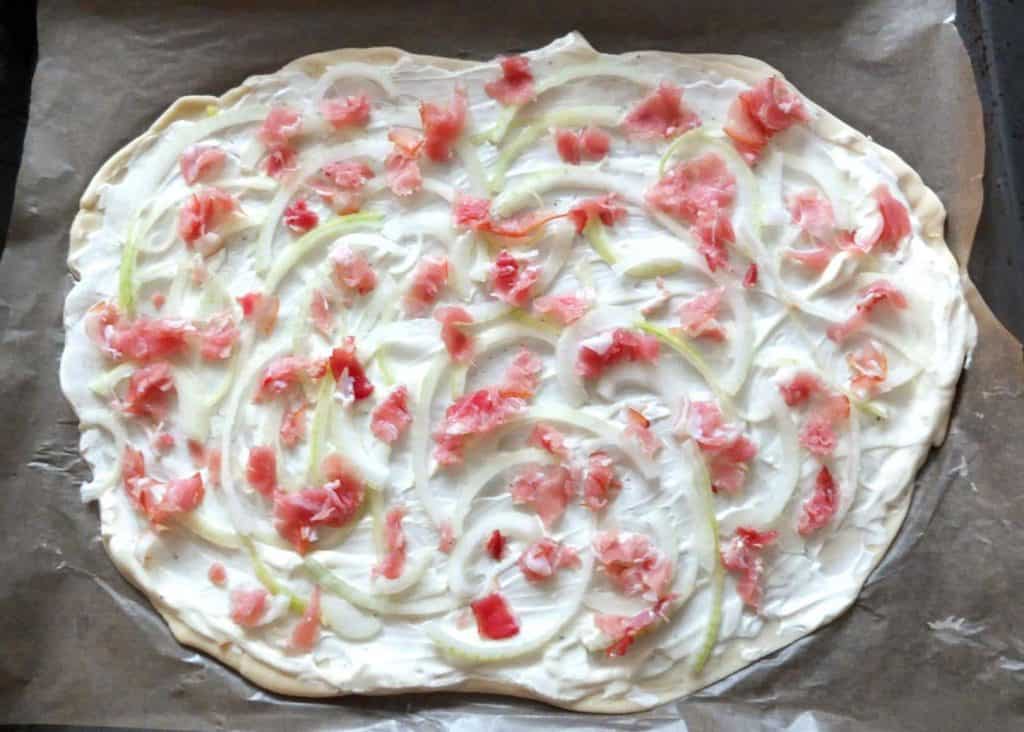 How to make Flammkuchen?
This is a traditional Alsatian flammkuchen recipe (Elsässer Flammkuchen or Flammenkuchen Elsässer Art in German). One thing to remember about flammkuchen is that it loves to be baked hot. In traditional stone ovens, they used to be baked at 300 to 400 degrees. For a home cook, like you and me, it is sufficient to turn to oven to its highest setting at 220-50 degrees celsius.
How to make the Flammkuchen base?
This flammkuchen base is made without yeast.  The ingredients for the base are oil, water, salt, and flour, simply mixed together in a bowl. Knead the dough thoroughly. The key is to roll out the dough very thin. This is not an easy task, as it might shrink back together, but persist. Flammkuchen does not have to be round like pizza. It is often rectangular (like the shape of the baking tray) or oval.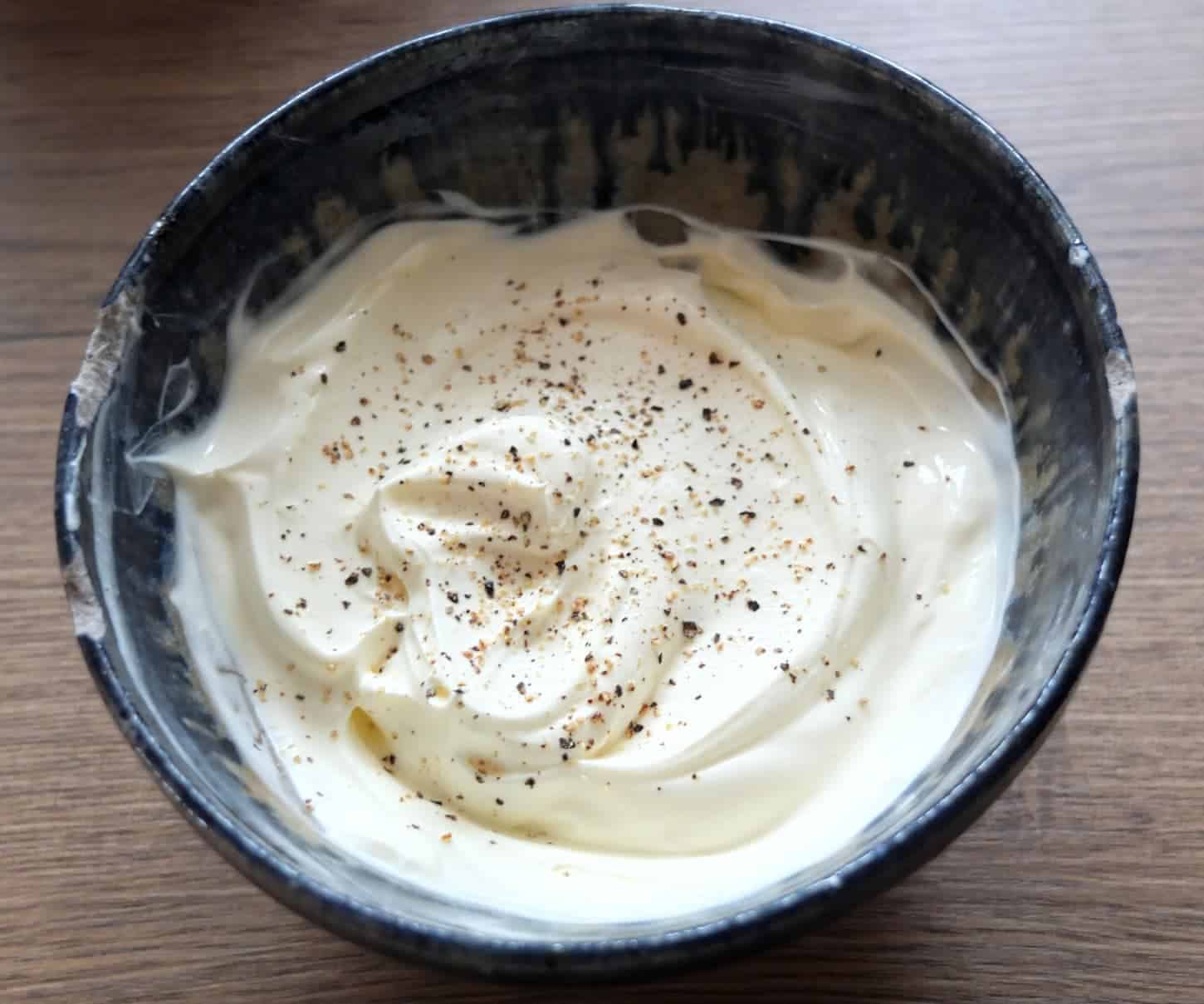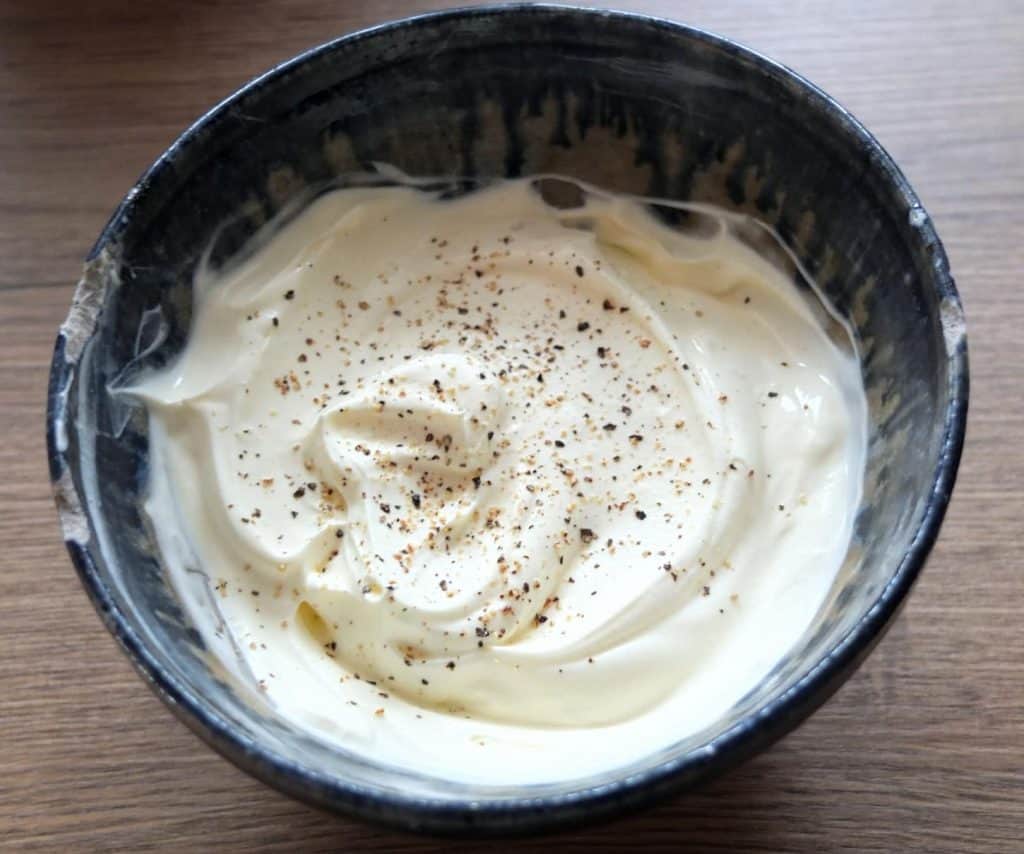 How to prepare the Flammkuchen Toppings?
The traditional toppings for Elsässer Flammkuchen (Alsatian Flammenkuchen) is:
Bacon
Crème Fraiche (if not available use full-fat Greek yoghurt. Here is also a simple recipe on how to make it from scratch)
Sour Cream
Onions
Slice the onions very fine. The bacon is cubed, and the crème fraiche is mixed together with the sour crème and seasoned with salt and pepper.
One tip I have learned is to soak the onions in water. Then steam them lightly in the microwave for one minute to soften them. This can prevent the onions from crisping too much in the high heat.
Bake the flammkuchen at around 220-250 degrees Celcius (428°F) for around 15-20 minutes. Watch it so it does not burn too much. However, it is common to find some chargrilled corners on our Flammkuchen. (see images)
There is no definite sign when the flammkuchen is ready. When the edges turn crisp and golden brown, remove the bread from the oven and check if the middle is done well.
Tips and Tricks for the BEST Flammkuchen
Get the consistency of the Flammkuchen dough right. The dough should not be too sticky and stick to the bowl. If necessary add more flour.
Roll out the dough directly on the baking parchment. It allows you to roll out the dough very thin without it ripping when transferring to the baking tray.
Use the dough at room temperature. Do not store it in the fridge as this will make it harder to roll out. Also, a well kneaded dough will be more elastic. Also, the addition of oil will make the dough smoother and easier to work with so do not save on the oil.
For the ultimate base use a pizza stone. You can just place it in the oven and it will heat up.
Test your oven. Flammkuchen likes to be baked hot, but every oven is different. When baking the cake for the first time, keep an eye on it, so it does not crisp up too much.
Alternative flammkuchen toppings
In Germany Flammkuchen is very popular and there are many variations to the traditional recipe. Here are some suggestions for you:
Vegetarian Flammkuchen with goats cheese and apple
Flammkuchen with smoked salmon and leeks
Vegetarian Flammkuchen with goats cheese and figs
Vegan Flammkuchen with soya yoghurt, mushrooms, sliced cooked potatoes and spring onions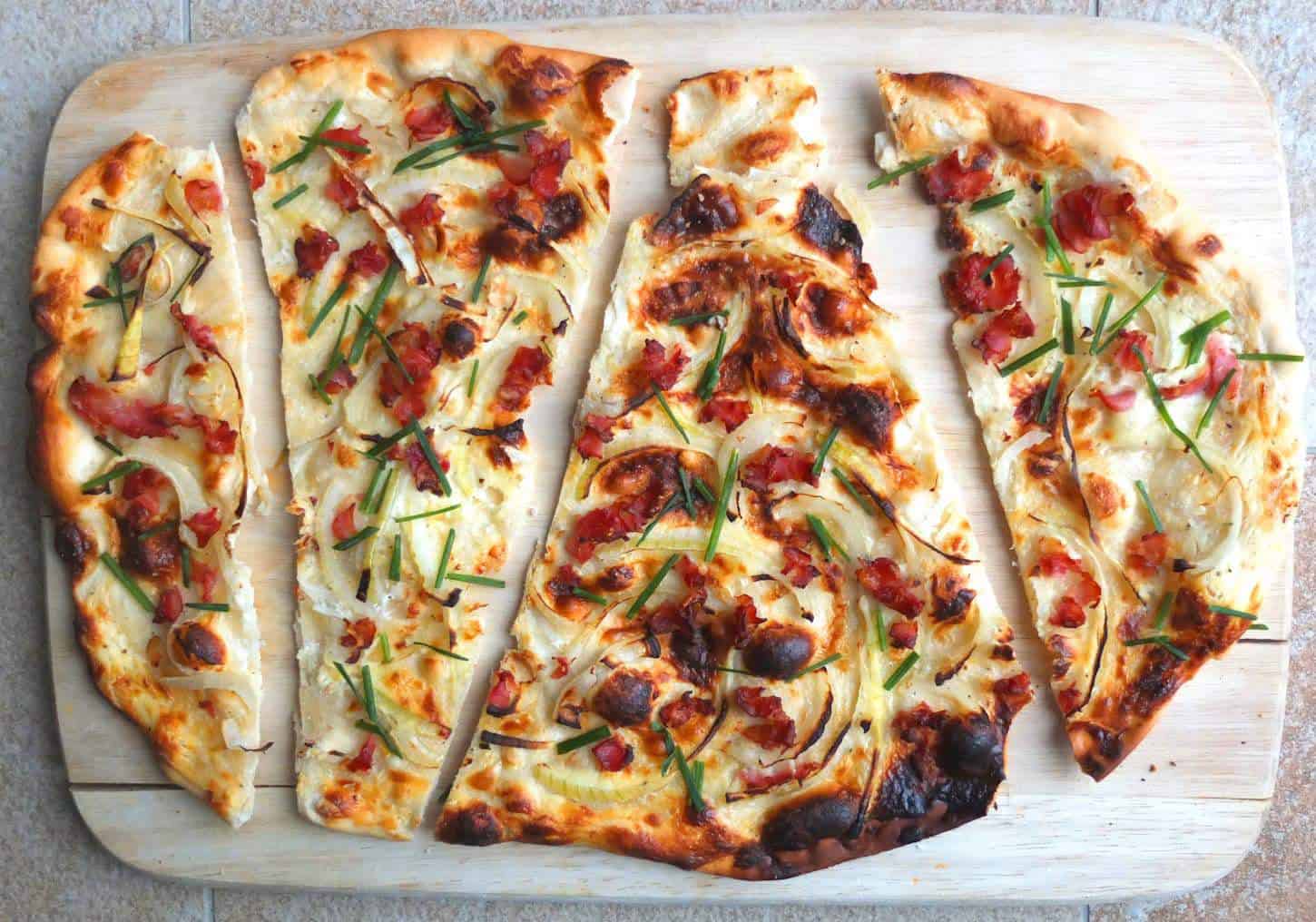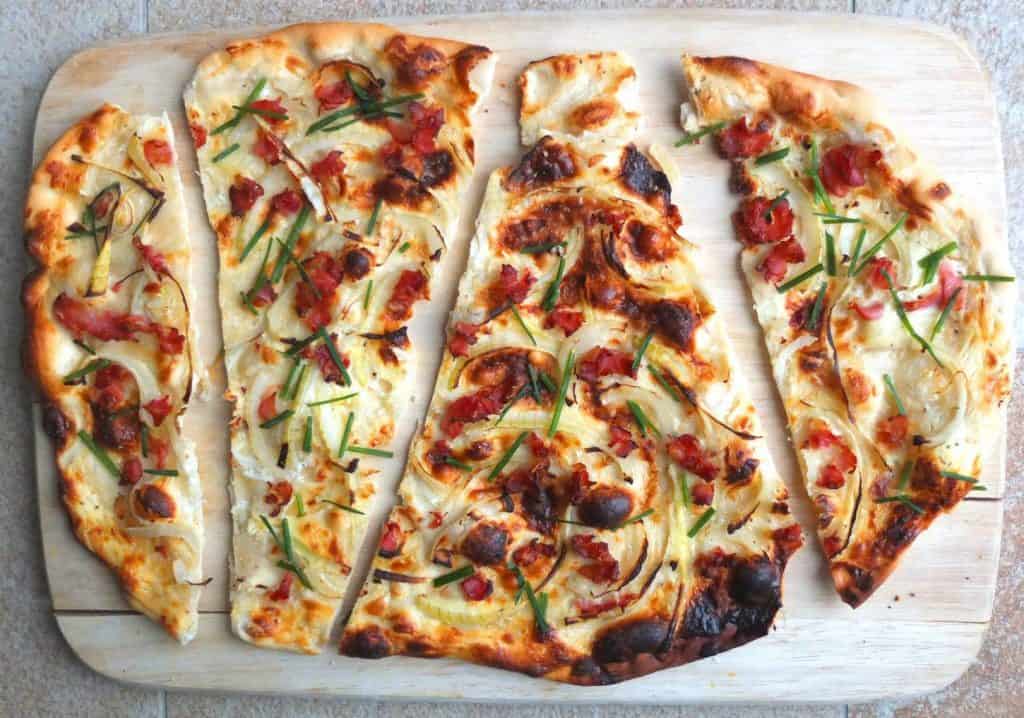 How to serve Flammkuchen?
Flammkuchen is served traditionally on a prewarmed wooden board. It is traditional to drink a light white wine from the Alsace Area.
How to store Flammkuchen
Flammkuchen is best eaten the same day it is cooked. However, it also tastes good cold. Just store it in an airtight container and consume it within 3 days.
If you like this recipe you might also like
…you might also like these German Streetfood Recipes recipes :
Recipe
Flammkuchen Recipe
This recipe comes from the Alsatian region. The dough is made without yeast. This dish is also known as German or Sourcream Pizza and is an easy quick treat for any occasion
Equipment
baking tray 40 x 36 cm

Rolling Pin

wooden board to serve (optional)
Ingredients
2

tablespoon

olive oil

125

ml

water

4.2 fl oz or 0.5 cup

1

pinch

salt

250

g

flour

8.8 oz or 2 cups
For the topping
2

onions

about 150 gr (7 oz)

100

gr

bacon

3.5 oz - cubed

50

gr

creme fraiche

1.7 oz - if not available use greek yoghurt

50

gr

sour cream

1.7 oz

black pepper

salt

2

tablespoon

chives

chooped small (optional)
Instructions
Preheat the oven to 250°C or 428°F

In a bowl mix the crème fraiche and sour cream with a spoon until combined. Season with salt and pepper. Set aside.

Slice the onions very finely. Place them in a bowl and cover with a little water. Steam them in the microwave for around 1 minute at 600 Watt. This will prevent the onions from burning too quickly.

Whisk the water, olive oil, salt and flour together in the bowl with a hand or stand mixer fitted with a dough hook or paddle attachment.  

Turn the dough out onto a lightly floured surface. Divide the dough into two portions.

With a rolling pin, stretch the dough to a thin, around 3 mm thickness. Place the dough on a sheet of baking parchment.

Spread the crème fraiche-sour cream mixture on the base with the back of the spoon. Leave around 0.5 cm space for the edge.

Spread the onions and bacon on top.

Place in the flammkuchen in the oven and bake for 10-15 minutes. Every oven is different so keep an eye on it so it does not crisp too much. There is no definite sign when the flammkuchen is ready. When the edges turn crisp and golden brown, remove the bread from the oven and check if the middle is done a well.

To serve sprinkle with some chives. Serve warm.
Nutrition
Calories:
1161
kcal
Carbohydrates:
108
g
Protein:
15
g
Fat:
74
g
Saturated Fat:
27
g
Polyunsaturated Fat:
8
g
Monounsaturated Fat:
34
g
Cholesterol:
61
mg
Sodium:
150
mg
Potassium:
339
mg
Fiber:
5
g
Sugar:
7
g
Vitamin A:
289
IU
Vitamin C:
10
mg
Calcium:
76
mg
Iron:
6
mg