This is a Bremer, a German fish cake sandwich. It resembles a fish burger. In Germany, we call it Fischbrötchen. This fish sandwich has the same name as me! Since October 2019 I live in Bremen and people who live in Bremen are called "Bremer". 
Bremen is a small city and the smallest state in Germany. It is located in the north and probably most famous through the Grimm fairytale of the three town musicians (Stadtmusikanten). Because it is located not far from the north sea and used to be an important trading town, lots of German seafood dishes originate from here.
What goes in a Bremer Fish Sandwich?
The star ingredient of this fish sandwich is a fish cake (Fishfrikadelle in German) A Bremer is served in a crusty bread roll, not a burger bun. This delicious fish sandwich is served with lettuce, gherkins and remoulade (which is similar to tartar sauce). Lastly, it can be topped with ketchup and some fried onions.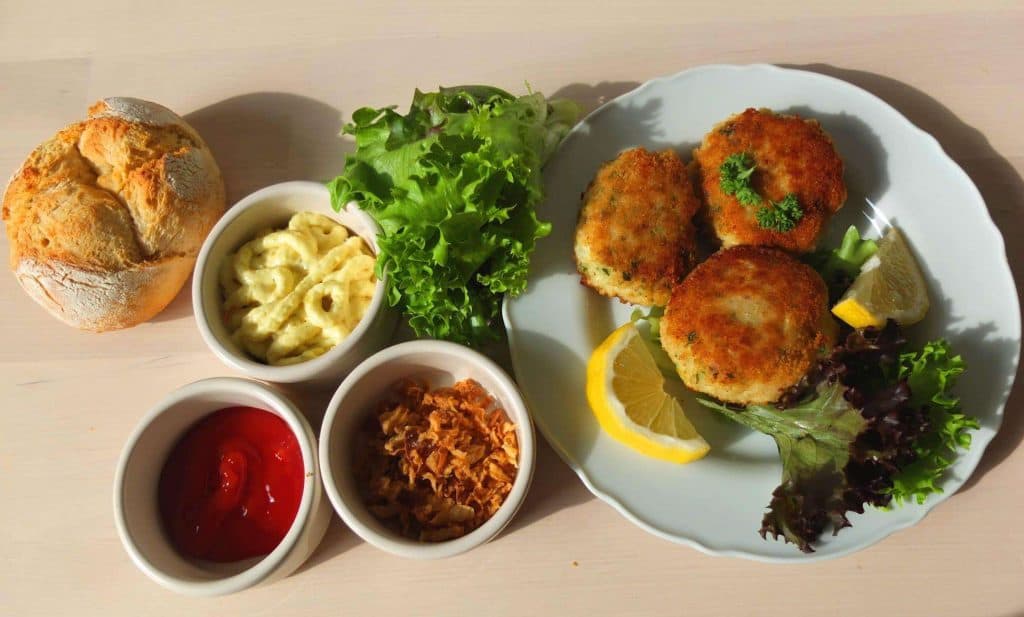 How did the Bremer Fish Cake Sandwich get its name?
Nobody really knows for sure. Although this type of Fischbrötchen is typical of the area, it is not unique to Bremen. It is also popular in Hamburg. But the name "Hamburger" was already taken. Bremen has a lot of local dishes, but unfortunately, they cannot claim the Bremer.
"Bremer" is (and has been for the last 50 years) the name of the most popular product of "Nordsee" a German fast food outlet. Nordsee sells seafood all over Germany. Thanks to Nordsee a German Fish Cake Sandwich is now everywhere known as Bremer .
Where do Germans eat Bremer?
When I was growing up in Frankfurt I used to love to eat Bremer at Nordsee. 2 Deutsch Mark it used to cost, and I used to buy it every time I went shopping in town.
If you visit the North Sea coast, you will be able to find Bremer at a little van that is selling Fischbrötchen and other German seafood dishes. I hope you get to experience one of these as they make a visit to the German beaches even more fun.
How to make a German Fish Sandwich?
First of all you need a German Fishcake. No need to panic, I got you covered! I posted a recipe for German Fish Cakes a few weeks back and they fit perfectly into crusty rolls.
However I wont tell you off for buying ready made ones, as making them from scratch may not be convenient everyday. (but you should try it at least once.)
The onions are usually roasted. They are similar to those that you use in a hot dog, and that is what I used. If you don't have a pack of ready made roasted onions on hand, you can make them at home.
Simply heat up some butter in a pan, coast chopped onions in some flour and fry them until nice and crispy. Make sure the pan does not get too hot.
Ingridients quick links (affiliate links)
Do you want to learn more about German Street Food?
Try our my Currywurst recipe.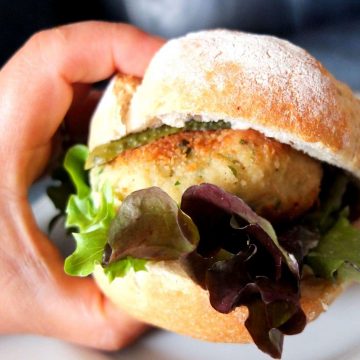 Bremer- German Fish Sandwich (Fischbrötchen)
A delicous popular fish sandwich recipe from North Germany. The fish sandwich consists of fish cakes, roll, gherkins, onions and ketchup.
Ingredients
4

cod fish cakes

Click for Recipe or use shop bought

4

pickled gherkins or cornichons

4

crustry white rolls

4

large leaves of salad

4

tablespoon

remoulade

(alternativley Tartar Sauce)

4

tablespoon

tomato ketchup

4

tbsp

roasted onions
Instructions
Slice the cornichons into thin slices

Slice the bread roll in half horizontally.

Spread 1 tablespoon of remoulade on one of the slices of bread roll. Add the lettuce, cornichons and fishcakes on top. Spread ketchup on the other half of the bread roll and top with roasted onions before closing the sandwich.

Optional - serve the German fish sandwich with some fries or German fried potatoes or a green salad.