Many countries have their own version of fishcakes and Germany is not an exception. There are many varieties but these fish cakes are made without potato. The recipe uses bread as a substitute for potato. These fish patties taste good whether they are cold or warm. That makes them a great picnic recipe.
I have recently reacquainted myself with "Fischfrikadellen" that is what fishcakes are called in Germany . Since we moved to Bremen we are now only about 45 minutes away from the coast, and these fish cakes are a delicacy of the area. We spend many weekends on the north sea beaches. At the beach you will find lots of little vans and selling this fishcakes.
Fish cakes without potato are a little lighter and fluffier than those with. The secret to achieving a nice texture in this recipe is to ensure that you squeeze out as much liquid from the fish and the soaked bread roll. Especially when the fish has been defrosted.
I used thawed cod for this recipe: but you can use salmon, sole plaice or any other you fish you want. If you like your fishcake very smooth, you can run it through a meatgrinder. I simply chopped it up small.
What to serve fish cakes with?
There are many side dishes to serve fish cakes with. A popular choice in Germany is a classic potato salad or simple green salad. Years ago when I just started this blog. Chips (or pommes as they are known here) are also a popular choice. Germans also often eat the fish cakes simply in a white roll called "Fischbrötchen".
How can the German fish cakes be stored?
If you make the mixture in advance, you may store it in the fridge. However, I would advise cooking the fish cakes the same day.
Cooked fishcakes can be kept in the fridge for up to 3-4 days. If you cannot cool the fishcake then it's best to eat it the same day that it was cooked. You can make the fishcakes in larger quantities and freeze them in bulk.
Did you enjoy these Fishcakes? ....
..... then let me show you how to use them in the traditional German Fish sandwich- Bremer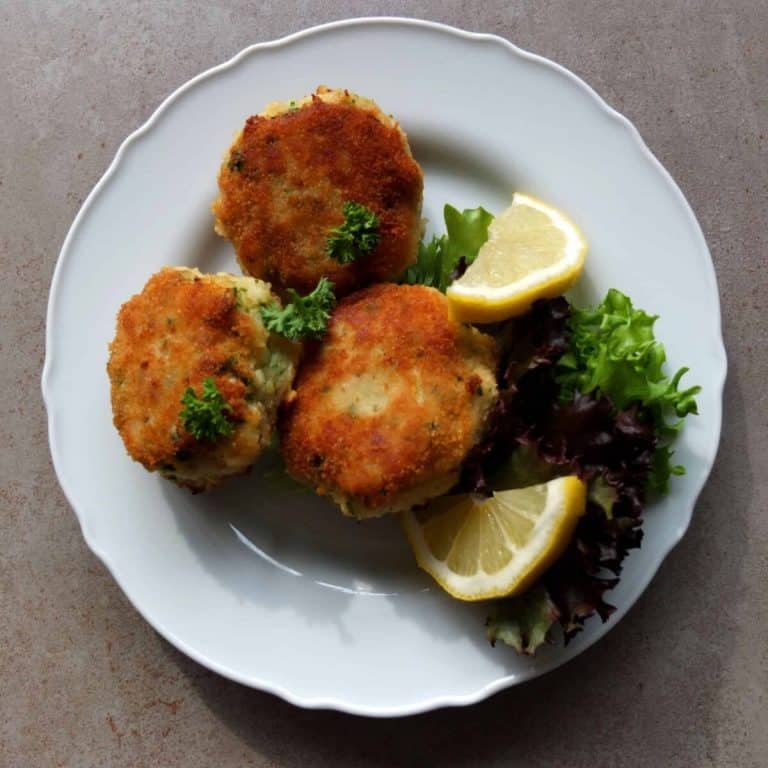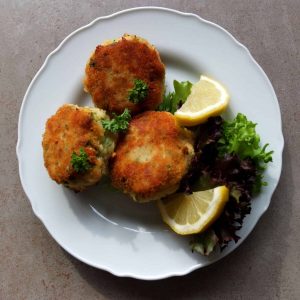 German Fishcakes
Light and fluffy fishcakes made without potato.
Ingredients
500

g

fish

(18 oz) such as cod, sole, salmon, etc

1

medium-sized stale breadroll

or any other white bread

1

medium-sized egg

1

small bunch of leaf parsley

1

pinch

caster sugar

100

g

breadcrumbs

(3 oz)

vegetable oil for frying
Instructions
Wash the fish, pat it dry with a paper towel and then chop with a kitchen knife into small pieces.

Soak the bread-roll in some water. Once soft, squeeze out the liquid, tear and add to the fish.

Peel and finely slice the onion. Fry in a little oil until slightly browned (if you prefer you can also leave them raw). Then add to the fish and bread mixture.

Add the parsley, egg and sugar. Season with salt and pepper. Place everything into a kitchen machine and chop until fine.

Form the fishcakes with your hands. You can make about 6 large or 8 small ones.

Lastly, coat in breadcrumbs and shallow fry in hot oil for around 5 minutes on each side.
Nutrition
Calories:
277
kcal
Carbohydrates:
26
g
Protein:
31
g
Fat:
5
g
Saturated Fat:
1
g
Polyunsaturated Fat:
1
g
Monounsaturated Fat:
1
g
Trans Fat:
1
g
Cholesterol:
103
mg
Sodium:
341
mg
Potassium:
458
mg
Fiber:
1
g
Sugar:
2
g
Vitamin A:
80
IU
Vitamin C:
1
mg
Calcium:
78
mg
Iron:
3
mg