Let me introduce you to THE ultimate German fast food: The Authentic German currywurst.
According to Wikipedia 800 million currywurst get eaten in Germany a year! That is a huge amount - on average every German eats 10 currywurst a year. Also, 2 out of 3 Germans believe that currywurst tastes best from an Imbiss Stube (a takeaway kiosk).
Not everyone has the luxury of being in Germany. Everyone should be able to make currywurst whenever they want. So I decided to share my Homemade Currywurst Sauce Recipe.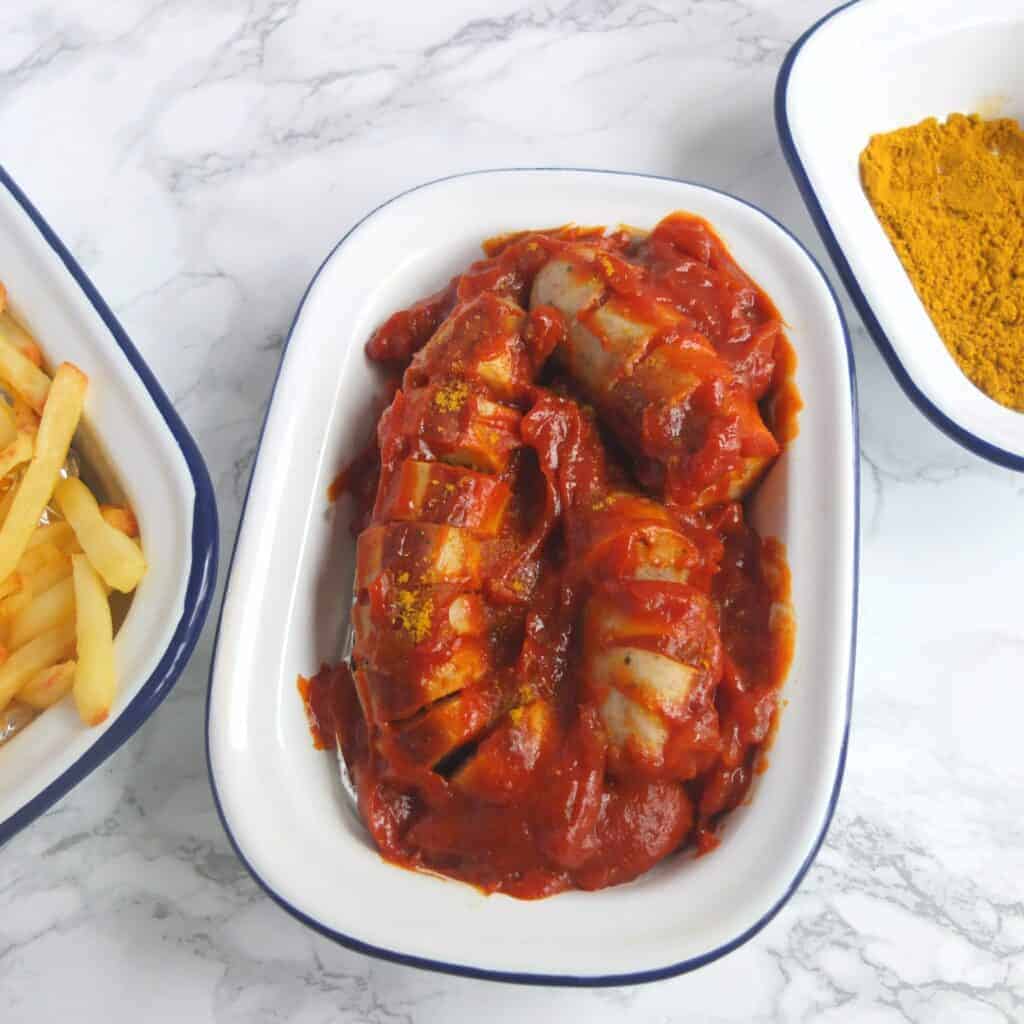 What is currywurst?
Currywurst is usually a grilled, but sometimes fried bratwurst. The bratwurst is sliced and covered with special sauce. The German curry sauce is called "Curry Ketchup" . The ingredients usually are tomato paste, ketchup and mild curry powder.
Curry ketchup in German is also called "Gewürzketchup", which translated means "Spiced Ketchup"
You usually eat Currywurst with fries or simply a white roll (Brötchen).
Herta Heuwer invented the currywurst in 1949. She managed to acquire some curry spice, Worchestershire sauce and ketchup from British soldiers and started selling the first curry sausages with curry ketchup at a hut in Berlin-Charlottenburg.
It is interesting to note that while the currywurst originated in Berlin it spread all over Germany. Currywurst especially gained popularity in Hamburg, Berlin and the Rhur region and they all have different ways on how they prepare their currywurst. So you will find many currywurst recipes all over Germany.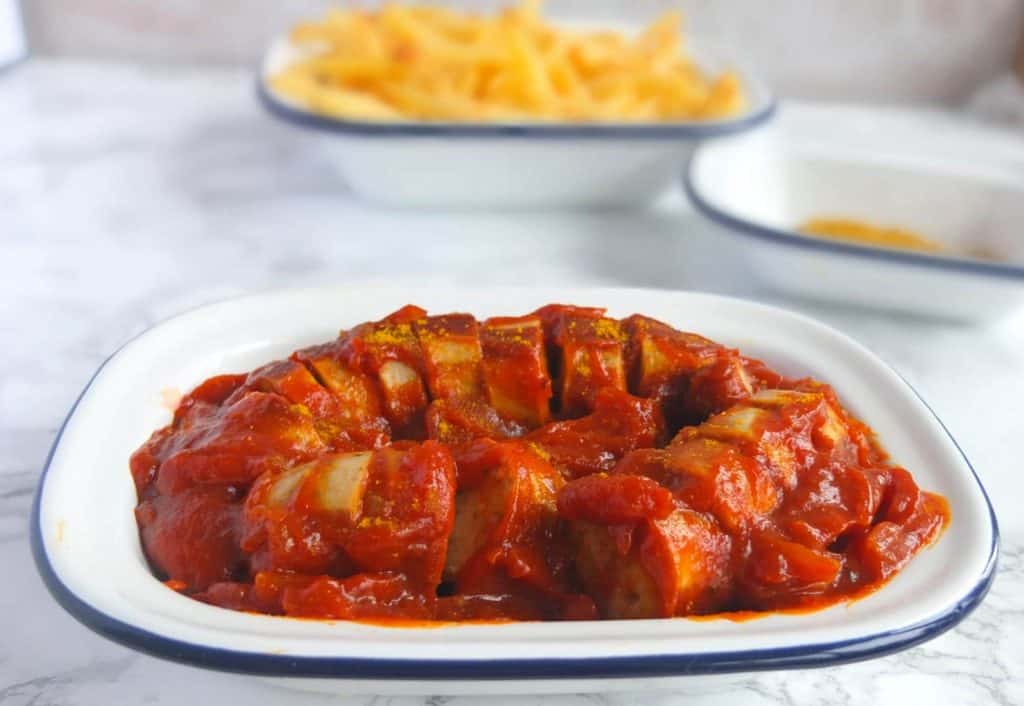 Which sausage to use for currywurst?
The sausage usually used is the traditional Bratwurst. They are now easily available from Lidl or Aldi and Tesco. You can serve them with and without skin.

In Berlin, you might find Bockwurst for currywurst, which is a slightly smoked sausage. You find Lidl Bockwurst in the UK.The currywurst in Berlin tends to get some heat with some chili or cayenne pepper.
In the Ruhr area they tend to use bratwurst which is not smoked but has a stronger taste than the sausages in Berlin. (The also use their local sausages such as Jäger or Zigeuner sausage)
In Hessen, where I am from, they like to serve Rindswurst (Beef sausage) for currywurst.
About the currywurst sauce recipe
The key to making the best currywurst is to have the right recipe for the curry sauce: the curry ketchup. The recipe for curry ketchup tends to be locked away and safely guarded by the owner, so that it is difficult to trace the German curry ketchup back to one original sauce.
You can cheat and buy curry ketchup ready-made online (affiliate link), but where is the fun in this?
Curry ketchup tastes sweet with a slightly smoky taste. Obviously, you can taste the curry powder through it all. You sometimes add the curry powder is only on top of the sauce, after serving.
My currywurst sauce recipe has a slightly sweet and sour flavour. If you don't like your curry ketchup too sweet, I would go for ketchup with reduced sugar, as you don't want to miss the flavour of the caramelised onions.
How to serve Currywurst the German way?
Serve the sausage grilled or fried. Make sure you cut it into slices. You pour the currywurst sauce over the sausage and then sprinkle some curry powder on top.
On the street, they will serve you currywurst on a paper plate with some wooden forks. You can find all of these on Amazon (affiliate link) - if you plan to serve it at a BBQ the authentic German way.
Recently I found some porcelain currywurst plates on amazon (affiliate link), that are a lot more sustainable.
How to store currywurst sauce?
Store the curry ketchup in an airtight jar up to a week. The bratwursts itself once cooked will keep up to a week in the fridge. I recommend storing both separately.
More German Street Food Recipes?
Kartoffelpuffer (German Potato Pancakes)
More Bratwurst Recipes
Currywurst and Currywurst Sauce Recipe
Ingredients  
Sausages for Currywurst
4-6

Bratwurst or Bockwurst
Currywurst Sauce (Curry ketchup)
1

onion

finley diced

500

ml

ketchup

2 cups

1

tbsp

tomato paste

2

tsp

mild curry powder

2

tbsp

olive oil

1

tsp

brown sugar

1

tsp

Worcestershire Sauce

3

tsp

Balsamic Vinegar

1/2

tsp

honey

70

ml

orange juice

(5 tbsp)
Instructions 
Prepare Currywurst Sausages
Fry, barbeque or grills the sausages until browned from all sides
Prepare the Currywurst Sauce
Start by frying the onions and brown sugar in the oil until caramelised.

Pour in the orange juice and mix in with the tomato paste.

Add the ketchup, balsamic vinegar and honey. Bring to boil and leave to simmer for around 3-4 minutes.

Season with the curry powder, worcestershire sauce and pepper.

If you find the sauce too thick you can thin it with some water or more orange juice.
Notes
The sauce is very sweet. If you don't like it too sweet use reduced sugar ketchup instead. 
You can also replace the orange juice with water 
You can give the sauce a kick by adding a tsp cayenne pepper to the sauce. 
The sauce should keep in an airtight container and in the fridge up to a week.