A Bratwurst Sausage is a must for a German BBQ, however grilling brats the correct way, can be trickier than you think. If you are not careful, they end up crunchy on the outside and dry on the inside. Here are my tips for cooking brats on the grill to make them a BBQ success.
Bratwurst is an essential part of German food culture. Whether you grill them in your garden or enjoy them at a fair or German Christmas Market. You will find grilled Bratwurst in Germany all year round.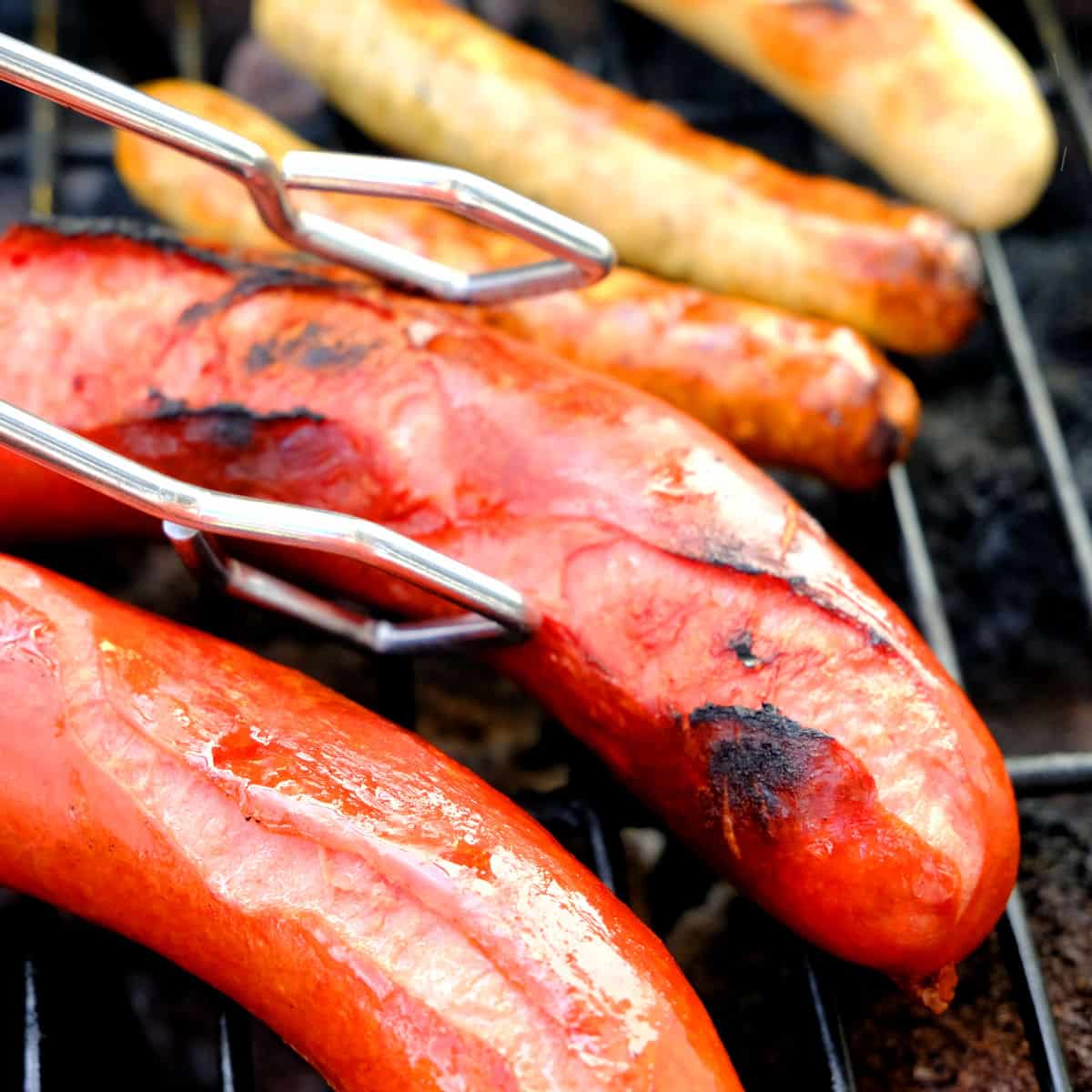 What is Bratwurst?
Bratwurst, short known as Brats, is a general term to describe various types of German sausages, typically they are meant to be fried or grilled.
The name Bratwurst is put together by two Old High German terms "brāto" (which means meat without bone) and "wurst." In essence, translates simply as "meat sausage." [Source: Wikipedia Bratwurst]
You will find Brats as raw sausages or preboiled sausages. However, the preboiled sausage is most common. They are made from pork or veal and beef. The raw sausages tend to have a coarser texture than the preboiled ones.
In Germany, you will find about 50 different types of bratwurst. Their size, texture and spices vary according to their regional origins. [Source: Wikipedia]
5 Most Popular Types of Bratwurst
1. Nürenberger Bratwurst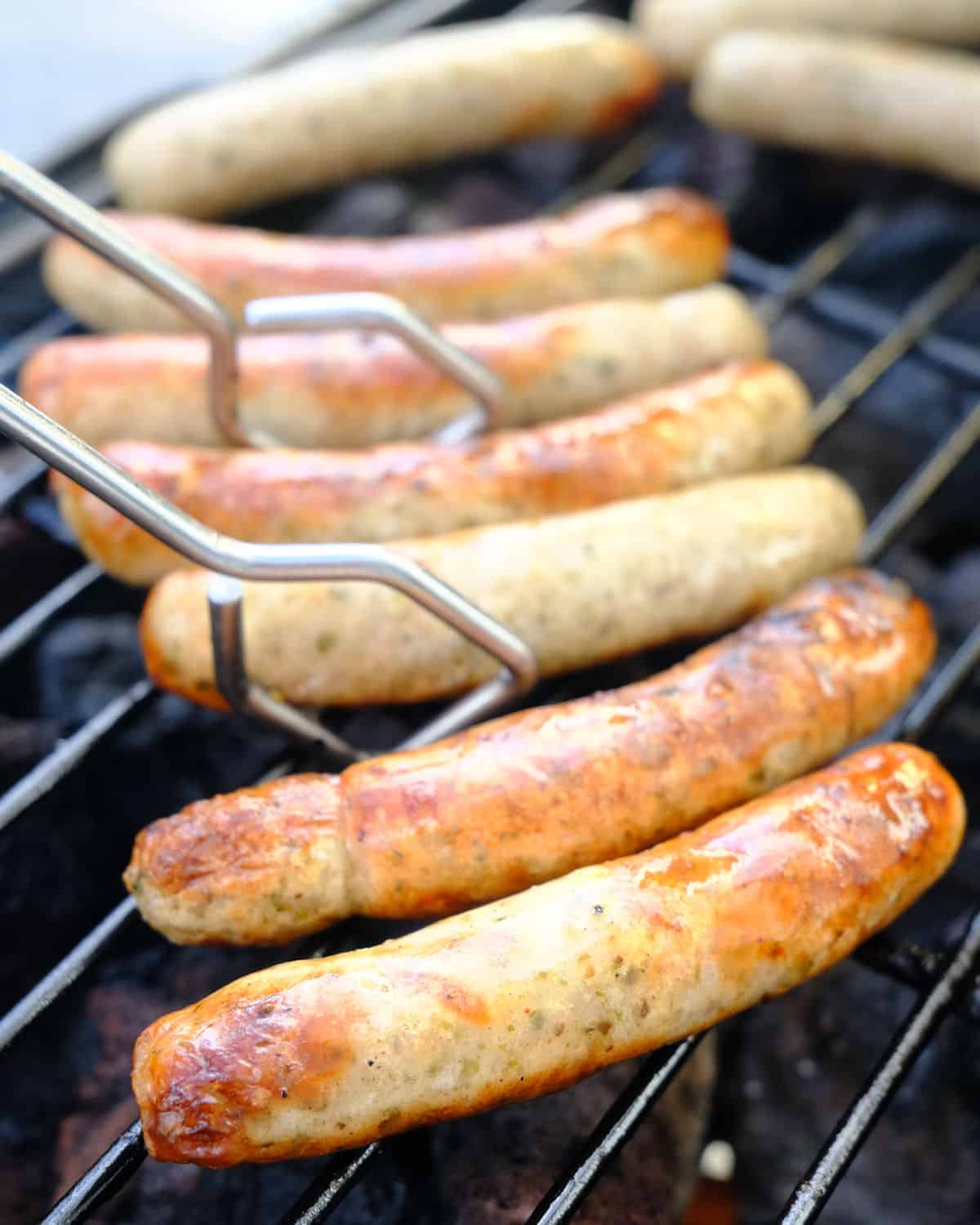 As the name indicates the Nürenberg sausage comes from the area of Nürenberg. It is the smallest of the Bratwurst sausages and is only about 7-9 cm long. Their distinct taste is due to a special marjoram spice mixture. The sausage is protected and is only allowed to be called "Nürenberger Bratwurst" if it is produced around Nürenberg to a strict recipe.
It is popular street food in Germany and is offered as a "3 im Weckla" which means 3 Nürenberg sausages in a bread roll. Another regional speciality is to eat them as "Saure Zipfel" - here the Nürenberger are boiled with onions, Jupiter berries and leaves in vinegar.
2. Thüringer Bratwurst (Thuringia Sausage)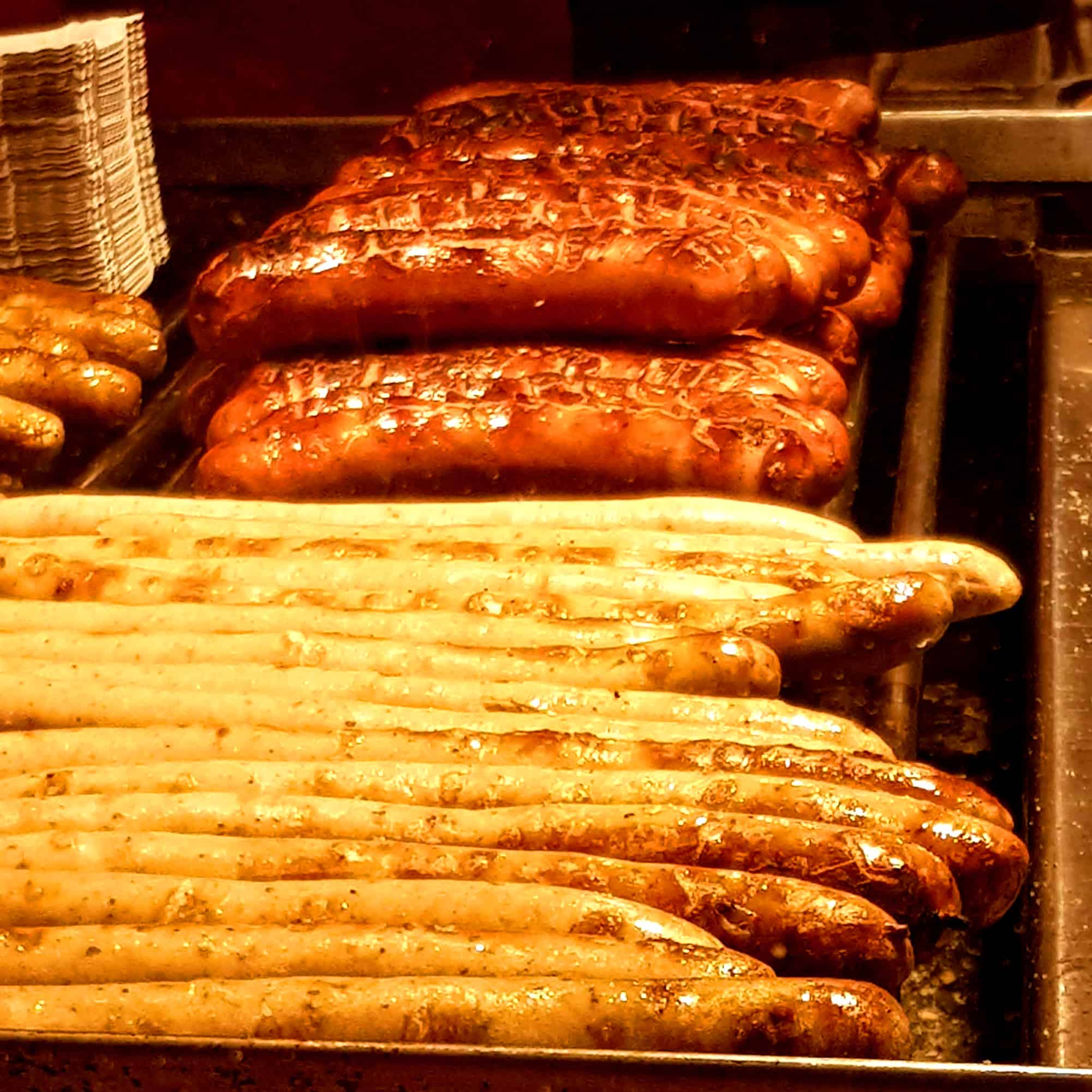 Thüringer Bratwurst is another German classic sausage from the middle of Germany. The spice mixture consists of salt, pepper, caraway seeds, marjoram (affiliate link) and garlic. It is 15-20 cm long and you often grill it on charcoal. It is a very popular Christmas market food . There you will find it served in a bun with mustard (affiliate link).
3. Fränkische Bratwurst (Franconian Sausage)
This sausage is another classic from the Bavarian region of Franconia. This is a raw bratwurst, not preboiled. It consists of pork meat and spiced with marjoram (affiliate link), pepper, salt and nutmeg. There are several different recipes for this sausage, spread around the region.
Franconian sausage is traditionally eaten with sauerkraut and potato salad. However, it is also popular to enjoy it with some rye bread, horseradish, a cold beer or a glass of Franconian wine. To term to serve it in a bun is "Eizwigge" which means "trapped". It is not typical to eat it with mustard (affiliate link).
4. Rostocker Bratwurst (Rostock Sausage)
Rostocker Bratwurst comes from the East of Germany, and develped after the 2nd world war. The characteristic of this sausage is that is made without casing, as those were too expensive in post-war Germany. The sausage is pumped through a tube into boiling water. The meat firms up through the heat and then the tube gets sliced into 12-13 cm sausages. This sausage is delicious with mashed potato, but also is great as currywurst or sliced in sausage goulash.
5. Rote Bratwurst (Red Bratwurst)
The "Rote Wurst" (Red Sausage) is a preboiled and smoked Bratwurst. It is especially popular in Swabia and Baden. It consists of pork, bacon and beef. Pickling salt is another ingredients and gives the sausage a red colour.
You tend to eat it in a crusty bun with mustard (affiliate link). It's not common to eat this sausage with ketchup unless you serve it as currywurst.
How to cook brats on a grill
The best way to grill brats is to use the "Reverse Sear Method".
With this method, the brats are first brought to temperature, by placing them in indirect heat for around 10-15 minutes. This method has the advantage that the sausages are warmed to the right temperature in a slow and gentle process.
Only at the end, do you place the sausages into direct heat and brown them to the desired colour. This method will give you extra juice and flavoursome brats.
It also eliminates the danger of ending up with burned bratwurst that is still cold in the middle.
Before Grilling
Remove the sausages from the fridge at least 1 hour before the BBQ. This will ensure that they will cook evenly.
If you are using a gas grill then preheat it to 200°C/392°F.
For a charcoal BBQ, ensure that you only place the charcoal in half the bbq bowl. Wait until the charcoal is burned to an even heat before grilling the brats.
How to create Direct and Indirect Zones for grilling brats on your BBQ.
Assuming that you have plenty of surface space on your BBQ, you can create an indirect heat zone on your grill by distributing the heat.
For a gas grill, you can only turn on one burner, and leave the other turned off. If you are using a coal bbq then only place ⅓ of the grill with coal and leave the rest of the area clear. Bring the brats to temperature with the lid closed.
Should you have only a very small grill, or if your grill does not have a lid, you can achieve the same effect by placing the sauces in a roasting tin with a grid.
What is the desired bratwurst internal temperature?
The desired internal temperature for bratwurst is 70°C or 158°F. Once it reached this temperature you can transfer it to the direct heat to roast it on each side for about 2-3 minutes to get the desired colour.
How long do you cook brats on the grill?
The ideal grilling time depends on the type of sausage you are using and its size. Raw sausages will take longer to reach the ideal internal temperature than preboiled sausages. As a rule, preboiled sausages take about 8-10 minutes, and raw sausages will take around 15-20 minutes to reach the ideal temperature in indirect heat. It is best to use a meat thermometer to be sure.
Then spend about 2-3 minutes to bring the bratwurst to colour by turning it in direct heat from all sides.
What to serve with Bratwurst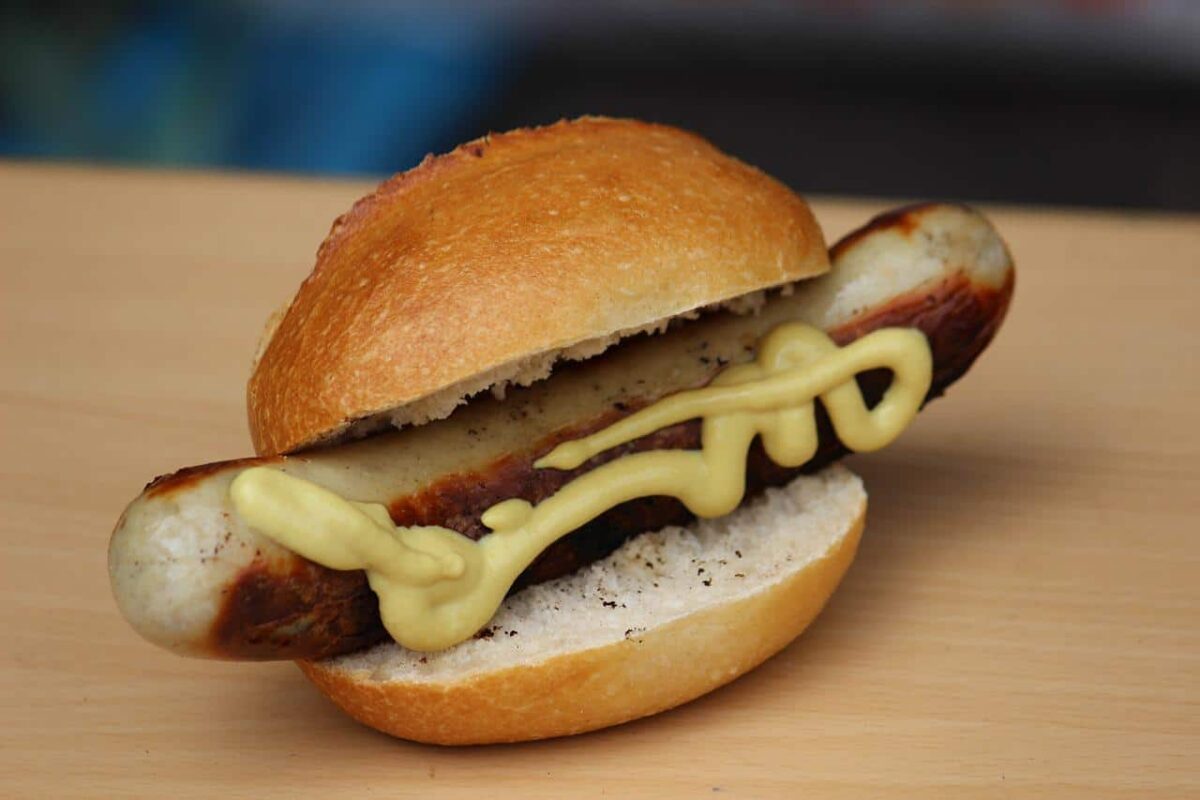 There are several ways to eat bratwurst. The quickest way is to simply have it with a bun (Brötchen) or a slice of rye bread. In Germany, we use crusty buns, not the soft sausage buns that are common in the USA and UK. If you cannot get hold of a crusty bun, then I would recommend using a baguette.
Condiments
Popular condiments to use with bratwurst are tomato ketchup, curry ketchup and German mustard (affiliate link).
Salads
The most popular salad to eat with Bratwurst is without doubt the German potato salad. However, also Krautsalad, German Pasta Salad or Egg salad are welcome side dishes at BBQs.
Potatoes and Dumplings
You do not have to limit yourself to enjoying your Brats during a BBQ but also make a great meat dish during traditional meals. With some German red cabbage with potato or bread dumplings. Bratkartoffeln is also a very popular side dish to go with Bratwurst.
Storage Instructions
I would advise you to eat the sausages hot, fresh off the grill. But do not worry if you have made too many. You can keep grilled brats in the fridge for between 3-5 days.
They keep up to 2-3 months if you place them in an air-tight container and freeze them.
More German BBQ Recipes:
Did you try this recipe?
Please leave a rating or a comment below. I would love to hear from you. You can send me an e-mail or comment on Facebook, Instagram or Pinterest.
Why not share our Facebook Group - Homemade German Food & Recipes. Here we chat about German Food and share recipes.
Recipe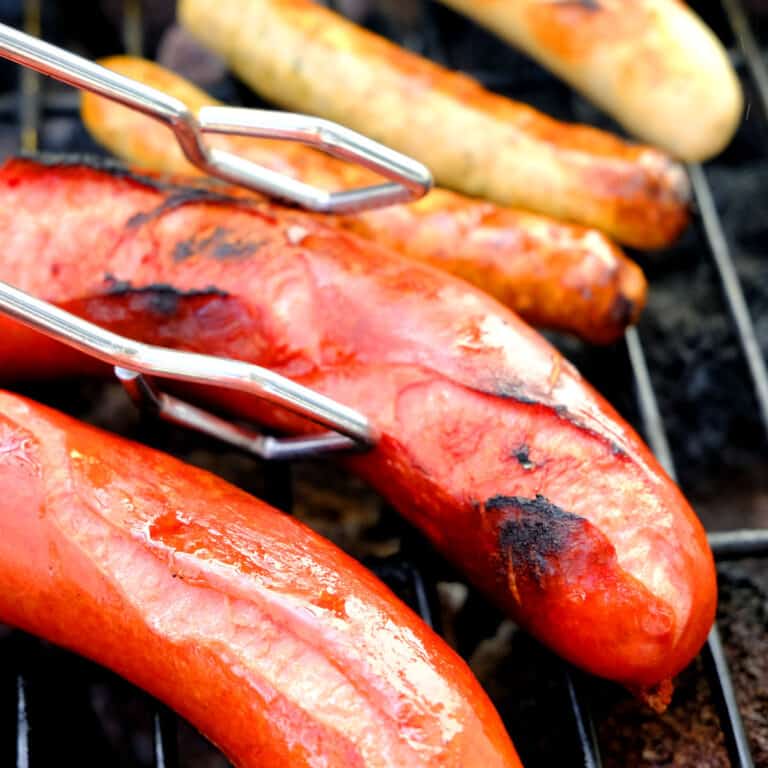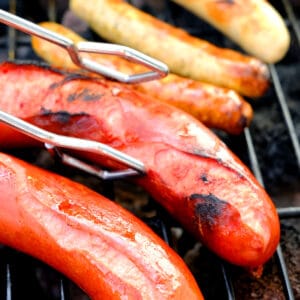 Grilling Brats the German Way
Let me show you how to grill, to ensure that they end up nice and crispy on the outside, and hot and juicy on the inside.
Instructions
Remove the Brats from the fridge, at least one our before cooking. This will ensure that they will cook evenly.
If using Gas
Preheat the Gas stove to 200°C/392°F. If possible create an indirect and direct heat zone, by only turning on one cooker.
IF using Charcoal
Only place the charcoal on half of the grill pan. This will help create a direct or indirect heat zone.
If your grill is very small or does not have a lid
You can create an indirect heat zone, by placing the sausages on a roasting pan with a grill.
Grilling the sausages
Place the sausages in the indirect heat zone for about 5-10 minutes. The internal temperature of the sausage should reach 70°.C /158°F

Once the sausage has reached the correct temperature move it to the direct heat zone. Grill the sausages on each side for about 3 minutes until it desired brown colour is achieved.
Nutrition
Calories:
220
kcal
Carbohydrates:
2
g
Protein:
9
g
Fat:
19
g
Saturated Fat:
7
g
Polyunsaturated Fat:
2
g
Monounsaturated Fat:
10
g
Cholesterol:
49
mg
Sodium:
558
mg
Potassium:
230
mg
Vitamin A:
4
IU
Calcium:
18
mg
Iron:
1
mg