Once you smell homemade braised German red cabbage with apple you will understand. It wakes memories of cold winter days, festivities and a big family gatherings. Germany is full of red cabbage (Rotkohl) recipes but cooking it with apple is the pinnacle for me. 
I had to learn how to make braised red cabbage with apple from scratch while living in England.  In Germany, you can just buy it ready cooked and frozen in the supermarket, not so in the UK. "Rotkohl" is my favourite dishes so I have worked hard at perfecting this homemade recipe. (I first posted this recipe in March 2014 but have updated in November 2020)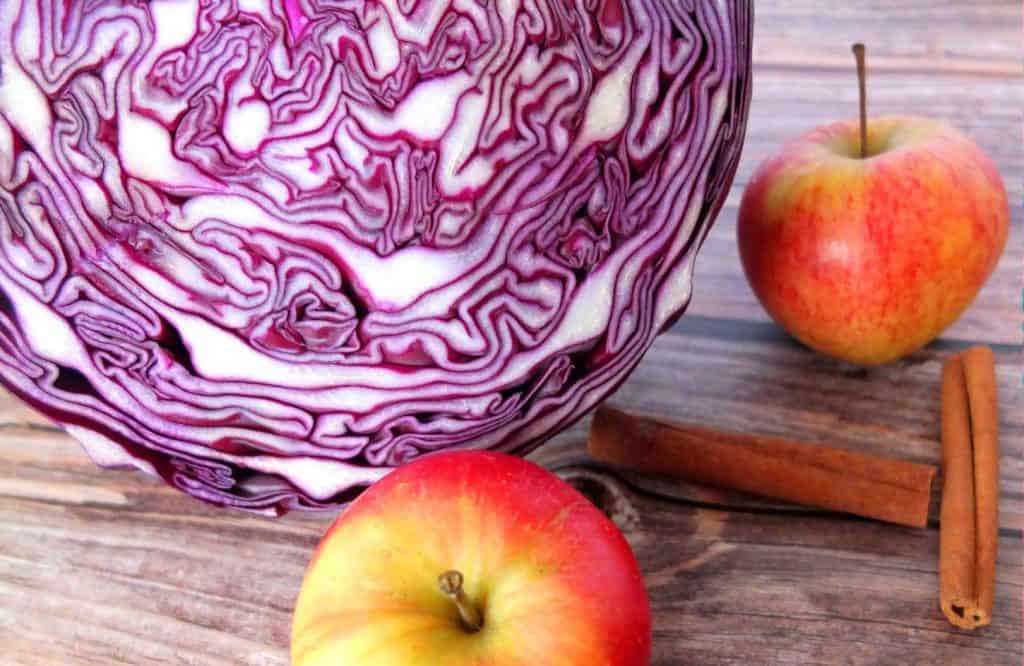 Rotkohl, Kappes, Rotkraut or Blaukraut - what shall we call German red cabbage?
Now this is complicated. There are various names for the same dish in Germany. In short it depends on which region of you are in. "Rot" - means Red in German. "Blau" is Blue in German. Why this is not called Purple cabbage I have outlined in the section below. "Kohl" means Cabbage in English and "Kraut" means the same.
Here are the regional names for Red Cabbage in Germany.
Rotkohl: North Germany (Schleswig-Holstein, Hamburg, Lower Saxony, northern Saxony-Anhalt, Berlin, Brandenburg, Mecklenburg-Western Pomerania, North Rhine-Westphalia), Switzerland
Rotkraut: Mittel- und Südwestdeutschland (Saxony, Thuringia, Hessia, Baden, Pfalz, Franconia), East-Austria, Switzerland
(Rot-/Blau-)Kappes: Nordrhein-Westfalia, Rhineland
Blaukraut: South Germany (Württemberg, Bavaria), Austria, Switzerland
What are the main ingredients for German Red Cabbage?
Red Cabbage (shredded)
Red Wine Vinegar – it will add the sourness to the dish. The chemical reaction between the red cabbage and vinegar will also give it it's a nice red colour.
Apples – see below the notes for which variety works best
Onion – these add to the rich sweet flavours, as they get caramelised in the sugar.
Spices for red cabbage and apples
The spices make this red cabbage side dish really exciting. The flavours are rich.
Bay leave
Cinnamon stick
Cloves
My tip for avoiding "speed bumps" (as my friend calls the annoyance of biting into clove seeds while eating ) is to put them in a loose tea bag. You can also use spice bags made of linen. This way you can fish them out all at once.
German Red Cabbage Essentials (Affiliate Links)
Variations to the Red Cabbage and Apple Recipe
Every household has their own recipe. The recipe described here is how I make it at home. Why don't you give this one a try and then adapt it to your families needs. Here are some suggestions
make vegan red cabbage and apple- by replacing the butter with vegetable oil
Slimming World and Weight Watchers red cabbage - I followed this diet a few years ago and had to adapt the recipe. I used fry light to fry the onions and replaced the sugar with organic sweetener.
Add red wine - for extra flavour.
Add cranberry sauce or jelly for extra fruity sweetness
replace the butter with goose fat for a unique flavour
add Juniper berry.
try cooking it with a whole onion spiked with cloves and removing the onion after cooking.
replace the red wine vinegar with apple or cider vinegar.
Please write more suggestions in the comments and I am going to update this list.
How to cook German Red Cabbage and Apple
To make German style red cabbage you will have to "braise" it. Basically, it means you fry it in butter before being cooked.
Pour the red wine vinegar over the sliced red cabbage. 
In a saucepan caramelise the onions and apples in the butter with a bit of sugar. 
Add the red cabbage and fry just long enough to soften. 
Add the water and spices and place a lid on the saucepan. The red cabbage will begin to steam. 
Leave it to cook for about an hour, while turning occasionally. Check that the bottom does not burn.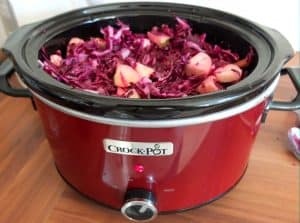 Can you cook red cabbage in a slow cooker? 
Well, I am happy to report you can! I tested it, after having some leftover fresh red cabbage. You may not get the same intricacies than if you follow the original recipe step bit by bit but its still delicious. I am a convert, to cooking the red cabbage in the slow cooker. 
The advantage is that you have the rest of the hobs free for other delicious activities. You can prepare the red cabbage in advance and then forget about it for 5 hours. This is the crockpot I use and love (affiliate link)
What to serve with German red cabbage and apples?
This sweet and sour spiced cabbage dish complements rich meaty flavours such as duck and goose. These meats are eaten traditionally in Germany during the advent and autumn seasons, which is why it is often associated with Christmas. 
Here is a list of dishes that you can serve with red cabbage and apple:
Duck 
Goose 
Roast Beef (or any roast dinner)
German dumplings 
Potatoes 
Nuerenberger sausages 
Game
Which apples should I use for this braised red cabbage?
To achieve the sweet and sour red cabbage flavour, it is best to use sour apples.
I would suggest following varieties for this recipe:
Braeburn
Cox
Granny Smith
Bramley
Why do we Germans call red cabbage "red" or "blue"? (and not purple cabbage)
Here is some fun trivia about German Red cabbage for you: In German red cabbage is called "Rotkohl". However once red cabbage is cooked it does not really turn red but purple. In some areas of Germany it is actually called "Blaukraut" – blue cabbage.
The reason the name "red cabbage" stuck was because the German word for purple "lila" was not really in use until the 18th century. So in some areas of Germany it is known as "Rotkohl" or "Rotkraut" (red cabbage) and in others "Blaukraut" (Blue Cabbage).
It is probably to late to introduce the name "purple cabbage". (source Wikipedia)
How long will cooked red cabbage keep in the fridge?
The braised red cabbage will stay good in the fridge up to 4 days. Make sure you keep it in an airtight container. Remove all the spices (cloves, bay leaves and cinnamon stick) before storing, as otherwise the flavour intensifies.
How long will cooked red cabbage keep in the freezer?
Make this recipe in big batches and store it in portions in the freezer. It stays good in the freezer for up to three months. Also, it is a perfect little side dish for a mid-week dinner.
Traditional German Red Cabbage and Apple Recipe
Ingredients  
1

kg

red cabbage

2 lb

2

onions finely sliced

approx 150 gr (5 oz)

3

sour apples

approx 400 gr (14 oz See notes for which types work best.

50

g

butter

2 tbsp

1

bay leaf

4

cloves

1

cinnamon stick

70

ml

red wine vinegar

2.5 fl oz

125

ml

water

2

tbsp

sugar

1

tsp

salt
Instructions 
To cook in a saucepan
Remove the leaves and stalk from the red cabbage; wash them and cut into fine strips. I suggest shredding them in your food processor to save time. Once transferred into a bowl pour the red wine vinegar over it.

Peel and finley slice the onions.

Peel, core and cube the apples. (appox 3 cm cubes)

In a large saucepan melt the butter on medium heat. Add the onions and fry them until they begin to brown. Now add the sugar and apples and fry until they start to caramelise. Add the cabbage to it and fry for 5 minutes. Continue to stir it to make sure it does not burn.

Add the bay leaf, cloves, salt, cinnamon stick and water. Place a lid on the pot and leave to steam on a low heat for about 1 hour. Stir it occasionally to ensure the bottom does not burn.

If you find the cabbage to liquidy mix 1 tbsp flour with 2 tbsp of water in a little bowl and add to the cabbage pot.

Add more sugar or salt to taste.

Serve immediately or the next day. This dish sometimes tastes even better the next day and freezes well.
To cook in the slow cooker
Grease the bowl of your slow cooker with some butter.

Remove the leaves and stalk from the red cabbage; wash them and cut into fine strips. I suggest shredding them in your food processor to save time. Once transferred into a bowl pour the red wine vinegar over it.

Peal and cube the onions.

Peal the apples; remove the core and chop into approx. 2 cm cubes

Add all the ingredients and leave to cook for around 5 hours.