Who does not like raclette? There is nothing better than sitting around a table, with all your loved ones. Each one of you preparing your best raclette recipes. This is the magic of raclette. Raclette ideas are endless and the menu is ever-changing.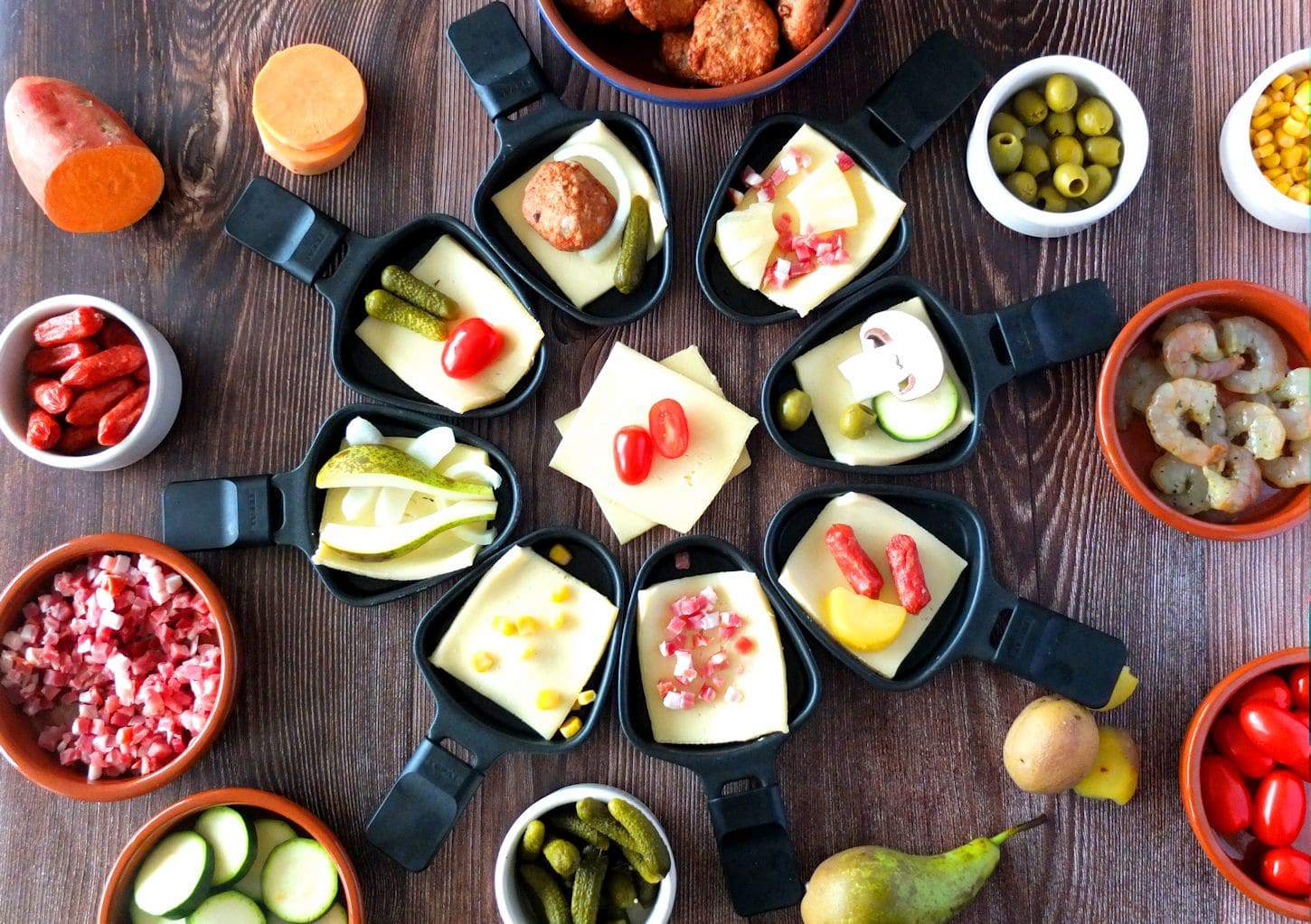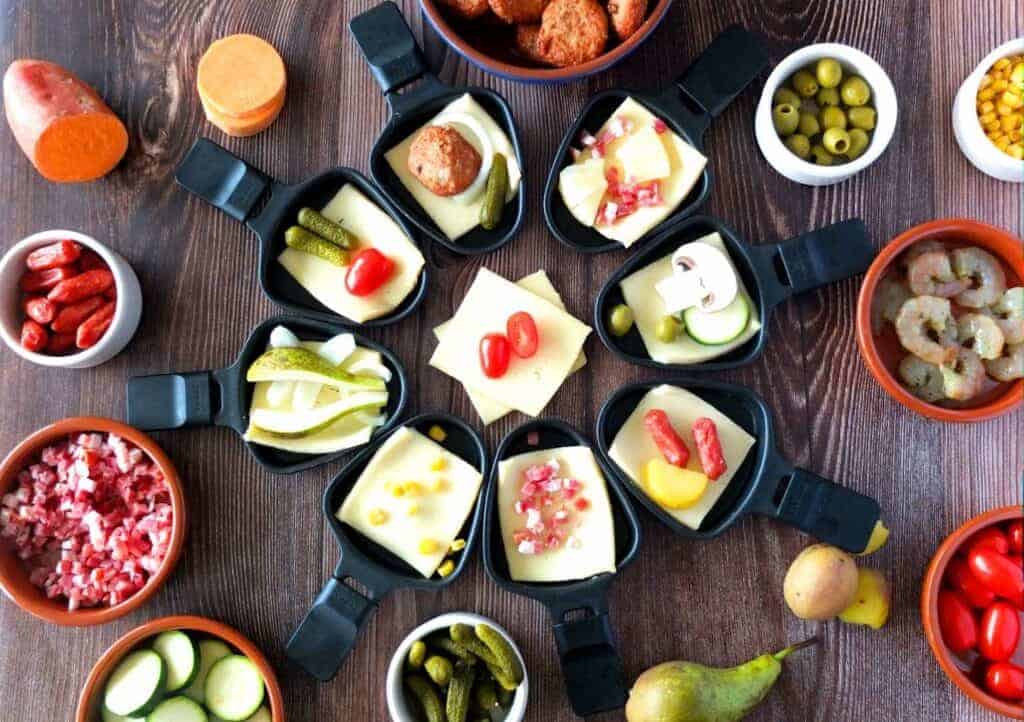 Jump to:
In Germany, raclette is a common winter meal. It is one of the most popular meals for Christmas eve [source Stern], and a classic meal at New Year's Eve. This custom started in the late 1960s, when Germans visited Switzerland for skiing and brought the tradition back home [source Deutschlandfunk]. In the last decades, the raclette trend has grown and now Germany is the world's largest importer of Raclette Cheese. [source Luzerner Zeitung]
This article is meant to help you plan your perfect raclette dinner party by providing some raclette ideas. It aims to reduce the stress that every one of us faces planning a raclette dinner party. What to buy? How much to buy … and have I forgotten anything?
Download this handy raclette shopping list for free here! Simply cross out the items you do not want to buy and add your own ideas to it.
Where does raclette originate from?
Raclette originates from the Canton Wallis in Switzerland and is around 400 years old. The star ingredient is melted cheese. "Bratchäs, or "roasted cheese" as it is called in the German-speaking part of Switzerland. Traditionally the cheese is melted over an open fire.
In Switzerland, a scraper continuously serves all in the restaurant from an oven placed in a separated table or near a wood fire. In France, restaurateurs often place a raclette oven directly on the table. The scraping is to be done by the guests in that case. [source Wikipedia]
How to eat Raclette
You all sit around a table. The raclette grill is placed in the middle of the table and all the raclette ingredients are placed around it.
Each one of you gets your own raclette pan. You pick your favourite ingredients and place them on in your pan. You cover the incidents with a slice of cheese and place it under the grill. Once the cheese has melted and is bubbling it is ready to eat.
The top of the grill is used for grilling and cooking meat and other ingredients. You can fry some onions on the top, or sausages or grill meat. Make sure you do not use too greasy ingredients, as you don't want the fat to spit on your guests.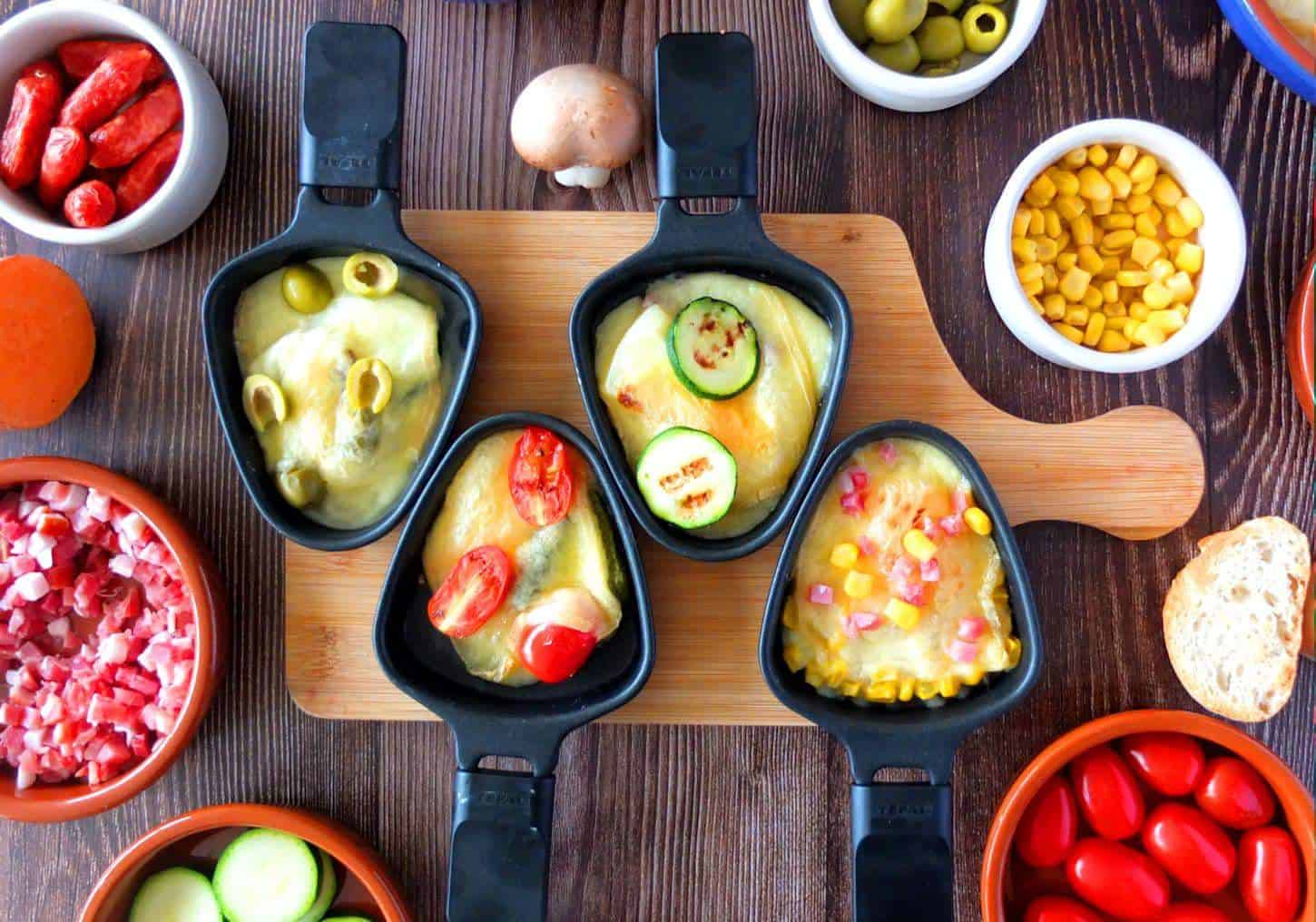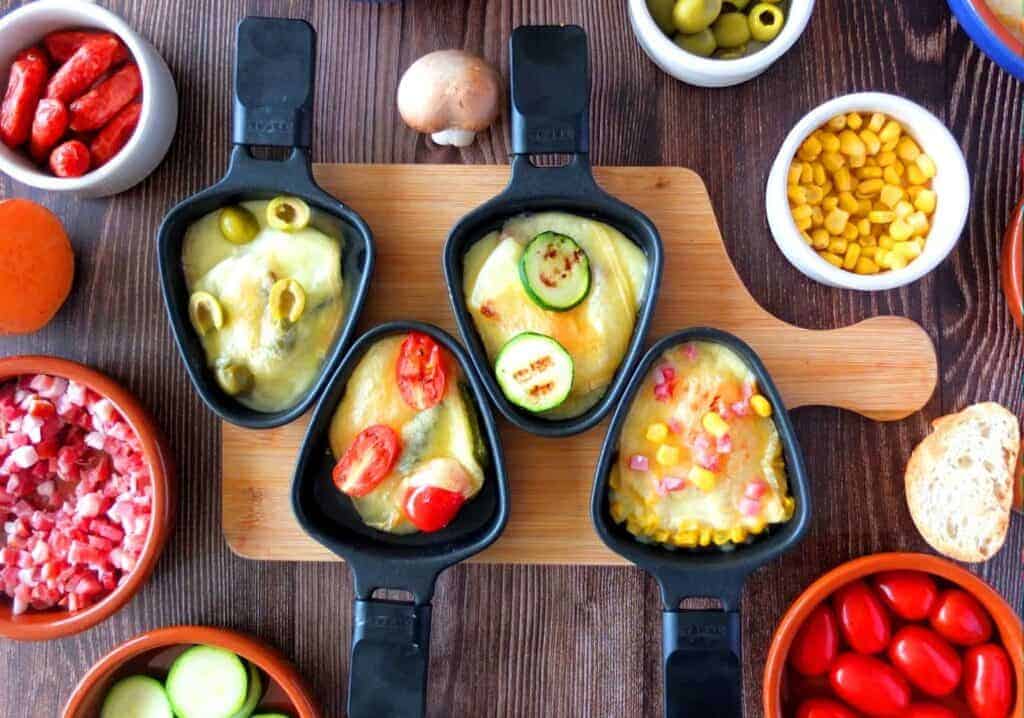 What raclette grill and other equipment do you need?
The most important equipment is the raclette grill. In Switzerland, you also use a raclette oven, but in this article, we are only discussing the conventional grill.
I am not an expert in choosing a raclette grill, but I can give you some pointers.
What to consider when choosing a raclette grill
How many should it feed? (you can buy raclette grills for 2 people and for 8 or more)
Would you like a stone or a metal grill or a combination of both?

Advantages of a metal grill raclette

Does not take long to heat up

Some surfaces are challenging to clean.

Advantage of a stone grill raclette

Distributes heat more evenly

You can buy raclette grills with colour coded pans, so your guests don't mix up their pans if that is something that is important to you.
Some raclette grills have controls so that you can regulate the temperature according to your preferences. The cheaper ones just have an off and on-button.
I have been using my Tefal Raclette for years. It has a metal grill and a simple on and off button. We only use it 3-5 times a year, but it has been a reliable companion over the years.
Some Raclette Grill Suggestions (affiliate links)
Raclette Equipment Checklist
A raclette grill with pans and wooden spatulas. At least one per guest.
An extension lead, if your raclette cable does not reach your closest plug socket.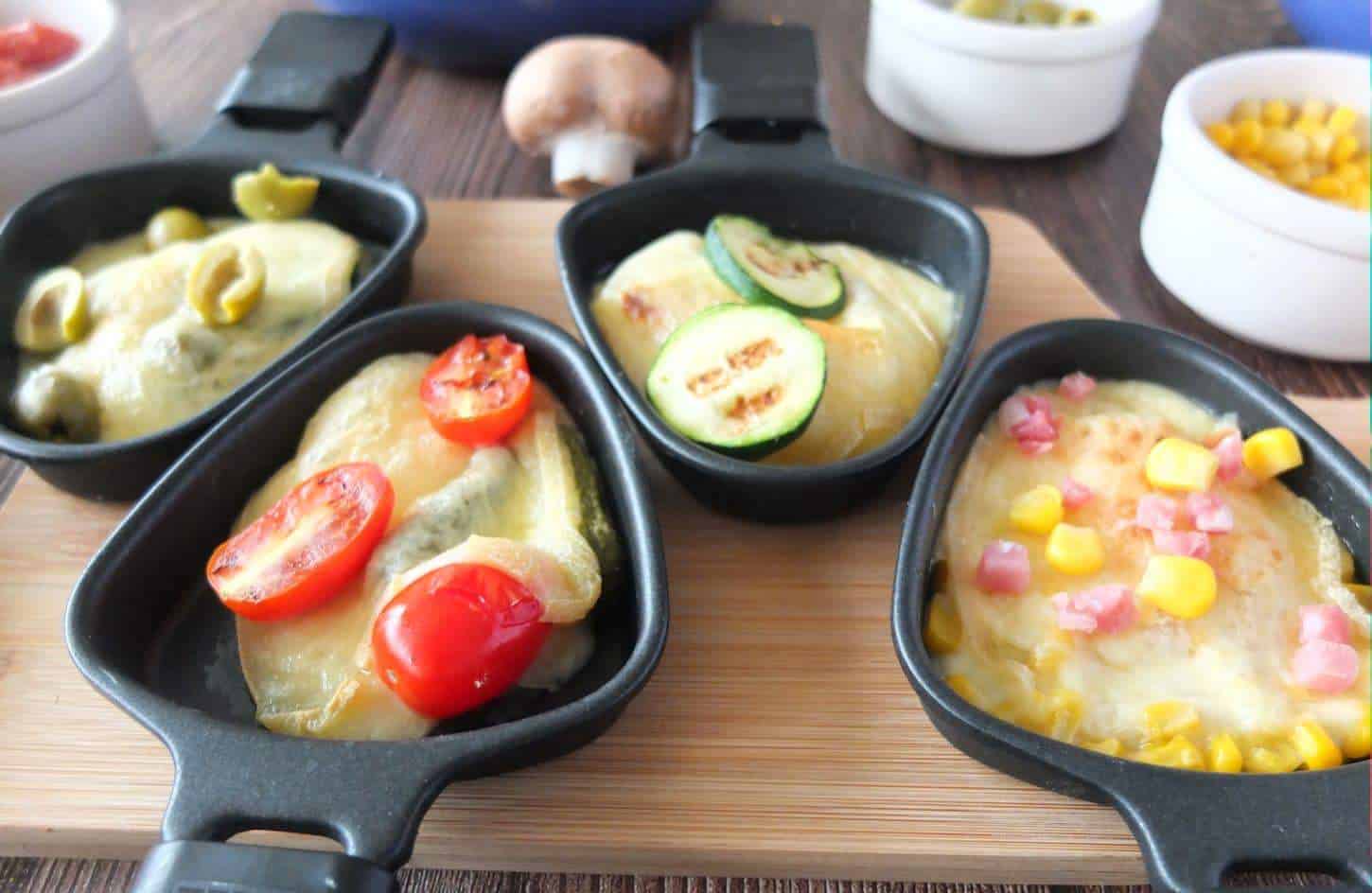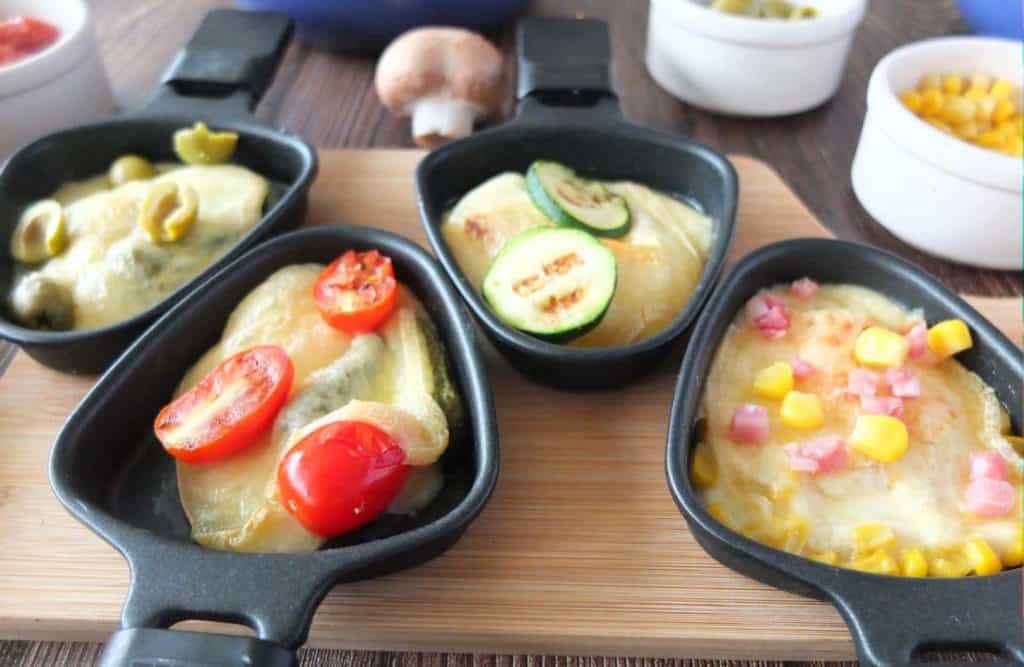 Ingredients for your perfect raclette menu
Which cheese to use for raclette?
Cheese is the star ingredient in this dining experience. The classic cheese is the swiss raclette cheese from the Kanton Wallis. Their varieties include Bagnes, Goms or Orsieres.
Where to buy raclette cheese? (affiliate links)
In Germany it is available all year round in larger supermarkets such as Rewe and Real. In the UK and US you can find raclette cheese in Lidl and Aldi during Christmas time or in specialist cheese shops.
In the UK you can find raclette cheese in larger Waitrose's with a cheese counter. However, I have put together a list of online retailers.
UK: Tesco Raclette Cheese or Pongs Cheese
Germany: Rewe Raclette Cheese
Can you eat the rind of raclette cheese?
Traditionally you eat the rind of traditional swiss raclette cheese. It is free from artificial substances. However, if you use any other cheese it is best to check with the manufacturer's guidelines.
Raclette ideas for alternative cheese?
Mozzarella (mild and melts very well)
Cheddar
Butter Cheese or Gouda (especially popular with children)
Brie
Gorgonzola (or any other blue cheese)
Feta
There is no limit to the possible cheese you can use. If you are not sure, why not put together a combination of a few.
How much raclette cheese per person?
Plan between 200 and 250 gr (7-9oz) of raclette cheese per person. Store it in the fridge. Remove it an hour before serving for the cheese to acclimatise and the aroma to release. If you buy one solid chunk of raclette cheese, slice it before your guests arrive.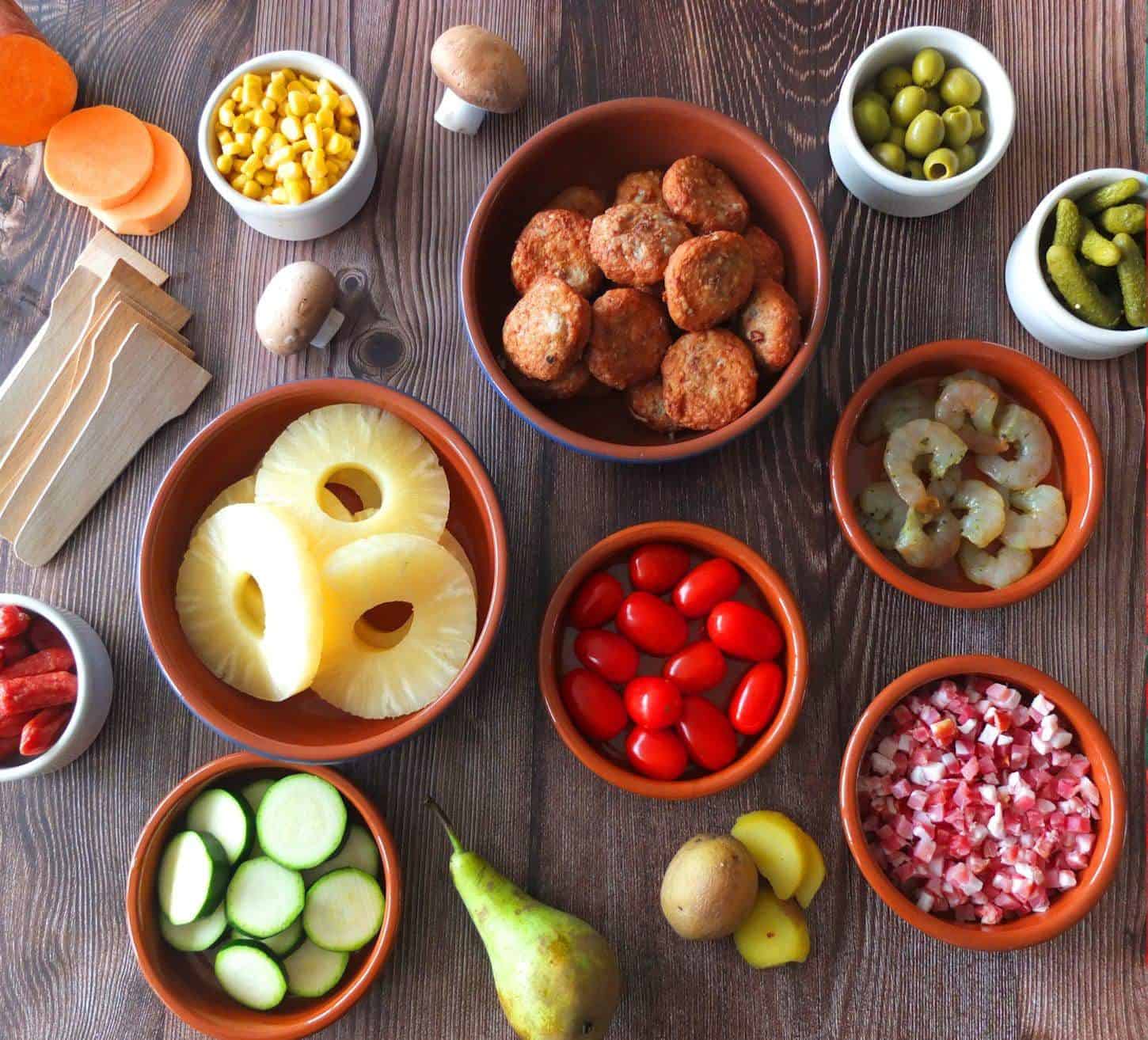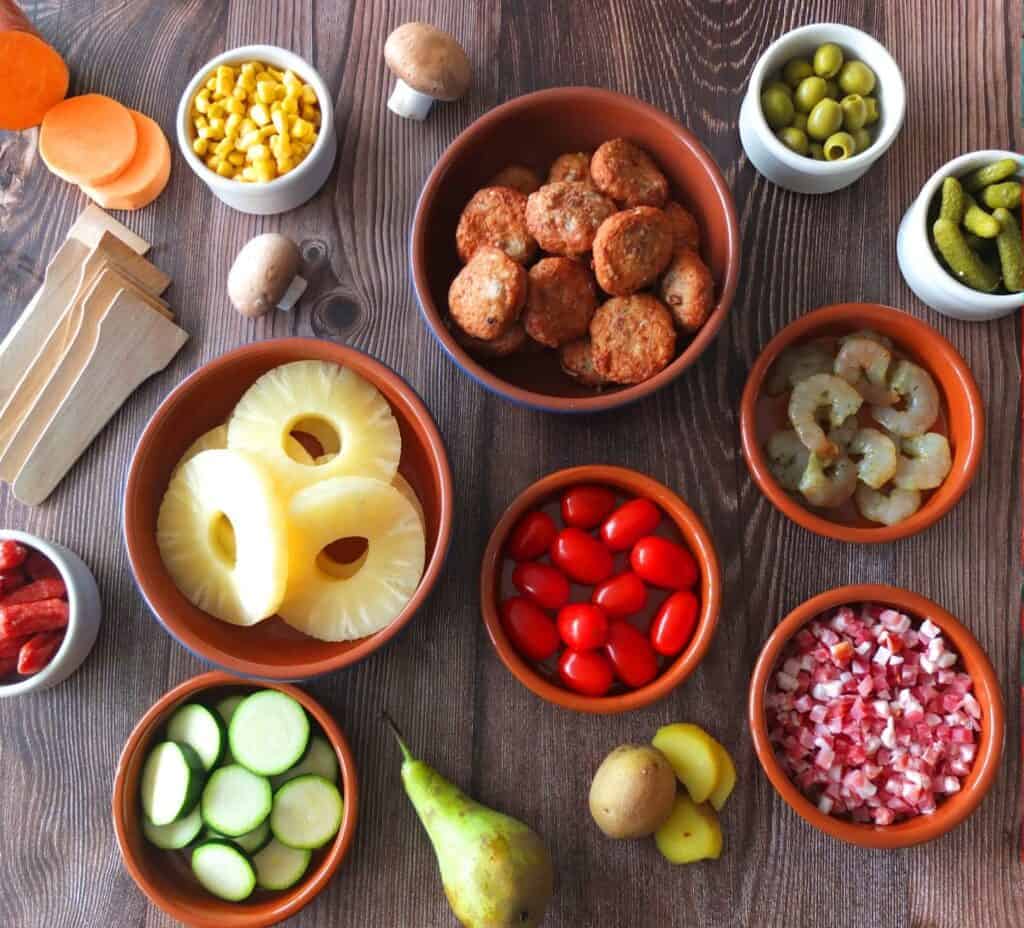 What to serve with the cheese? Some raclette menu ideas
Now all the little raclette side ingredients make this dish so fun. This is not a set of instructions, but I just want to give you some raclette ideas that you can use as inspiration. This raclette menu has a German twist ~ but I cannot emphasise enough to just use your imagination. The most important thing about your raclette dinner party is that you have fun.
When choosing the ingredients for your raclette menu make sure that you consider your guests tastes. Make sure you have a large enough variety to please everyone.
Also, consider a good mix between filling raclette ingredients (such as potatoes, bread, noodles, etc) and light ingredients (such as mushrooms, onions, fruit etc)
Raclette vegetable suggestions (have a good selection)
Tomatoes
Cherry Tomatoes
Peppers
Mushrooms
Sweetcorn
Aubergines
Cauliflower
Onions
Olives
Cornichons
Broccoli
Potatoes (about 150 gr (6 oz) per person
Sweet Potatoes
Courgettes
Jalapenos
Avocado
Fruit suggestions for raclette (add a few to your vegetable offerings)
Some us like it sweet and it really compliments the strong taste of the cheese. You can choose a mixture between canned and fresh fruit:
Pineapple
Pears
Peach
Mango
Grapes
Fig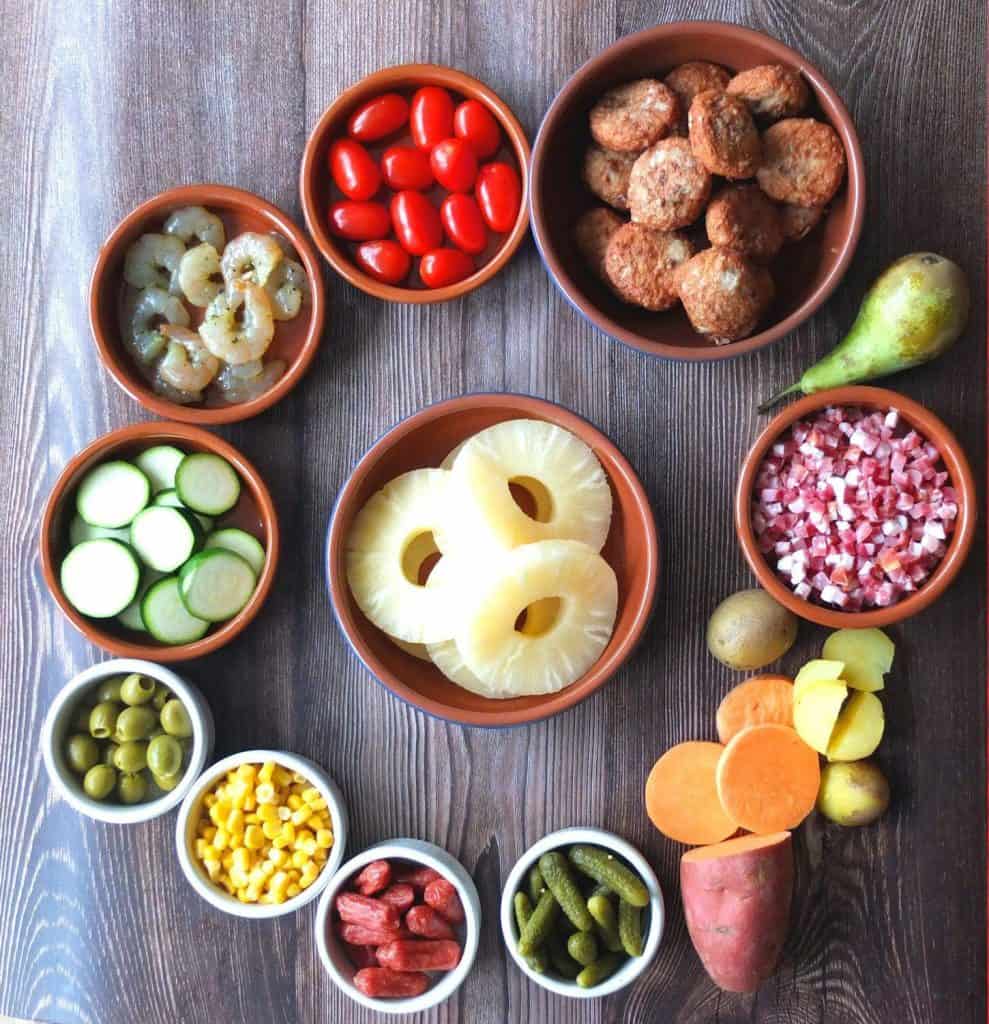 Which meat for Raclette (about 150-200 g per person (6-7 oz))
Uncooked meat: steaks, cut up chicken breast, pork filets, or even make little uncooked German meatballs or hamburgers. (make them quite thin as otherwise, the meat takes too long to cook.)
Cooked and cured meat: Ham, roast beef, bacon lardons, chorizo, frikadellen, salami or turkey slices
Sausages: Nürenberger sausages

(affiliate link)

, bratwurst

(affiliate link)

bites, frankfurters or smoked sausages such as Krakauer

(affiliate link)

, salami or cabanossi.
(Remember that the raclette will just melt the cheese over the meat in the pans. So if the meat is uncooked make sure to grill it on the plate before using in pans)
Raclette ideas for serving seafood
Seafood works well with your raclette menu. It does not take long too cook, but make sure that it is cooked through before eating. It is up to you, but I would choose ingredients that are not too smelly when cooking.
Scallops
Prawns
Smoked Salmon
Crab
Side dishes for Raclette (plan about 200 gr per person)
Bread (we normally use baguette but any crusty bread will work)
Cooked pasta
Crisps such as nachos also tastes good with melted cheese.
Salads and Dips for Raclette
Serve at least one green salad with the raclette. Not only is it a light side dish for a heavy meal but it also helps to bridge the gap for those who cannot wait for their cheese to bubble.
In addition, it is useful to add some dips and condiments to the table. Guests can choose how to use them, and there is also the possibility to dip the vegetables into them
Tsatsiki
Mustard

(affiliate link)

Mayonnaise
Ketchup (for the sausages)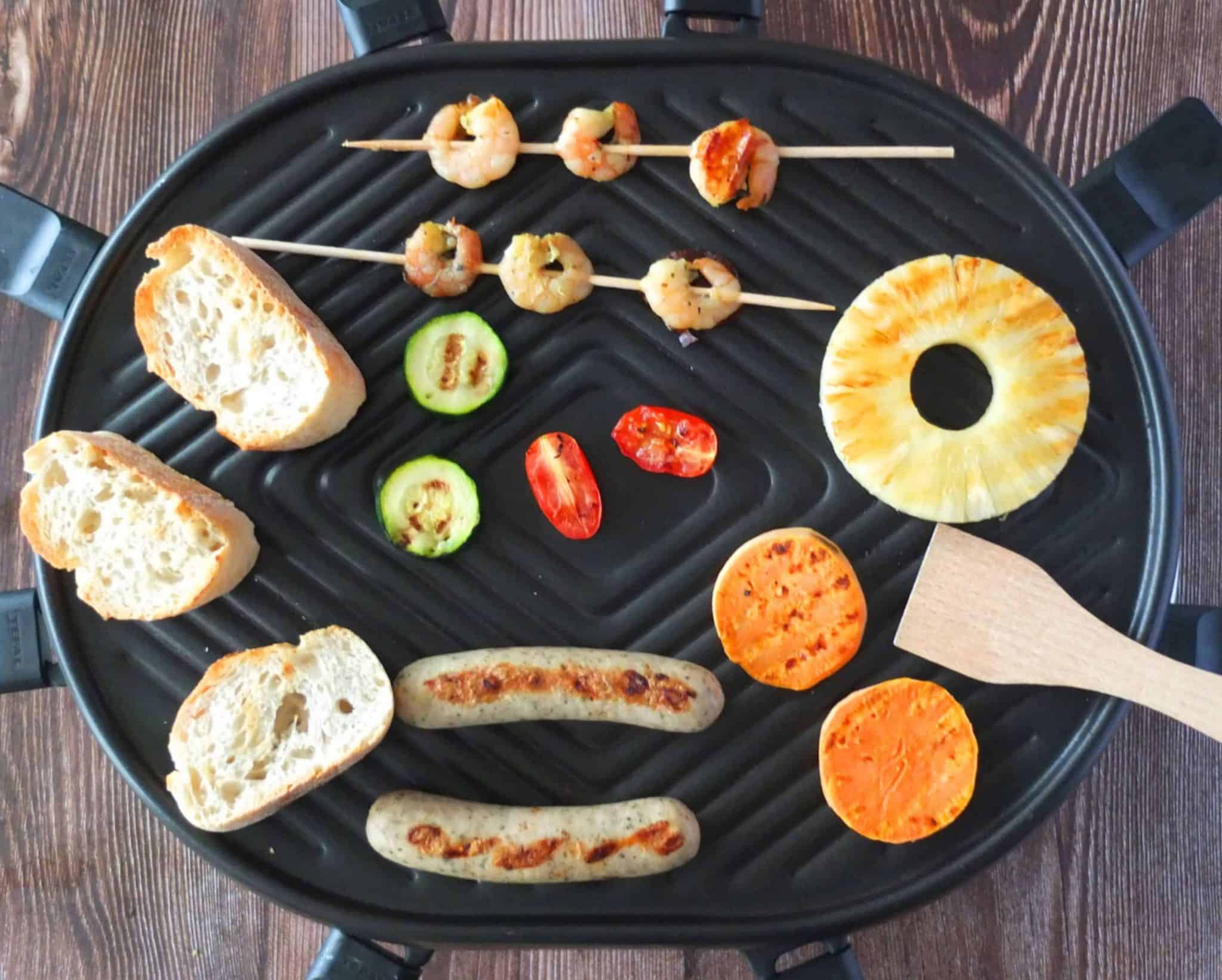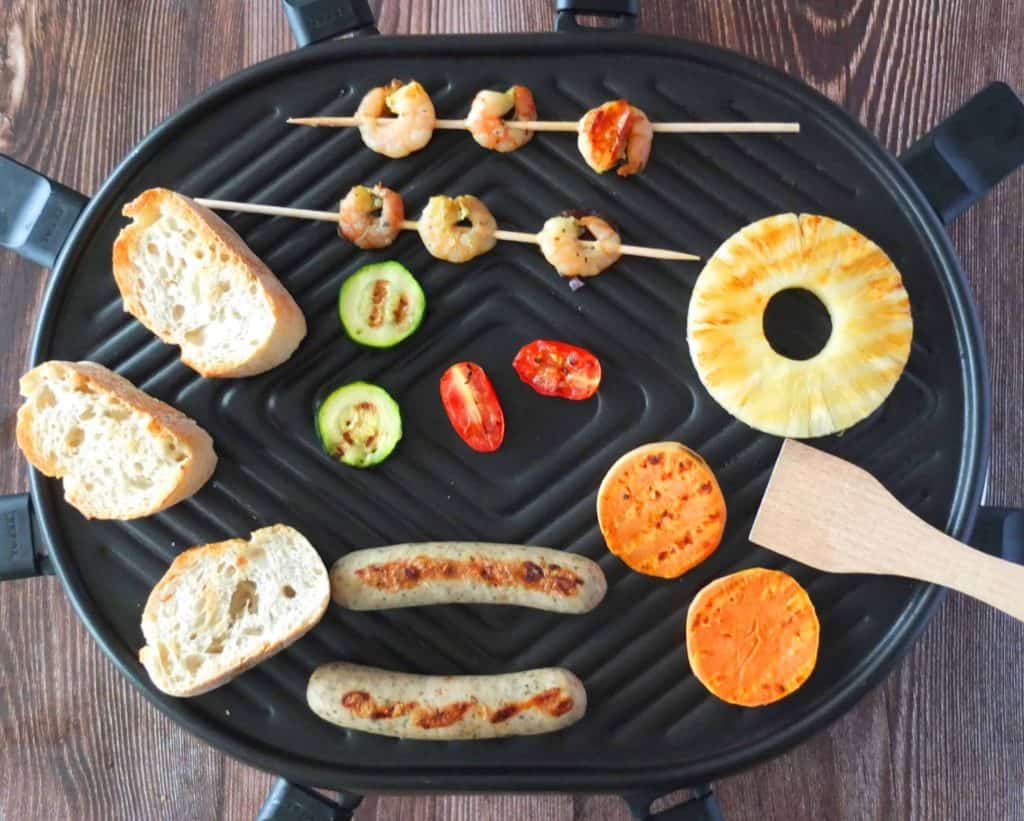 Checklist for the Raclette Menu Preparation
Plan at least an hour to prepare all of your raclette menu items. The guests should not need to do any chopping. Also some time to precook some ingredients, as the raclette only melts the cheese on top ingredients. It will not cook a potato.
Cut all meat and vegetables into bite-size portions (they need to fit into the little raclette pans)
Season the uncooked meat
Boil potatoes, pasta and spätzle
Make salad and salad dressing ahead
Place all the side dishes around the raclette grill. If you need space, add a little side table.
Just remember, you do not want to be running back to the kitchen all evening.
After the raclette meal
Check if you can place your raclette pans in the dishwasher. If not, soak them in water overnight. Oven cleaner can help against persistent residue.
The smell of raclette cheese can linger for days. Make sure to air the room after the meal and maybe leave a plate with coffee powder to neutralise the small.
What do with leftover raclette ingredients?
It is inventible that there will be some leftovers after raclette. However, this does not mean it has to go to waste. Make sure you cook all leftover food when storing it. The leftover vegetables can be used the next day in a stir fry or salad. Just store them in an airtight container in the fridge. They should stay good up to three days.
Unused raclette cheese can be frozen and stays good up to three months.
Recipe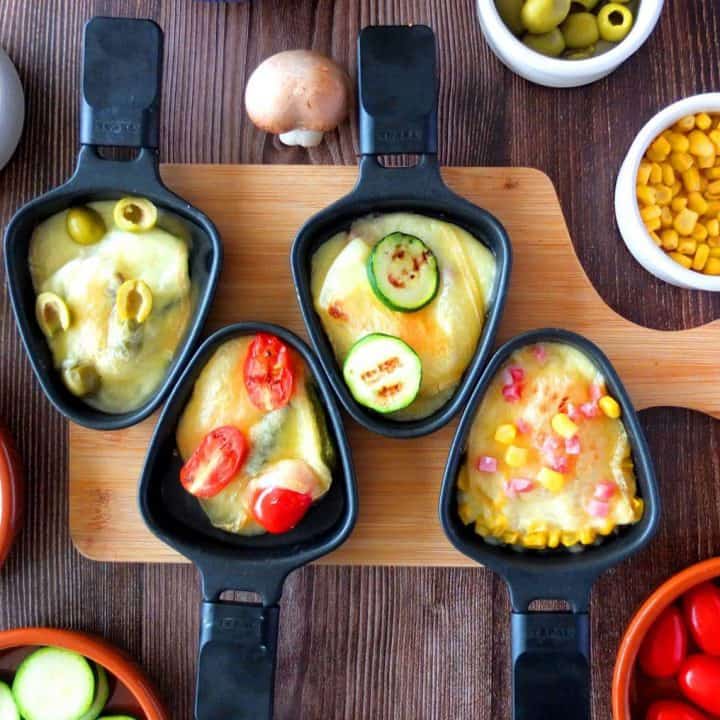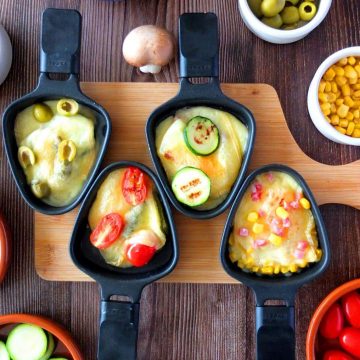 Raclette ideas
Recipe ideas for your raclette pan. Here are a few combinations to get your raclette menu started
Ingredients
Mediterranean Raclette Pan
4

olives

sliced

1

slice

raclette cheese

1

slice

tomatoe

¼

red pepper slices
Tomato and Cornichon Raclette Pan
4

cherry tomatoes (halfed)

2

cornichons
Pear, Onion and Courgette
¼

pear

sliced in thin stripes

1

teaspoon

sliced

onion

1

slice

raclette cheese
Hawaiian Raclette Pan
2

teaspoon

bacon lardons

2

tablespoon

pinapple chunks

1

tablespoon

sweetcorn
Instructions
Mediterranean Pan
Add the olives, pepper, tomatoes in your raclette pan. If desired season with a little rosemary.

Cover with a slice of raclette cheese and place under the raclette grill. Once the cheese bubbles the pan is ready to eat.
Tomato and Cornichon raclette pan
Place the tomatoes and cornichons in your raclette pan.

Cover with a slice of raclette cheese and place under the raclette grill. Once the cheese bubbles the pan is ready to eat.
Pear, Onion and Courgette raclette pan
Place the onion and pear slices in the pan.

Lay the sliced courgette on top of the raclette grill.

Cover with a slice of raclette cheese and place under the raclette grill. Once the cheese bubbles the pan is ready to eat. Place the grilled courgette on top.
Hawaiian Raclette Pan
Place the bacon lardons, pinapple chunks and sweetcorn in your raclette pan.

Cover with a slice of raclette cheese and place under the raclette grill. Once the cheese bubbles the pan is ready to eat.
Nutrition
Calories:
86
kcal
Carbohydrates:
5
g
Protein:
4
g
Fat:
6
g
Saturated Fat:
3
g
Polyunsaturated Fat:
1
g
Monounsaturated Fat:
2
g
Cholesterol:
15
mg
Sodium:
173
mg
Potassium:
118
mg
Fiber:
1
g
Sugar:
3
g
Vitamin A:
545
IU
Vitamin C:
16
mg
Calcium:
108
mg
Iron:
1
mg