Hi there, I am so glad you are here. I want to tell you all about my caramelised red onion chutney with chillies. Mainly because in our house we are literally obsessed with it. This is also the case for everybody I have gifted a jar.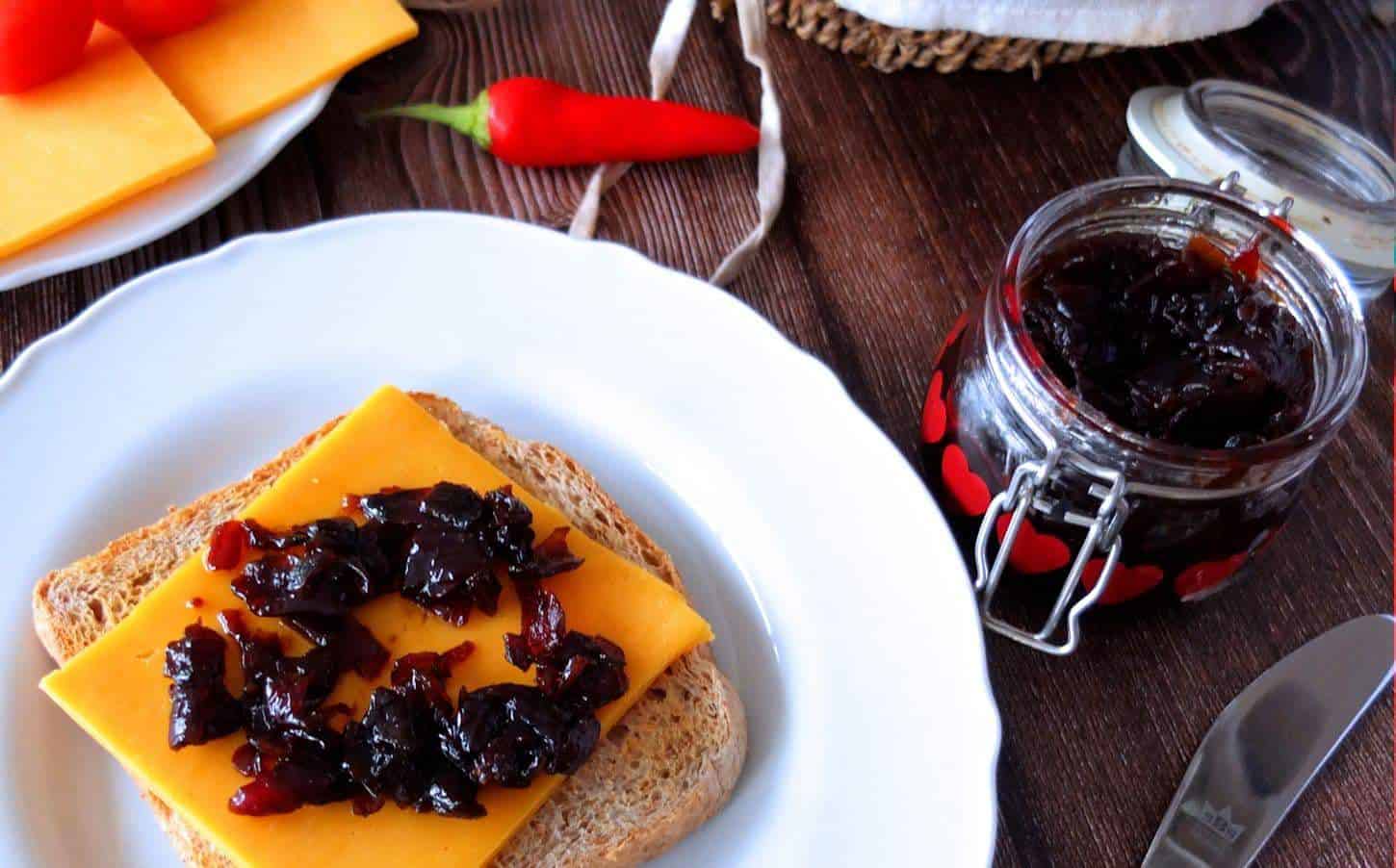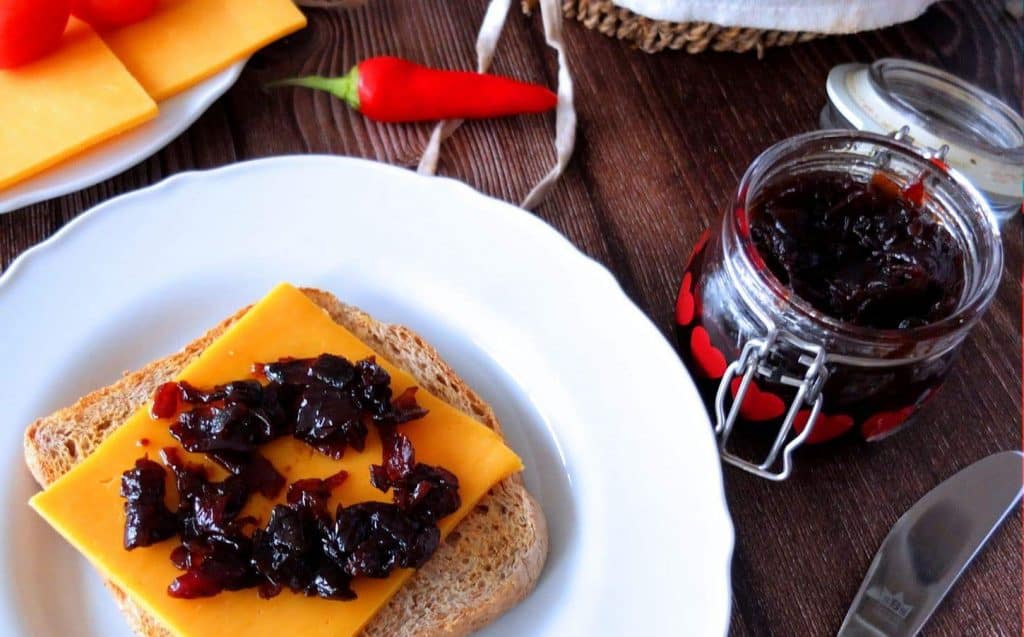 The first time I made this recipe was back in 2013 when I was living in England. I was looking for an edible gift for relatives. Since then I have been making it every year, and I have started taking orders from friends.
This is one of my favourite recipes I bought from the UK back to Germany. (This post was originally published in December 2013 and updated in Dec 2020)
What is chutney?
If you have never lived in Britain, you might not have heard of onion chutney. It is a sweet savoury condiment that originated in India but has spread all over the world. In Britain it is very popular, and you can buy it in jars at the supermarket.
I think my homemade chutneys tastes a lot better than shop bought chutney. It does not take long to make them. The best thing is that you can produce a few jars that will last you for months or make a great present for friends.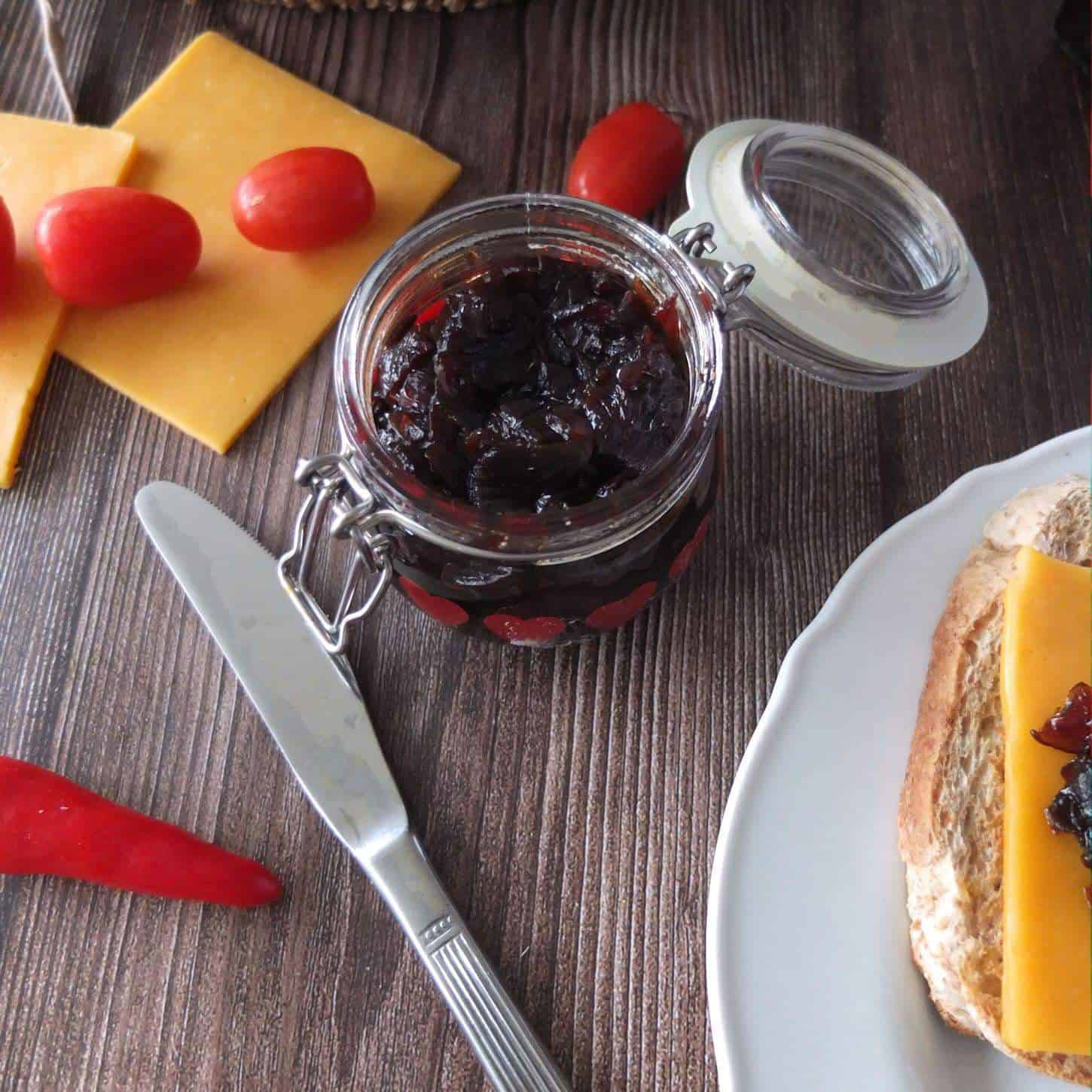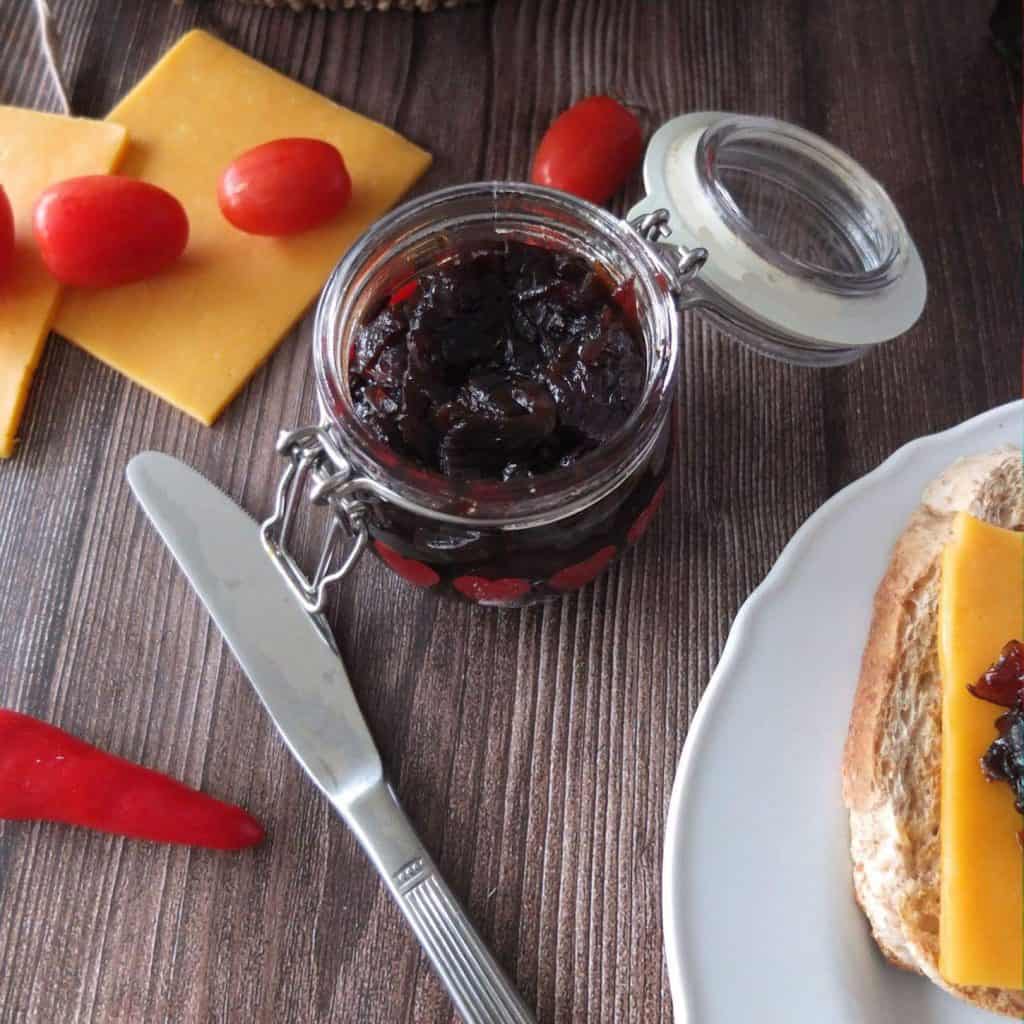 About my caramelised red onion chutney recipe?
What makes it different from all the other chutney recipes? Hmmm… for me it is the chillies. Red onions and chilli chutney has the sweet and spicy flavour that is so enticing. The hotness of the chilli is not a "I need a glass of water" kind. More subtle, warming aftertaste.
Chutney Essentials (Affiliate Links)
What to eat red onion chilli chutney with?
Well maybe the question should be what NOT to have with this chutney? Not kidding, you could have it with almost anything. But let's stick to the traditional suggestions to start with:
A slice of mature cheddar and chutney on toast (or any other kind of cheese)
Pate with caramelised red onion chutney
Cold cuts of meat like ham, chicken or turkey
Try it in a hot dog instead of caramelised onions
Use it as a condiment for your beef burger
it is also a great condiment to have for some recipe ideas for raclette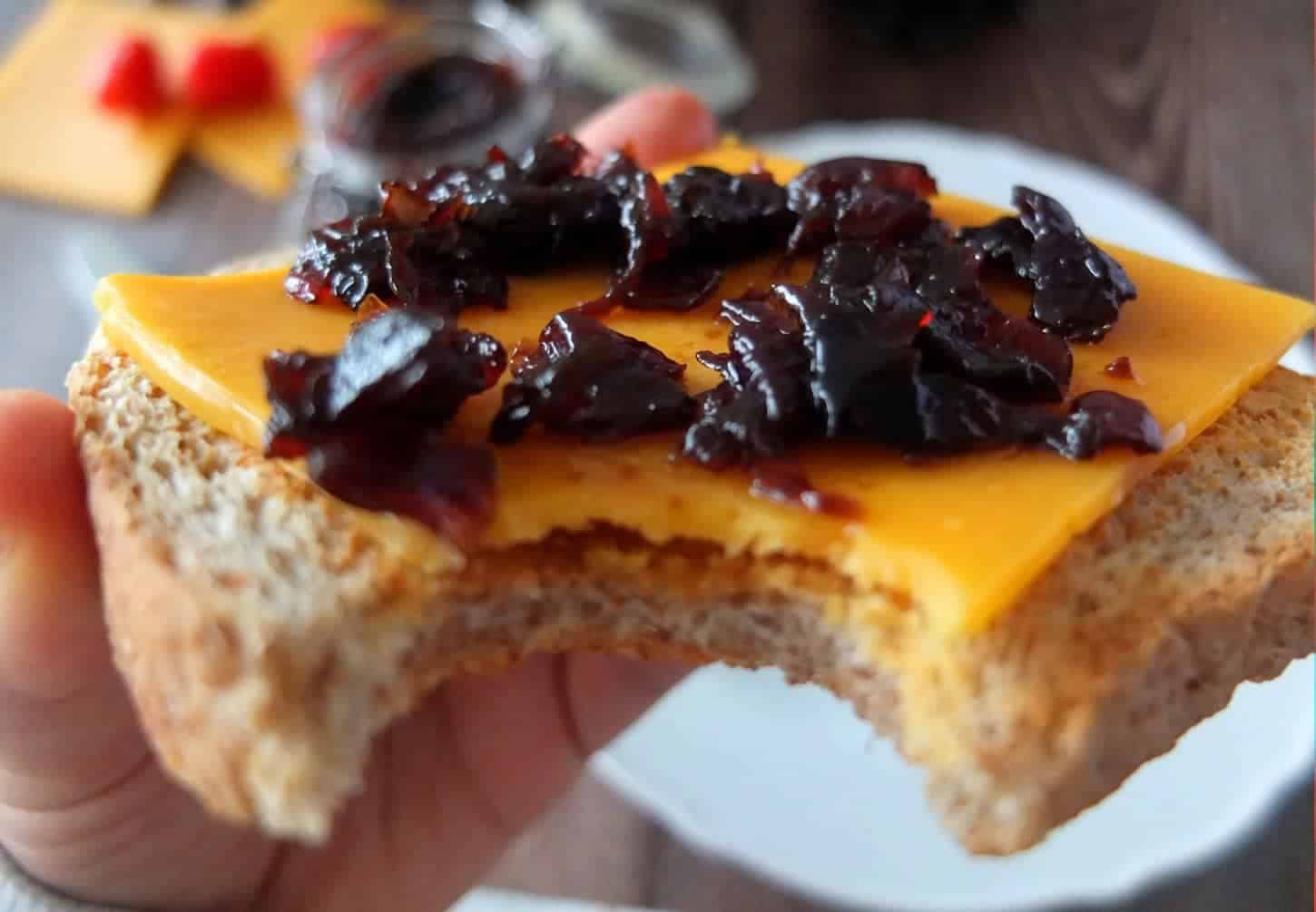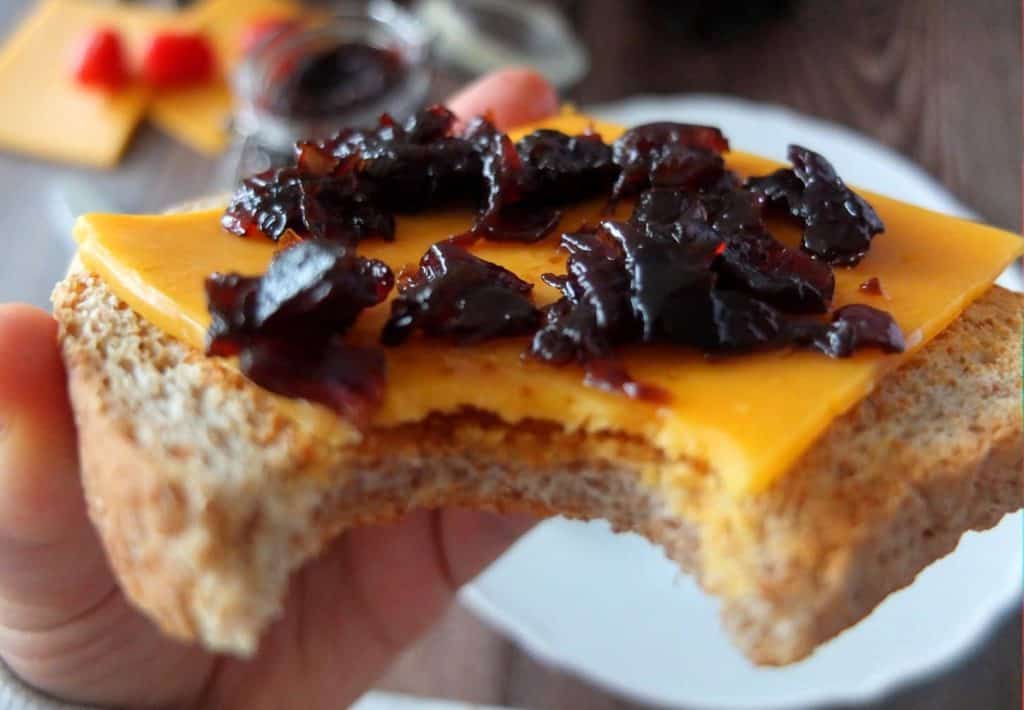 How to make this onion chutney!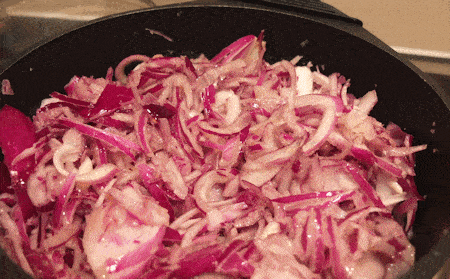 We must start by chopping the red onions. Now this will be a lot easier if you have a food processor, but it is not essential. You may want to consider wearing swimming goggles though. (Don't laugh, it will save you the tears ).
Slice the chillies in thin stripes (around 0.3 cm).
Heat up the olive oil in a non-stick pan on medium heat and add the red onions. Fry on a low heat until they start to brown. Then add the chillies and brown sugar and leave the red onions to caramelise.
Once they are sweet and sticky add the red wine vinegar and balsamic vinegar to the mix. You should leave it to simmer until most of the liquid is boiled off for about an hour.
4. Once the mixture cooled down you can pour it into sterilized jars.
You can eat it straight away, but I suggest leaving it in a dark cupboard for at least four weeks for the flavours to mature.
What is the best way to sterilize the jars for chutney?
There are three ways you can sterilize the jars. I normally do it in my dishwasher.
1. Sterilise jars in the dishwasher
Place the jars, lids and rubber seals in your dishwasher. Set to the hottest cycle. Once finished remove and place onto a tray lined with paper towel. Allow to air-dry or dry with paper towels.
2. Use a microwave
Wash and clean the jar thoroughly before sterilization. Wet the glass jars and cook on high for 60 seconds in the microwave.
A disadvantage is that you cannot microwave the metals lids. You will need to boil them in hot water for 10 minutes.
3. Use a saucepan
Put jars in a water-bath canner or on a rack set in a deep pot and cover with hot water. Bring water to a boil. Boil jars, covered for 15 minutes. Turn off heat and let jars stand in the hot water. Just before filling them, invert jars onto a kitchen towel to dry.
How to seal the jars of chutney?
If you are making a chutney then make sure that the lid is plastic coated as metal can react with the acid in the chutney. If you are using a lid with a rubber seal we would suggest that you press a wax paper disc on to the surface of the jam or chutney then add the seal and screw the lid on tightly. (Source Nigella)
How to store homemade caramelised onion chutney
Once you opened your jar of chutney, keep it in the fridge until its used up. Store the unopened jar in a cool and dark place. It should last up to a year.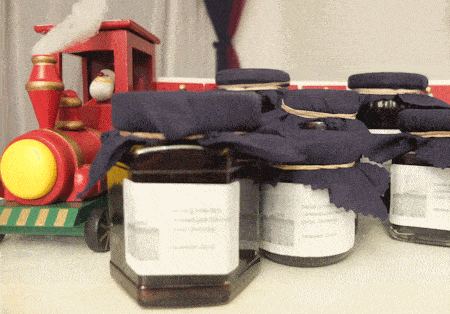 Share it! Chutney is a great gift idea
This post was first posted in 2013 when I made a few jars of onion and chilli chutney to gift to relatives for Christmas. Since then I make this recipe every year, especially since I moved to Germany.
Just make sure you write down when you cooked the chutney and when you think it expires. It would go great with some blocks of cheddar or a cheese board (if you want to go all out.
We made some homemade labels and called them "Dave and Marita's Caramelised Onion Chutney and Chilli". And we used some leftover cloth to cover the lids. Look almost farmers market professional.
I also really like the inexpensive jars from ikea.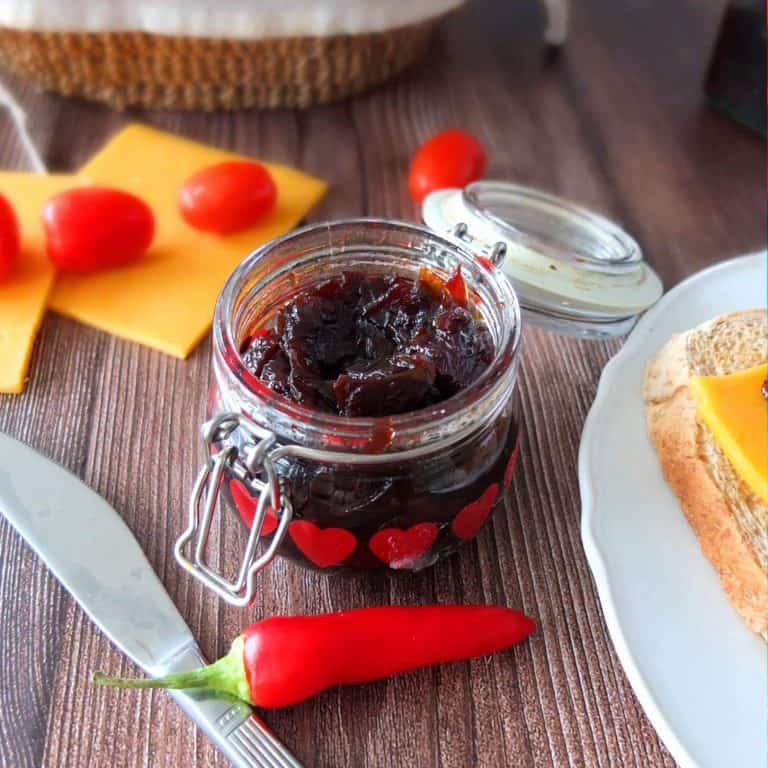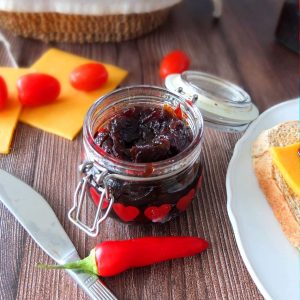 Caramelised Red Onion Chutney with Chillies
A delicious homemade condiment, that tastes delicious with chutney and other dishes. Balsamic onion chutney..
Equipment
kitchen machine (optional)

steralised jars
Ingredients
2

kg

red onions

4.4 lbs

50

ml

olive oil

1.6 fl oz

200

ml

red wine vinegar

7 fl oz

400

ml

balsamic vinegar

14 lf oz

250

gr

brown sugar

8.8 oz

2

chillies
Instructions
Peel and slice the red onions with a kitchen machine, or by hand. Slice the two chillies into thin strips.

Add the oil to a non-stick pan and heat up on medium heat. Fry the onions for 20-25 minutes on a low heat until they start to brown . This will make them sticky and sweet.

Add the sugar and chillies. Mix everything and fry for a further 5 minutes. The onions should be caramelised.

Now pour in the red wine vinegar and balsamic vinegar while stirring the mixture.

Leave to simmer for 45 minutes to an hour. Make sure to stir once in a while or the bottom may burn.

Wait for the mixture cools down and then pour it in the prepared and sterilized chutney jars.

Screw the lids on tightly and its best to leave the chutney rest for the 3-4 weeks for the taste to mature.
Notes
Please see the main post on how to sterilize the jars, and how to seal the jars. 
Refer to the main post on storage instructions. 
Nutrition
Calories:
655
kcal
Carbohydrates:
127
g
Protein:
7
g
Fat:
13
g
Saturated Fat:
2
g
Polyunsaturated Fat:
1
g
Monounsaturated Fat:
9
g
Sodium:
67
mg
Potassium:
1017
mg
Fiber:
9
g
Sugar:
98
g
Vitamin A:
224
IU
Vitamin C:
70
mg
Calcium:
200
mg
Iron:
3
mg