Let me introduce you to my mother's German Egg and Apple Salad. It's quick and easy to prepare and filling as well as healthy. Apple and egg are a totally undervalued combination. Wait until you tried this recipe.
What is German Egg Salad (Eiersalat)?
Eiersalat (egg salat) is a popular German dish that is served on bread or at BBQs. You will find it has a distinct sweet and sour taste to it. This is a common theme in German salads, for example German Pasta Salad or German Potato Salad.
I love this recipe because it is low carb and high protein. The different textures between the apple, egg and gherkins (pickles) give this recipe an interesting crunch. If you use low-fat mayonnaise then fat content should not be too high.
How to make German Egg and Apple Salad?
You start by boiling 6 eggs until hard. In the meantime, you can chop up half a sour (tart) apple and handful of pickled gherkins (pickels) into little approx 0.5 cm chunks.
Once the eggs are boiled, chop these up too. Now mix with 3 tablespoons mayonnaise and 1 tablespoon lemon juice. Season with salt and pepper, and finished! It's amazing how something so yummy can take so little time.
How to store this egg salad? Can I freeze it?
Eat this salad within 4 days of making it. Store it in the fridge with an airtight container. Stir before use.
I would not advise to freeze this egg salad, as mayonnaise does not freeze well.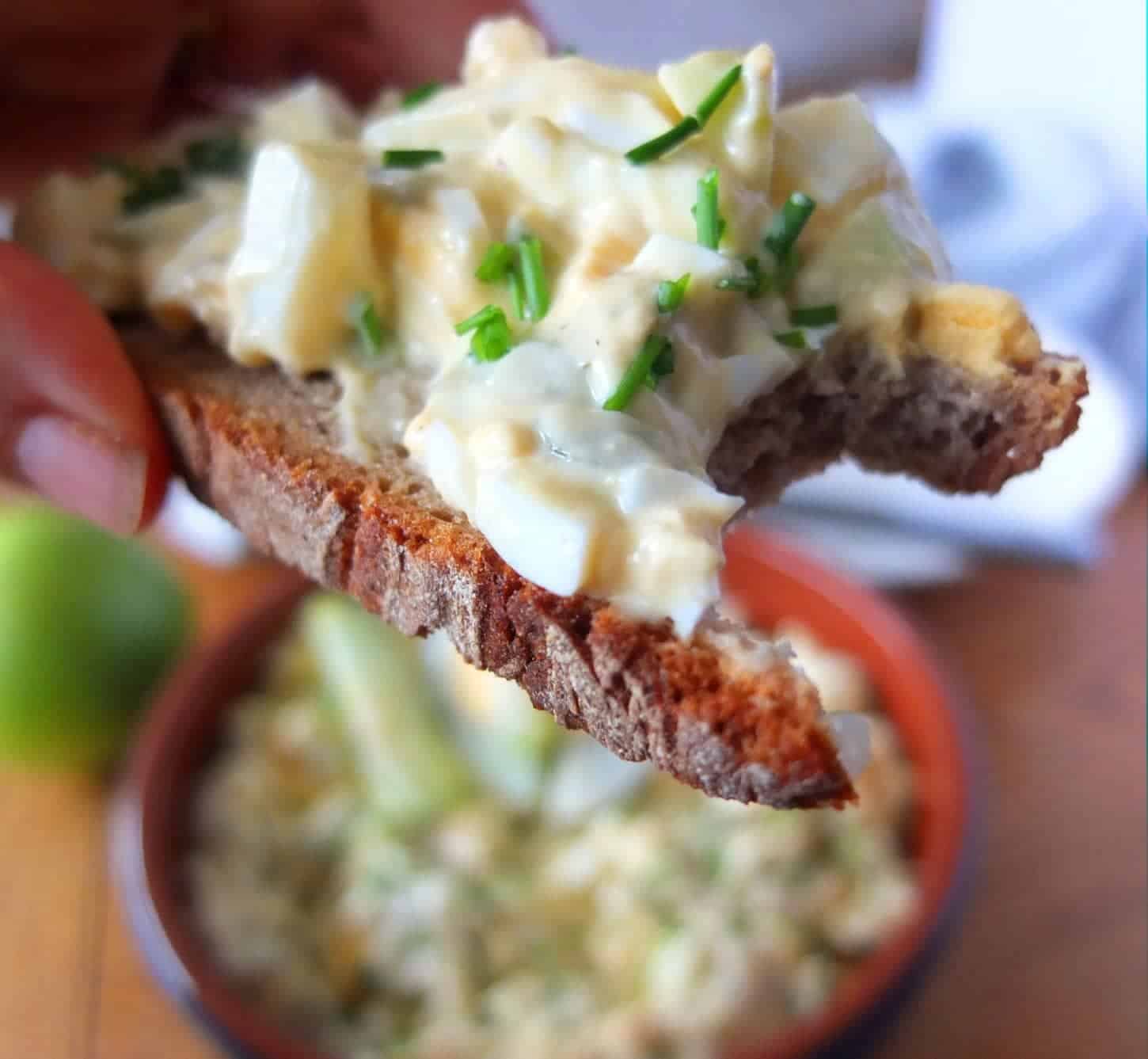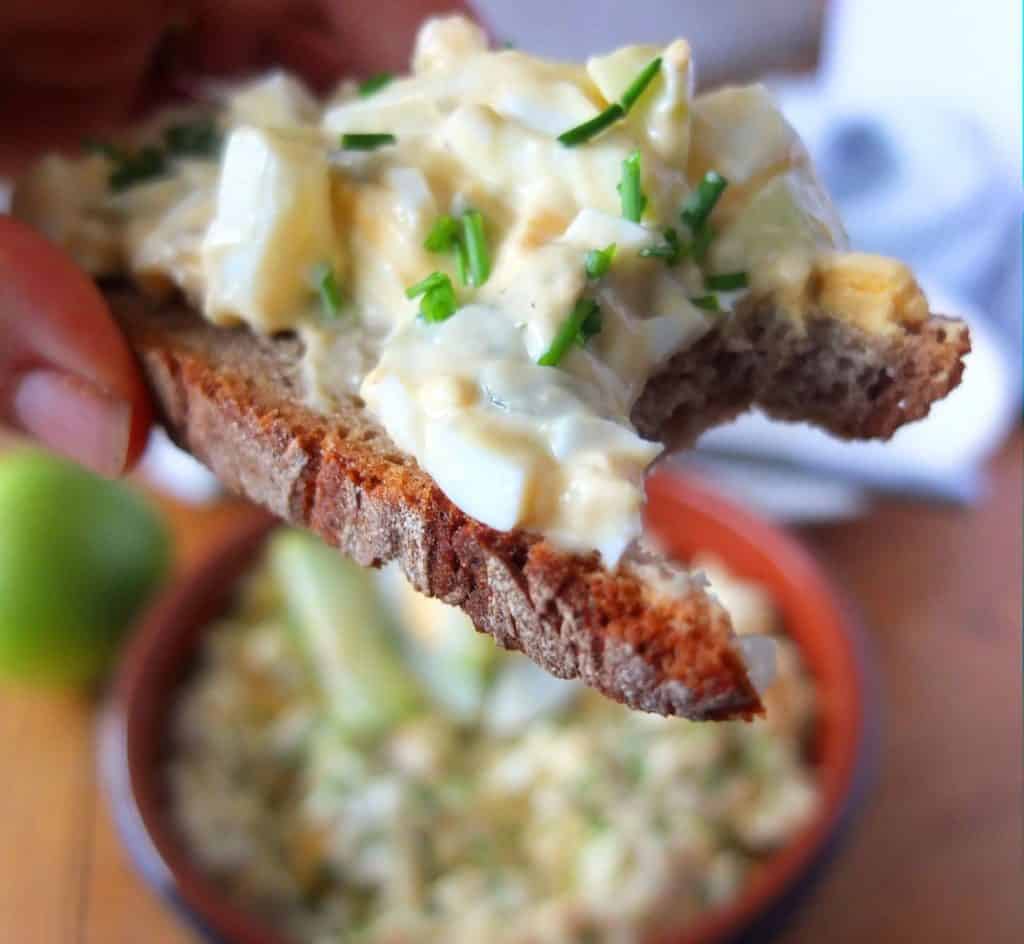 Tip 1: Make a German Sandwich (Literally the BEST Egg Sandwich)
Try this salad on some rye bread. Or some nice crusty white bread. I love it with some crackers for Abendbrot (German Dinner.) I would drain the liquid before wrapping the sandwich to go.
Tip 2: Serve this Egg Salad at a BBQ (Grillfest)
This salad goes very well with meat. My family serves it at every BBQ. It's refreshing in the summer, and compliments meats such as steak and bratwurst (affiliate link). It is great to dip your bread rolls into it while you wait for your sausage to be ready to cook.
Tip 3: Save this recipe for Easter
I love this recipe and make it often. However, you can guarantee that it is on our menu after Easter. What else to make with all those coloured eggs. 😊
This post was first published in March 2014 and updated in November 2020.
More recipes with Apple
More German Sandwich Recipe ....
Try Fish Brotchen - a German Fish Sandwich
German Egg and Apple Salad
This German Egg and Apple Salad Recipe has a lovely creamy texture and a delicious sweet and sour flavour.
Ingredients
6

hard boiled eggs

cut into small cubes (0.5 cm)

½

sour apple

peeled, cored and chopping into small cubes (0.5 cm) - such a granny smith

1

teaspoon

chopped chives

3

tablespoon

mayonaise

low fat if desired

1

teaspoon

fresh lemon juice

salt and pepper to taste
Instructions
Combine egg, apple, gherkins in a bowl.

Mix with the mayonnaise and lemon juice.

Season with salt and pepper according to your taste preference.

Sprinkle chopped chives on top (optional)

Best served on bread, or as a side dish at a buffet or bbq
Nutrition
Calories:
200
kcal
Carbohydrates:
4
g
Protein:
10
g
Fat:
16
g
Saturated Fat:
4
g
Polyunsaturated Fat:
6
g
Monounsaturated Fat:
5
g
Trans Fat:
1
g
Cholesterol:
284
mg
Sodium:
166
mg
Potassium:
122
mg
Fiber:
1
g
Sugar:
3
g
Vitamin A:
410
IU
Vitamin C:
2
mg
Calcium:
40
mg
Iron:
1
mg