Apples and potatoes are a popular combination in German recipes. Therefore, it is unsurprising that you will find a version of their popular German potato salad recipe with apple and gherkins (or pickles as they are known in the US) . A deliciously simple, nutritious, and yet surprisingly substantial salad this recipe is perfect for a quick lunch or a filling side dish.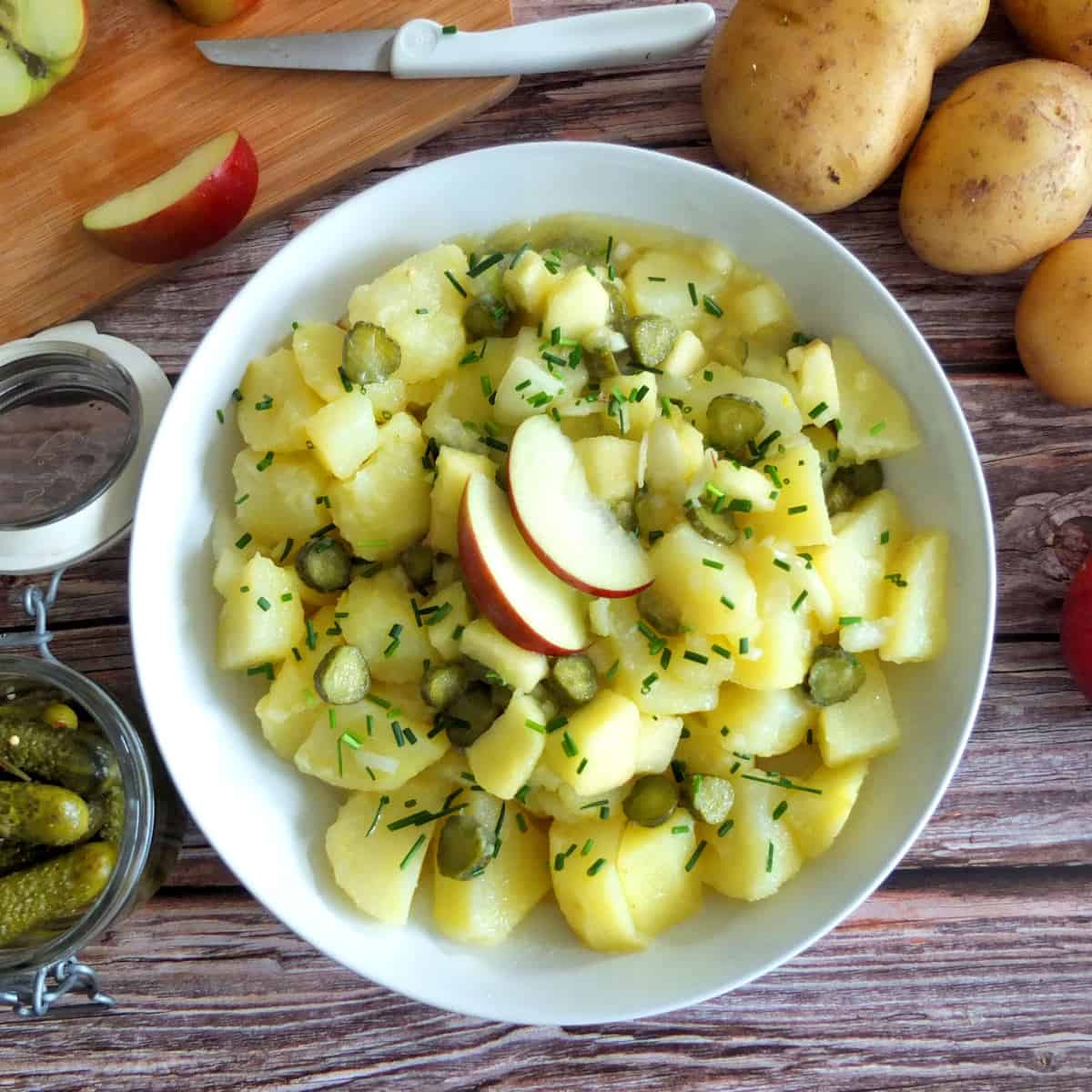 Why Potatoes with Apples and Gherkins/ Pickles?
…" I can hear the unbeliever shout in disbelief? Well, let me tell you why potatoes and apples are a great combination. The combination of the potatoes with the apple and gherkins/ pickles create an unbelievable delicious sweet and sour salad. The apple adds some interest to the texture by providing some extra crunch which is contrasted by the soft texture of the potato. The gherkins add the sourness – which makes this such an exciting combination.
How to serve this salad?
This salad goes well with a variety of dishes. As the apple adds that little freshness to this dense salad, I think of it as the perfect summer potato salad.
In Germany, we would serve it at BBQ's, buffets with sausages, or simply with a slice of bread during Abendbrot (German dinner time).
This German Potato Salad is served chilled.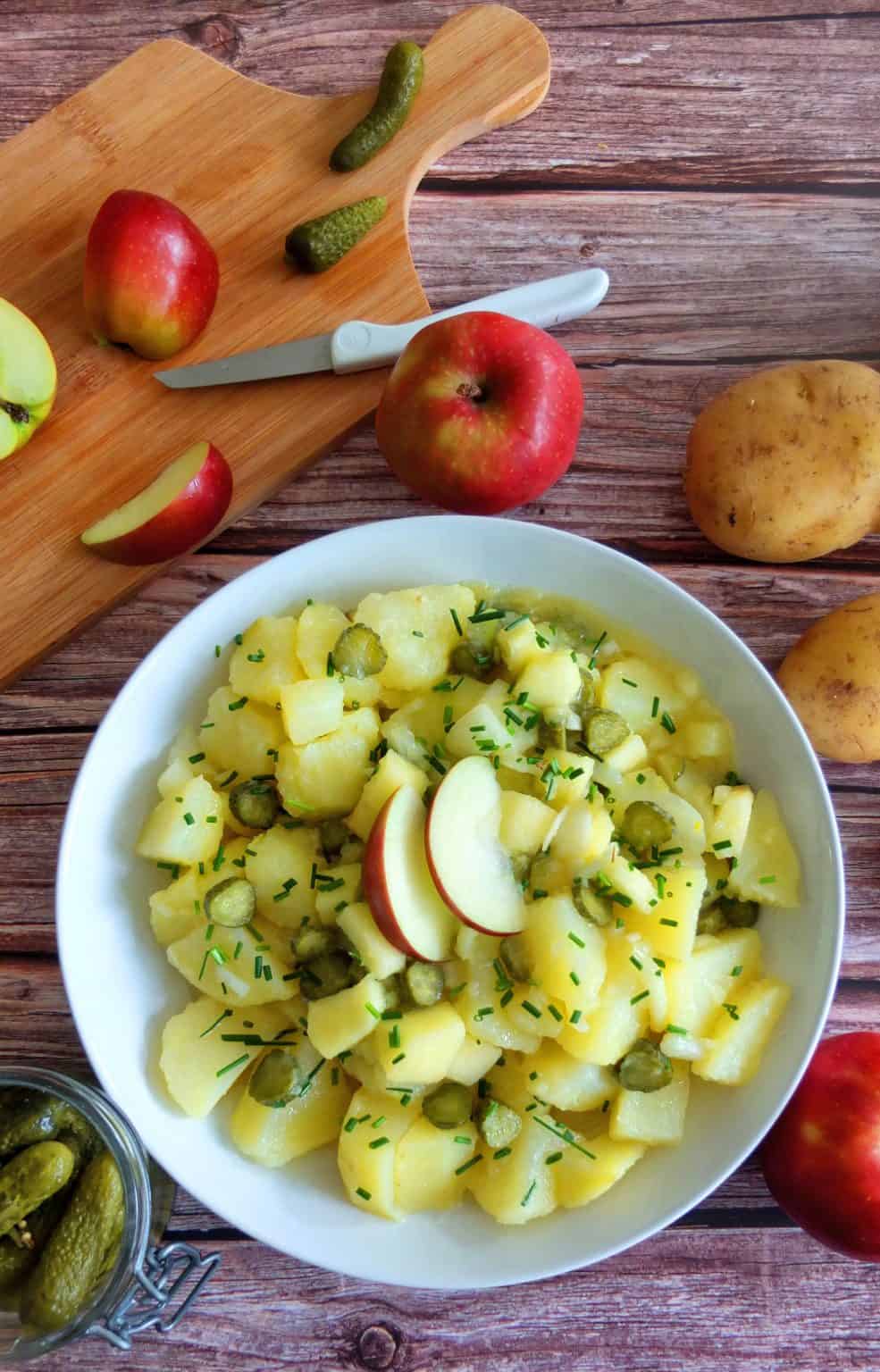 Which apple variety to use for this salad?
I would recommend using tart apples for this potato salad. Here is a list of tart apple varieties:
Braeburn
Cox
Granny Smith
Bramley
How to make German Potato Salad with Apple and Gherkins
This recipe is great to prepare in advance. I like to make it the night before, to give the flavour enough time to infuse. Let's get started:
Ingredients for 4 people
1 kg / 35 oz potatoes
2 tsp Dijon mustard

(affiliate link)

3 tsp caster sugar
100 ml / 3.4 fl oz liquid from your pickled gherkin jar
4-5 medium-sized gherkins
1 tart apple
50 ml white wine vinegar
100 ml 3.4 fl oz sunflower oil
1 large white onion finely chopped
5-6 spring onions
Some chopped herbs such as chives (optional)
salt and pepper to season
Recipe Steps
Boil the potatoes in water with a pinch of salt until soft (about 10-15 min depending on the size of your potatoes).
While the potatoes are boiling, peel and chop the onion finley. Combine the mustard

(affiliate link)

, sugar, gherkin liquid, vinegar, and chopped onion in a jar. Screw on the lid and shake thoroughly to create the vinaigrette.
Peel the apple and chop into little (1 cm) chunks cube the gherkin/pickles.
While still warm, peel of the skin and chop the potatoes in about 1 cm wide slices.
Place the potatoes, apples and gherkins into a larger bowl. Pour over the vinaigrette and mix carefully with a wooden spoon. Leave the warm potatoes to rest in the vinaigrette. This will help the potatoes to absorb the flavour. Season with salt and pepper. I recommend you leave the salad in the fridge for at least 4 hours for the flavours to develop. Alternatively, you can also leave it to rest overnight.
Before serving stir in the chopped spring onions and garnish with chopped herbs.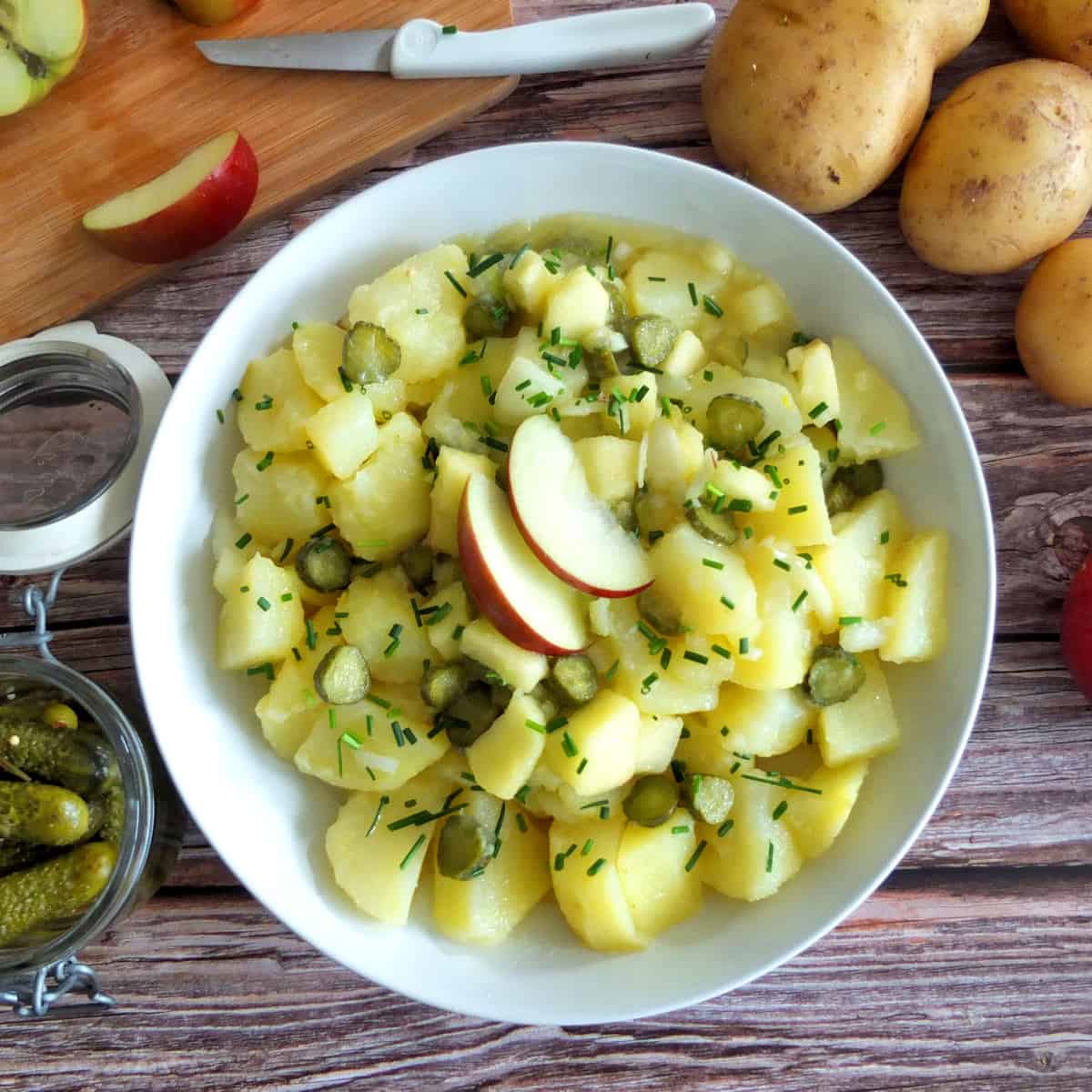 How to store this potato salad?
Cover the salad and leave it in the fridge. It should stay good up to 3 days.
Here are more German Salad Recipes with Apple
For a potato salad recipe using mayonnaise, I would recommend trying this Amish Potato Salad Recipe.
Here is also a refreshing slaw salad using kale and apple. Apple Kale Slaw by Sabrine Currie.
Did you try this recipe?
Please leave a rating or make a comment below. I would love to hear from you. You can send me an e-mail or comment on Facebook, Instagram or Pinterest.
Why not share our Facebook Group - Homemade German Food & Recipes. Here we chat about German Food and share recipes.
German Potato Salad with Apple and Gherkins
An authentic German potato salad recipe where apples and gherkins are the star ingridients.
Ingredients
1

kg

potatoes

35 oz

2

teaspoon

dijon mustard

3

teaspoon

sugar

100

ml

liquid from your pickled gherkin/ pickle jar

3.4 fl oz

4-5

gherkins

(pickles in US) medium-sized

1

apple

50

ml

white wine vinegar

1.6 fl oz

100

ml

sunflower oil

3.4 fl oz (or any other vegetable oil)

1

large white onion

finely chopped

salt and pepper to season
To serve
5

spring onions

finley chopped

2

tablespoon

fresh herbs

optional (for example parsley or chives)
Instructions
 Boil the potatoes in water with a pinch of salt until soft (about 10-15 min depending on the size of your potatoes).

While the potatoes are boiling, peel and chop the onion finley. Combine the mustard, sugar, gherkin liquid, vinegar, and chopped onion in a jar. Screw on the lid and shake thoroughly to create the vinaigrette.

Peel the apple and chop into little (1 cm) chunks cube the gherkin/pickles.

While still warm, peel of the skin and chop the potatoes in about 1 cm wide slices.

Place the potatoes, apples and gherkins into a larger bowl.  Pour over the vinaigrette and mix carefully with a wooden spoon. Leave the warm potatoes to rest in the vinaigrette. This will help the potatoes to absorb the flavour.  Season with salt and pepper.

I recommend you leave the salad in the fridge for at least 4 hours for the flavours to develop. Alternatively, you can also leave it to rest overnight.

Before serving stir in the chopped spring onions and garnish with chopped herbs.

Serving suggestion: as a side of grilled sausage and meat
Nutrition
Calories:
313
kcal
Carbohydrates:
38
g
Protein:
4
g
Fat:
17
g
Saturated Fat:
2
g
Polyunsaturated Fat:
1
g
Monounsaturated Fat:
14
g
Sodium:
41
mg
Potassium:
802
mg
Fiber:
5
g
Sugar:
7
g
Vitamin A:
235
IU
Vitamin C:
39
mg
Calcium:
37
mg
Iron:
2
mg