This Bratwurst casserole includes some of the three most famous German ingredients: cabbage, potatoes and of course the famous bratwurst (affiliate link).
I prepared this recipe on a cold autumn morning here in Bremen. I wanted something that I can prepare in advance, before going for a cycle, knowing that I will come back with a warming delicious meal. - this bratwurst and potato casserole.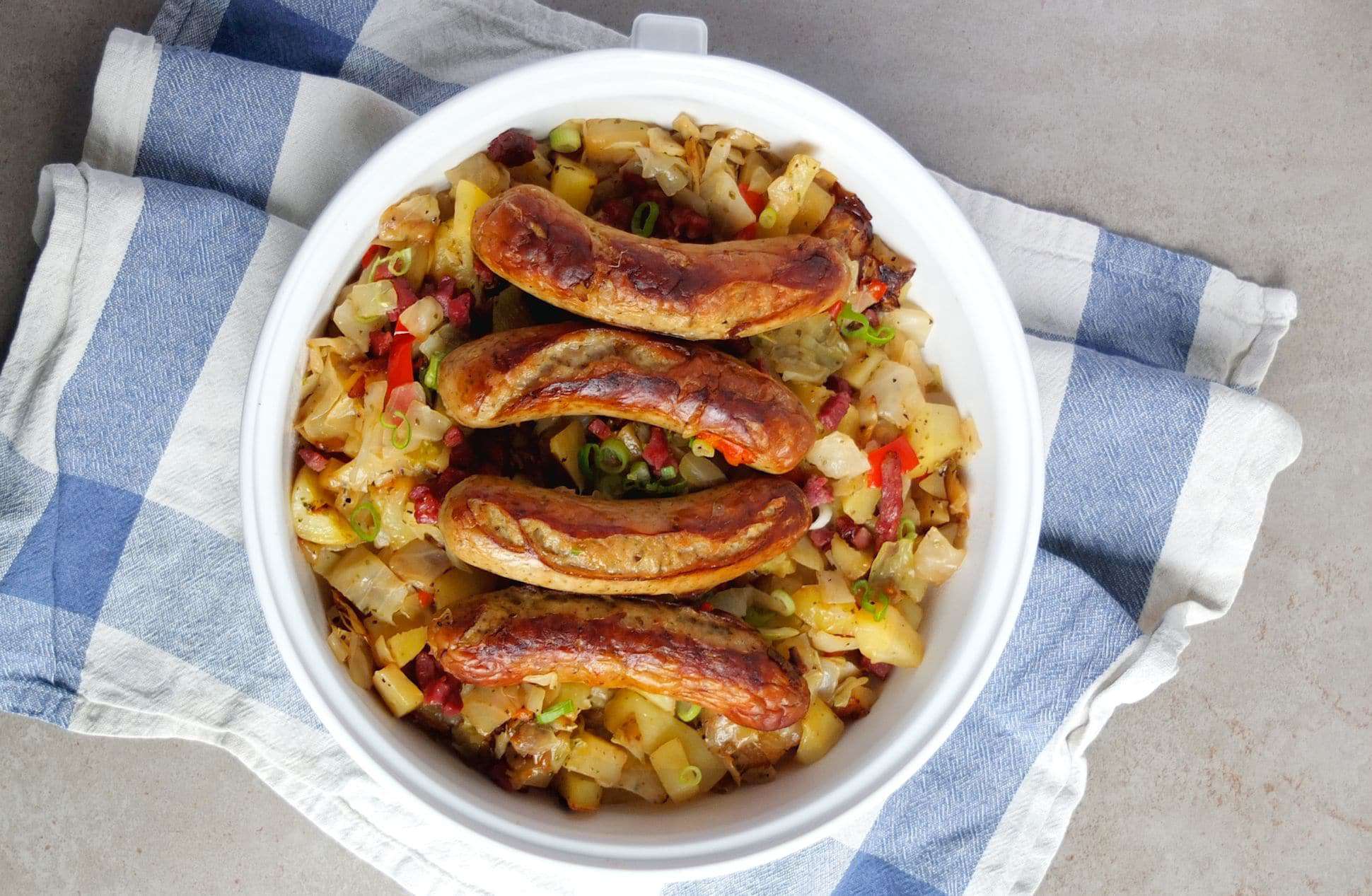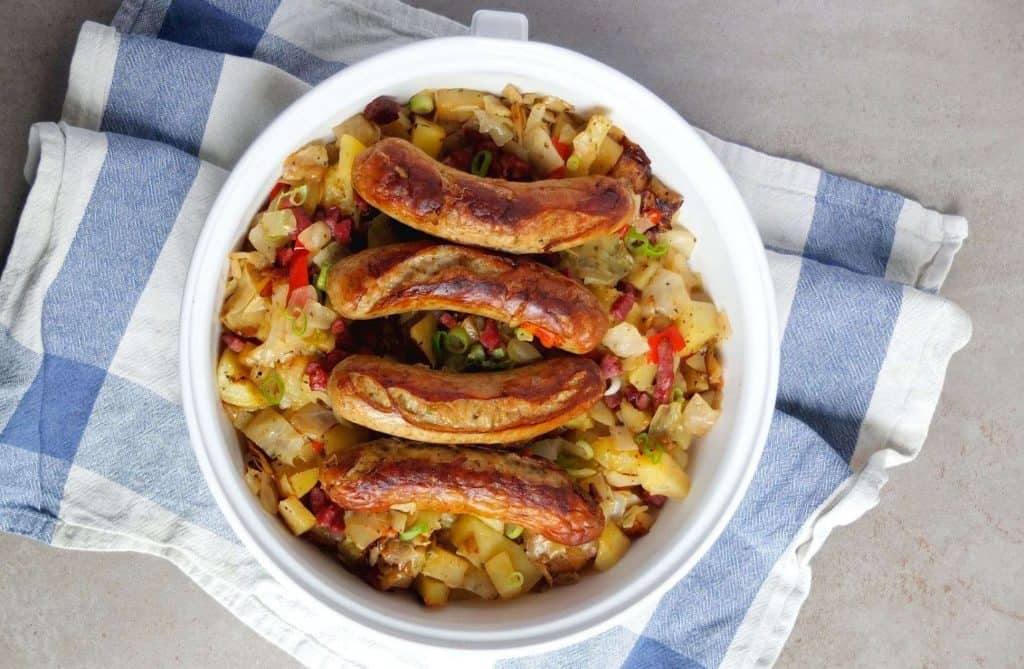 This recipe is a variation of a Germany Recipe called Schmorkohl. Schmorkohl means braised cabbage and is especially popular in the autumn and winter season. Together with the potatoes and bratwurst (affiliate link), this makes a hearty filling meal that the whole family will enjoy.
Cabbage is full of nutrients. It is rich in Vitamin C and K, very good for our digestive systems and with 50 calories per 200 grams good for our waistline.
What to serve with Bratwurst Casserole
One of the things I love about this dish is that it is a one-pot meal. This means you could eat it as it is. It has protein from the Bratwurst (affiliate link) and vegetables through the cabbage and carbohydrates from the potatoes.
Nevertheless, it would benefit from a light side dish like a salad to contrast the heartiness of the meal itself.
Where to buy bratwurst?
Apart from buying Bratwurst (affiliate link) in Lidl and Aldi, you can also just conveniently order it from Tesco Groceries if you are in the UK (affiliate link)
In the US you can find some specialist butchers who ship bratwurst. One that was recommended is Bavaria Sausage Inc. If you would like to suggest more. Please email me.
Is there a vegetarian version of this dish?
It is easy to turn this dish into a vegetarian and vegan dish. Just substitute the Bratwurst with some vegetarian sausages. Quorn or Linda McCartney sausages work a treat. The bacon can be substituted with mushrooms, the usual button mushrooms although shitake mushrooms especially will add some smoky flavour.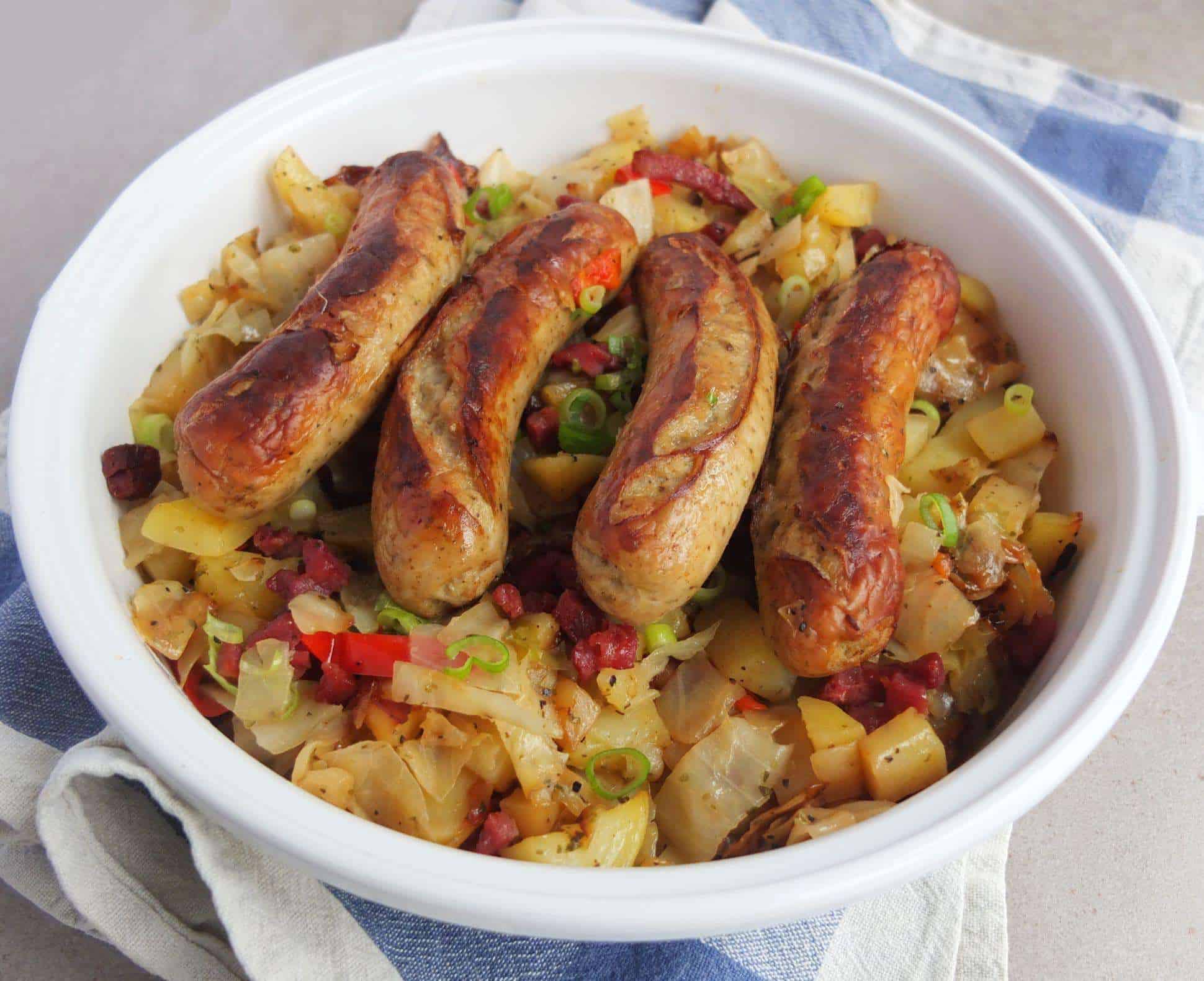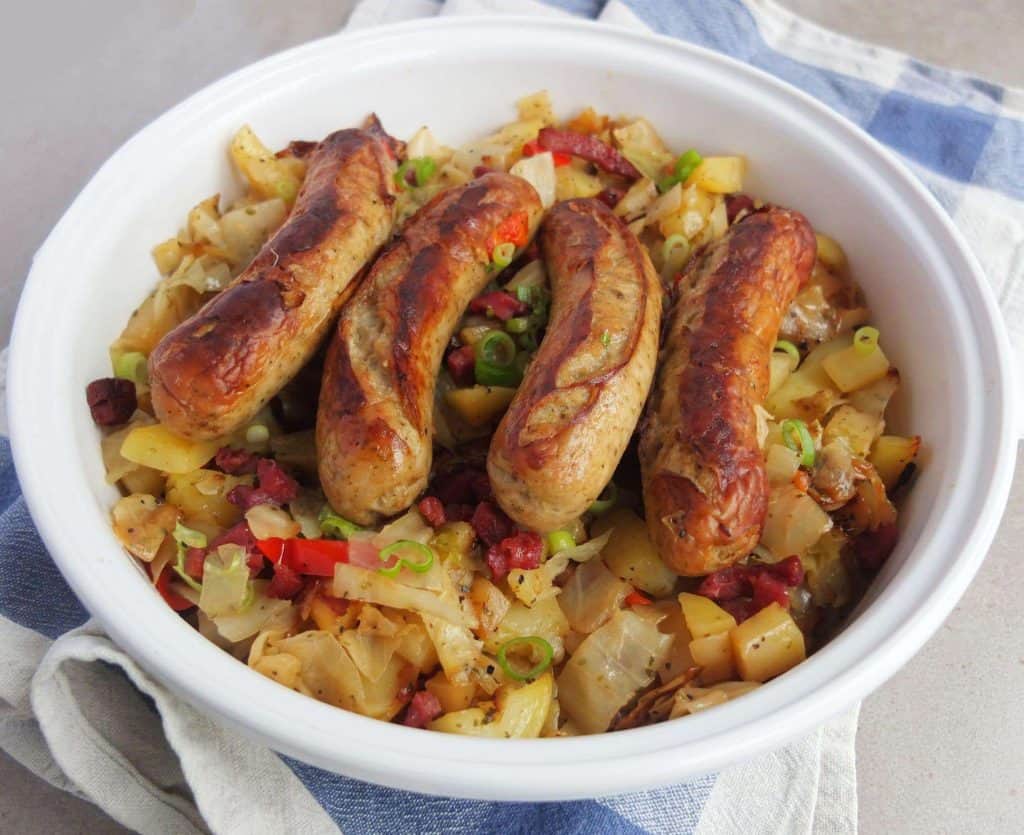 How can I lighten this casserole?
Well this dish is meant to be a hearty dish but by substituting the bratwurst with a vegetarian alternative, you can save a lot of fat content. I used lean cubed bacon when making this dish. If you are on a low carb diet you can leave out the potatoes as the cabbage itself taste amazing.
How to store Bratwurst casserole.
This dish will keep in the fridge, in an airtight container up to 4 days. You may even find it tastes even better the next day when the flavours had time to infuse.
Fancy more Bratwurst Recipes?
Then check out my German Currywurst and Currywurst Sauce recipe that is the classic fast-food way of eating Bratwurst (affiliate link).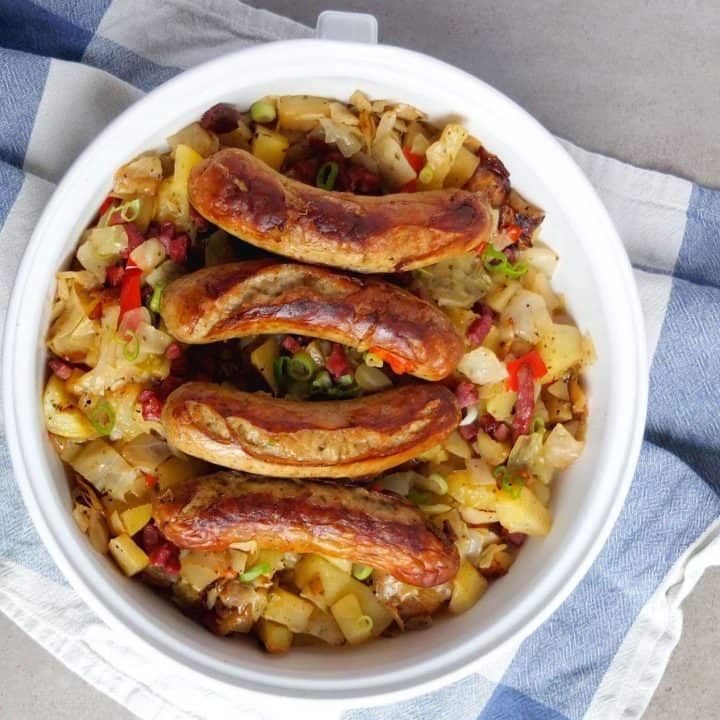 Bratwurst Casserole
A delicous and hearty German Bratwrust Casserole with Cabbage and potatoes.
Equipment
caserrole dish with lid

frying pan
Ingredients
4-6

bratwurst

500

gr

potatoes

1 lbs

800

gr

white cabbage

1 ½ lbs

1

red pepper

2

tablespoon

vegetable oil

75

g

smoked bacon lardons

2.5 oz

1 ½

teaspoon

dried sage

½

teaspoon

cumin seeds

(optional)

125

ml

water

½ cup

salt and pepper to taste
Instructions
Preheat the oven to 200°C or 392°F

Peel the potatoes. Wash the cabbage and pepper. Deseed the pepper. Chop all into rough about 2 cm large cubes/squares.

Heat the oil up on a frying pan and fry the bacon until crispy. Then remove and rest in a separate plate.

Take the sausages and fry on each site until browned. Remove and place on the plate with the bacon. Add the cabbage and potatoes to the pan and fry for 5-7 minutes in the sausage/bacon fat.

Spice with sage, cumin (if using), salt and pepper. Mix well and then add ⅛ l water to the pot.

Add the mixture into a oven proof casserole dish.

Place the sausages on top and cover with a lid.

Bake in the preheated oven for about 60 minutes. After 45 minutes remove the lid, add the bacon to the top and back the remaining 15 minutes without the lid.

To serve sprinkle with some chopped spring onions.( optional).

A complementing side dish could be a green salad.
Notes
Storage 
This dish will keep in the fridge, in an airtight container up to 4 days. You may even find it tastes even better the next day when the flavours had time to infuse.
Vegetarian Option
You can substitute the Bratwurst with a vegetarian alternative. Instead of bacon you can use mushrooms. 
Nutrition
Calories:
515
kcal
Carbohydrates:
37
g
Protein:
17
g
Fat:
34
g
Saturated Fat:
10
g
Polyunsaturated Fat:
7
g
Monounsaturated Fat:
15
g
Trans Fat:
1
g
Cholesterol:
61
mg
Sodium:
729
mg
Potassium:
1201
mg
Fiber:
8
g
Sugar:
9
g
Vitamin A:
1146
IU
Vitamin C:
136
mg
Calcium:
120
mg
Iron:
3
mg