All the wonderful, sticky flavours of baked apples (Bratapfel) and classic stollen combined in one delicious German Christmas dessert (Stollen Trifle). This caramel apple trifle with stollen cake is easy to make, a light treat after a heavy meal and great for preparing in advance.
The idea for this recipe came to me when I kept hearing the same remarks about Stollen. "It's too dry"! Well, I want to point out that "stollen is supposed to be dry". But then maybe I can suggest a "less dry" stollen dessert instead?
Stollen Trifle is a classic German Christmas food. It is great for using up your leftover stollen and is a refreshing interpretation of a traditional recipe. There are heaps of versions you can make from this one recipe. I outlined some suggestions for you below.
What is Trifle?
Trifle is an English dessert. Traditionally the dessert consists of layers of sponge fingers and fruit, often soaked in alcohol and topped with either custard or cream.
About this Caramel Apple Stollen Trifle Recipe
This recipe puts a German twist onto the classic trifle. It combines two of the most popular German Christmas desserts. Bratapfel, baked apple stuffed with spices, dried fruits and nuts and stollen. Stollen is a German Christmas cake. You can find everything you need to know, including my recipe for stollen here.
This stollen dessert is great for Christmas Dinners or New Year eve. It is creamy and light. Perfect for after a heavy meal.
Caramel Apple Trifle Recipe Ingredients
How to make Caramel Apple Trifle with Stollen?
This trifle is made in three steps. (please see recipe card for detailed instructions)
Peel the apples and cube them approx 3 cm. Chop the vanilla pod in two and scrape out the pulp of one half. Melt the butter in a saucepan and add the sugar, vanilla essence and gingerbread spice. Once the sugar starts to caramelise add the apples and cook for around 5 minutes. Then remove the apples with a slotted spoon and set aside. Continue cooking the sauce until you achieve a thick caramel sauce. Then add the apples back in again and cook for a further three minutes. Leave to cool.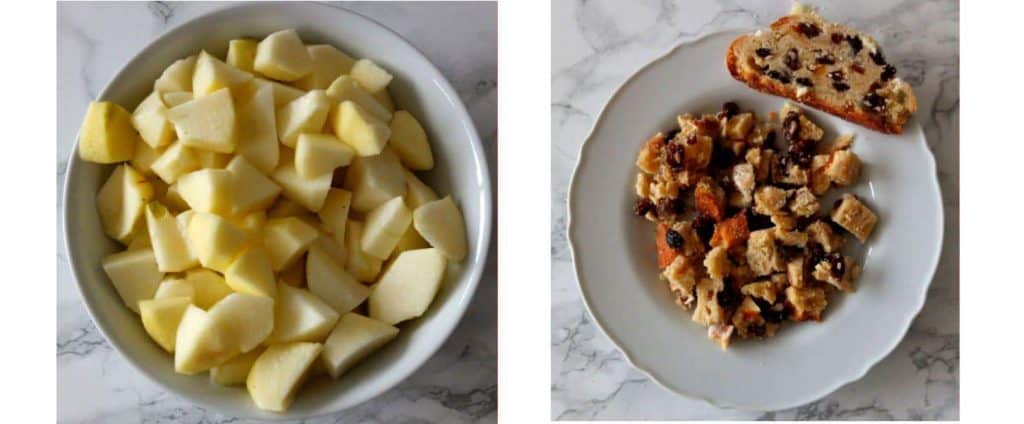 In the meantime, mix the mascarpone, greek yoghurt, rest of the pulp of the remaining vanilla pod half and 3 tablespoon brown sugar to a smooth creme.
Prepare 4 about 200 ml dessert glasses or 6 125 ml glasses. Slice 3 stollen slices into little cubes and cover the bottom of the glasses with them. Layer with 2 teaspoon of caramelised apple. Top this with mascarpone yoghurt creme and then layer again with caramelised apple. To decorate, slice the remaining stollen slice into sticks and dunk it in as if it's a wafer.
Variations to this trifle recipe
Replace the stollen with crushed spekulatius biscuits or gingerbread
Instead of using caramelised apples, you can cook plums or sour cherries in rum.
Substitute the caramelised apples by boiling 350g frozen raspberries with 100 gr sugar to a jam-like consistency.
The mascarpone cream can be mixed with quark instead of low-fat Greek yoghurt to make it even lighter. Alternatively use full-fat Greek yoghurt or whipped cream to make it creamier.
If you don't have gingerbread spice, use a pinch of cinnamon each for the apples and mascarpone crème.
If you love the combination of caramel and apple and would rather make a cake, then I recommend caramel apple dump cake recipe.
The Best Dessert Glasses (Affiliate Links)
Can trifle be made the day before?
Yes please do. However, be prepared that the stollen will be soaked through. If you rather have the contrast between the dry stollen and the moist apple and cream, prepare until the last step. Then fill the glasses one of two hours before serving. Always refrigerate before service.
Can I freeze the trifle?
I would not suggest freezing this trifle.
How to store trifle?
This trifle will stay good in the fridge for up to 3-4 days. If leaving that long, I would suggest storing all three parts separately in airtight containers.
More Fruit Dessert Recipes
Did you try this recipe?
Please leave a rating or make a comment below. I would love to hear from you. You can send me an e-mail or comment on Facebook, Instagram or Pinterest.
Why not share our Facebook Group - Homemade German Food & Recipes. Here we chat about German Food and share recipes.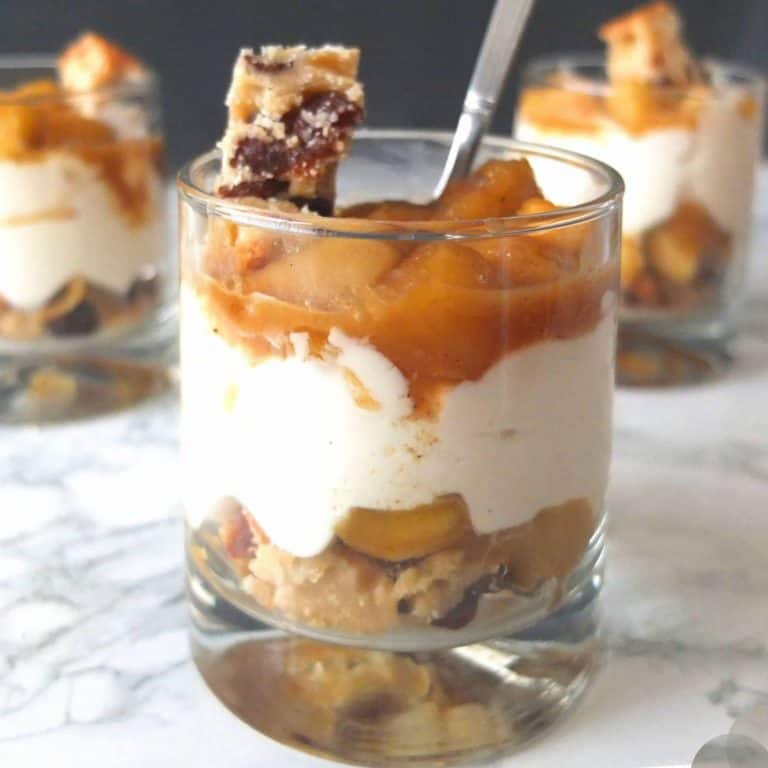 Stollen Trifle with Caramel Apple - A German Christmas Dessert
A delicious German Christmas Dessert. Combining two classic dessert: Bratapfel and Stollen in one glas.
Equipment
4x 200ml ( 6,7 fl oz) dessert glasses or

6x 125ml (4.2 fl oz) dessert glasses
Ingredients
For the mascarpone creme
250

g

mascarpone

8.8 oz

250

g

low fat greek yoghurt

8.8 oz

3

tablespoon

brown sugar

½

vanilla pod

3

slices of stollen

around 180 g or 6 oz
To decorate
1

slice

stollen

cut into sticks
Instructions
Prepare 4 glasses around 200 ml each or 6 glasses around 125 ml.

Peal the apples, core them and then cube them to around 3 cm cubes.

Chop the vanilla pod in half and scrape out the pulp of the first half.

Melt the butter in a saucepan. Then add the brown sugar, half the vanilla pulp, gingerbread spice and heat on medium heat.

Once the sugar starts to caramelise, add the apple cubes and rum or apple juice. Cook for around 5 minutes. Once the apple chunks begin to soften, removed them with a slotted spoon and set aside.

Cook the caramel sauce for a further 5 minutes until it has a thick, creamy consistency. Now return the apples to the pan and cook for another 2-3 minutes. Leave the caramelised apples to cool down.

Slice the stollen slices into little cubes.

Ensure that the caramel apples have cooled. Then cover the bottom of each glass with the stollen cubes. Layer 2 teaspoon of caramel apples on top. Now add 2 or 3 tablespoon of mascarpone and finish off with a layer of caramelised apple.

To decorate stick one of the stollen sticks into the crème, like a wafer.

Refrigerate until serving.
Notes
Please see the main post for more details about how to store the stollen. 
There are also variation suggestions in the main post. 
Nutrition
Calories:
563
kcal
Carbohydrates:
63
g
Protein:
12
g
Fat:
31
g
Saturated Fat:
19
g
Polyunsaturated Fat:
1
g
Monounsaturated Fat:
1
g
Cholesterol:
68
mg
Sodium:
83
mg
Potassium:
304
mg
Fiber:
6
g
Sugar:
53
g
Vitamin A:
1058
IU
Vitamin C:
11
mg
Calcium:
219
mg
Iron:
1
mg