Make your day especially memorable by indulging in this easy mango cream dessert with lime. The sweet refreshing taste of mango is loved by adults and kids alike and is great as a treat as well as an easy dessert. This mango dessert is made with whipped cream, yoghurt, and a splash of lime juice to make it extra refreshing.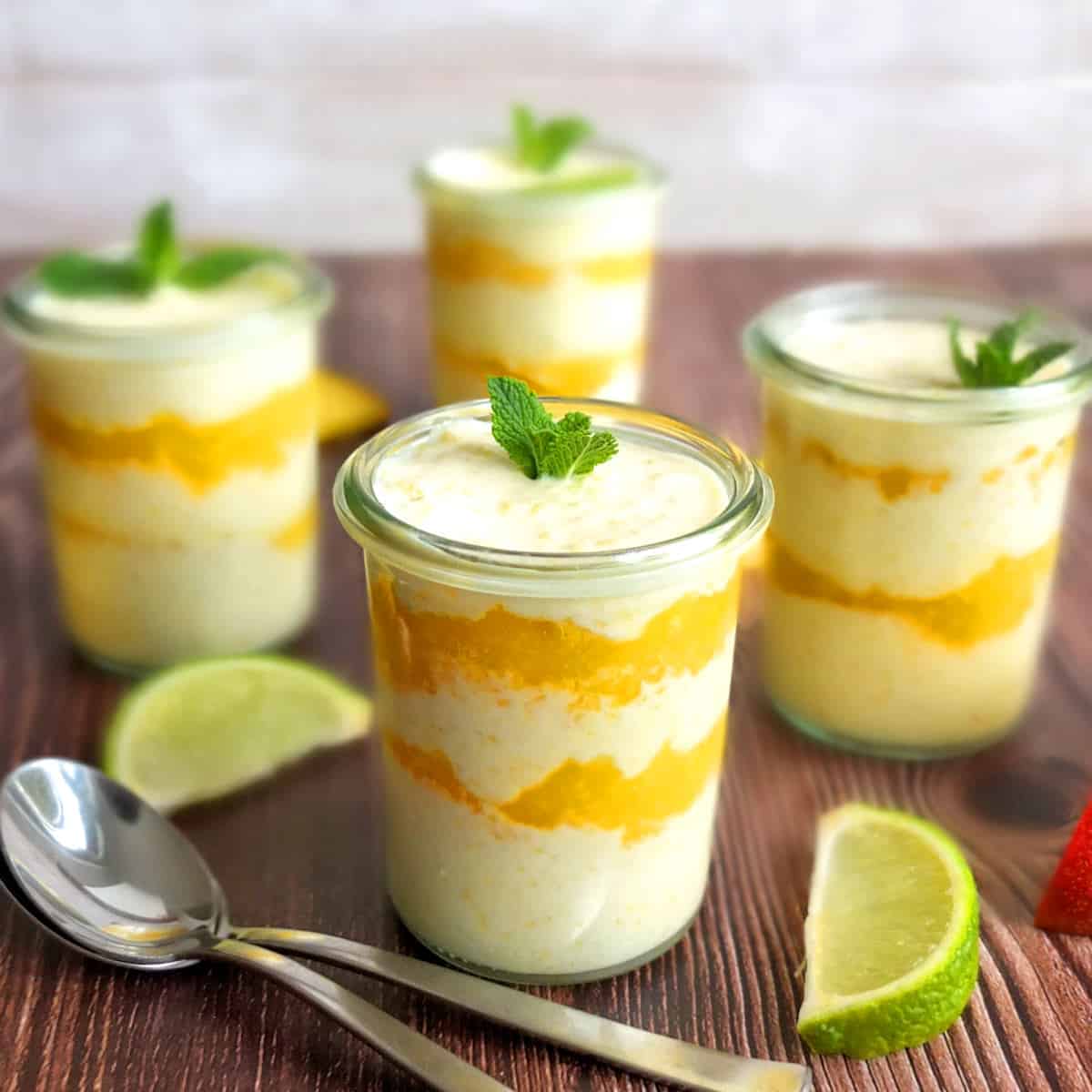 Which variety of Mango is the best
Mango is a favourite fruit in my family. We live in Europe, so we often our mangos come from Spain. If we could choose, we would have Filipino mangos every day! Hands down our winner. The sweet, small Pakistani mangos are our runner up.
You can choose any kind of mango for this dish. It will taste better if you use fresh mango though. You could use mangos from a jar, but then you need to reduce the sugar as they are often sweetened.
How to make mango cream dessert?
Mango and yoghurt are a popular combination. Adding the whipped cream to the mix adds a decadent richness that makes this pudding more memorable. 
This sweet mango pudding has a super creamy, thick texture. Yet it is also light and refreshing. This is a simple recipe that is great if you want to prepare for a large crowd the day before.
Ingredients:
1 large ripe mango (about 500 g/ 17.6 oz)
150 ml / 3.3 fl oz whipping cream
150 g / 5.2 oz plain Greek yoghurt (10% fat)
1 teaspoon lime zest
3 tablespoon lime juice (about 2 limes)
3 tablespoon sugar
Recipe Steps
Peel the mango and remove the flesh around the stone.
Using a stand or immersion blender, puree the mango until smooth. Add the lime juice to the mango.
Pour the cream into the bowl, and whip, using the hand of a stand mixer, until stiff.
Pour the yoghurt into a separate bowl. Add the sugar and lemon zest and 3 tablespoon mango puree and stir until combined. Now carefully fold in the whipped cream.
Now prepare 4 dessert glasses (around 150 ml each). Alternatively, spoon the cream yoghurt mixture and then layer with the mango mousse.
Decorate each glass with some mint leaves (optional)
Chill before serving.
Recipe Variation:
How to make this mango dessert without cream and sugar
For an even lighter mango dessert, you can just make some adjustments to the recipe. This would also be suitable for diabetics and those on a slimming world diet.
Just omit the cream 
Use 250 gr yoghurt, and substitute the Greek yoghurt with a low-fat or 0% fat alternative. 
Sweeten the yoghurt with a sugar replacement (such as Splenda) or honey instead.
Vegan Mango Dessert
To make this mango dessert vegan, simply replace the whipped cream with a vegan alternative. Instead of Greek yoghurt, you can use soy or almond yoghurt. 
How to serve this mango pudding?
This light and fruity dessert come to shine when you serve it in some glasses. Mine had about 200ml capacity. By layering them, you get a lovely contrasting pattern that is easy to create but looks impressive.
Mango desserts are made for summer. This recipe is sweet, but also refreshing. This mango yoghurt pudding goes well after a  heavy meal because it is very light. It is also a nice dessert you can prepare in advance for a summer BBQ.
Another option is to make mango ice cream for especially hot days!
Storage Instructions
Store the mango dessert in the fridge. They will stay good for up to three days. As this mango dessert is made with cream it is not suitable for freezing, as the cream does not thaw well.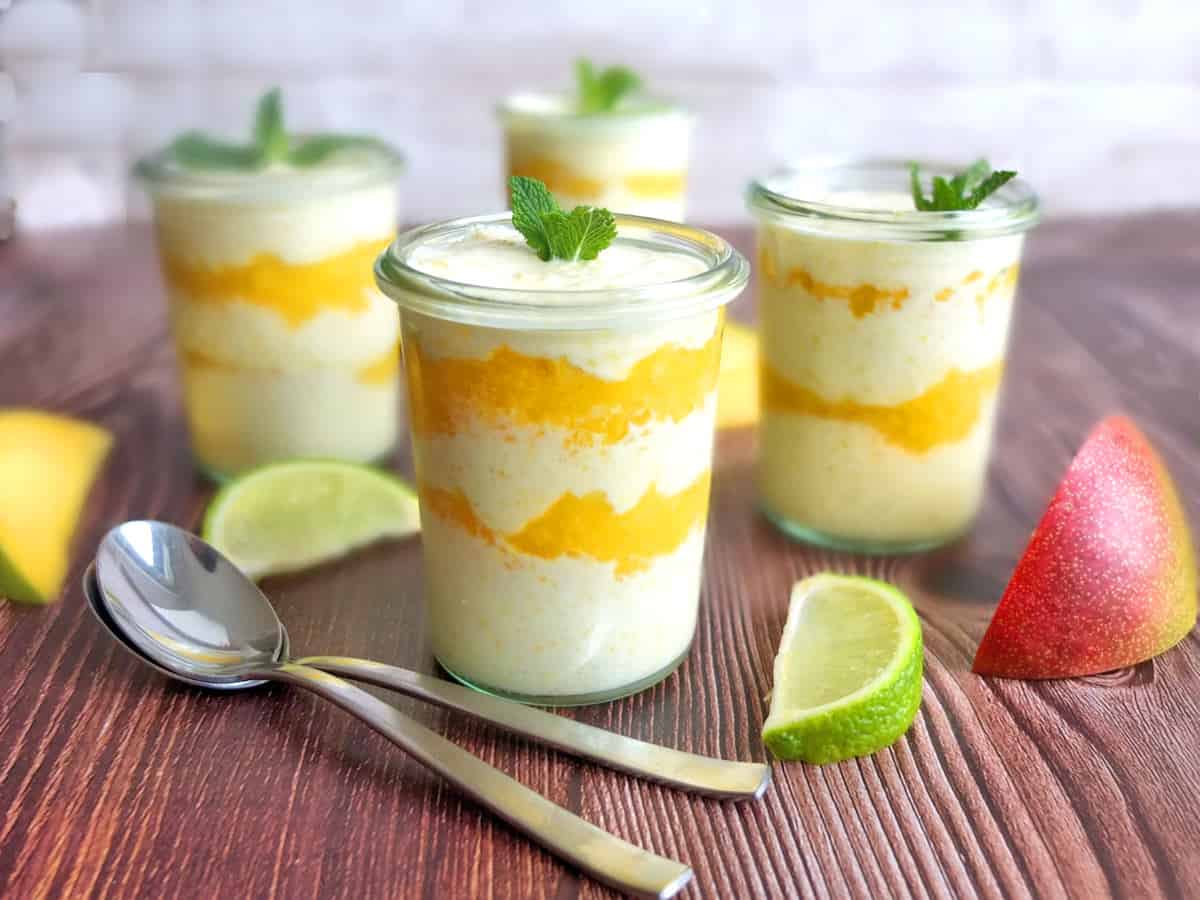 More fruity dessert recipes you might like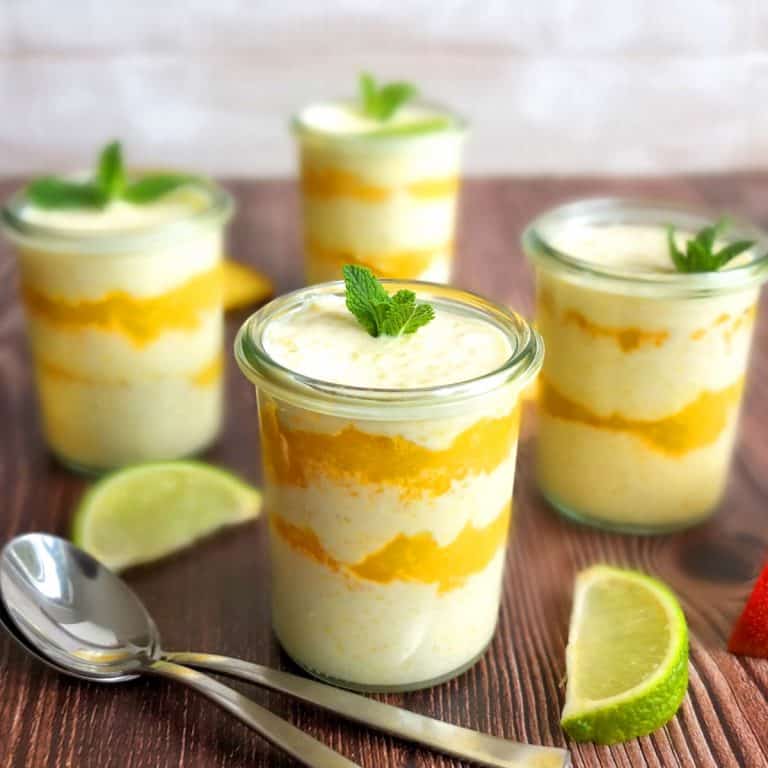 Mango Creme Dessert with Lime
This mango creme dessert is perfect for summer or whenever you need a light fruity pudding.
Ingredients
1

mango

 (about 500 g/ 17.6 oz)

150

ml

whipping cream

3.3 fl oz 

150

g

Greek yoghurt

5.2 oz (10% fat)

1

teaspoon

lemon zest

3

tablespoon

lime juice

3

tablespoon

sugar
Instructions
Peel the mango and remove the flesh around the stone

Using a stand or immersion blender, puree the mango until smooth. Add the lime juice to the mango. 

Pour the cream into the bowl, and whip, using the hand of a stand mixer, until stiff. 

Pour the yoghurt into a separate bowl. Add the sugar and lemon zest and 3 tablespoon mango puree and stir until combined. Now carefully fold in the whipped cream. 

Now prepare 4 dessert glasses (around 150ml / 3,3 fl oz each). Alternatively, spoon the cream yoghurt mixture and then layer with the mango puree. 

Decorate each glass with some mint leaves (optional) 
Nutrition
Calories:
220
kcal
Carbohydrates:
20
g
Protein:
5
g
Fat:
14
g
Saturated Fat:
9
g
Polyunsaturated Fat:
1
g
Monounsaturated Fat:
4
g
Trans Fat:
1
g
Cholesterol:
53
mg
Sodium:
29
mg
Potassium:
182
mg
Fiber:
1
g
Sugar:
18
g
Vitamin A:
1119
IU
Vitamin C:
23
mg
Calcium:
74
mg
Iron:
1
mg
Source: Adapted from Essen und Trinken