Do you want to learn how to make stollen? Great! I did too, so I asked my uncle, Heinz, a retired German baker. He walked me through the steps of his German stollen recipe. I am happy to share what I have learned!
Jump to:
A quick backstory: My father was born into a family of bakers in Bremen in the 1950s. His father was a baker and his two brothers followed in his footsteps. Until recently you could visit the "Bäckerei Jünemann" in Bremen, but my uncle has now retired.
You will of course have heard of stollen. The white powdered German Christmas cake. It is available to buy in Lidl and Aldi at Christmas time. Try homemade stollen, and you will never buy one again.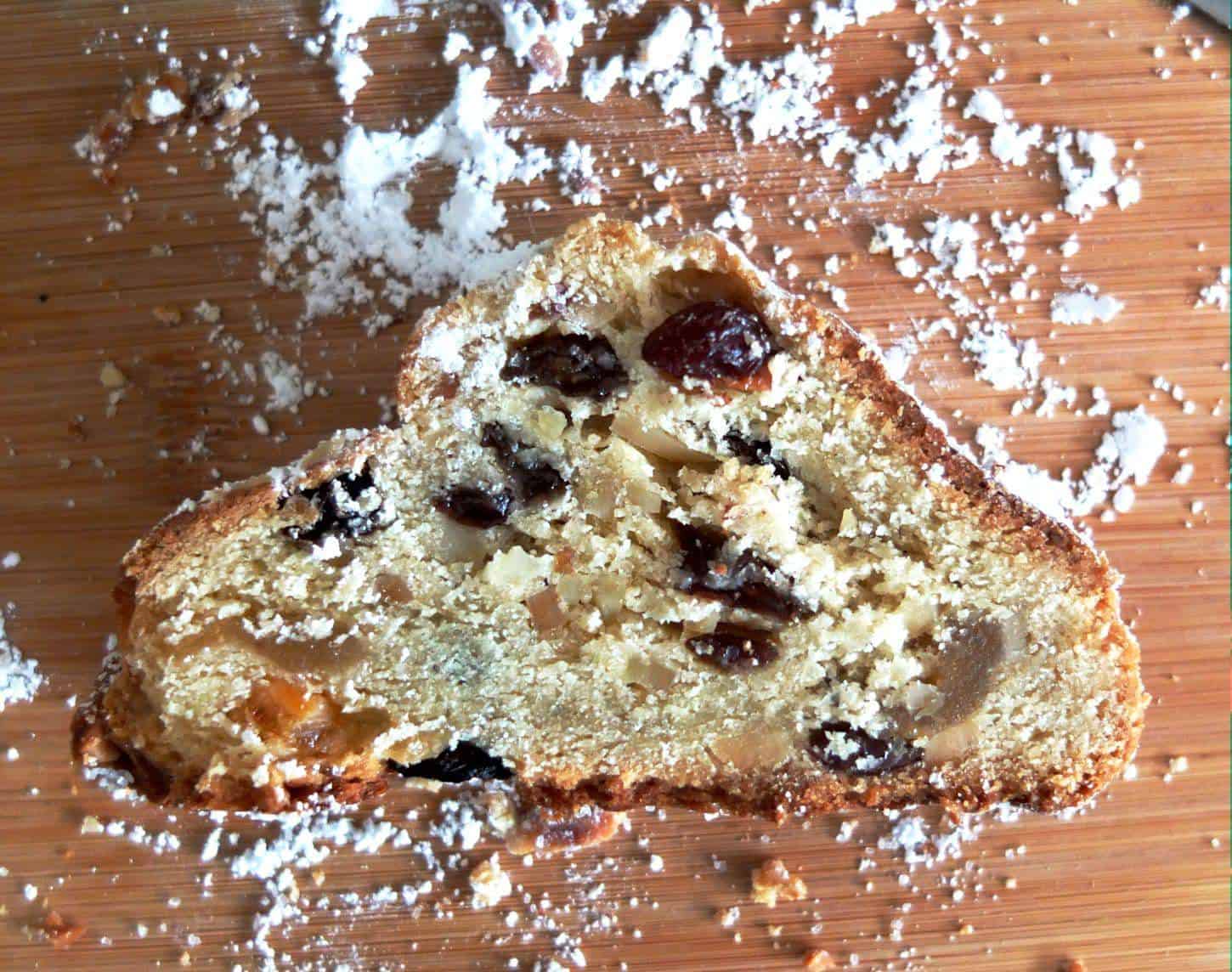 What is Stollen?
Stollen is a cake that is eaten around Christmas time in Germany. Does the shape of the stollen remind you of anything? Can you guess? Correct! It looks a bit like Baby Jesus wrapped in a linen cloth hence also the name "Christstollen" or "Christmas Stollen"
All stollen recipes have two things in common:
They are based on a sweet yeast dough.
The content of fat is very high relation to the low quantity of liquid in the dough. This makes the stollen so dry but also enables it to keep for so long.
My uncle told me that in previous decades, people would make their own stollen recipe at home. However, in post-war Germany, the stollen used to be about 2 meters long. They would not fit into a conventional oven so they would bring it to his bakery to be baked. Then it would be stored at home waiting for Christmas to arrive.
There are many varieties to the traditional stollen cake recipe:
Stollen or Raisin Stollen
Mandelstollen - with Almonds
Quarkstollen - with Quark
Marzipan Stollen - with marzipan
Mohnstollen (with poppy seeds) - with poppy seeds
Butter Stollen
Dresden Stollen (especially high in butter and raisins and can only be made in Dresden).
A similar Christmas Cake to Stollen is the Bremer Klaben. Very similar to stollen, but more common in the north.
Ingredients:
Stollen Baking Essentials (Affiliate links)
Let's get started making this stollen
The night before
The night before soak the raisins in some warm water and a shot of rum. If you are baking for children, just omit the rum.
Starting the yeast dough
Make a pre-dough by mixing the yeast with 100 gr of the flour. Combine with lukewarm milk to a smooth batter. Cover and leave to rise for 45 minutes in a warm place.
In the meantime roast the almonds at 200°C or 392°F for 10 minutes until they start to turn golden. Leave to cool.
Making the main dough
Once the pre-dough has risen, add the rest of the flour, salt, sugar, butter, vanilla sugar and gingerbread spice to the dough. Knead thoroughly with either a dough hook or your hands. Don't worry if the dough is a little tough. Kneading this dough is hard work.
Now add the almonds and raisins to the dough. Do not knead too vigorously, otherwise the raisins might burst and will colour the dough.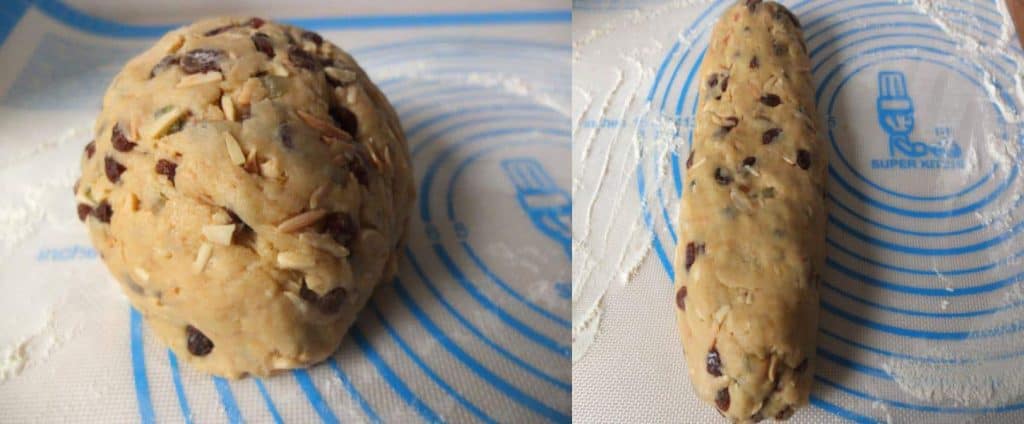 3. Roll the stollen into an approx. 30 cm long roll. With a rolling pin, flatten the dough from the middle. (see pictures)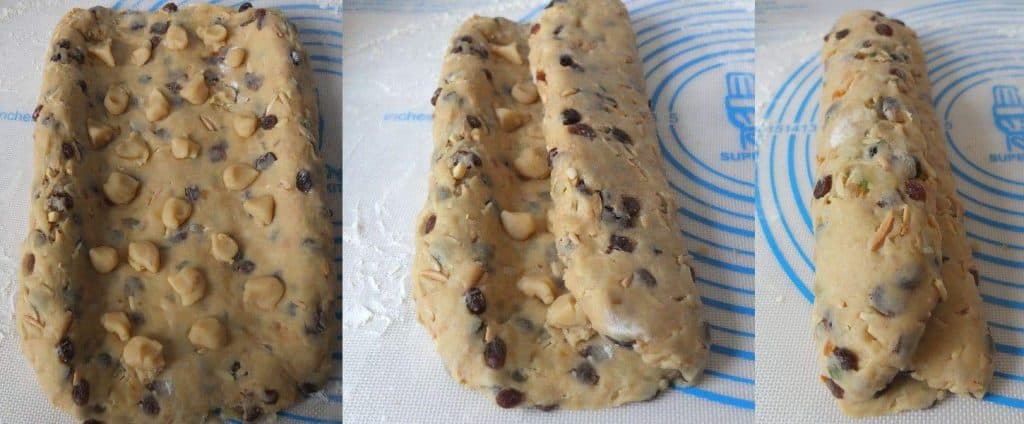 4. Once flattened you can add the marzipan in little flakes onto the dough. Do not put the marzipan too close to the edge as it may burn.
5. Finally you can create the traditional stollen shape. You fold both sides into the center. From left to right.
6. Place the cake on a tray lined with baking paper. If using a stollen form, place it on top of the cake. If you are not using a form, bake for 10 minutes before covering it with a sheet of baking parchment. Otherwise, it might get to brown.
7. Bake the stollen at 200°C or 392°F for around 40 minutes.
After baking
Once the cake is baked, brush it with liquid butter and sprinkle it with granulated sugar. This will pull the moisture out of the cake. Once cooled dust with plenty of icing sugar.
You can eat it straight away but it is best to wrap it in some kitchen foil. Ensure it's airtight. Then leave to rest in a cool place for around two weeks.
Tips and Tricks to make the best stollen
Use all of the ingredients at room temperature. Especially the butter. If the ingredients are too cool it can prevent the dough from risings.
Soak the raisins minimum an hour – best overnight in water and rum (optional). This prevents the raisins from burning and drying out.
Knead the dough thoroughly. However, ensure that the dough does not warm up too much while kneading. The dough needs to be hard in order to keep its form in the oven.
Use a stollen baking form. This is not essential but my uncle recommends using a form for the following reasons

The stollen will look like you buy it in a German bakery. As the dough will not run and so it keeps it shape.
It prevents the fruits and nuts from burning. Also, it will distribute the heat evenly.

Leave the cake to rest before cutting it. Place it in an airtight container (best first wrapped in kitchen foil) This will help the flavours infuse. Store it in a cool dry place.
How to serve stollen?
In Germany, this cake is served with a cup of coffee or Glühwein. You slice it before serving. If you want you can warm it up for a few seconds in the microwave, but that is not essential. Some like to spread the slice with some butter and jam.
How long does Stollen keep?
Stollen keeps up to three months in an airtight container when stored cool. It takes about 2 weeks to develop its flavours, as the rum-soaked raisings will infuse the rest of the cake. Some Germans say "Stollen tastes best at Easter". However, I have never tested this theory as this cake doesn't last that long in our house!
Can you freeze Stollen?
Yes, you can freeze it. Wrap it in some freezer bags. The stollen does not mind being frozen and defrosted.
Do you have leftover Stollen?
Try my recipe for Caramel Apple and Stollen Trifle. It combines two traditional German Christmas desserts into one light dessert.
More German Christmas Baking Recipes
Recipe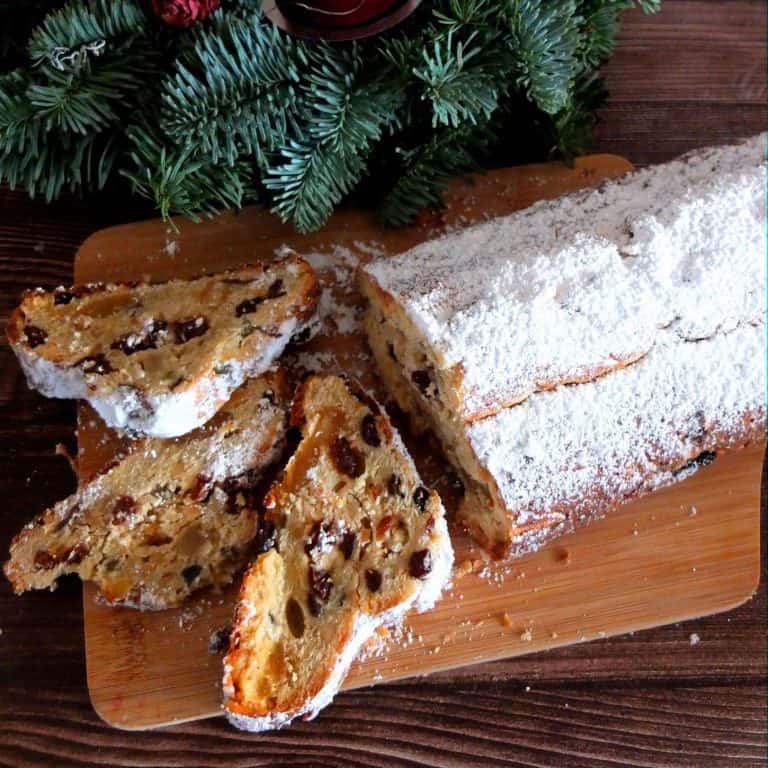 Authentic Stollen - The BEST German Christmas Cake
A traditional german stollen recipe with step by step instructions. Made with raisins, marzipan and almonds, and candied lemon and orange peel, this is a Christmas classic.
Equipment
Stollen baking form (optional)

handmixer

baking parchment

Rolling Pin
Ingredients
400

g

plain flour

14.1 oz or 3 cups ⅓ cup. Germany type 405, UK plain flour, USA pastry flour.

100

ml

whole milk

3.3 fl oz

7

g

instant yeast

2 tsp

250

g

unsalted butter

8.8oz or 1 cup (at room temperature)

1

teaspoon

gingerbread spice

shopbought (affiliate link) - but we recommend to make your own for more flavour see recipe)

1

teaspoon

salt

60

gr

granulated sugar

2 oz or ⅓ cup

160

gr

raisins

¾ cup or 5.6 oz

100

gr

flaked almonds

3.5 oz

10

gr

candied orange peel

0.3 oz

30

gr

candied lemon peel

1 oz

40

gr

marzipan

(optional) add more if you really like marzipan

8

gr

vanilla sugar

one sachet, or 2 teaspoon
To soak the raisins
0.35

cl

dark rum

(optional)

2

cups

warm water
For after baking
2

tablespoon

granulated sugar

2

tablespoon

unsalted butter

melted

100

gr

icing sugar
Instructions
Soaking the raisings
Soak the raisins at least 1 hour before baking (better the night before) in warm water and with rum (optional)
To make the dough
Warm up the milk to a lukewarm temperature. Stir the yeast into the milk and mix with 100 gr / 3.5 oz of the flour. Leave the yeast mixture to activate for at least 45 minutes.

In the meantime heat your oven up to 200°C or 392°F. Spread the almonds on a tray and toast until they are about golden brown. (about 10 minutes but make sure to check)
Make the main dough
Mix the yeast mixture with the remaining flour, sugar, salt, gingerbread spice and butter. Knead to a tough dough. (Don't worry its suppose to be hard work)

Combine the raisins, almonds, candied lemon and orangepeel to the dough. Ensure that you do not knead too vigorously, as the raisins could burst and colour the dough

Now form the dough to an about 30 cm long roll.

Flatten the middle of the dough with a rolling pin.(see pictures in post)

Once flatten you can add the marzipan in little flakes onto the dough. Do not put the marzipan too close to the edge as it may burn.

Now fold the dough from left to right into the middle.This is how you achieve the traditional stollen form. (see pictures in post)

Leave to rest for around 40 minutes.

Lay the stollen on a tray prepared with bakingpaper. If using a stolen form, place it on top of the stollen. If not using astollen form, make sure that you cover the stollen with an additional sheet of baking paper 10 minutes after itwent into the oven, as otherwise it will be too brown.

Bake for 40 minutes at 200 degrees.
After baking
After you removed the stollen from the oven, apply the melted butter on top with a brush. Sprinkle with granulated sugar. (this will remove any moisture from the cake)

Once cooled sprinkle with plenty of icing sugar.

You can eat it immediatly, but it is better to wrap it in some kitchenfoil. Store in a cool dry place for two weeks to allow the flavors to infuse.
Notes
Please see detailed step by steps instructions in the main post.
The post includes details on how to serve stollen, how to store it and freezing instructions.
Nutrition
Calories:
4740
kcal
Carbohydrates:
626
g
Protein:
54
g
Fat:
235
g
Saturated Fat:
146
g
Polyunsaturated Fat:
11
g
Monounsaturated Fat:
60
g
Trans Fat:
9
g
Cholesterol:
608
mg
Sodium:
2471
mg
Potassium:
2056
mg
Fiber:
24
g
Sugar:
188
g
Vitamin A:
7124
IU
Vitamin C:
10
mg
Calcium:
325
mg
Iron:
24
mg