Hello to all you marzipan lovers out there!  These homemade German marzipan cookies (Marzipanringe) are so crunchy and full of flavour that they are not be missed. Although known better as a classic Christmas cookie, my family enjoys them all year round.
I received this recipe from my German baker uncle, Willehad. I have two uncles who are retired bakers. My uncle Heinz passed his Stollen recipe to me and this time it was my other uncle's turn.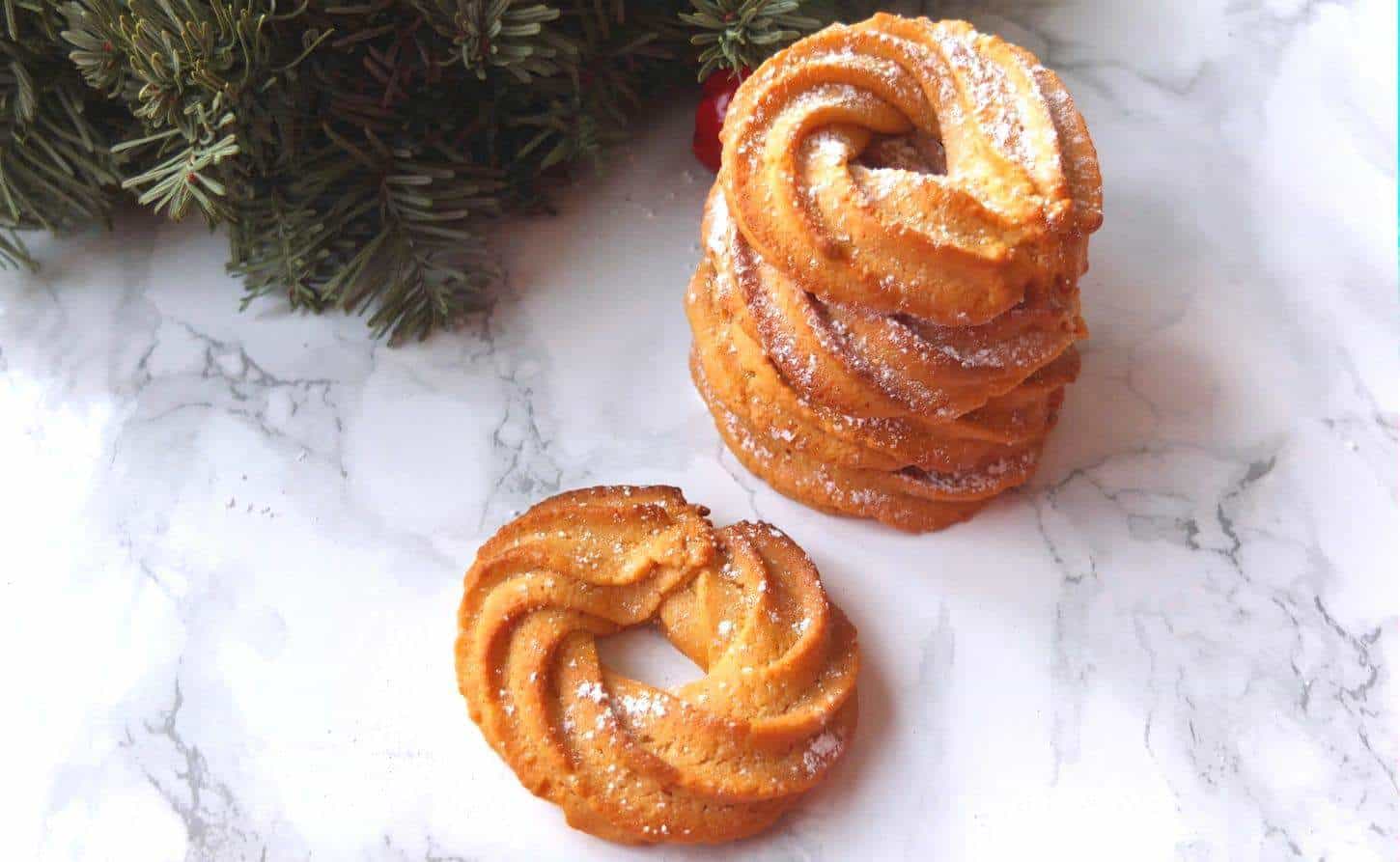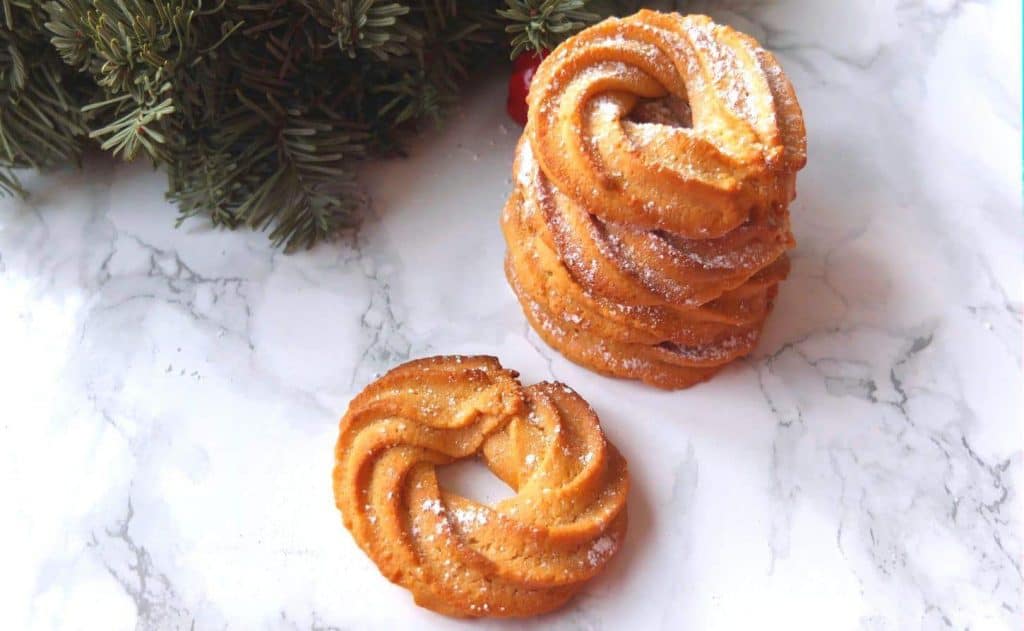 Who invented marzipan? History of marzipan in Germany
The German kitchen has a unique love of marzipan. It is a key ingredient in cakes, biscuits and confectionery. An example is the famous Christmas Stollen. Its been a delicacy since the middle ages. But marzipan does not originate from Germany.
German Marzipan Legend
Because it is such a lovely story, I will briefly tell you the German legend. According to the legend, marzipan was invented in Lübeck in 1407, during a famine. All that was left in the city were almonds and sugar. So, the bakers created "marzipan bread". A similar story is meant to have taken place in Konigsberg in 1409.
You don't need long to pick holes in this story. In the middle ages, sugar and almonds were rare, precious commodities. They could have easily been traded for more substantial foods than make marzipan. (source Wikipedia)
The Truth
Today, it is widely accepted that marzipan originated from Persia. The German marzipan manufacturer "Niederegger" writes on their website that the crusaders brought different spices and flavours back to Europe. They were first kept in boxes called "mataban" where the German name for "marzipan" developed.
Try the famous German Marzipan & Marzipan Bread (Affiliate Link)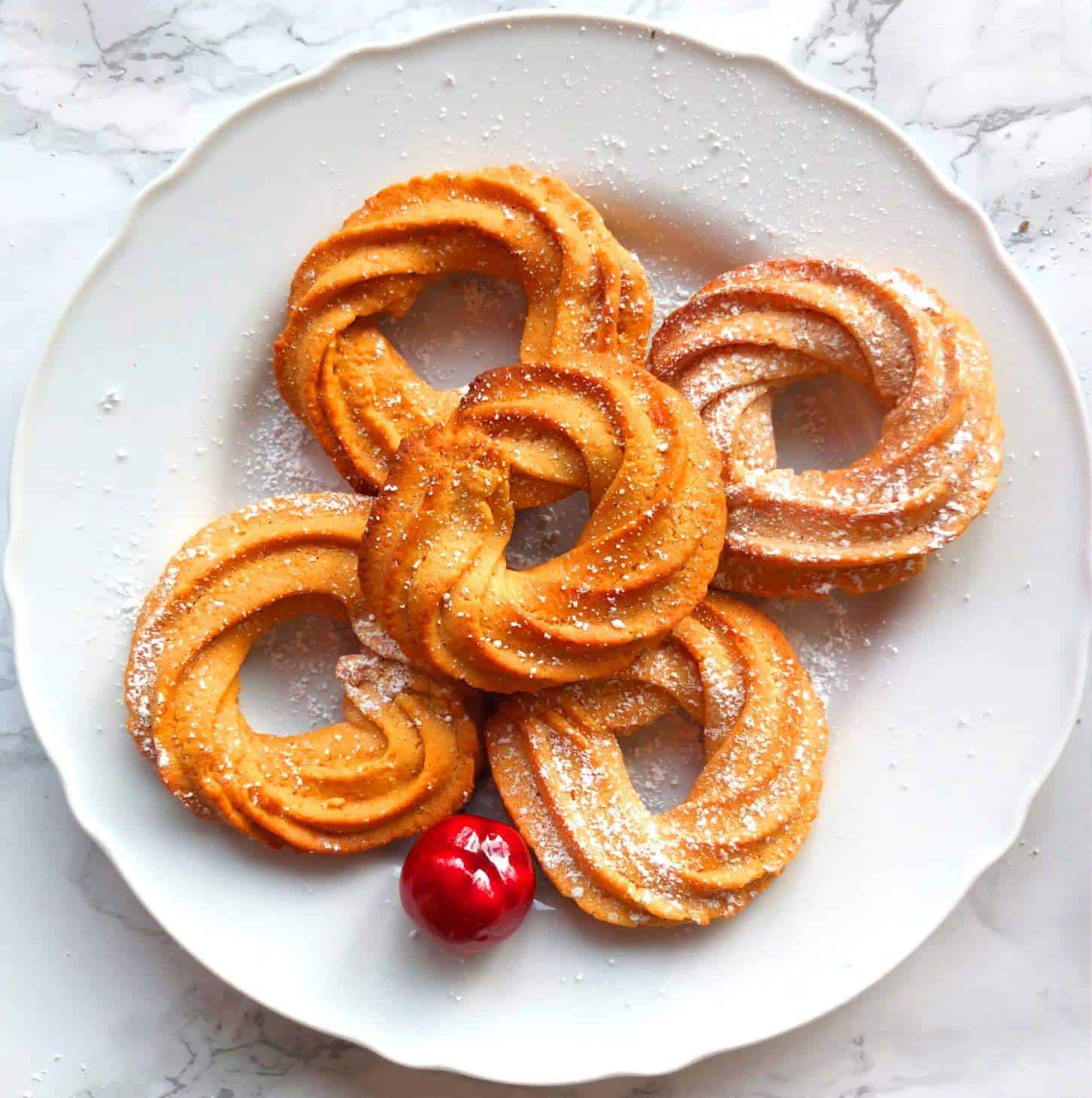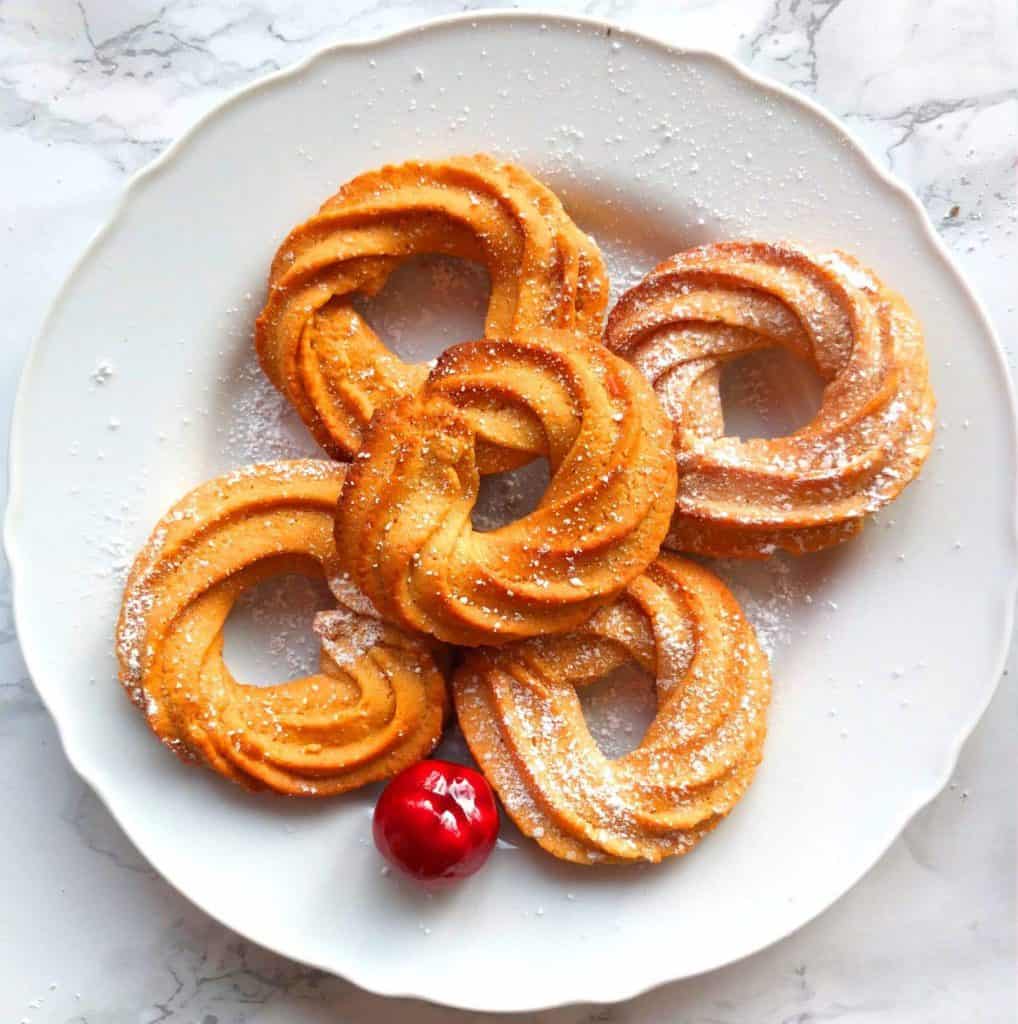 Enough history! How do you make marzipan cookies? 
Let's start with the ingredients: (Scroll down to the recipe card for all the details)
Jump to Recipe
Marzipan (does not have to be from Lübeck) 
Butter (softened to room temperature)
Caster sugar 
Vanilla sugar (buy-in packets or make your own) 
Eggs 
Almond essence
Flour (I use German Type 405, the closest in the US is pastry flour and UK plain flour)
Baking powder 
Icing sugar for decoration (optional)
Melted Dark Chocolate for Decoration (optional)
Recipe Essentials
Making the dough
Mix the marzipan and butter until you achieve a smooth paste. To make sure that the dough does not end up with lumpy marzipan you can warm the marzipan for 30 second in the microwave.  This softens it and makes it easier to work with.
Only then you add the sugar, vanilla sugar and almond extract to the paste. One by one. Once combined, you can add the eggs, again one by one. Mix them in with the hand mixer on high speed.
Combine the flour and baking powder and then sieve them into the mass. Blend with your mixer at medium speed.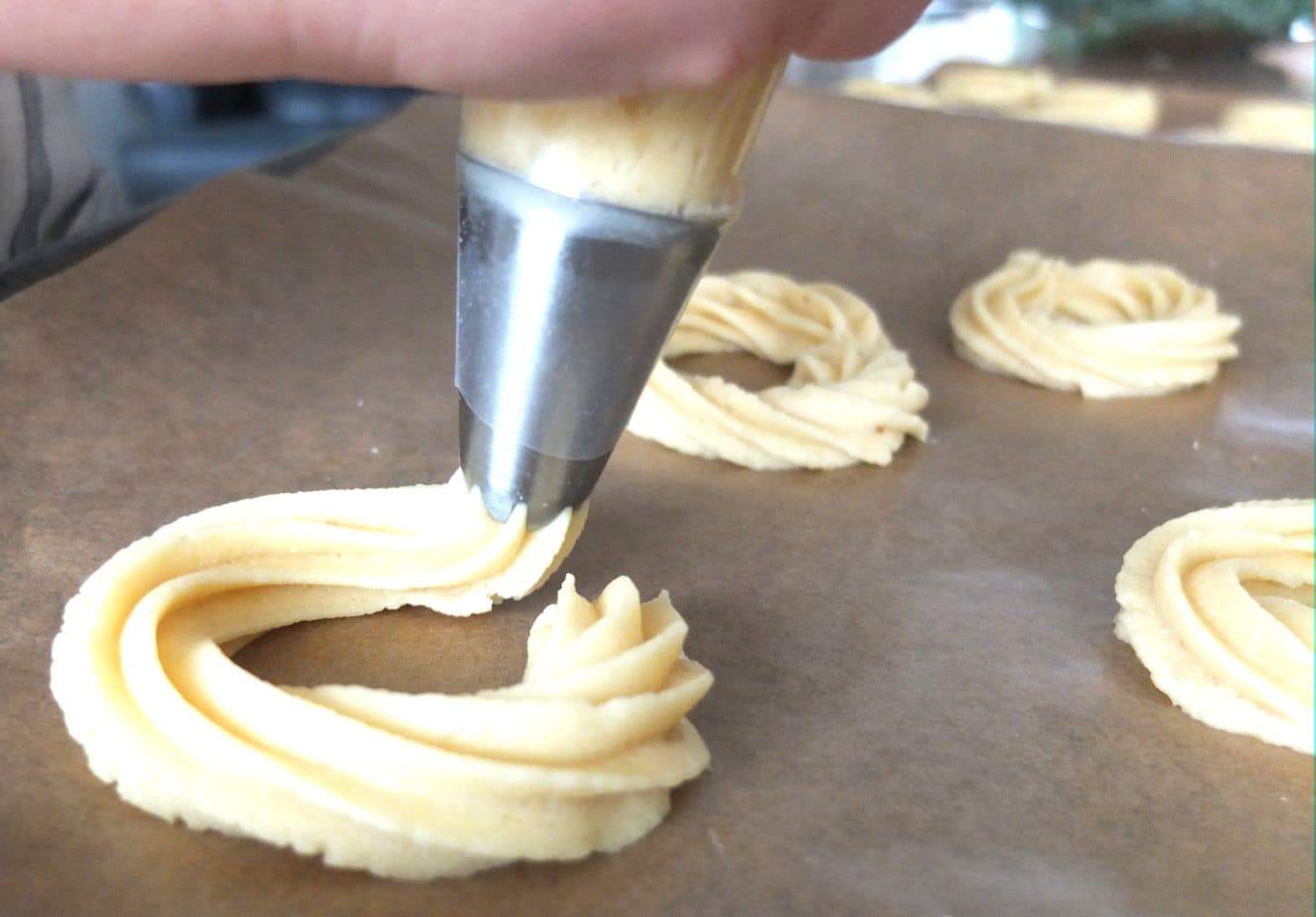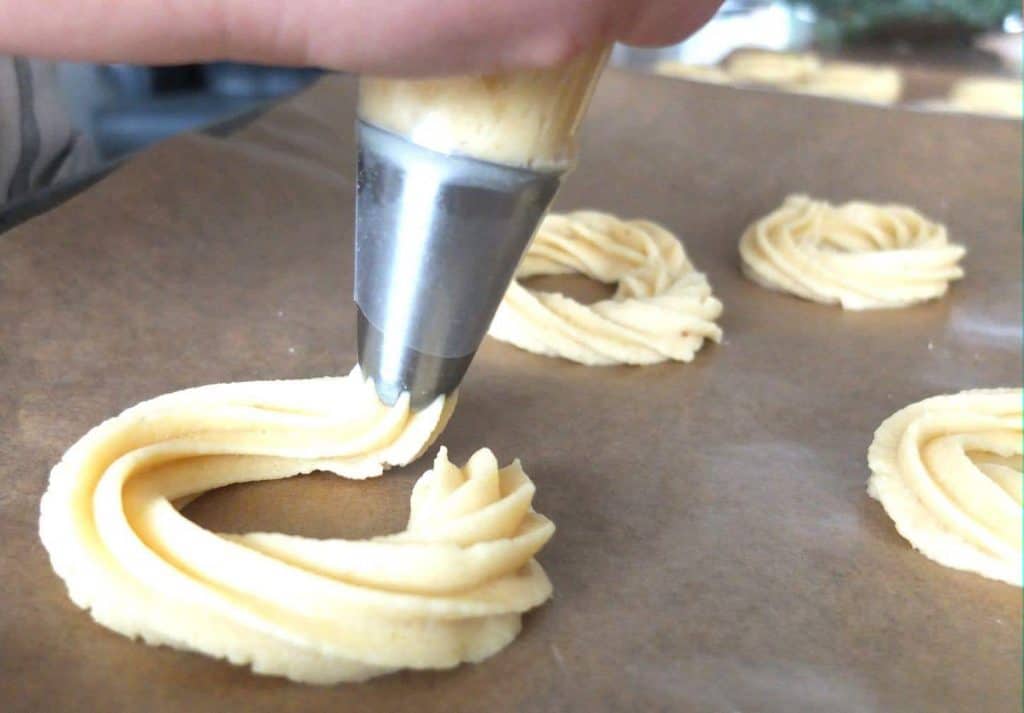 Creating the Marzipan Spritz Cookie Shapes
Spritz cookies look impressive but are easy to make. The advantage of this marzipan cookie dough is that it's not very hard. (A common complaints about spritz cookie dough). The dough is easy enough to shape using a piping bag. 
However, there is no reason you cannot use a cookie press or even a spritz attachment for your kitchen machine. On my Facebook or Instagram page, you can watch how I piped those rings. It is not difficult. Should you still find it challenging just create an "S" shape instead. This shape is more stable and easier to execute.  
Bake the cookies at 180 °C or 356°F for 10-15 min.
To decorate
You can decorate the cookies by sprinkling them with icing sugar or dipping them into dark chocolate.
Texture of the Marzipan Biscuit
These marzipan cookies have a firm and crunchy texture. Not like soft American cookies more like marzipan biscuits. (British kind of biscuits)
How to store these Marzipan cookies?
You can start making these marzipan cookies around four weeks before Christmas. They can last a long time. 
In Germany, we store them in biscuit tins. Make sure you store them in an airtight container and at room temperature. You can store different kinds of cookies in one cookie tin. If you store different kinds of cookies in one tin, you can separate them with a sheet of baking parchment, so the flavours do not mix. 
More German Cookie Recipes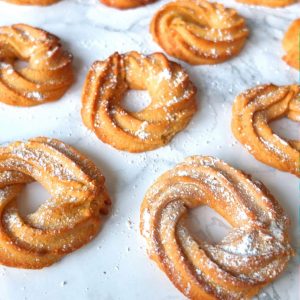 Marzipan Cookies
Equipment
hand mixer or stand mixer

Piping Bag or Cookie Press

baking trays

baking parchment
Ingredients  
200

g

marzipan

7 oz

100

g

butter

at room temperature (1/2 cup or 3.5 oz)

75

g

caster sugar

1/3 cup + 1 tbsp or 2.6 oz

1

tsp

almond extract

if available bitter almond

16

gr

vanilla sugar

2 packs or 4 tsp

2

eggs

1

tsp

baking powder

200

g

plain flour

1 cups + ¼ cup or 7 oz . ( I used German 405 flour, the nearest equivalent in the US is pastry flour, UK plain flour).
To decorate
1

tsp

icing sugar

optional

dark chocolate glaze

optional
Instructions 
Preheat your oven to around 180°C or 356°F. Prepare two baking trays with baking parchment. You might want to warm the marzipan for 30 seconds in the microwave to make it smoother to work it. This avoids lumps in the dough.

Using a hand or stand mixer, combine the butter and marzipan to a smooth mass.

One by one add in the sugar, vanilla sugar and almond essence. Mix until everything is combined.

Now add the eggs one by one into the mass. The mixer should be on its highest setting for 30 seconds while you add them.

Combine the flour and baking powder. Sieve the flour mixture. Add the dry ingredients to the dough in two separate portions. Mix after adding each portion. The mixer should be set at medium speed.

Now add the dough in little amounts to the piping bag or cookie press (whichever you are using)

Pipe the cookies in circles onto the prepared baking tray. They should be around 4 cm in diameter. Bake for around 15-20 minutes until the cookies are firm.

Pull them (with the baking parchment) off the hot tray.

Once the cookies cooled down you can dust them with icing sugar. Another alternative is to dip them into some melted dark chocolate.
Notes
Please refer to the section in the main post for storage information.