Deliciously easy, melt-in-the-mouth vanilla crescent cookies. This Vanillekipferl recipe is super simple and a perfect Christmas treat.
I love these little moon-shaped biscuits. They have a melt-in-your-mouth texture and a subtle vanilla and nut flavour combination which makes them a crowd-pleaser. Also, there is no intricate cookie decorating required and the shapes are not difficult to form. I used to make them in the UK all the time before I owned a rolling pin! These are also perfect for making with kids as they love creating moon shapes.
What are Vanillekipferl? Where do they originate from?
Vanillekipferl is one of the most popular Christmas cookies in Germany. They are a variety of recipes but the star ingredient in this cookie is the vanilla spice.
The cookie originated as a Christmas cookie from the Austro-Hungarian Empire, most probably from Vienna. "Kipferl" describes the shape of these crescent cookies. It is assumed that the Turkish occupation of Vienna in the 16th and 17th centuries influenced their shape.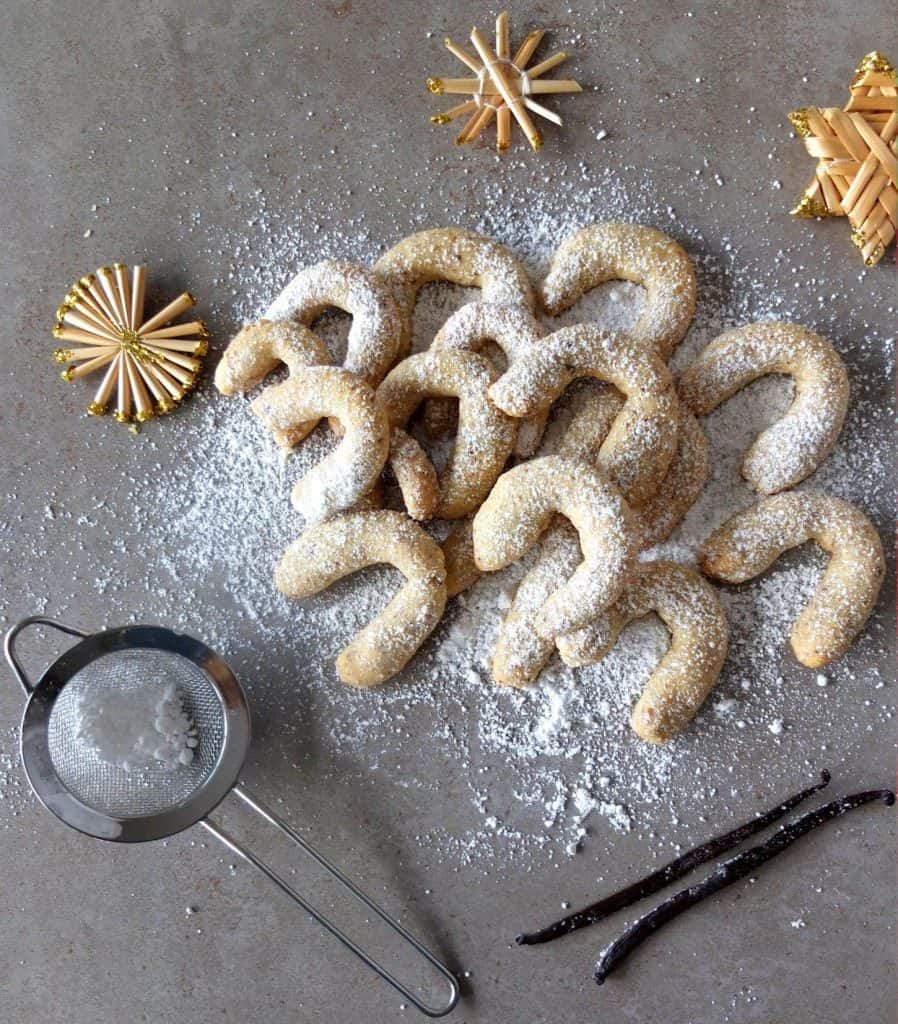 About this Vanillekipferl Recipe
There are different versions of Vanillekipferl recipes all over the world. Some use eggs, some don't. Some only use ground almonds (affiliate link) and some use hazelnut or walnuts.
This recipe uses a mixture of almonds and hazelnuts because I love hazelnut flavour. It also uses egg yolks as it will make the texture creamier. See below for some suggestions on how to use up the leftover egg whites in Christmas cookies.
Tips for the perfect Vanillekipferl cookies
First bake a small batch to check the consistency. If they loose their shape and end up looking too flat, you can add more flour or almonds to the dough to stabilise it.
For the perfect shape try using a "Vanillekipferl baking tray. You just fill the forms with dough and then scrape the remaining dough off. This way you get the perfect shape.
How to store these cookies?
Store the cooled cookies in an airtight container. In Germany, we use the biscuit tins. This allows the icing sugar to soften the cookies and prevents them from getting hard. After a week their texture will be perfect.
Use up the leftover egg whites in these Christmas Cookie Recipes
More German Christmas Recipes?
Vanillekipferl Recipe
Deliciously easy, melt-in-the-mouth vanilla crescent cookies. This Vanillekipferl Recipe is super simple and a perfect Christmas treat.
Equipment
baking parchment

Baking Tray
Ingredients
300

g

flour

2 cups or 10.5 oz (German 405 type flour, US pastry flour, UK plain flour)

50

g

ground almonds

1.7 oz

50

g

ground hazelnuts

1.7 oz

100

g

caster sugar

½ cup or 3.5 oz

8

g

vanilla sugar

1 packet or 0.28 oz

1

pinch

salt

2

egg yolks

250

g

cold butter

8.8 oz or 1 cup
To decorate
100

g

icing sugar

1 cup or 3.5 oz

24

g

vanilla sugar

2 packs, or 0.8 oz
Instructions
 Sieve the flour into a bowl. Add the hazelnuts and almonds, sugar, vanilla sugar, salt and egg yolks.

Add the butter in little flakes.

Knead the ingredients to a smooth dough.

Cover the dough in some cling film and leave it to rest in the fridge for one of two hours.

Preheat the oven to 160°C (320°F). Prepare two baking trays with parchment.

Form the dough into a tube approximately 30 cm long.

With a knife slice sections 1cm thick, and then roll to around 9 cm long pieces.

Form the small tubes into little cresent shapes and place them on the baking tray.

Bake them for around 12 minutes.

While they are baking, sieve the icing sugar into a bowl. Mix with the vanilla sugar.

Once you remove the cookies from the oven, coat them in the icing sugar until they are entirely covered. Alternatively sieve the icing sugar over the still-warm cookies.
Nutrition
Calories:
75
kcal
Carbohydrates:
8
g
Protein:
1
g
Fat:
5
g
Saturated Fat:
2
g
Polyunsaturated Fat:
1
g
Monounsaturated Fat:
1
g
Trans Fat:
1
g
Cholesterol:
15
mg
Sodium:
31
mg
Potassium:
7
mg
Fiber:
1
g
Sugar:
4
g
Vitamin A:
113
IU
Vitamin C:
1
mg
Calcium:
5
mg
Iron:
1
mg