When you think about Schnitzel you normally associate it with the breaded type like the Viennese Schnitzel or Turkey Schnitzel. However a Schnitzel is in fact any meat that has been tenderized before cooking.  And this is exactly what I did with these chicken steaks that I picked up at the butchers last weekend.
On my search of another nice recipe using Riesling; it crossed my mind that would it not be nice to cook them with some Pfifferlinge (Chanterelles). Chanterelles are mushrooms that are very common in Northern Europe but I have not come across them in any supermarkets; even though they can also grow in the UK. They have a slightly peppery flavour hence the German name of "Pfifferlinge" (Pfeffer is Pepper in German). Because chanterelles contain slightly less water than cchampions or button mushrooms they lend themselves well to cooking with wine.
I brought a jar of Pfifferlinge back from Germany; but also found that you can get them in the UK over amazon.
The grapes add a surprising sweetness to this dish that rounds of all flavours nicely. My husband enjoyed this meal after a long walk in the Surrey countryside. I served it with some spaghetti as I had some ready in my kitchen cupboard. But next time I will cook this again I will serve it with Tagliatelle or German dumplings instead.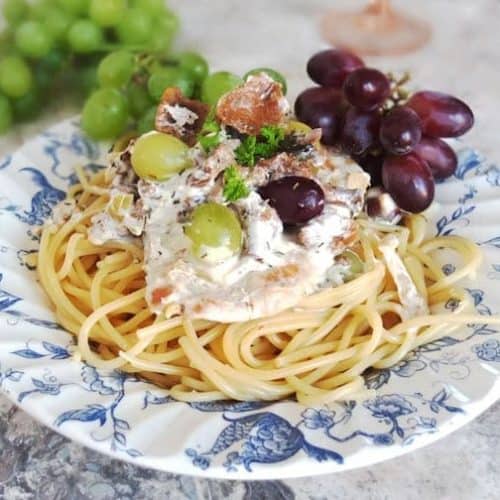 Riesling Chicken Schnitzel with Chanterelles and Grapes
Ingredients
4

Chicken Steaks / Or Chicken Escalopes about 140 gr each

200

g

Chanterelles

fresh or from a jar

30

g

shallots finely cubed

100

ml

Riesling or another dry white wine

200

ml

Single Cream

75

gr.

fresh green grapes

deseeded

75

gr.

fresh red grapes

deseeded

2

tsp

fresh thyme

alternatively use dried thyme

4

tsp

fresh chopped parsley

2

pinches

of nutmeg

1

table spoon butter

salt and pepper to taste
Instructions
Tenderise the chickensteaks. Season with salt and pepper and nutmeg. Heat the butter in a large frying pan and fry the chicken schnitzel on both sides until browned. Remove from pan and set aside.

Place the chanterelle mushrooms in the pan and fry for 2 minutes. Add the shallots and fry until they turn translucent. Now add the Riesling and bring to boil. Add the cream and chicken, grapes and cook for about 5-6 minutes.

Add the herbs and bring to boil. Serve with Tagiatelle or Dumplings.