The right sauce can make or break a dish. Not every schnitzel needs a sauce but some sauces can really make the schnitzel special. I have collected the best sauces recipes for schnitzel for you. Let's have a look at the different sauces and learn about Germany's favourites. Before we start doing this, let's have a look at the different types of schnitzel available.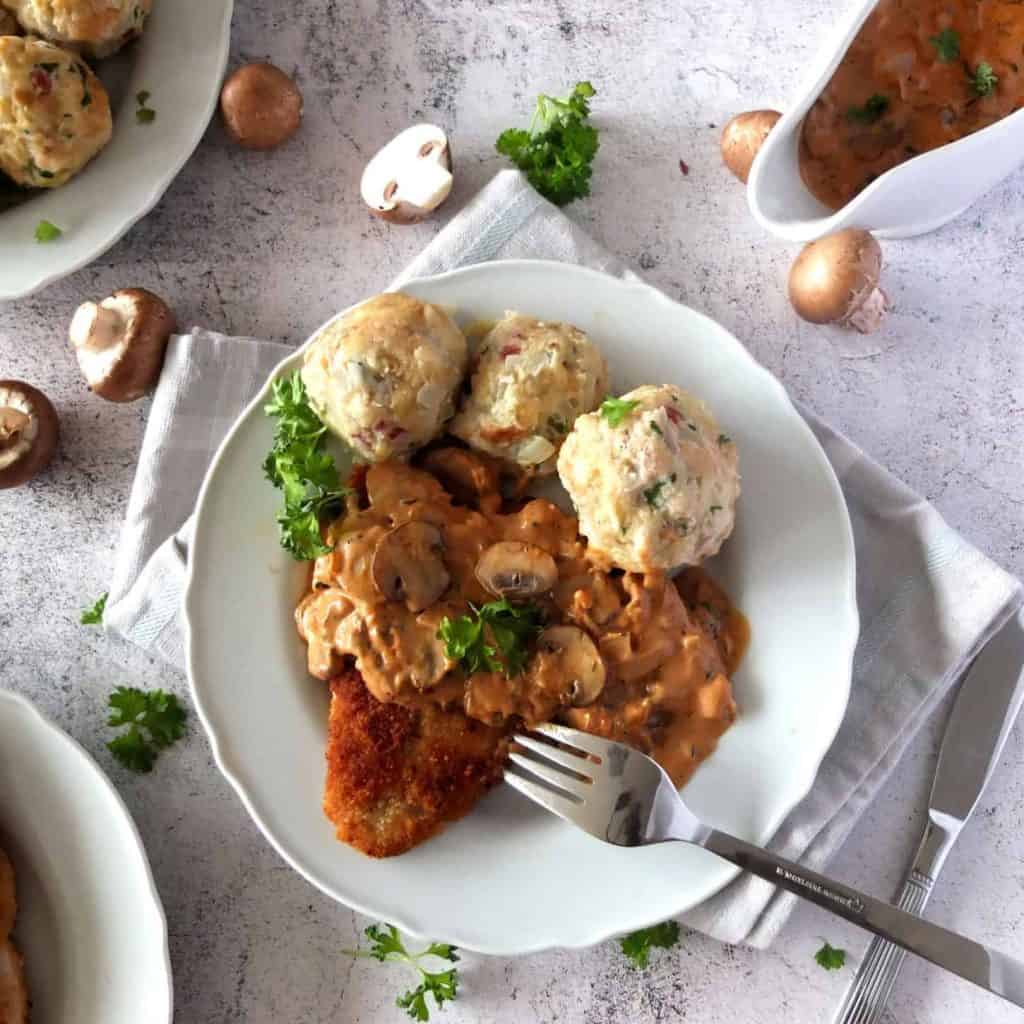 Jump to:
Types of Schnitzel
Schnitzel is the term for a dish in Germany, where the meat is tenderised. A schnitzel does not always need to be breaded to be a schnitzel. Unbreaded Schnitzel are referred to as "Schnitzel Natur". German schnitzel is generally made from 4 types of meat.
Veal Schnitzel (Wiener Schnitzel),
Pork Schnitzel (Schweineschnitzel)
Turkey Schnitzel (Putenschnitzel)
Chicken Schnitzel (Hähnchenschnitzel).
Pork Schnitzel is the most common variety in Germany. Veal is the most expensive cut of meat, and made famous through the Wiener Schnitzel. Turkey and Chicken schnitzel are healthy alternatives and very popular with home cooks.
Jäger Sauce ( German Hunter Sauce).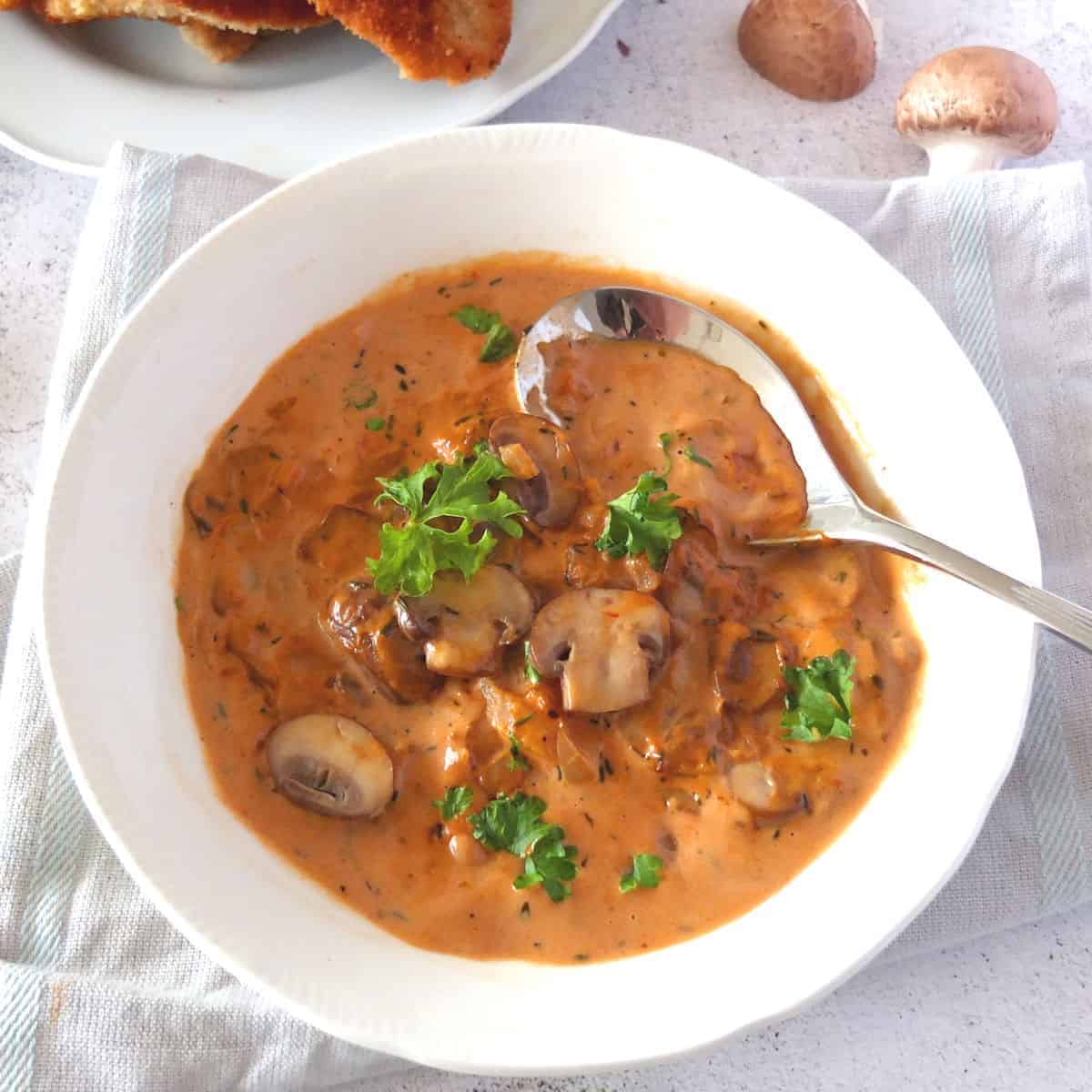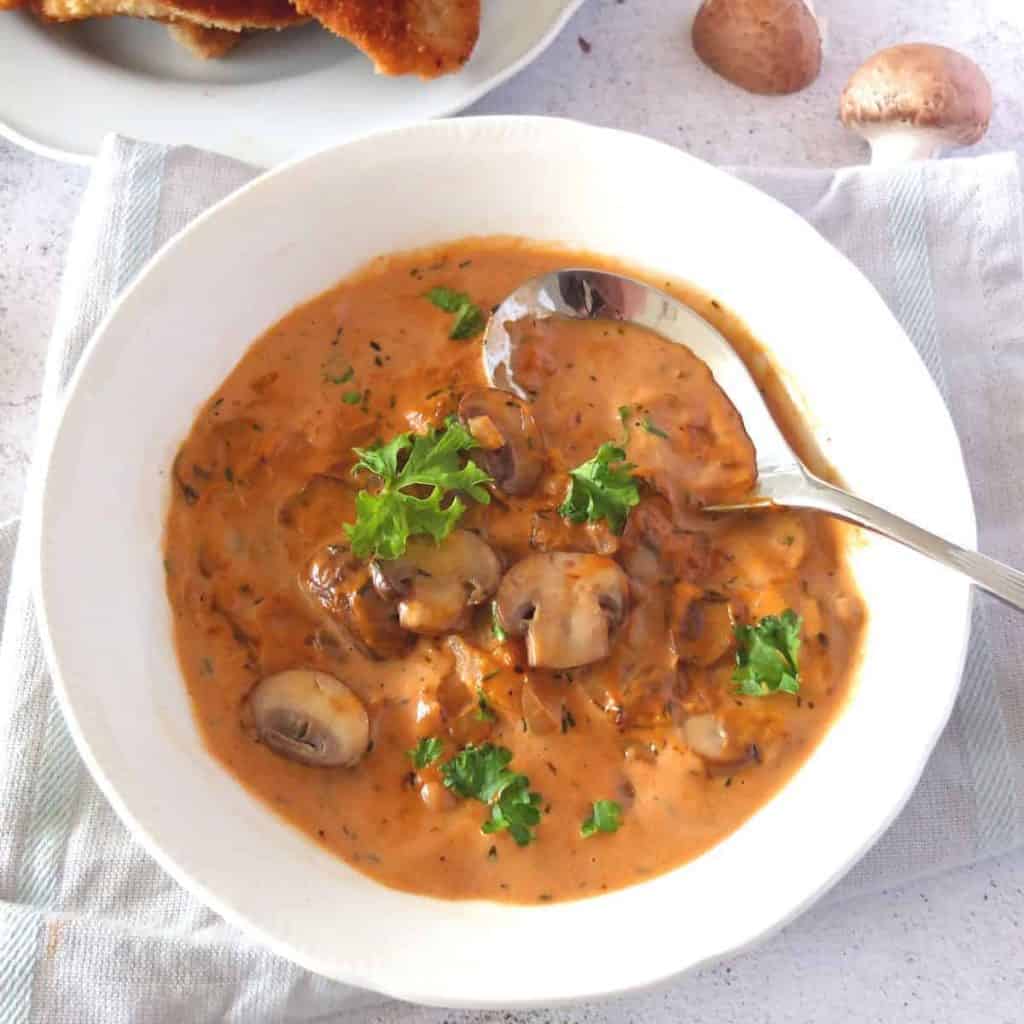 The famous mushroom sauce for schnitzel. It turns every ordinary schnitzel into a Jäger Schnitzel. Jäger means "Hunter" in German. Hunters used to collect mushrooms on their way home from a hunt, and the cooks would make this mushroom gravy to go with the caught meat.
There are many variations of this sauce. Some recipes use white or red wine. Generally, the ingredients include cream, stock, mushrooms and onions.
You do not have to serve this mushroom gravy only with schnitzel. It also tastes very good with spätzle, pasta or semmelknödel (Bread dumplings)
Zigeuner Sauce (Paprika Sauce for Schnitzel)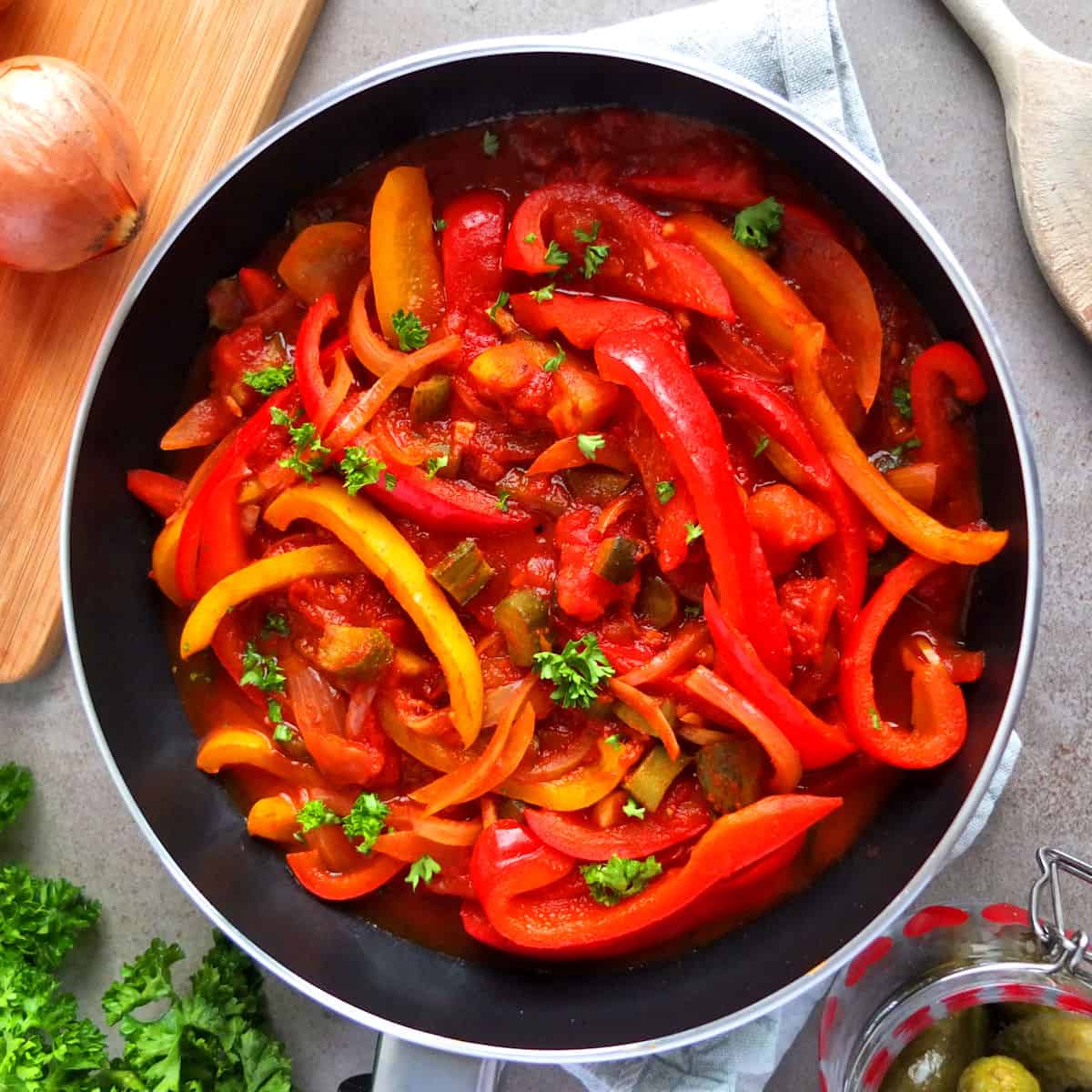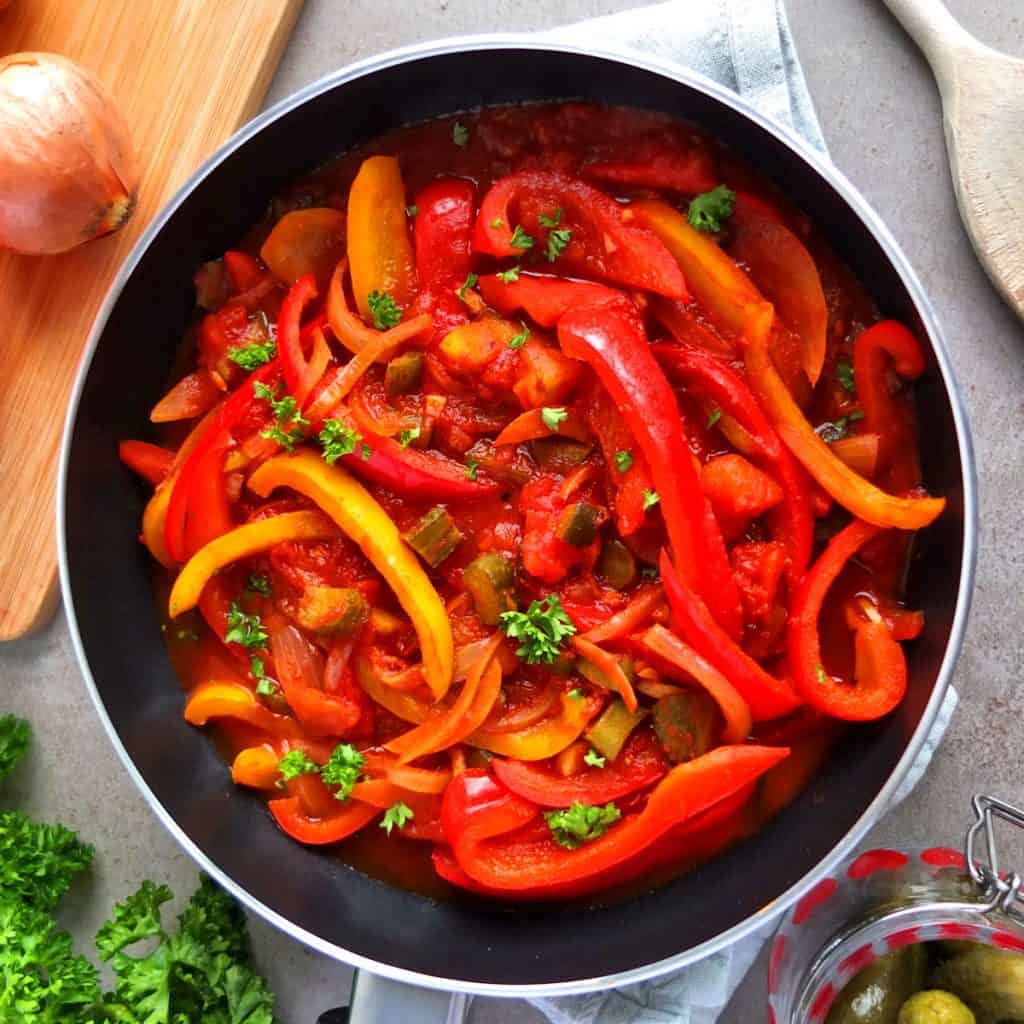 Zigeuner Sauce is a spricy, tangy paprika sauce for schnitzel. The term "Zigeuner" is the German word for Gypsy. In recent years the name of the sauce has been controversial. and the sauce has been renamed "Hungarian Style Paprika Sauce". The sauce is simple and consists mainly of chunky cut peppers, onion, pickled gherkins (affiliate link) and tomato sauce.
Schnitzel served with this sauce are called "Zigeunerschnitzel".
Rahmsauce (German Cream Sauce)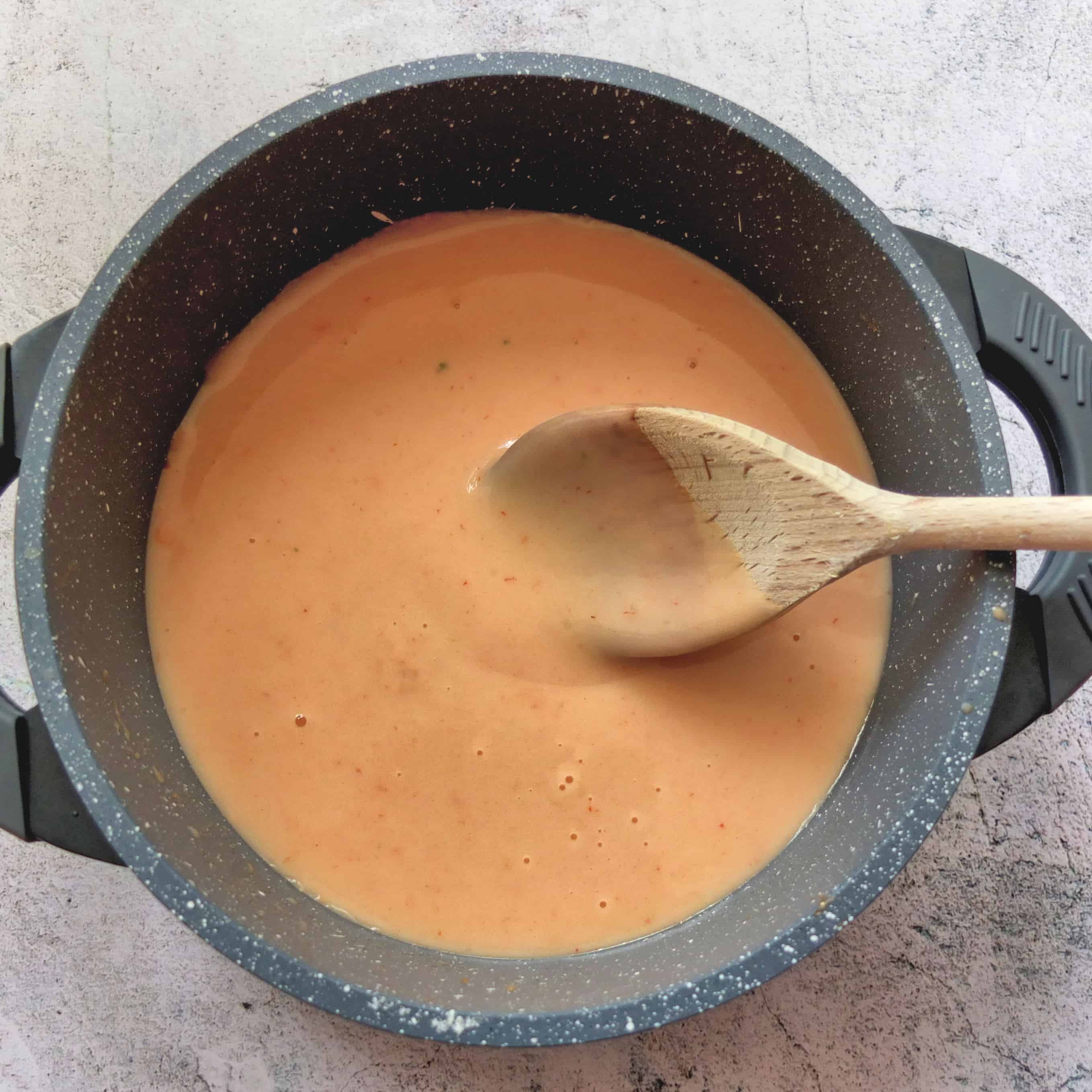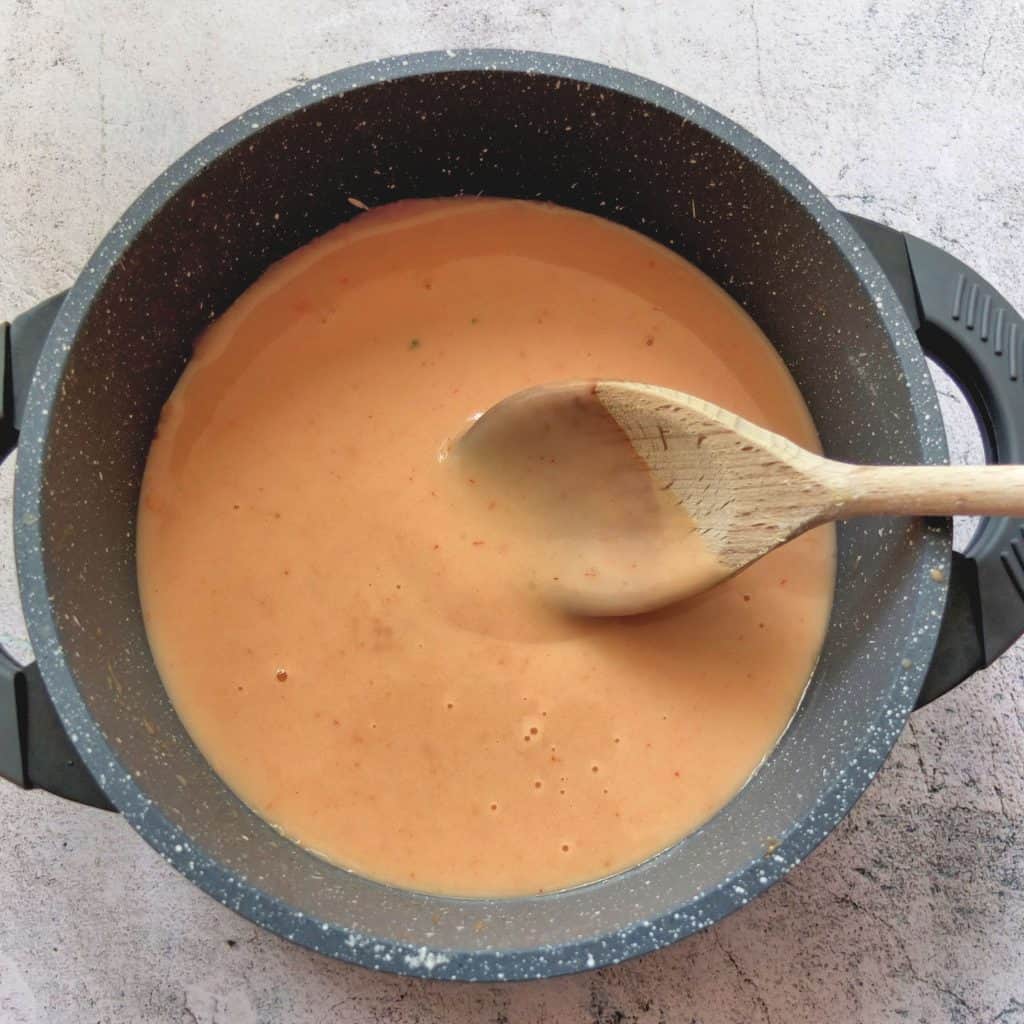 Rahmsauce is a cream sauce for schnitzel. Based on a sauce made from a simple roux, stock and cream, it has a lovely subtle taste. Rahm is the German word for cream. Schnitzel with rahmsauce is called Rahmschnitzel. This sauce is also very popular to have with frikadellen or spätzle.
The sauce has a roux as a base and is made with meat stock /broth and cream.
Frankfurt Green Sauce (Herb Sauce)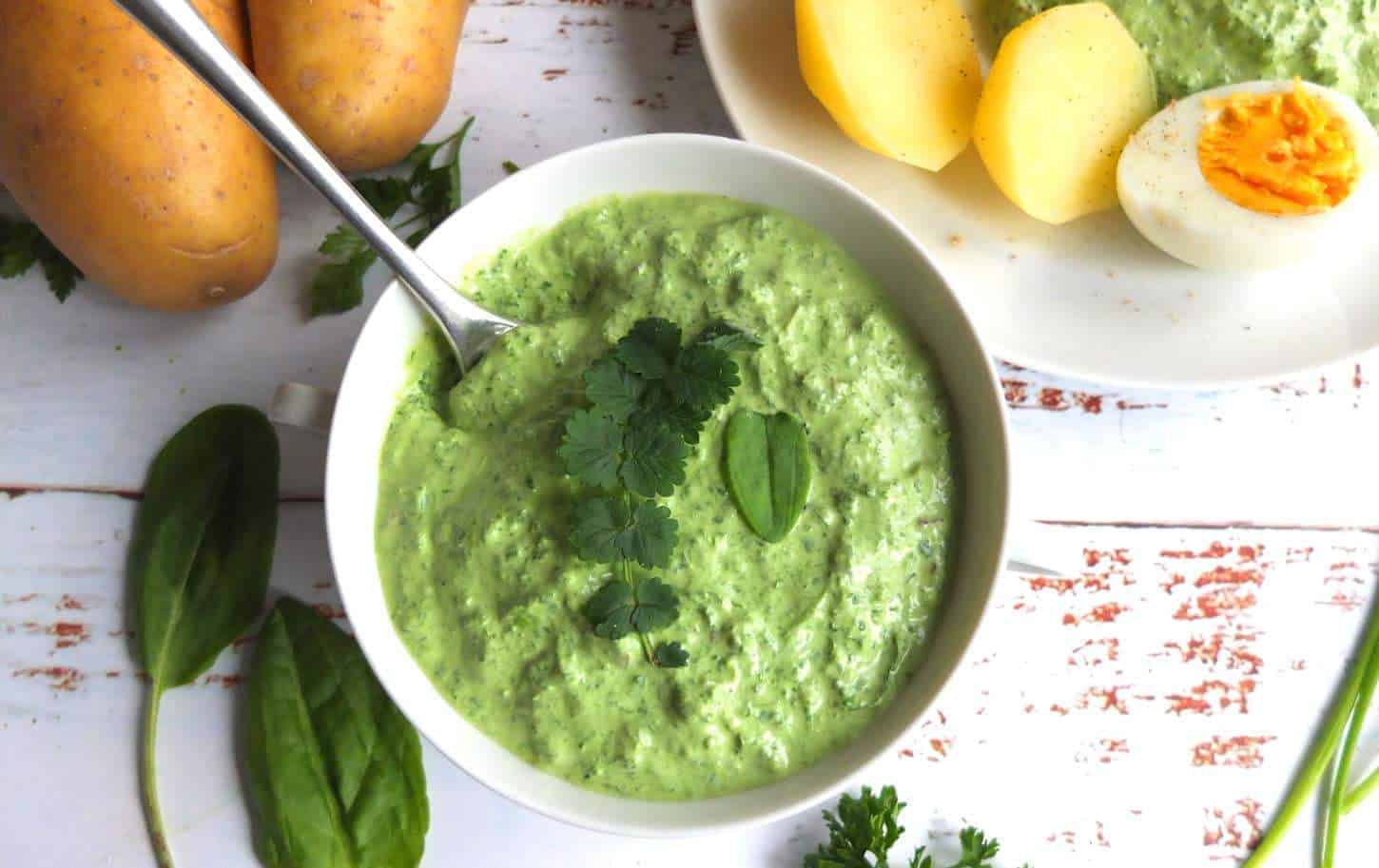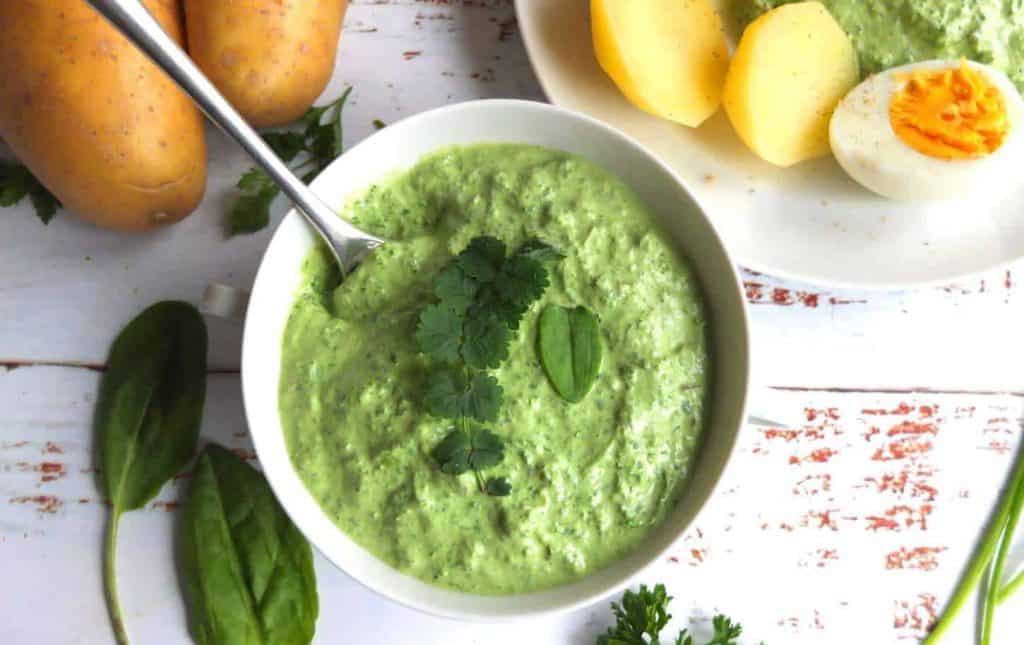 Frankfurter Grüne sauce is one of the traditional recipes from Frankfurt am Main. The sauce is from seven distinct herbs, sour cream and yoghurt. The seven herbs are Borretsch (Borage), Kerbel (Chervil), Kresse (Garden Cress),
Petersilie (Parsley), Pimpinelle (Salad Burnet), Sauerampfer (Sorrel) and Schnittlauch (Chives).
Grüne Soße with Schnitzel is called Frankfurt Schnitzel. It makes a welcome change to other cream sauces.
Get the recipe for Frankfurt Green Sauce
Cranberry Sauce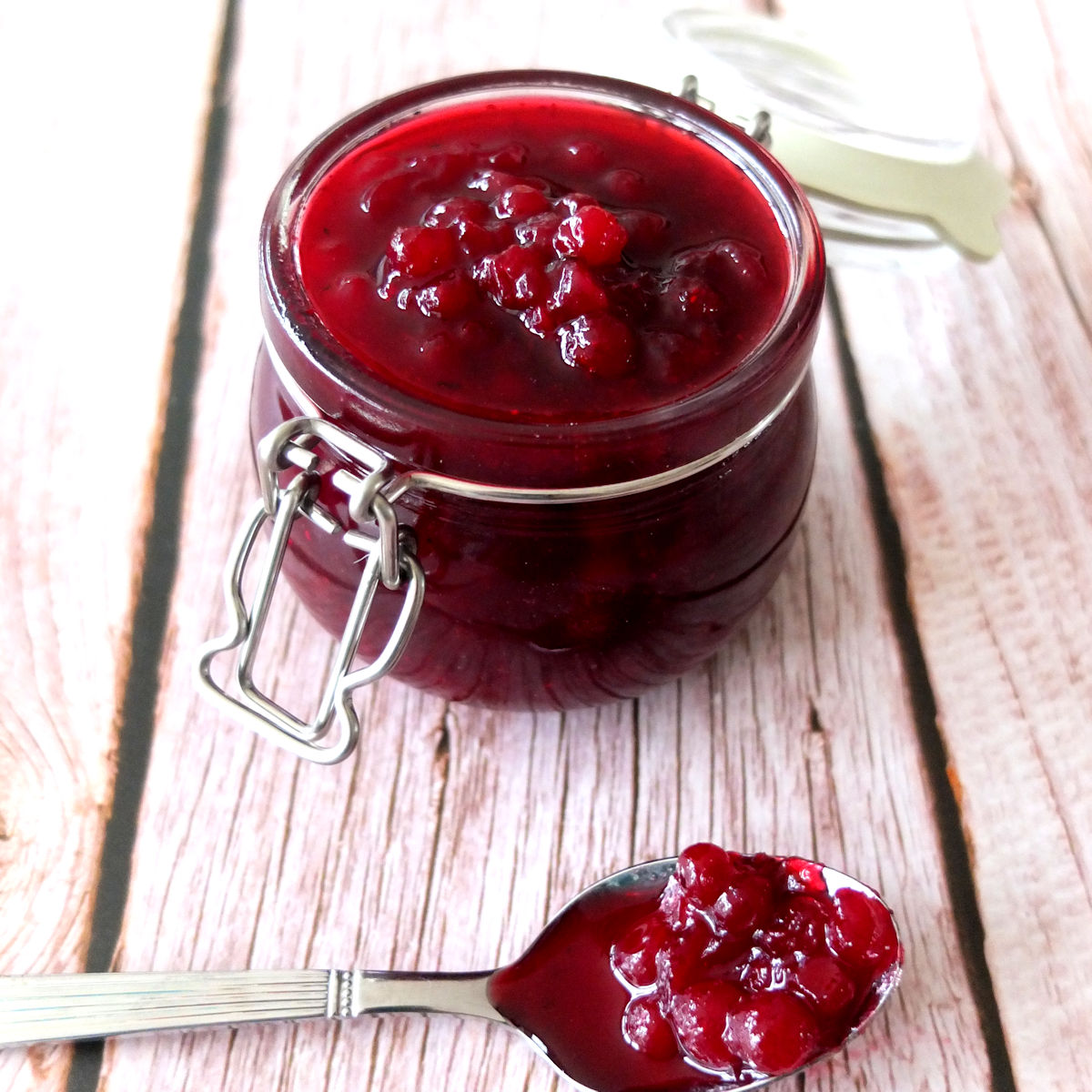 Schnitzel with Cranberry sauce (affiliate link) is a popular pairing. Especially if you choose to eat Wiener Schnitzel. In Austria, it is customary to serve Wiener Schnitzel with cranberry sauce (affiliate link) and parsley potatoes.
Lemon Juice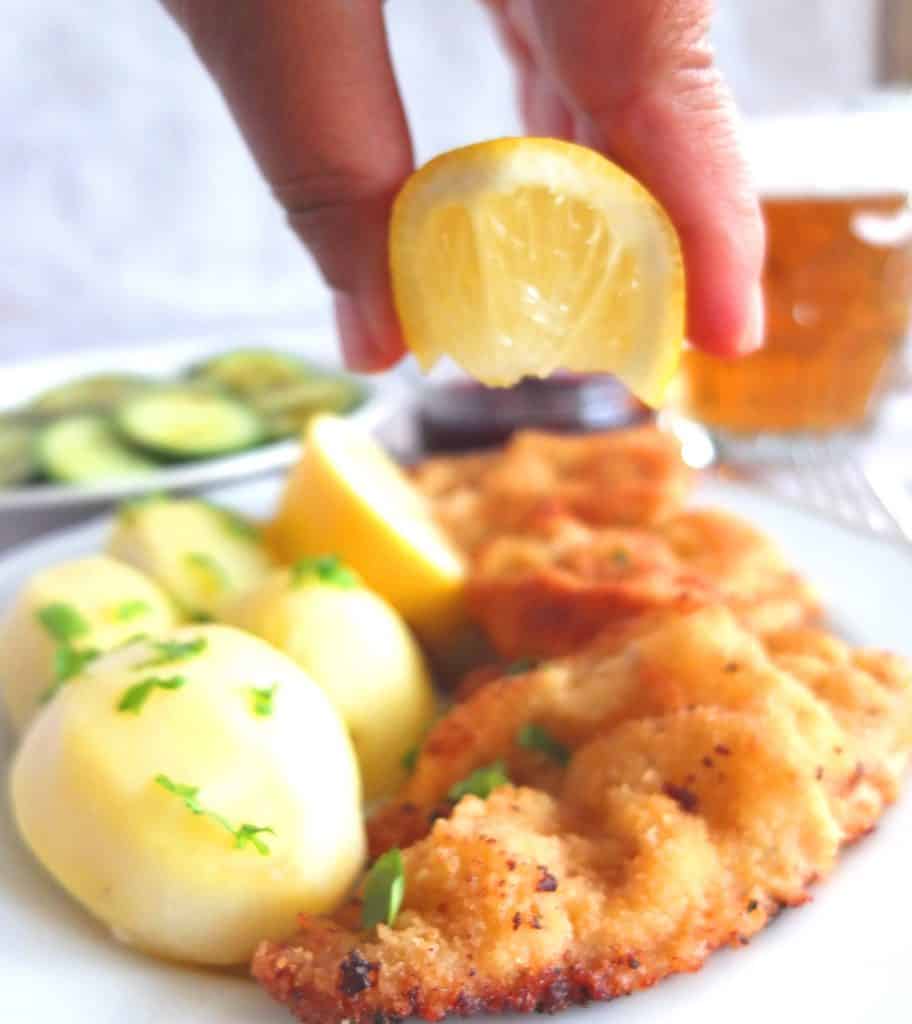 Some argue that a well-cooked schnitzel does not need any sauce. Especially if you are using a delicate meat such as veal. A slice of lemon adds a fresh taste to the meat and helps break out the fat.
There is also a historical reason for serving schnitzel with lemon juice, as the sour taste helped to mask the taste of rancid meat, in a time before refrigeration was not as common.
Buy Instant Schnitzel Sauces
What Other Side Dishes go with Schnitzel
Did you try one of these recipes?
Please leave a rating or make a comment below. I would love to hear from you. You can send me an e-mail or comment on Facebook, Instagram or Pinterest.
Why not share our Facebook Group - Homemade German Food & Recipes. Here we chat about German Food and share recipes.
Jager Sauce (German Hunter Sauce)
A delicious creamy mushroom sauce that goes will with Schnitzel, Spaetzle, meat and plenty more dishes.
Check out this recipe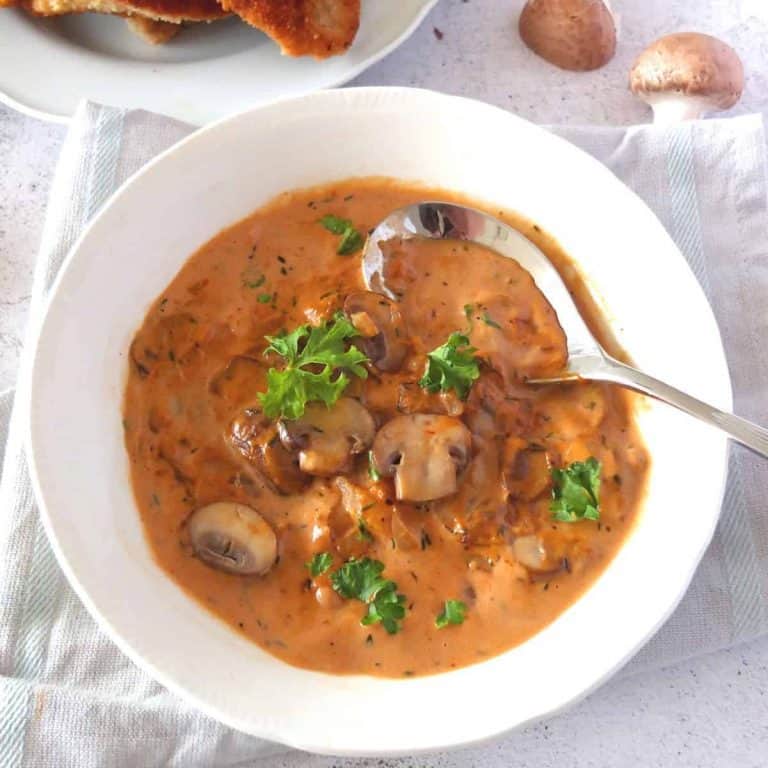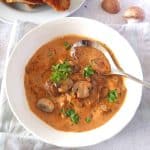 Zigeuner Sauce (Gypsy Sauce)
A delicious spicy sauce made from peppers and tomatoes. Great for schnitzel, to make the iconic Zigeunerchnitzel, or pair with beef or sausages.
Check out this recipe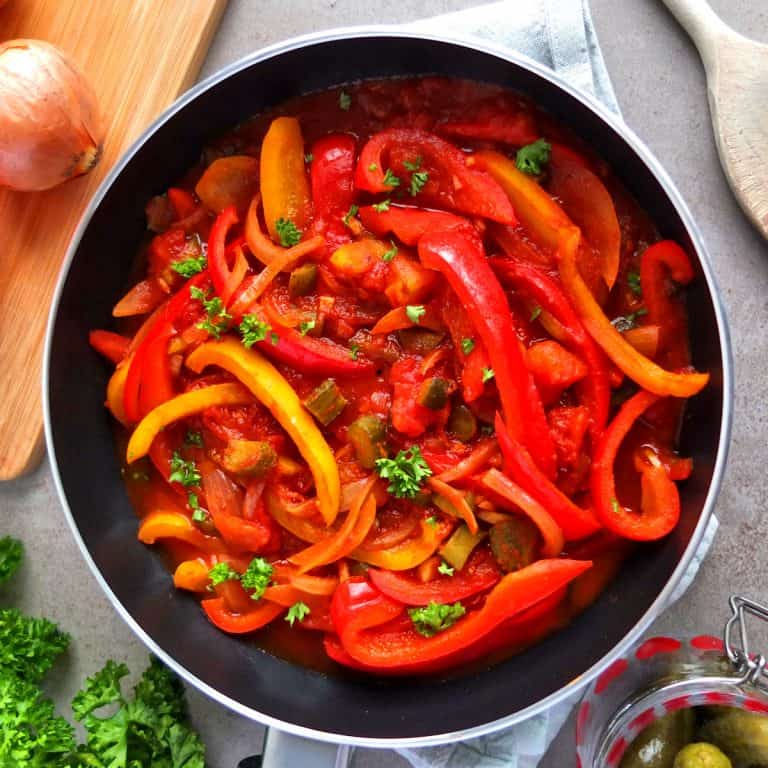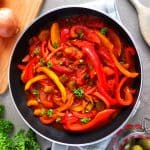 Rahmsauce – German Cream Sauce
This creamy sauce is perfect for schnitzel, meatballs, chicken, pasta and spaetzle.
Check out this recipe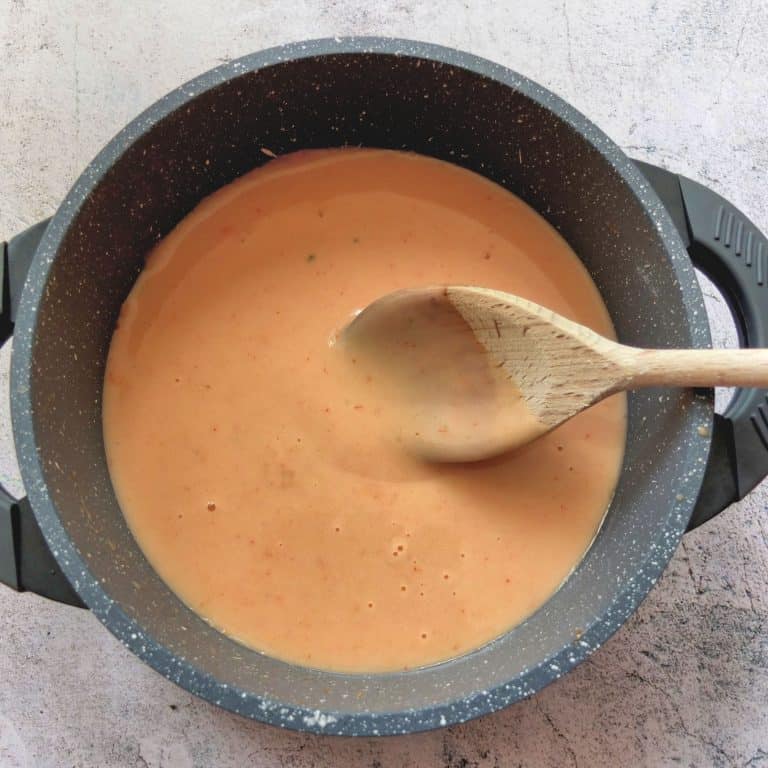 Frankfurt Green Sauce (Frankfurter Grüne Soße)
Try this world-famous German herb sauce. Refreshing, delicious and yet so simple, these are the characteristics of the original Frankfurter Grie Soß (as Frankfurt green sauce is colloquially known). 
Check out this recipe