The classic, old fashioned German Potato Soup (Katoffelsuppe). A modest soup with undemanding and frugal ingredients. And yet it is so full of flavour, bursting with nutrients and one of the most popular soups in Germany. Let me share with you my easy recipe, so you can make it at home.
If you have grown up in Germany, you probably have a different recipe of homemade potato soup in mind. There are so many of them and every family has their unique version. (This post was first published in January 2014 and updated in January 20201)
What is authentic German potato soup?
Potato soup in German is called "Kartoffelsuppe". "Suppe" is the German word for soup, but you might also find it called "Kartoffeleintopf". "Eintopf" in German describes a soup based one-pot recipe.
There is no such thing as the one original recipe for German potato soup. There are hundreds of versions available and history has moulded them to their current state. (see below some regional variations)
They are chunky or smooth and creamy, vegetarian or loaded with meat. However, there are some common ingredients that you find in German soups.
German potato soup ingredients
Potatoes – floury/waxy potatoes work best for a creamy soup but feel free to use whatever potatoes you have.
Leeks
White Onions
Celeriac (optional. I don't like it but many traditional German potato soups will use it)
Chicken Stock or Broth – use a good quality chicken stock or broth – and you will taste the difference. You can also substitute this with vegetarian broth / stock.
Parsley
Bay leafs
How to make German Potato soup?
Start by preparing the vegetables. Peel the potatoes, carrots and celeriac (if using) and roughly cube them. Peel the onion and finely slice. Cut the leeks into fine stripes. Finely chop the parsley.
Heat some oil or butter up in a saucepan and fry the onions until they start to brown for about 5 minutes. Add the marjoram

(affiliate link)

, potatoes, leek and carrots to the pot and fry for a further 2 minutes.
Pour in the broth/stock and add the bay leaf. Cover the saucepan with a lid and leave the vegetables to simmer for around 30 minutes at medium-low heat. Check the soup occasionally and stir.
Remove the pot from the heat. Check that the vegetables are cooked through and blend with a stand or immersion blender until you achieve a creamy consistency.
Season with salt and pepper to taste. Now mix in the chopped parsley before serving.
If you like, you can serve the soup with a spoon of sour or whipped cream but that is optional.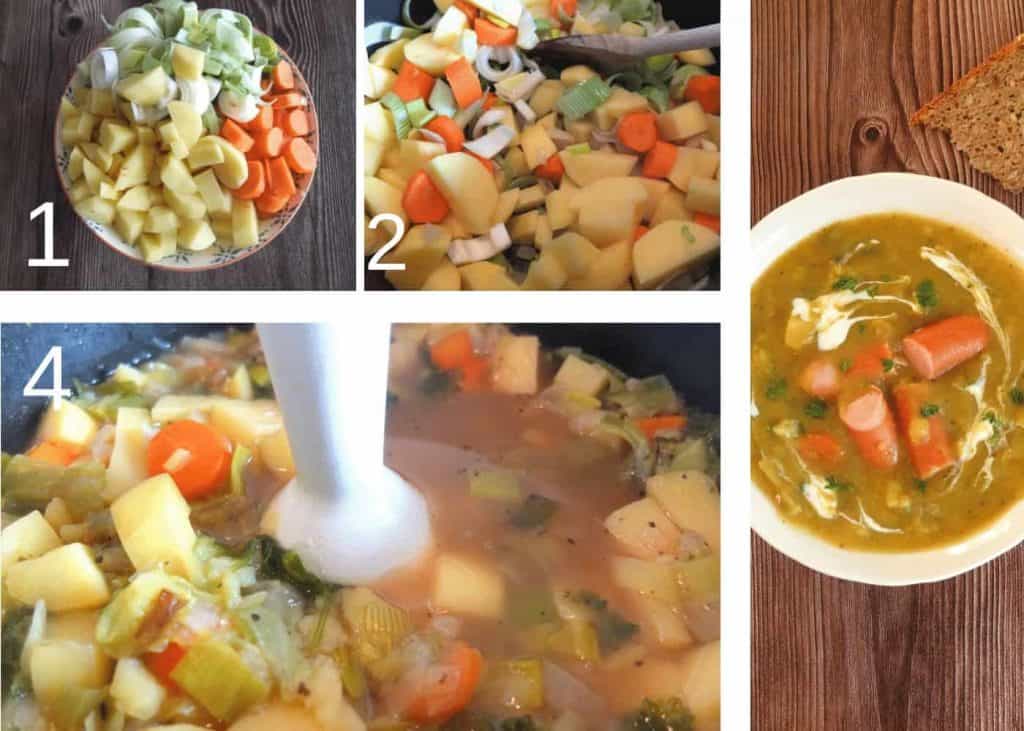 Which sausages to use with German Potato Soup?
Let's get to the all-important sausages. Which one to choose? There are so many! It all depends on our personal taste. Here are some suggestions:
Frankfurters Sausages or Wieners (Vienna Sausage) – if using Frankfurters just place them 5 minutes in the hot (not boiling) soup to warm up.
Smoked Sausages– such as Bockwurst

(affiliate link)

, Krakauer

(affiliate link)

or Mettwurst

(affiliate link)

they can also just be warmed up in the soup.
(For my UK readers I always recommend The Sausageman (affiliate link) for authentic German sausages)
Regional German potato soup recipe variations
The Bavarian and Berliner Potato Soups are made with bacon.
In Mecklenburg the potato soup is eaten with cooked ham (Kassler), bacon and dried plums.
In the German territory of Baden, they like to serve their potato soup with plum cake.
The potato soup in Swabia is served with fried apple cakes (Apfelküchla)
In Hessia – the soup sometimes gets seasoned with some vinegar. This provides the sweet and sour taste that the German kitchen is famous for.
In Pfalz and Saarland it is common to eat the soup with yeast dumplings.
In Algau their potato soup is made with sauerkraut.
[source Wikipedia]
How to serve German Potato Soup?
This soup can be served both a starter or main course. Serve this potato soup with a fresh piece of rye bread or a Brötchen (bread roll). A baguette is also a popular option.
Storage Options
Can I freeze German potato soup?
Yes, this soup freezes well, as long as you have not added any cream to the soup. Cream does not thaw very well. Freeze it in an airtight container for up to three months. It is a great recipe to make ahead and freeze in portions.
How long does this soup keep in the fridge?
This potato soup keeps in the fridge for up to 5 days. Store in an airtight container and reheat thoroughly before serving.
If you like this recipe you might also like
…you might also like these soup recipes :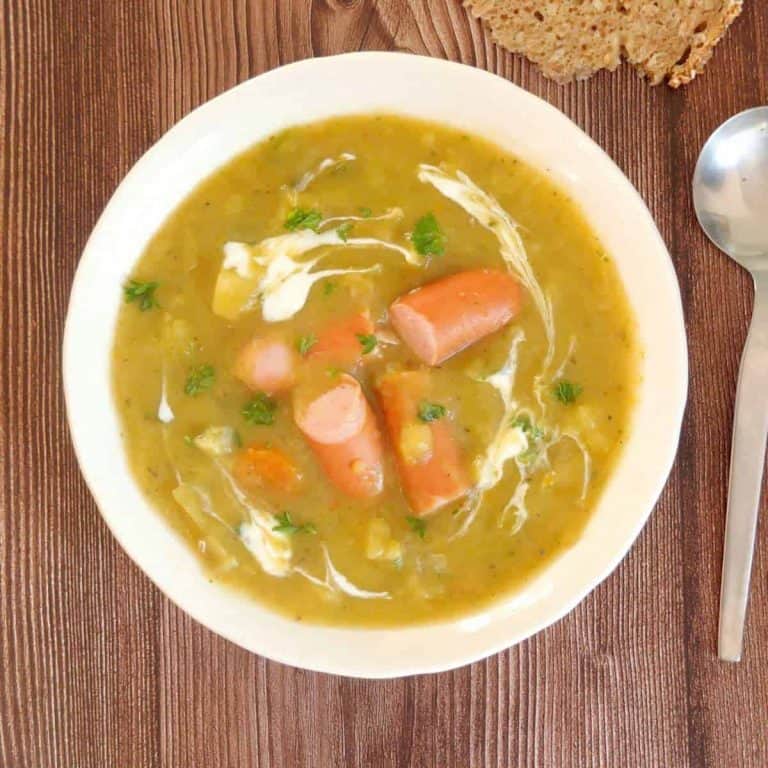 German Potato Soup with Sausages
This good old fashioned German potato soup is easy to make and a great winter warmer. Learn how to make it and which German sausages to use.
Equipment
immersion or stand blender
Ingredients
750

g

potatoes

(26.4 oz) - waxy or floury

150

g

celeriac

(5.2 oz) - optional

1

leek

about 250 g (8.8 oz)

2

white onions

about 150 g (2.8 oz)

3

carrots

about 250 g (8.8 oz)

1

liter

chicken stock or broth

34 fl oz or 4 cups

1

teaspoon

majoram

if not available subsitute with sage

1

bay leaf

30

gr

parsley

1

tablespoon

butter or sunflower oil
Sausages - at least 1 per person
Frankfurters or Vienna Sausages 

Bratwurst or Knackwurst 

Smoked sausages such as Bockwurst, Krakauer or Mettwurst
Instructions
Peel the potatoes, carrots and celeriac (if using). Chop into rough cubes.

Peel the onions and finely slice. Wash the leek and slice.

Heat the butter or sunflower oil in a large pot and fry the onions on medium heat until they start to brown for around 5 minutes.

Add the marjoram, potatoes, leeks, carrots and celeriac (if using) to the pot and fry with the onions for a further two minutes. 

Pour in the chicken stock/broth, add the bay leaf and cover the pot with a lid and allow the vegetables to cook for about 30 minutes.

Stir the soup occasionally.

Take the pot off the heat and check that the vegetables are cooked. Puree with an immersion or stand blender until you achieve an even thick consistency. (This is optional if you would like a chunky soup then omit this step.)

Season with salt and pepper to taste.
If using Frankfurter or Smoked Sausages
Chop the sausage of your choice in little chunks and add to the soup. Leave for 5 minutes to heat up the sausage. (do not bring the soup back to boil)
If using Bratwurst
If you are using bratwurst – then slice the bratwurst into little chunks. Fry in a little oil in a separate pan before adding to the soup. 
To serve
Serve with some bread. If you would like stir in a spoon of sour cream or heavy/double cream before serving.
Nutrition
Calories:
307
kcal
Carbohydrates:
58
g
Protein:
12
g
Fat:
4
g
Saturated Fat:
1
g
Polyunsaturated Fat:
1
g
Monounsaturated Fat:
2
g
Cholesterol:
8
mg
Sodium:
449
mg
Potassium:
1473
mg
Fiber:
8
g
Sugar:
11
g
Vitamin A:
8662
IU
Vitamin C:
60
mg
Calcium:
98
mg
Iron:
3
mg