Have you ever tried German Pea Soup (Erbsensuppe)? It is a popular traditional pea stew that we often eat in the winter months. It consists of dried peas, vegetables and bacon. We like to serve it with sausages and bread.
Homemade split pea soup with bacon is a great winter warmer. It is one of my favourite comfort foods. The smell reminds me of Sundays in Germany. In my childhood, our church would make huge amounts of pea soup and offer them to the congregation. 
(Please note this recipe was first published in May 2014 and updated in November 2020)
What is German Pea Soup?
"Erbsensuppe" is the word for pea soup in Germany. Another word for pea soup in German is "Erbseneintopf" which translates to "pea stew".
This soup only has 6 ingredients. First, you soak dried peas or split peas in water and then boil them. Once soft you add vegetables such as leeks, potatoes, and carrots. Season the pea soup with sage.
It is a great dish to serve in the winter months when it's cold. You can also cook it when you have lots of hungry bellies to fill, as it is cheap to make but very filling.

What kind of peas should you use for German pea soup?
You can use either split peas or whole dried peas for this soup. However, there will be differences in how you prepare the soup.
How to cook split peas
Split peas are already split and pealed compare to a whole dried pea. This reduces the cooking time. You do not need to soak them the night before and it only takes around 90 minutes to boil in water.
How to cook whole dried peas
You can also use whole dried peas, but they should be soaked 12 hours in advance. They need about two hours to cook in boiling water.
Are green and yellow split peas interchangeable?
Yes, they are. The difference between green and yellow split peas is that green peas have not ripened completely. The yellow peas are fully ripe; most of the sugar has turned into starch. So, if you would like an especially creamy split pea soup, use yellow peas.
Where does pea soup originate from?
Pea soup and split pea soup have been a staple diet in many countries for around 600 years since the times of Ancient Greece and Rome. 
Dried peas store so well, hence they were an important food for the sailors. In Germany, it is a symbol of poverty, but also a traditional military dish.  (Bundeswehr).
Until 2011 Germany still had conscription, so many Germans associate German Split Pea Soup with their time in the military. There are a lot of recipes for pea soup bylined as "Erbsensuppe nach Bundewehrart" (pea soup like in the army). This hearty split pea soup made soldiers march for miles.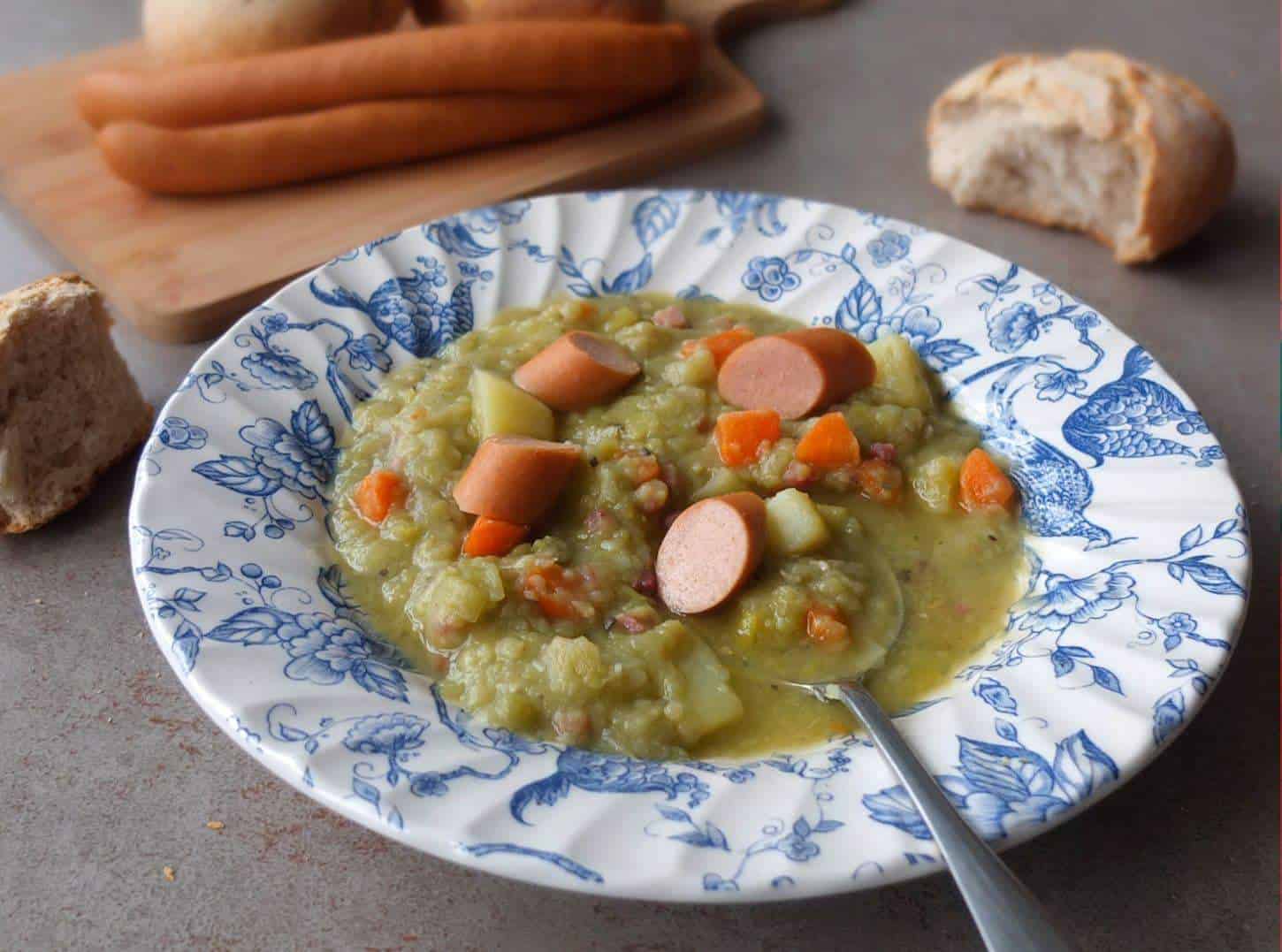 Which meat and sausages to use for authentic german pea soup?
You would tyically use bacon for German Pea soup. The bacon used shoul be cut from pork belly cooked and pre-cooked. You can substitute the bacon with cooked ham if desired. In Germany, you would use "Kassler" which is smoked ham, similar to gammon in the UK.
Pork sausages are a popular addition to the pea soup. Really there is no hard rule. Here are some of the most popular sausage choices
Frankfurters (hot dog sausage) 
Bockwurst (or any other smoked sausage) 
Polish sausages work well such as Krakauer
About this split pea soup with bacon recipe
This soup is very easy to make from scratch. All the equipment you need is a pot and a knife to chop the vegetables. The consistency is very creamy, and the taste slightly smokey due to the addition of the bacon.
Ingredients for split pea soup with bacon
Dried split peas - you can substitute with whole dried peas. It does not matter whether they are green or yellow.
Carrots, Potatoes, a Leek
Seasoning: One teaspoon sage, 1 bay leaf and fresh parsley
Bacon
German Sausages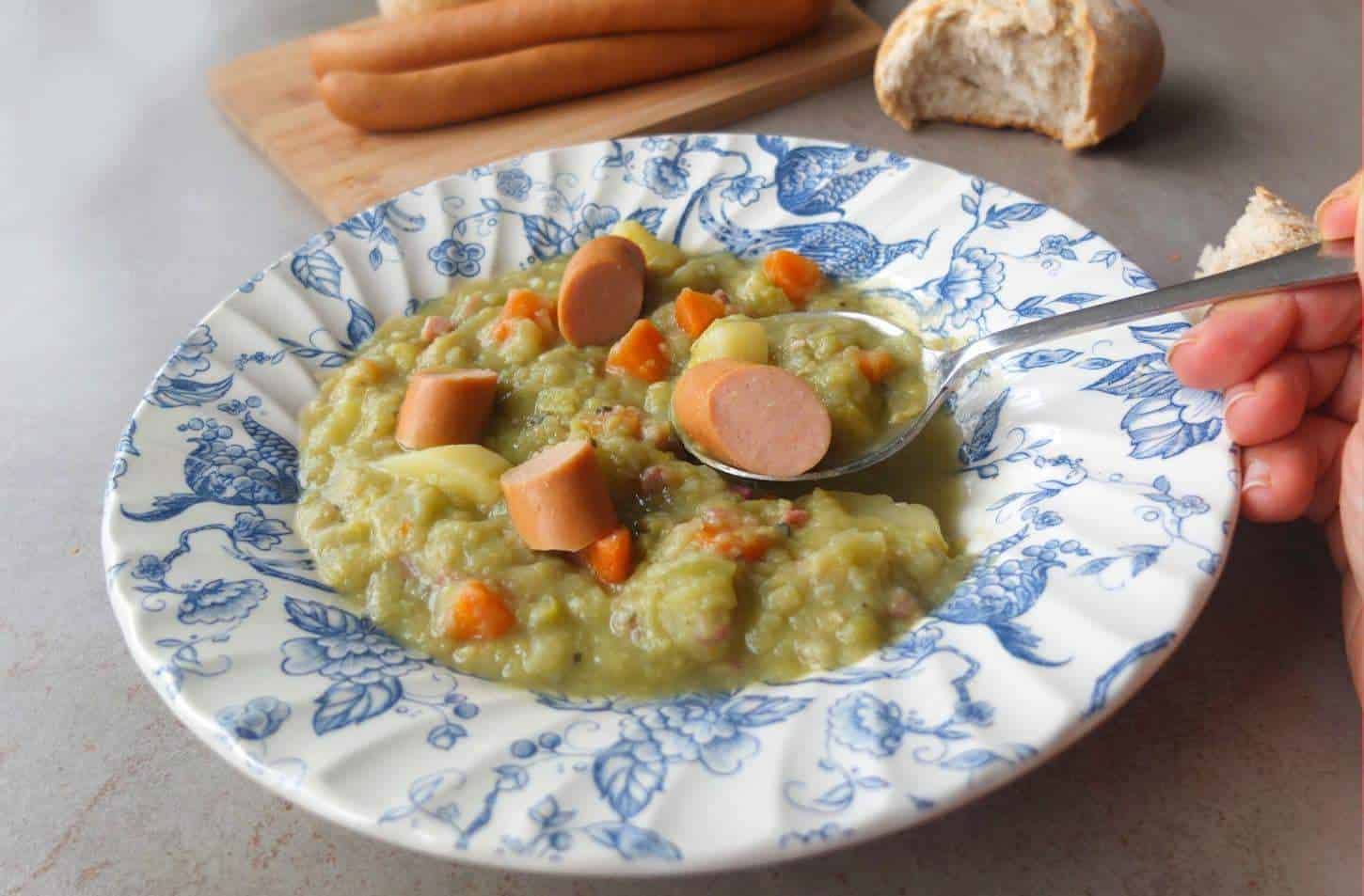 How healthy is Split Pea Soup? 
Yes! Split pea soup is one of the superfoods because it is high in protein has lots of vitamins and is high in fibre.
The NHS says: " They're a cheap, low-fat source of protein, fibre, vitamins and minerals, and count towards your recommended 5 daily portions of fruit and vegetables"
What I love about this soup is that it fills you up, and it is quite cheap to make. Perfect for our family with two boys.
How to store split pea soup? 
Homemade split pea soup lasts in the fridge for up to three days. The soup freezes very well, and will keep in the freezer for up to three month. 
Remember, that you may have to add some water to the soup when warming it up again if it gets too thick.
Trouble Shooting your split pea soup:
My split pea soup is too thin:
If you find that your soup ends up being too thin, and you don't get this creamy consistency, you might just need to wait. It takes up to two hours for the soup to achieve the right consistency. However, should you find that there is still too much liquid in the soup, you can add more uncooked potatoes into the soup. That should help thicken it up. 
My split pea soup is too thick:
Add some more water or broth to the soup. The soup tends to get thicker once it cools down, due to the starch. Feel free to add extra water when warming it up.
If you like this recipe...
you might also like these German Soups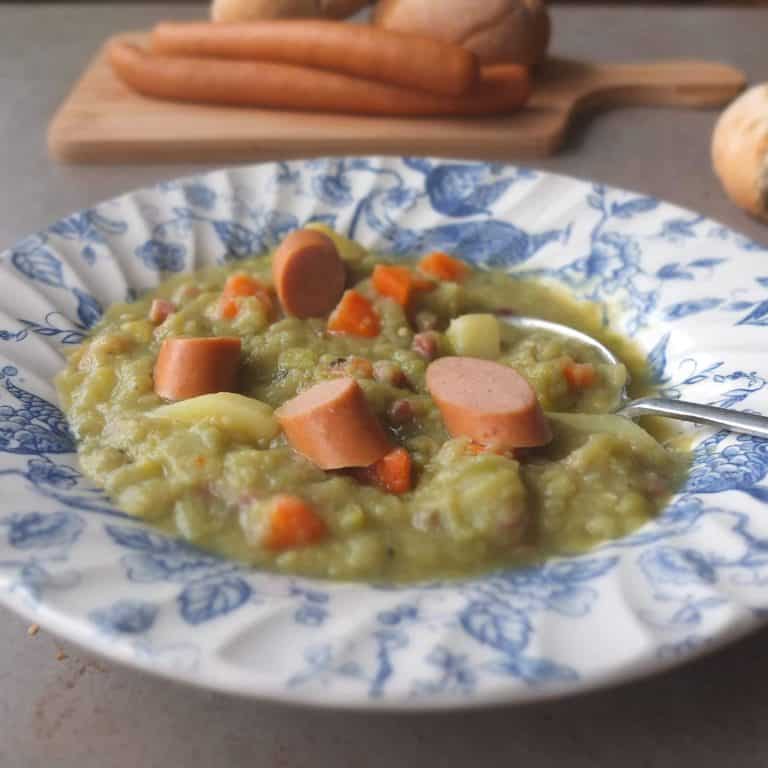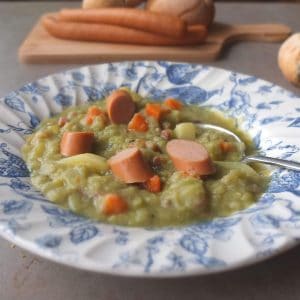 German Split Pea Soup with Bacon
An authentic German pea soup recipe with bacon, potatoes and carrots. Optional serve with sausages.
Ingredients  
250

gr

dried split peas

1 cup or 9 oz

750

ml

water

3 cups or 25 fl oz

3

carrots

around 250 gr or 9 oz

3

potatoes

around 150 gr or 9 oz

1

stick

leeks

150

g

smoked bacon

5 oz

1

tsp

sage

salt to taste
Optional to serve
4

sausages

(frankfurters, bockwurst, any smoked sausage, or some polish sausage)

4

slices of bread or crusty rolls

1

tsp

fresh parsley
Instructions 
In the meantime prepare the vegetables. Peel the carrots and potatoes. Then chop into 1-2 cm cubes. Chop the leaks into 1-2 cm slices.

Add the vegetables, bacon and sage to the cooked split peas and cook for about 20 minutes.

Add salt and pepper to taste.

Now add in your sausages if using. Let them warm up in the soup for around 5 minutes. Do not let them boil, as they might split.

Before serving add the fresh parsley and season before serving

Serve with a crusty roll or a slice of rye bread.