Do you love chicken wraps and Middle Eastern food? Then you are going to adore this Lebanese Chicken marinade with Lime and Mint. It is simply sublime and so quick and easy to put together.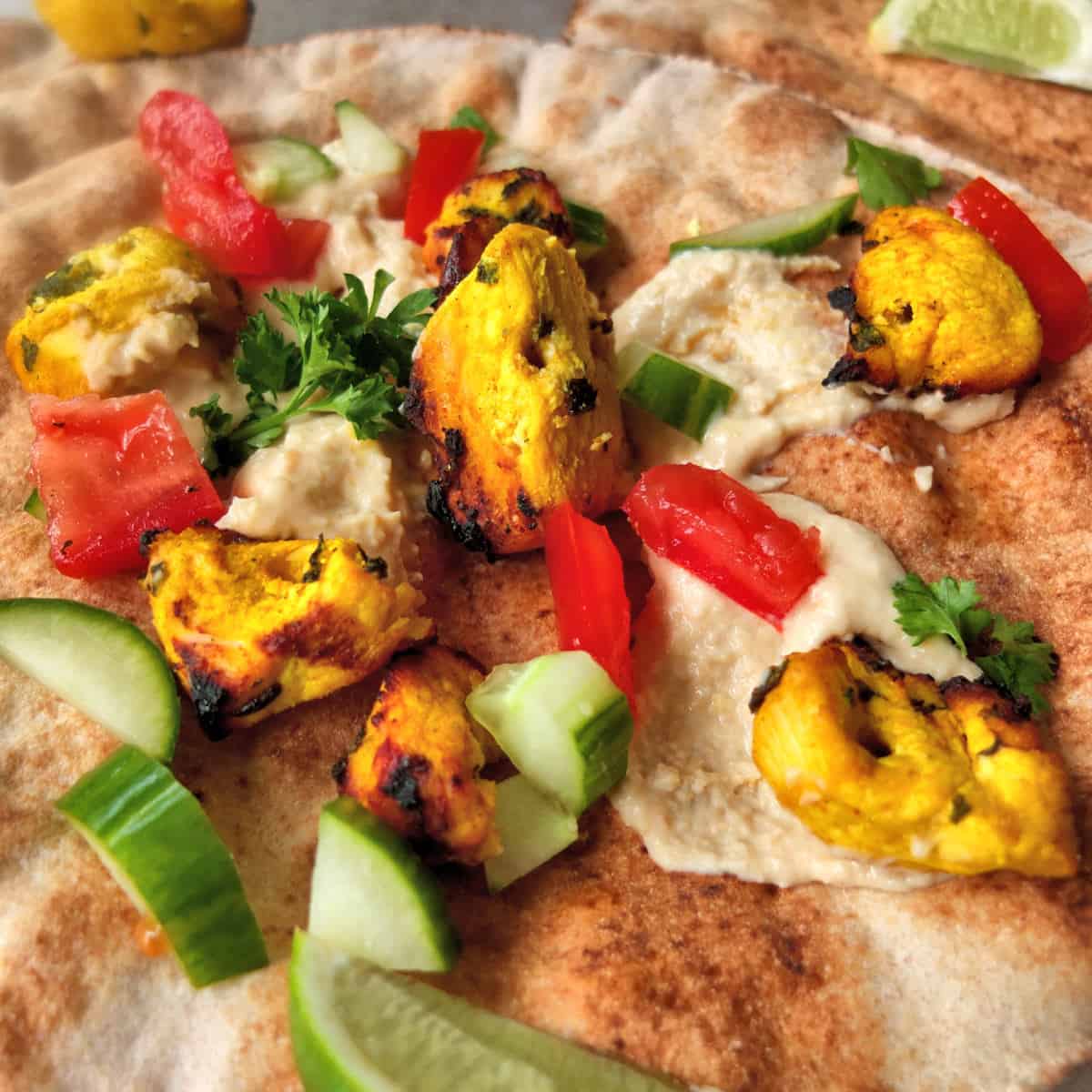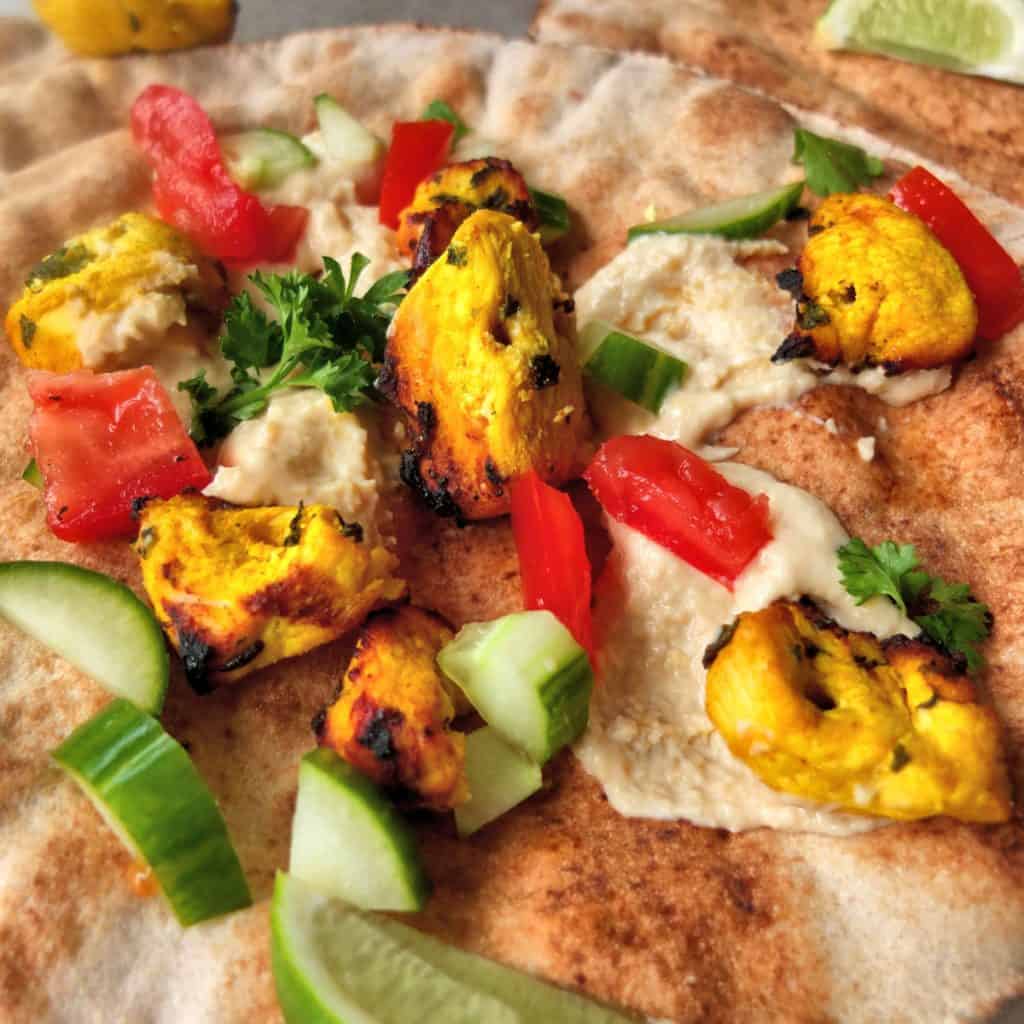 I became immediately excited when I found this recipe. I discovered it in a little pamphlet on Lebanese cuisine that my mum gave me. It's in German and called "Libanesische Küche" bei Ann Wilson.
It is no longer in print, so I am super excited that I get the opportunity to share it with you.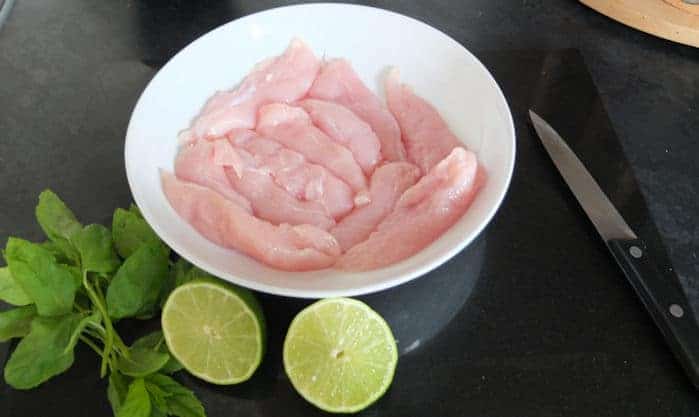 Flavours of this Lebanese Chicken Marinade
Like so many Lebanese Chicken recipes this marinade has a very subtle and very refreshing taste. As you know many Lebanese recipes use lemon as one of the key ingredients. Although Lime and Lemon have similarities in terms of shape and texture, they differ in taste.
Lemons are slightly sweeter and less acidy then lime which tastes more bitter. Nevertheless with the mint it created a great flavour combination.
Chicken Marinade Ingredients
It is crazy that such a flavoursome marinade only has 5 ingredients:
Lime Juice
Mint
Ground Coriander
Ground Cumin
Turmeric
How to cook the chicken for your chicken wrap
There are two ways you can cook the chicken:
Fry the chicken bits in a frying pan
Add them to a skewer and place on a charcoal grill.
I opted for the later, as I live in a flat in London and BBQs are prohibited. I hope you are luckier than me.
How to make the Lebanese chicken wrap?
I used pita bread that I had baked the day before. You can find them in the supermarket and Arabic shops. Spread some classic hummus on the bread, lay the chicken on top and fold it into a tight wrap. You can also add some pickled turnips and tomatoes into the wrap.
You will quickly fall in love with the contrasts in flavours. This recipe is one of the best Lebanese chicken wrap recipes I have come across.
Can I prepare this chicken wrap in advance?
This Lebanese chicken wrap makes the perfect light lunch for work. East the wrap the same day you make it. When storing make sure it is kept in the fridge.
The chicken can be marinated up to two days in advance. Once cooked the chicken will stay good in the fridge for two days. Store in an airtight container.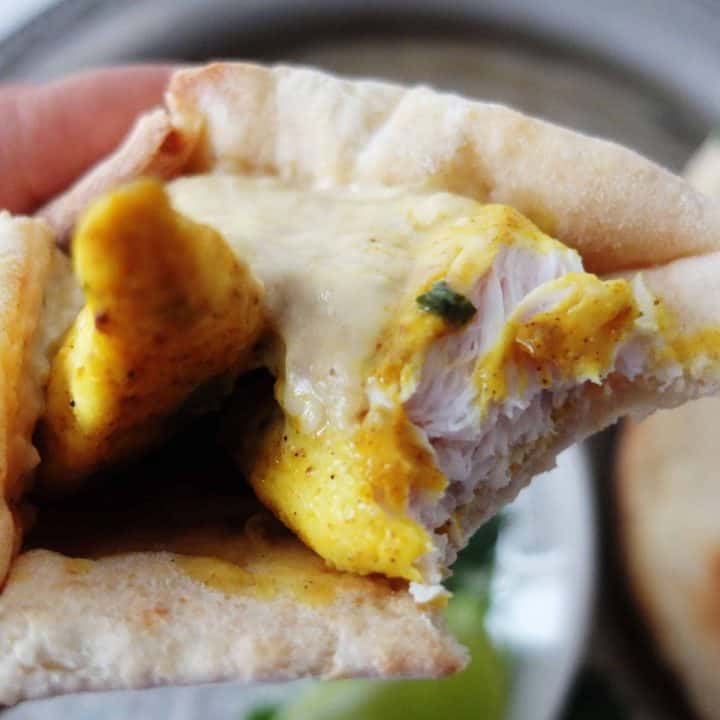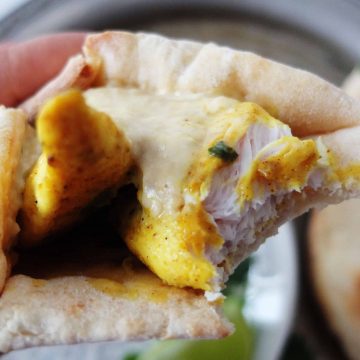 Lebanese Chicken Marinade with Mint and Lime
This Lebanese chicken marinade will give your chicken wrap a delicious flavour. With only five ingredients marinade is a quick win for a healthy mid-week lunch or dinner.
Ingredients
4

chicken breasts

or chicken fillets around 400 gr or 14 oz

2

teaspoon

olive oil
For the marinade!
1

lemon juice

juice of 1 lemon

1

teaspoon

ground corriander

1

teaspoon

ground cumin

½

teaspoon

tumeric

1

handful

mint

fresh, chopped
For the chicken wrap
4

pita breads

1

tub

hummus or plain tahini sauce
Instructions
Cut the meat into about 1,5 cm thing stripes.

Mix the marinade in a little bowl.

Add the meat and toss it in the mixture.

Cover with some clingfilm, place in the fridge and leave the rest for a couple of hours or if you want overnight.

Drain the meat but make sure you reserve the marinade

In a big frying pan heat up the olive oil. Fry the meat at medium temperature for about 5- 10 minutes and then pour the leftover marinade on the chicken.

Alterantivley you can grill the meat on the BBQ.

Serve with pita bread and hummus
Notes
Please see post for storage instructions. 
Nutrition
Calories:
434
kcal
Carbohydrates:
32
g
Protein:
53
g
Fat:
9
g
Saturated Fat:
2
g
Polyunsaturated Fat:
1
g
Monounsaturated Fat:
3
g
Trans Fat:
1
g
Cholesterol:
145
mg
Sodium:
564
mg
Potassium:
932
mg
Fiber:
1
g
Sugar:
1
g
Vitamin A:
117
IU
Vitamin C:
6
mg
Calcium:
67
mg
Iron:
2
mg