I feel very lucky to have found this Lebanese spinach recipe. It's flavours are so different from what I experienced before. I love spinach – I stuff it into puff pastry, I add it to curries and risottos but I never tried an Arabic Spinach dish.
I found this recipe while turning the pages of one of my favourite Middle Eastern Cookbooks – Seductive Flavours of the Levant by Nada Saleh.
About this Lebanese Spinach Recipe
This vegetarian spinach dish is a tasty distraction to how we usually prepare spinach in Europe. The flavours are infused with lemon and garlic flavour and the dash of pomegranate molasses adds a sweet and sour taste. The oil makes the Lebanese spinach dish taste almost creamy, but the addition of the fresh pomegranate seeds and broad beans adds a welcome crunchiness.
This recipe is both vegan and vegetarian.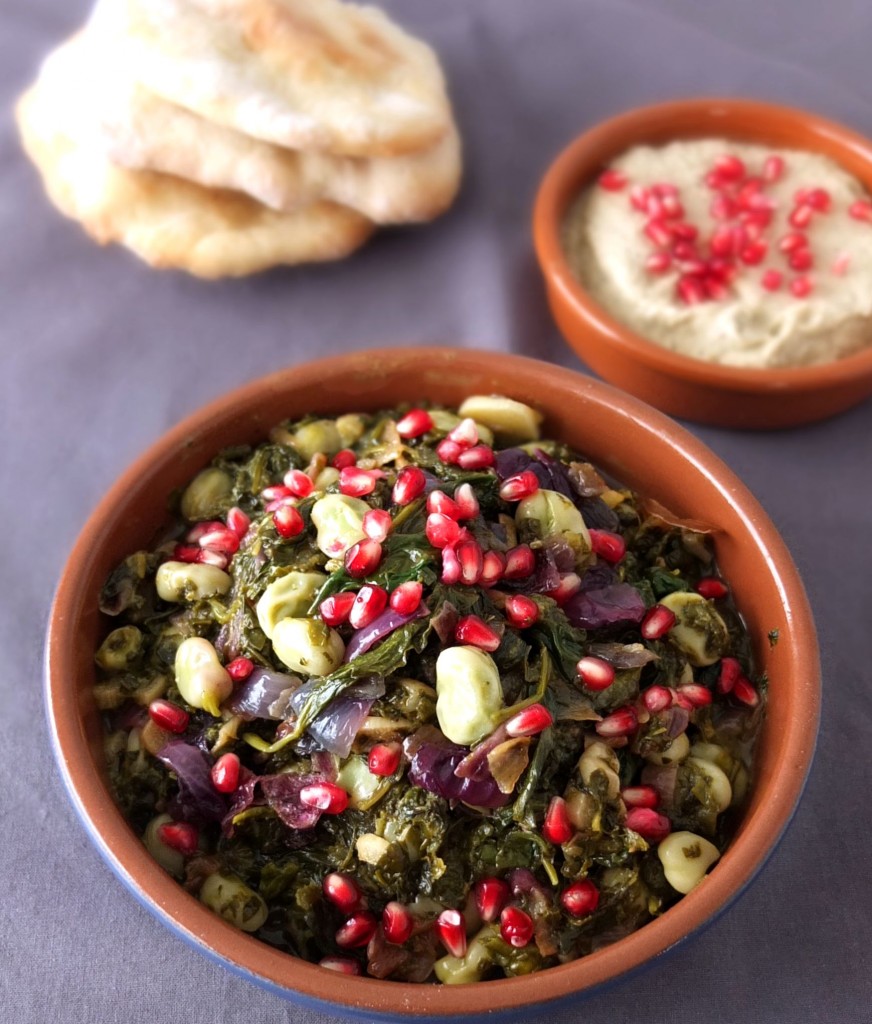 Can I use frozen spinach?
I used fresh spinach when making this recipe for the blog. However I made it again quite recently and used frozen spinach. According to the spoon university – frozen spinach is even healthier than fresh. Reason being that the fresh spinach eventually will lose some of its vitamins and folate over time, where frozen spinach keeps being packed with nutrients.
Health Benefits of Spinach
Spinach is not only full of flavours but can actually help us keep healthy. Spinach is rich in vitamins A, C and K, magnesium, iron and manganese meaning it will be good for our eyes, reduce our stress Oxidative stress, help prevent cancer, and reduce blood pressure levels.
Adding the lemon juice to the middle eastern spinach dish helps it preserve the iron.
What other Middle Eastern Side Dish can I serve this Lebanese Spinach Dish with?
Like many mezze dishes, this one is designed to fit into an array of many. We ate it with some pita bread, hummus, olives and rice.
How to store this Lebanese Spinach Dish?
Place the food into an airtight container and leave it in the fridge, it should stay good up to 4 days. I would not reheat in the microwave but leave it outside to adjust to room temperature.
Lebanese Spinach Recipe with Broadbeans
A delicious vegan side dish of spinach with broadbeans
Ingredients
100

ml

extra virgin olive oil

½ a cup

450

g

onions

finely sliced (I used red ones but it is up to you) = 3 cups

1

head

of garlic

slivered (chopped in fine slices)

1

teaspoon

ground coriander

1

kg

spinach

2 ¼ lb - washed and fresh, but frozen spinach as a substitute

1.5

teaspoon

salt

or to taste

1

teaspoon

ground coriander

140

gr

broad beans

frozen or freshly skinned (optional)

1

pinch

white pepper

140

g

broad beans

5 oz - frozen or freshly skinned

60-90

ml

lemon juice

2 ½-3 ½ fl oz

1

teaspoon

pomegranate syrup
To Garnish!
a large handful of fresh pomegranate seeds
Instructions
Heat the oil in a large, deep frying pan to a medium heat. Ensure that the oil does not start to smoke.

Add the onions and sauté over medium heat for about 5-7 minutes or until golden.

Add the garlic and saute for a further 3 minutes.

Add the coriander and stir.

Add the spinach in batches. Once one lot of spinach reduces in size add more until the liquid appears.

Sprinkle with salt and pepper.

Add the beans. Cover the pot and leave to simmer for about 7-12 minutes. I would check after 7 minutes if the spinach is to liquidly. If yes, than cook it for a little while without the lid on.

Remove the pot from the heat, and stir in the lemon juice and pomegranate molasses. Leave to cool for a few minutes to allow the flavours to blend.

To serve sprinkle the pomegranate seeds on top. Eat warm and or at room temperature.
Nutrition
Calories:
411
kcal
Carbohydrates:
36
g
Protein:
14
g
Fat:
27
g
Saturated Fat:
4
g
Polyunsaturated Fat:
3
g
Monounsaturated Fat:
18
g
Sodium:
1079
mg
Potassium:
1776
mg
Fiber:
12
g
Sugar:
8
g
Vitamin A:
23456
IU
Vitamin C:
85
mg
Calcium:
308
mg
Iron:
8
mg