One of my favourite recipes is this fluffy and moist German hazelnut cake (Haselnusskuchen). It's a classic, traditional cake that is popular for adults and children alike. I made this cake for friends in England before and every time I get asked the question 'Is there Nutella in it?' - 'No' I will reply proudly. 'But it contains hazelnut and chocolate-like Nutella minus the palm oil"
Because this cake with hazelnut is one of my favourites, - I decided to republish this post, and add some extra details to the recipe I first posted this recipe in January 2013. I made this chocolate hazelnut cake both as a tray and hazelnut bundt cake.
Hazelnuts and chocolate are an unbeatable combination. If I have the choice of a type of chocolate to have I will always choose milk chocolate with hazelnuts. (Peanuts are second). If you want you can omit the chocolate glaze and alternatively just decorate the cake with some icing sugar dust. I like to use milk chocolate, but you can also use dark or even white one.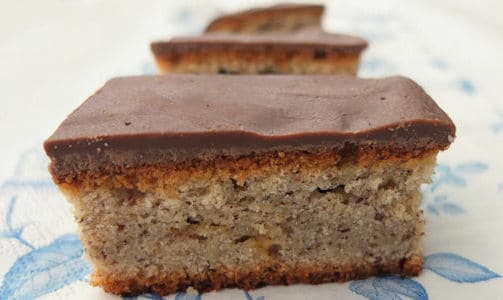 Where to find ground hazelnuts in the UK?
Its main ingredients are ground hazelnuts (affiliate link). They are not easy to find in the UK. But I know that the larger Sainsbury's tend to sell them. Here is a link. If you don't have one near you there is always Amazon (affiliate link) or you can check out some organic health shops.
Variations to the German Hazelnut Cake Recipe
So the recipe I outlined below is the basic recipe - with ingredients you may have in your pantry. For me personally, it's the best hazelnut cake recipe - as I have tried many before I  stuck with this one. However, there are so many different variations of this recipe that have been handed down for generations.
For a bit of an extra kick, you could give a splash of 40% rum to the cake mixture.
For a super chocolaty taste, add another 200g grated chocolate or chocolate chips to the dough.
Add some drained glass morello cherries to the dough. This will make your hazelnut cake extra moist.
This cake recipe is easy and quick to prepare. Preparations only take 15 minutes and it's difficult to get it wrong. I often make it on a Friday evening for our weekend coffee and cake or as an easily transportable treat to bring round to my friends. Kids will love this cake for their birthday, but make sure to ask all your guests whether anybody has a nut allergy. - My personal tip is to leave it to rest for a while. For some reason, it takes even better the next day.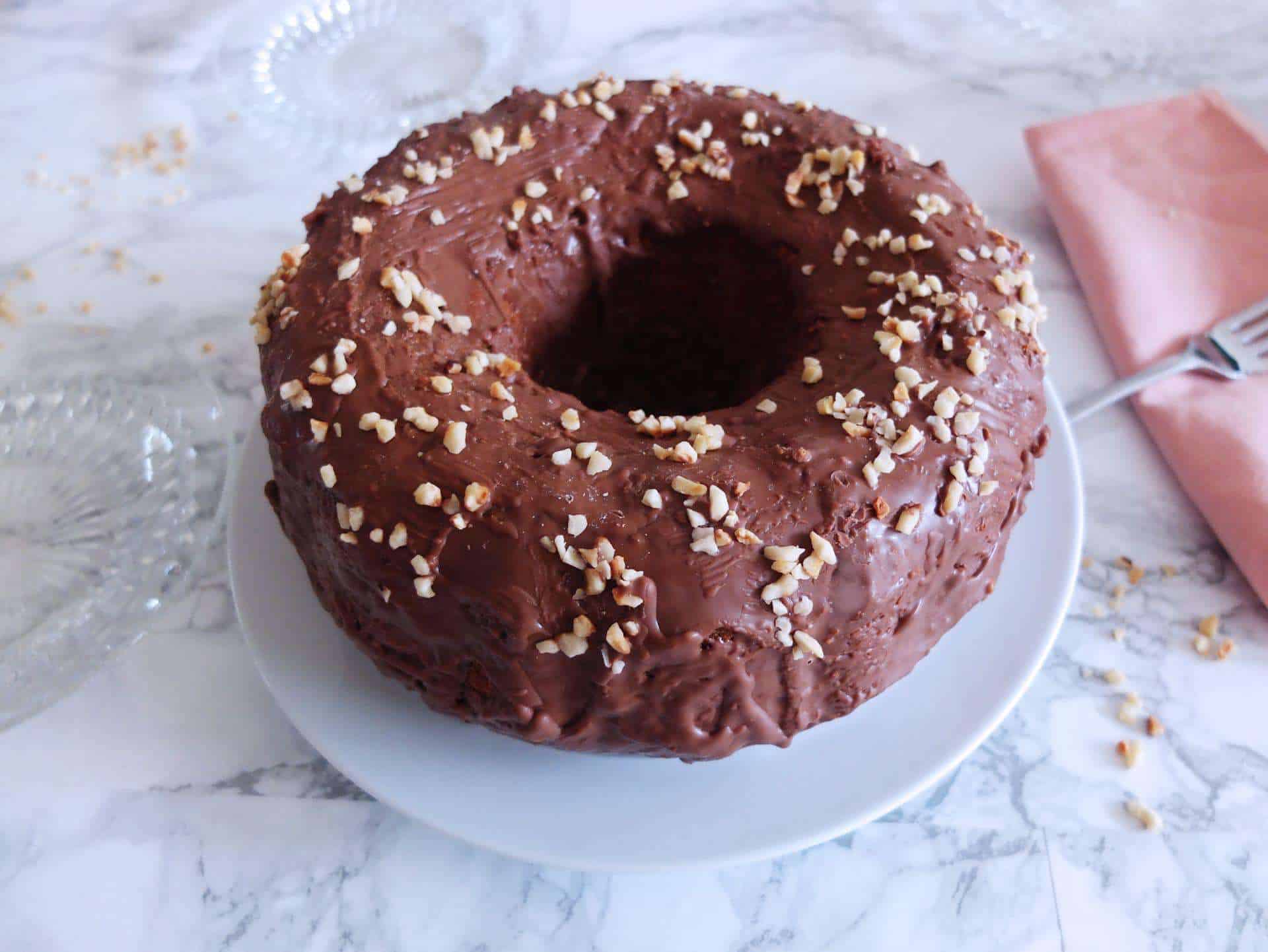 More German Cakes with Hazelnut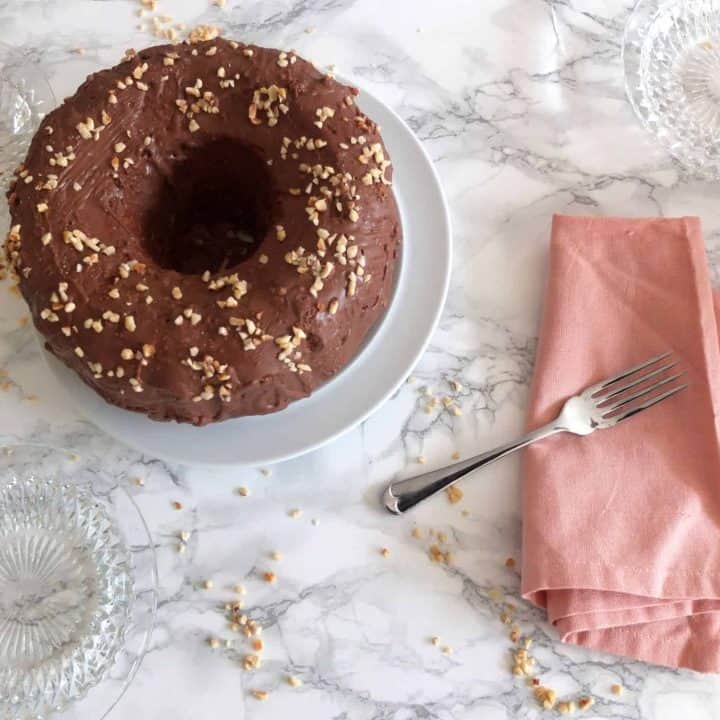 German Hazelnut Cake
Try this deliciously moist German chocolate cake
Ingredients
250

g

butter

1 cup

200

g

sugar

1 cup

4

eggs

1

pinch

salt

250

g

plain flour

2 cups

4

teaspoon

baking powder

250

g

ground hazelnuts

9 oz

125

ml

milk

½ cup

150

g

pack chocolate cake icing

(5 oz) I had 200 g (7oz) and it was too much
Instructions
In a cake mixer (or use your handmixer) mix the butter, salt, sugar and eggs to a nice thick fluffy, creamy consistency

One by one mix in the flour, milk and hazelnuts.

Grease a cake form (whatever form takes your fancy). Coat with breadcrumbs

Bake at 180 degrees celcius (356 degrees Fahrenheit) for about 45-60 minutes. I would poke the cake after 45 minutes with a cocktail stick or fork to check if the tip comes out clean.

Let the cake cool down. In the meantime heat the chocolate glaze according to packet instruction and then spread evenly on the cooled cake. Optional add some chopped hazelnuts for decoration.
Nutrition
Calories:
900
kcal
Carbohydrates:
74
g
Protein:
15
g
Fat:
63
g
Saturated Fat:
24
g
Polyunsaturated Fat:
2
g
Monounsaturated Fat:
10
g
Trans Fat:
1
g
Cholesterol:
201
mg
Sodium:
638
mg
Potassium:
124
mg
Fiber:
6
g
Sugar:
36
g
Vitamin A:
1233
IU
Vitamin C:
2
mg
Calcium:
272
mg
Iron:
5
mg