Fanta cake is a classic soda cake from Germany. An easy traybake that is popular at children's birthday and Fasching (carnival) parties. This easy Fanta cake recipe is a crowd-pleaser. Easy to cut, easy to transport and easy to make.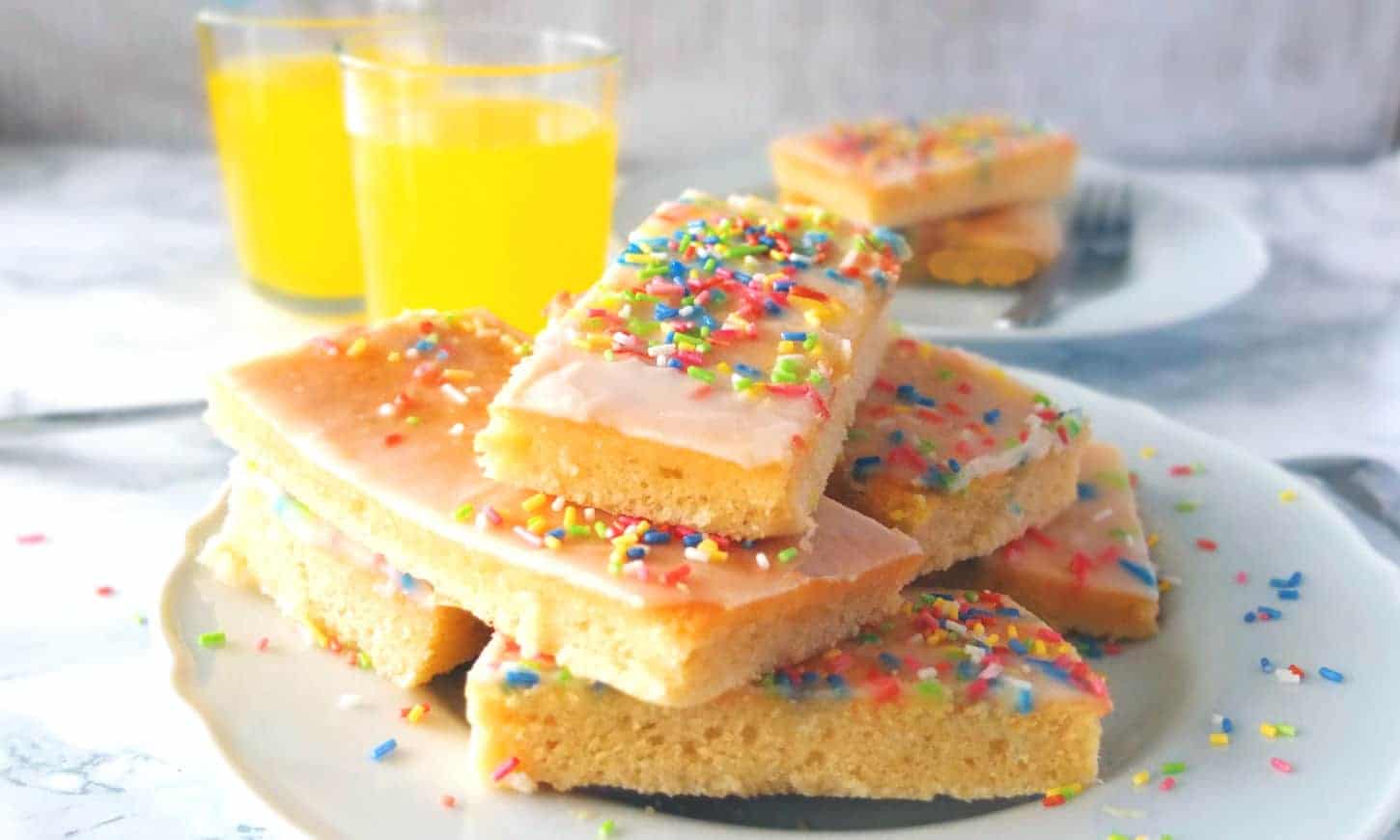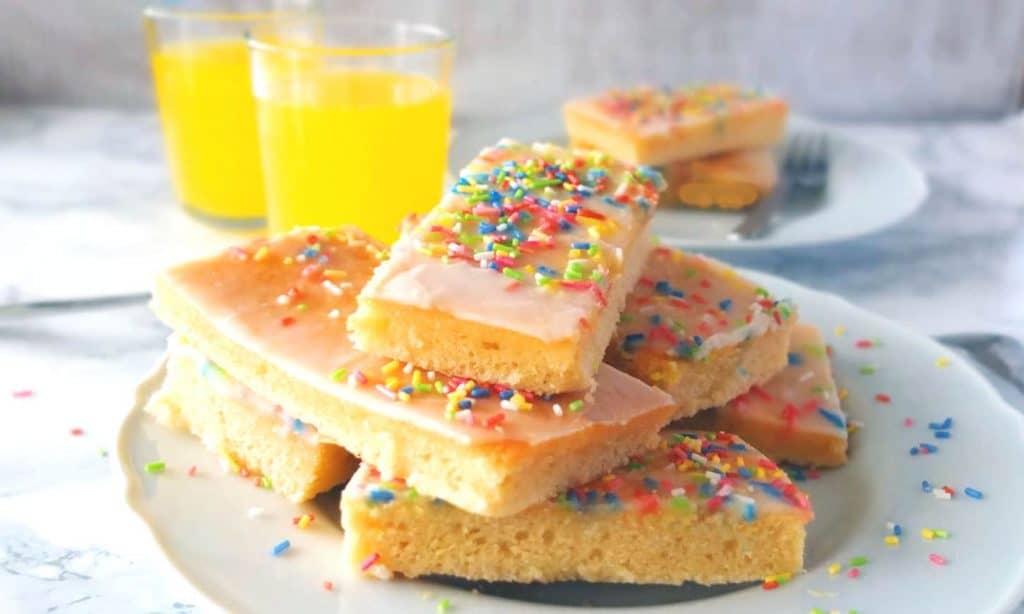 If you grew up in the 80s and 90s in Germany may remember this cake. I can remember it as a staple dish at children's birthday parties. We almost loved it as much as the compulsory Schnitzeljagt (treasure hunt) and Topfschlagen (pot hitting game). When I lived in the UK I made this recipe often with fond memories.
What is Fanta Cake?
Fanta cake is an easy cake recipe made with orange Fanta, flour, sugar and oil. It is like orange lemonade or soda cakes. The most basic glaze for Fanta cake is a Fanta icing, made from icing sugar and some Fanta.
The carbon dioxide in the Fanta makes the cake so fluffy (although make sure you don't mix it too long, as the Fanta might become flat) The oil gives the cake a lovely moist texture. 
I was unable to track down the origins of the Fanta cake recipe in Germany (if you know please contact me), but it was popular in the 80s and 90s.
History of German Fanta
Germany has quite interesting history with Fanta. It was created for the German market in the 1940s by Coco-Cola Deutschland. During the second world war, the US applied a trade embargo on Germany, which meant that the ingredients for Cocoa Cola became difficult. So the head of the German Coca-Cola GmBH decided to create a drink that could be produced with just German ingredients. [source Wikipedia]
The name "Fanta" was derived from the name German word for fantasy: "Fantasie". Today Fanta is available in many countries and flavours. This Fanta cake is made with an "Orange Fanta" flavour.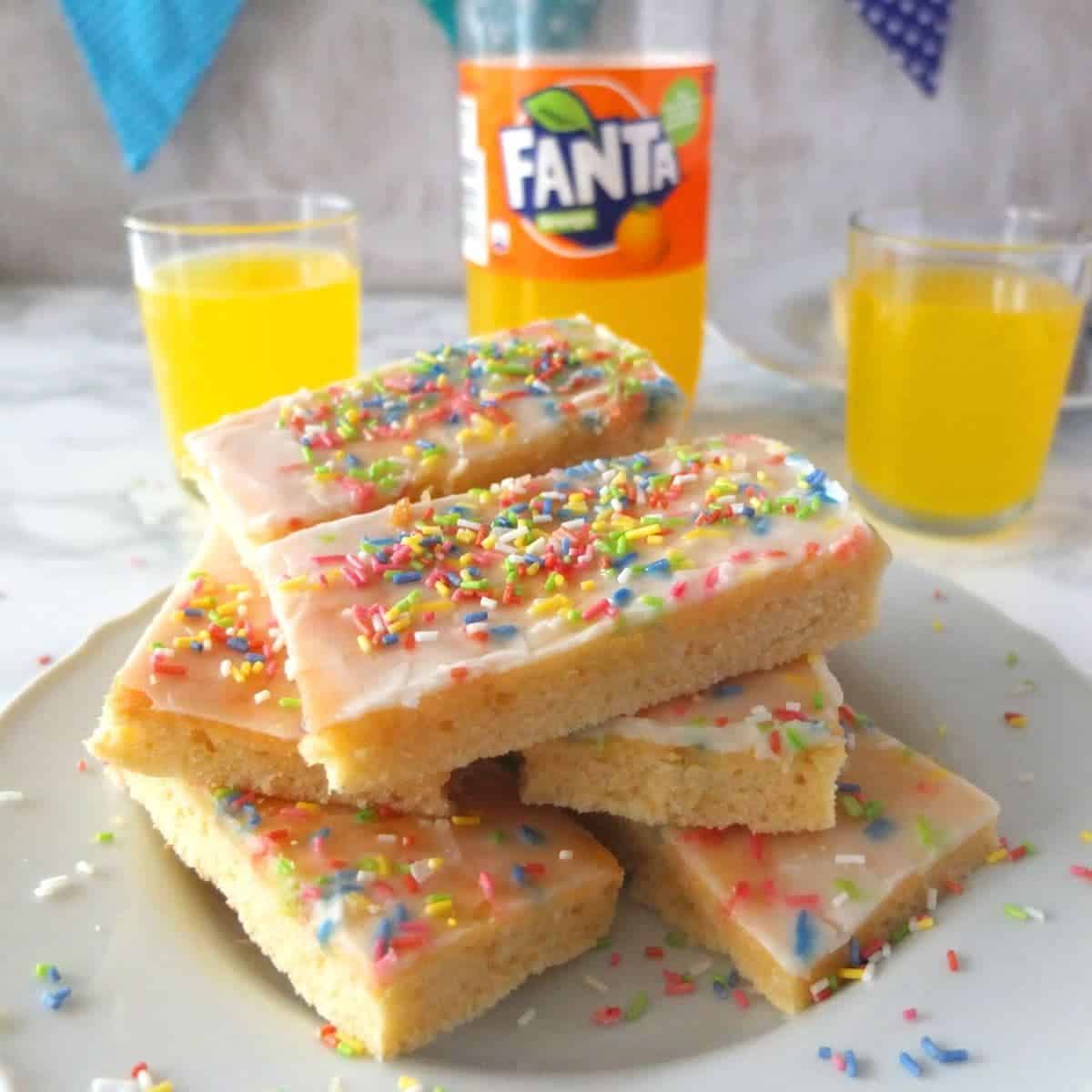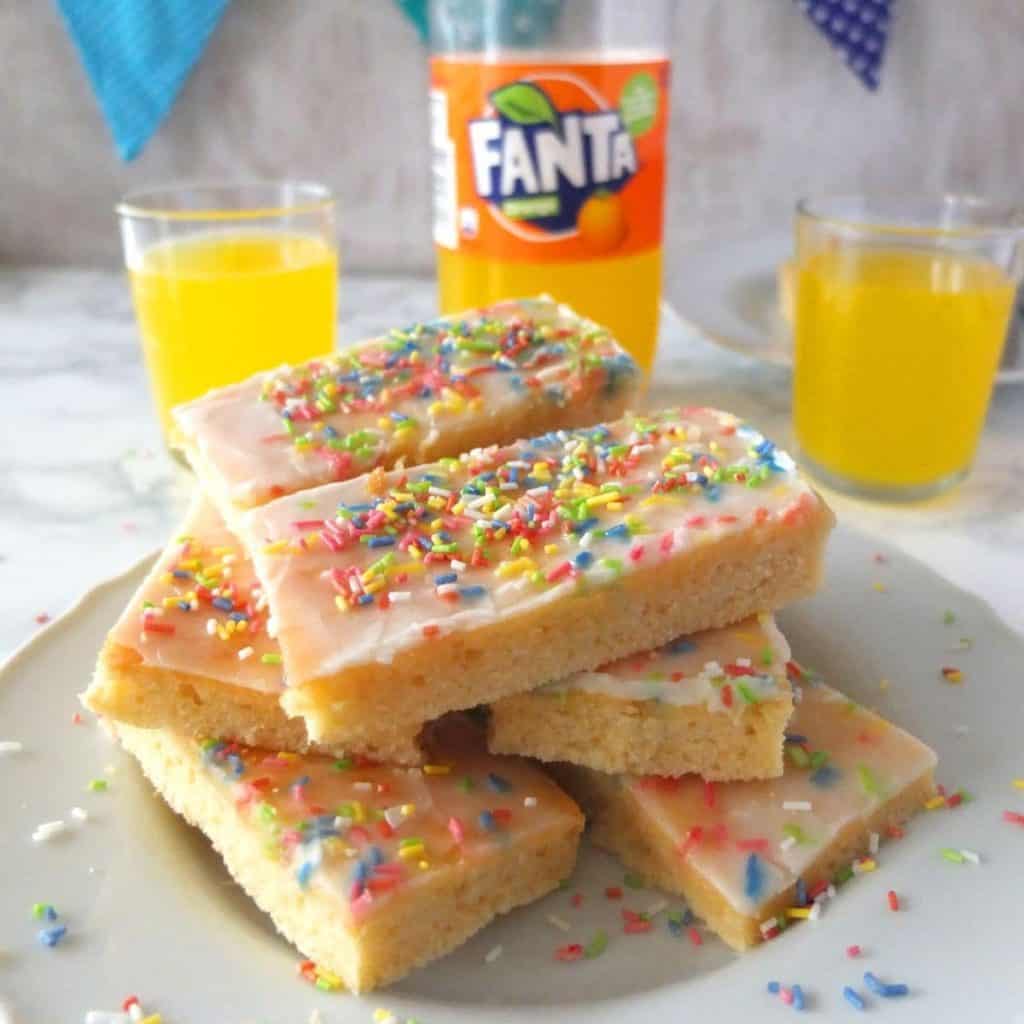 How to make Fanta Cake
Cake Ingredients:
5 eggs – at room temperature
200 gr granulated sugar (1 cup or 8.8 oz )
8 gr vanilla sugar - 1 packet or 2 teaspoons. You can also substitute the vanilla sugar with ½ teaspoon of vanilla extract

(affiliate link)

.
350 g flour (12.3 oz) (I used German 405 flour. The closest equivalent to the UK plain flour, US pastry flour)
2 teaspoon baking powder

(affiliate link)

125 ml sunflower or vegetable oil (4.2 fl oz or 0.5 cup)
200 ml fanta (orange flavour) (¾ cup+ 1 tablespoon or 6.7 fl oz ) - you can substitute Fanta with any other orange soda/fizzy drink.
Icing Ingredients
200 g icing (confectioners) sugar (1 cup)
25 ml fanta (0.8 fl oz)
Baking Instructions
Preheat the oven to around 175°C or 347°F
Grease a baking tray (approx. 40x 36 cm) with butter or line with baking parchment
Mix the flour and baking powder

(affiliate link)

in a bowl and set aside.
Using a handheld or stand mixer whisk the eggs and sugar and vanilla sugar for 5 minutes, until they start to foam.
Add the oil and flour in little portions to the egg mixture. Alternating between the two.
At the end add the Fanta to the dough. Beware of overmixing the dough as you do not want the fanta to turn flat..
Pour the cake batter into the prepared tray. Bake in the oven for approx. 25-30 minutes. Test if your cake is cooked, insert a toothpick into the centre of the cake. If it comes out clean, it's done.
To decorate
Sieve the icing sugar into a bowl. Now add the Fanta liquid while stirring continually. When you achieve a thick consistency, you can spread it over the cake. Decorate with sprinkles or confetti.
Alternative decorations
Instead of using sprinkles, why not try
Slivered almonds
Dust with some icing sugar instead of glazing
A chocolate glaze
Confetti sprinkles
Alternative fanta cake forms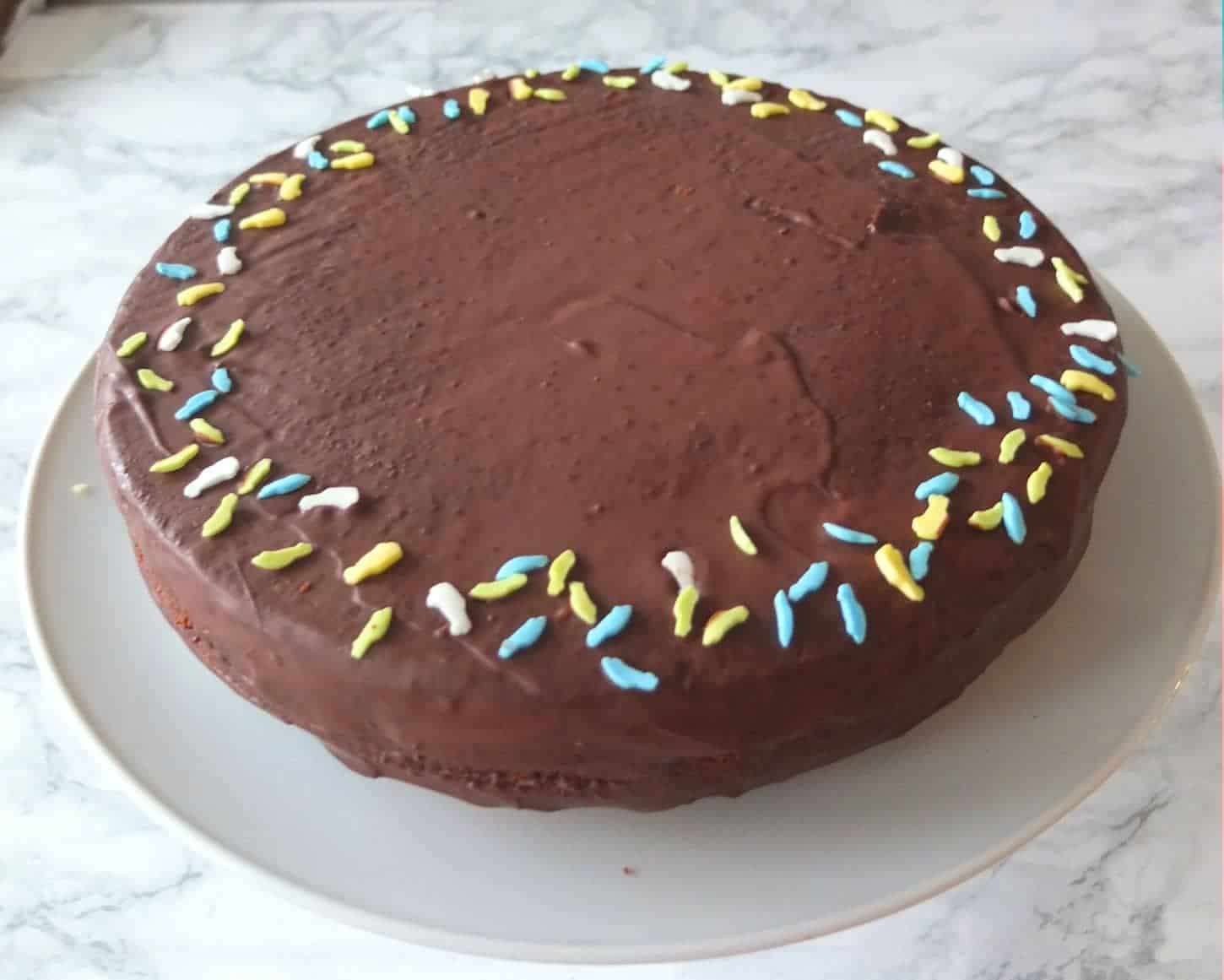 As you can see from the above photo, I have made this cake in a round cake tin before. It has a 23 cm diameter. If you prefer to bake it a round shape, you will need to up the baking time to 45 minutes. The best is to test sporadically for doneness by inserting a toothpick into the centre of the cake.
Prepare in advance & how to store the cake
This cake is nice and moist and will stay good for up to 5 days. This makes it a great cake to prepare in advance as it does not need to be cooled or stored in the fridge. Make sure to place it in an airtight container.
If you like this recipe you might also like
…you might also like these German Cake recipes :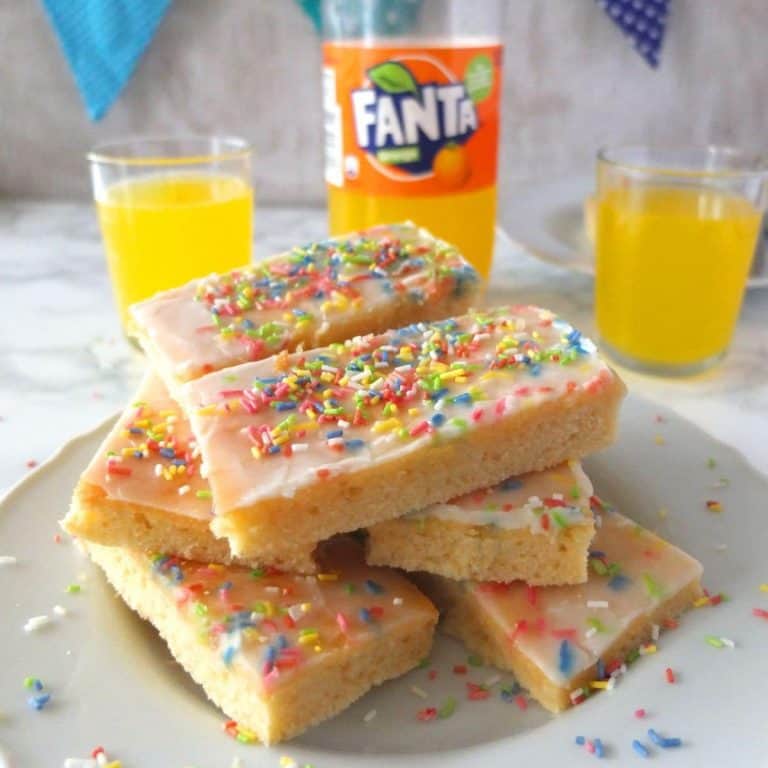 Fanta Cake
A easy recipe - this classic German cake is a hit at every birthday party. This cake is easy to transport, easy to make and easy to eat.
Ingredients  
5

eggs

at room temperature

200

g

sugar

1 cup or 8.8 oz

2

teaspoon

vanilla sugar

1 packet or alternativley ½ a teaspoon vanilla extract

350

gr

flour

3 cups or 12.3 oz (Germany type 405, UK plain flour, USA pastry flour )

125

ml

vegetable oil

4.2 fl oz

200

ml

fanta orange flavour

6.7 fl oz
For the icing
200

g

icing (confectioners) sugar

2 cups or 7 oz

25

ml

fanta orange flavour

0.8 fl oz

sprinkles of your choice
Instructions 
Preheat the oven to 175°C or 347°F

Whisk the flour and baking powder together in a bowl. Set aside.

With a handheld or stand mixer fitted with a paddle or whisk attachment, beat the eggs, sugar and vanilla sugar on high speed in a large bowl until smooth and frothy. About 2 minutes

Add the flour mixture and oil in small amounts. Alternating between the two. Mix at medium speed until combined.

Pour in the 200 ml fanta. Stir in with a wooden spoon. Do not stir too much as the fanta might become flat.

Pour into the prepared baking tray and bake for around 20-25 minutes. The cake is done when a toothpick inserted in the center comes out clean. Leave to cool
To decorate
Sieve the icing sugar into a bowl. With a whisk - add the fanta in little portions, while stirring throughout. Once you achieve a thick and creamy mixture spread the icing over the cake with a palette knife of the back of the spoon.

Finally cover in sprinkles and leave the icing to set.