Oh the delights of a waffle maker... Only once I decided I was going to publish a waffle recipe series on this blog, did I start thinking about all the alternative recipes that you can make with a waffle maker. Until now I always stuck to my mum's original waffle recipe and missed out on taste sensations such as these Anise Waffle Cookies 

These waffles cookies have a very different texture from the traditional waffles that you usually make in this waffle maker because they are crunchy. The secret is that they are made with palm fat, not butter. Now, I know that this is not a usual ingredient in England, but I found a great substitute for it in Tesco: Baking Fat.
Also, I found it difficult to find star anise seeds, so had to buy to whole star anise, and then cracked them open with a pestle and mortar to retrieve the seeds. It's really quick and easy and sounds more work than it actually was.
This is my Valentine's recipe for this year. But these Valentine's biscuits are not for my husband, who gets spoilt with too much food anyway, but for his Grandad Aubrey.  Aubrey loves to eat and has been a little poorly of lately. And I thought it would cheer him up.
If you like this recipe you might like: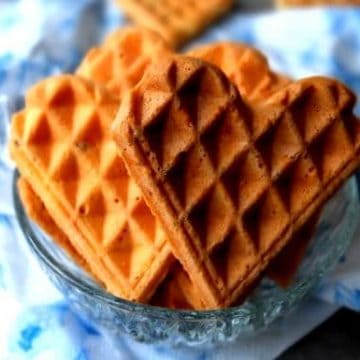 Anise Waffle Cookies
A delicious easy recipe with Anise
Ingredients
25

g

palm fat

or something with palm oil in it like the Tesco Baking

1 ½

table spoon

star anis seeds

200

g

wheat flour

50

g

corn flour

½

teaspoon

baking powder

175

g

icing sugar

1

teaspoon

vanilla flavouring

1

pinch

of salt

4

eggs

medium

4

tablespoon

sunflower oil
Instructions
Melt the palm fat in a pot. Place it into a bowl and leave it to cool down at room temperature. Now place the star anis seeds into a frying pan without any fat, and roast them until they are light yellow. Leave them to cool and then crumble them to a fine powder with a pestle and mortar. Mix the flour, corn flour, baking powder and anis seeds.

With an electric hand mixer mix in the sugar, vanilla flavouring, 1 pinch of salt and palm fat. Add the eggs one by one. Now add the flour mixture and mix to a smooth though.

Heat up your waffle maker and brush it with a little oil. Scoop our about ⅕ of the dough and bake them golden brown. Let them cool on a plate. Now produce more waffles with the rest of the though. Break the waffles into heart shaped pieces, and keep them in a biscuit tin until you are ready to eat them.

Tripp: You can keep these biscuits in a biscuit tin up to 2 weeks.
Nutrition
Calories:
484
kcal
Carbohydrates:
77
g
Protein:
9
g
Fat:
15
g
Saturated Fat:
2
g
Polyunsaturated Fat:
1
g
Monounsaturated Fat:
11
g
Trans Fat:
1
g
Cholesterol:
131
mg
Sodium:
104
mg
Potassium:
120
mg
Fiber:
1
g
Sugar:
35
g
Vitamin A:
196
IU
Vitamin C:
1
mg
Calcium:
62
mg
Iron:
3
mg