To me great dishes are like great books; I will always remember our first encounter and return to them over and over again!
When I suggested spending our Mini-Moon in the Camargue Dave did not understand: "Why Camargue? It is in the middle of nowhere! Let's go to Aix-en-Provence or Nice with art galleries and a night life".
However, it had always been an ambition of mine to visit the Camargue. When I was eleven, I read a book during a skiing holiday in Switzerland about a girl who spent a summer in the Carmargue and traveled back to Geneva on horseback  with two Camargue horses. Since then I have dreamed of wild white horses, pink flamingos and French cowboys.
Of course, after this explanation my soon-to-be husband decided that we had to go. Although he was determined that we were not to return to our London flat with 2 little white horses.
I discovered this salad, while celebrating our marriage over a glass of Rose Lime at a little restaurant in St. Marie de la Mer, called Le Tamaris. The salad is the perfect amalgamation of different textures and tastes. The Carmague Red Rice has a nutty taste, where the vegetables and flaked tuna add freshness and crunch. What really makes this dish is the array of different colours on the plate.
When we returned to London I decided that I could no-longer live without it. I had to replicate it: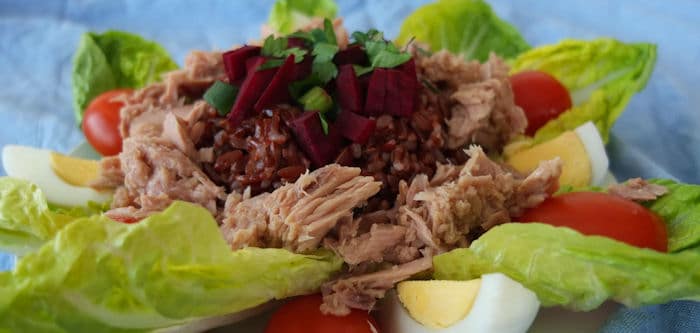 Camargue Red Rice Salad Recipe
Serves 2 as a light main course
Ingredients:
1 can of tuna in olive oil
300 gr Carmargue rice ( I actually saw that Sainsburys do their own version now)
2 beef tomatoes
2 hard boil eggs
1 bag of lettuce
2 spring onions
1 fresh beetroot, peeled and chopped
3 teaspoon canned sweet corn
For the salad sauce:
1 table spoon olive oil
1 table spoon balsamic vinegar
1 teaspoon Dijon mustard (affiliate link)
½ teaspoon herbs de Provence
Directions:
1. Boil the rice in a saucepan for about 20- 30 minutes. Drain it and then sprinkle with salt and toss in olive oil.
2. Place the lettuce on the plate. Add some rice into a little pot and form it into the middle of the plate. Around it place the drained tuna.
3. On the edges of the plate lay the eggs and tomatoes and finish it off by sprinkling the chopped beetroot, spring onions and sweetcorn over it.
4. Mix the salad dressing ingredients in a little bowl.
5. Serve with warm Baguette
Bon Appetit!