Today I have a treat for your taste buds authentic Syrian Vegetarian Kibbeh. The recipe is surprisingly easy with low preparation, so much different from other Levant food I have used from the past. Enticing flavours of sweet pepper, pomegranate molasses and parsley makes this dish a centrepiece on any mezze table. This is one of the best vegetarian Lebanese recipes.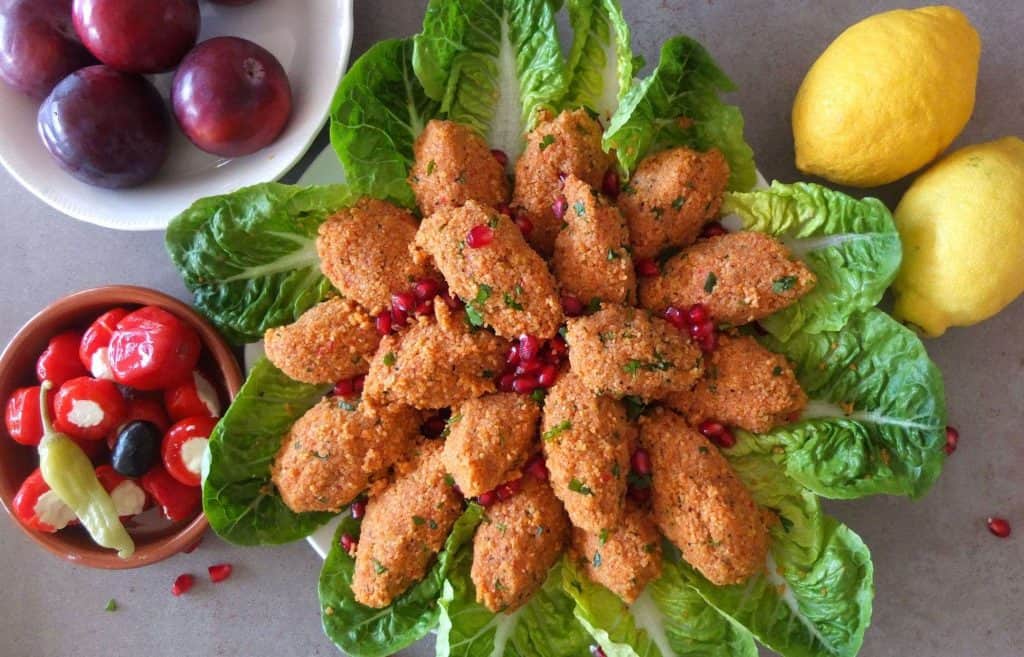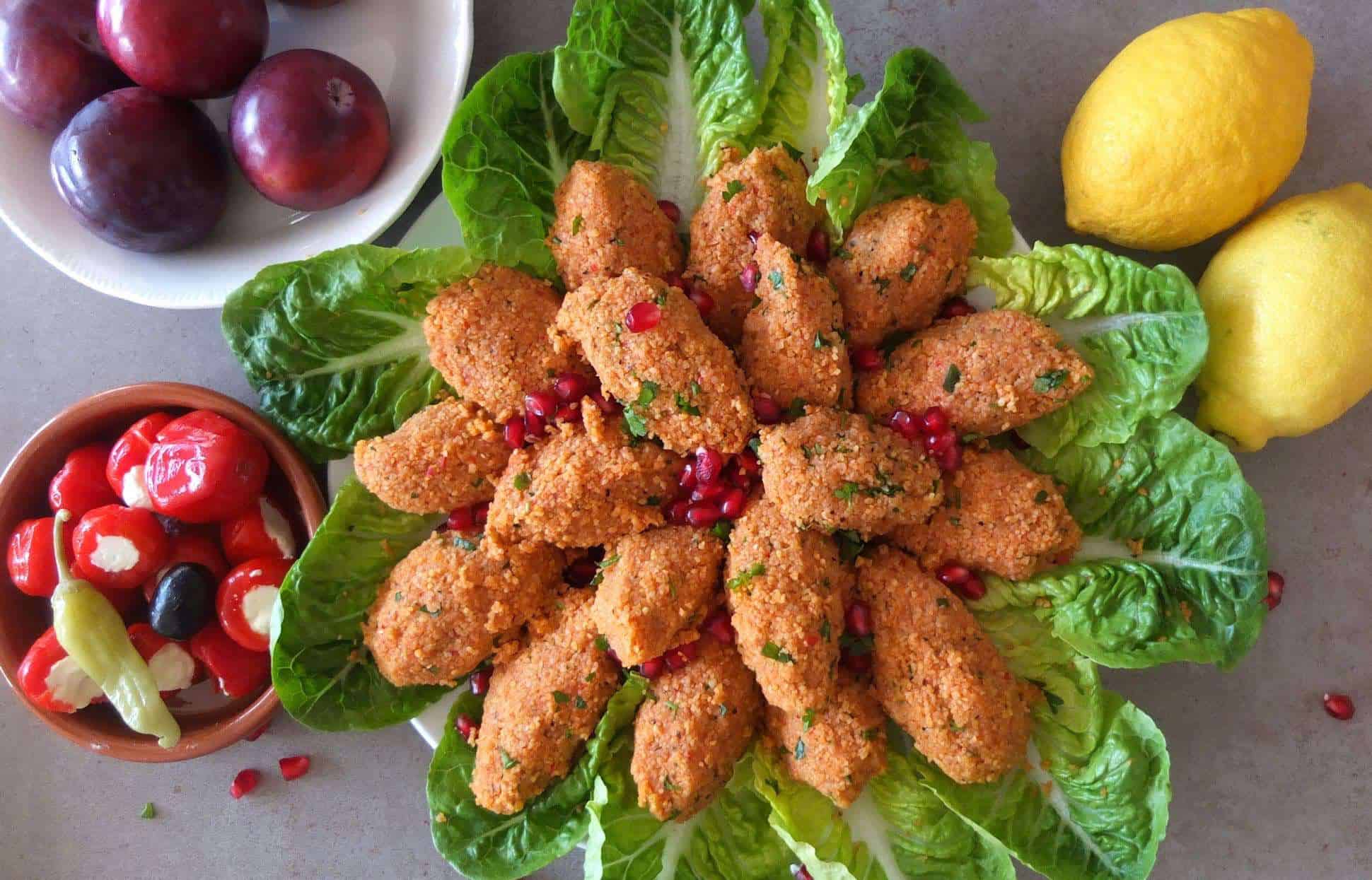 I learned this from my friend Haneen. When I moved to Bremen in 2019, I did not know many people and saw that Haneen posted on Facebook that she is looking for someone to practise her German and in return she could teach some Arabic recipes. (to be honest I think got the better deal).
Haneen came with her husband to Germany from Syria five years ago. Now they have a daughter around the same age as my first son, so it is the perfect fit. Her husband is part of an incredible German-Syrian band called Damas Band. Shout out for them you to visit his youtube channel.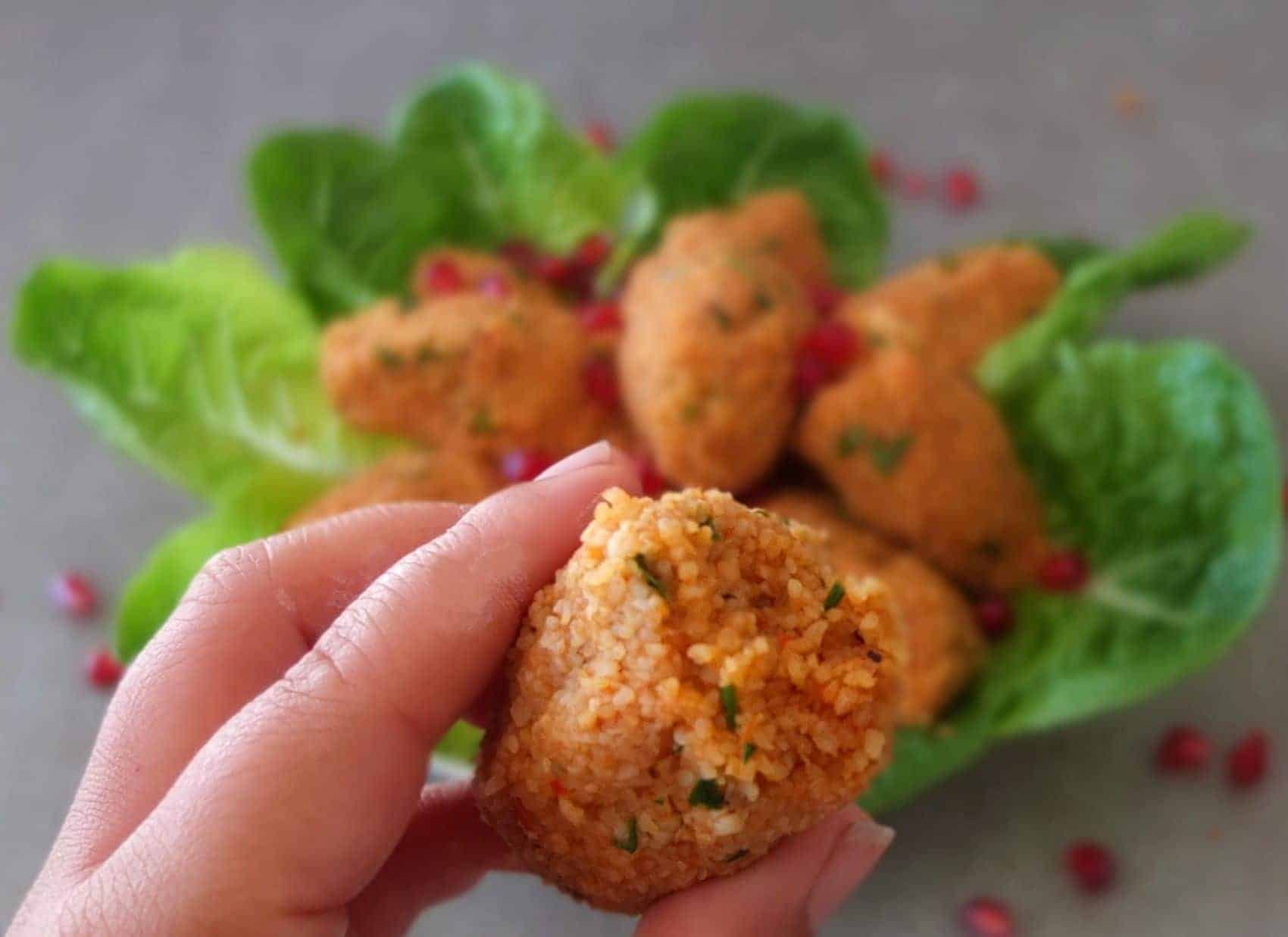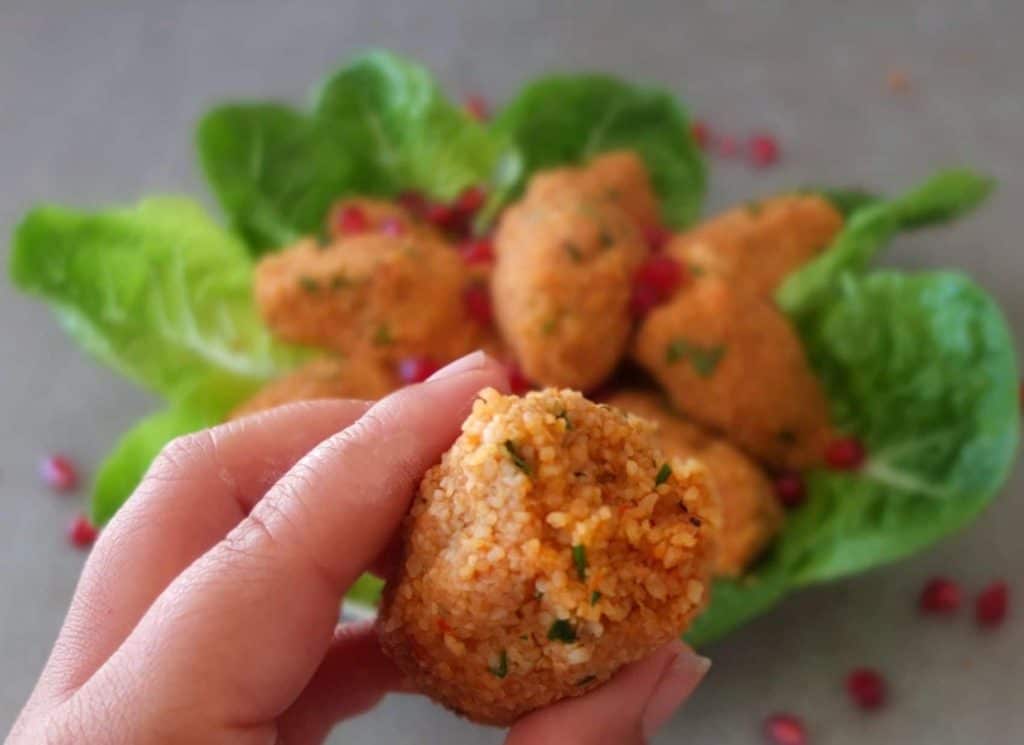 What is Kibbeh?
The word kibbeh is derived from the Arabic word "Kubba" which means ball. It is always made with bulger wheat but there are various variations of this dish. They can be made with ground lamb, raw meat, pine nuts, potato or even pumpkin.
If you ever tried to make the lamb kibbeh, the work is very labour intensive. I recommend the "Arras Kibbeh" from Maureen Abood's blog.
About this Vegetarian Kibbeh Recipe
What surprised me about this dish is that, although it looks very impressive and has all those intricate flavours combined, it is quick and easy to prepare. Really a no fuss recipe.
This dish is not only vegetarian but also suitable for vegans as well. It does not use any animal product.
The texture of the dish is quite crumbly and light. The mass is mostly bulgur and pureed potato. The flavours come from the red pepper paste, pomegranate, onion and parsley.
The kibbeh spice mix used is combination of cumin and paprika.
This recipe produces are large plate full of kibbeh about 30, meant for sharing.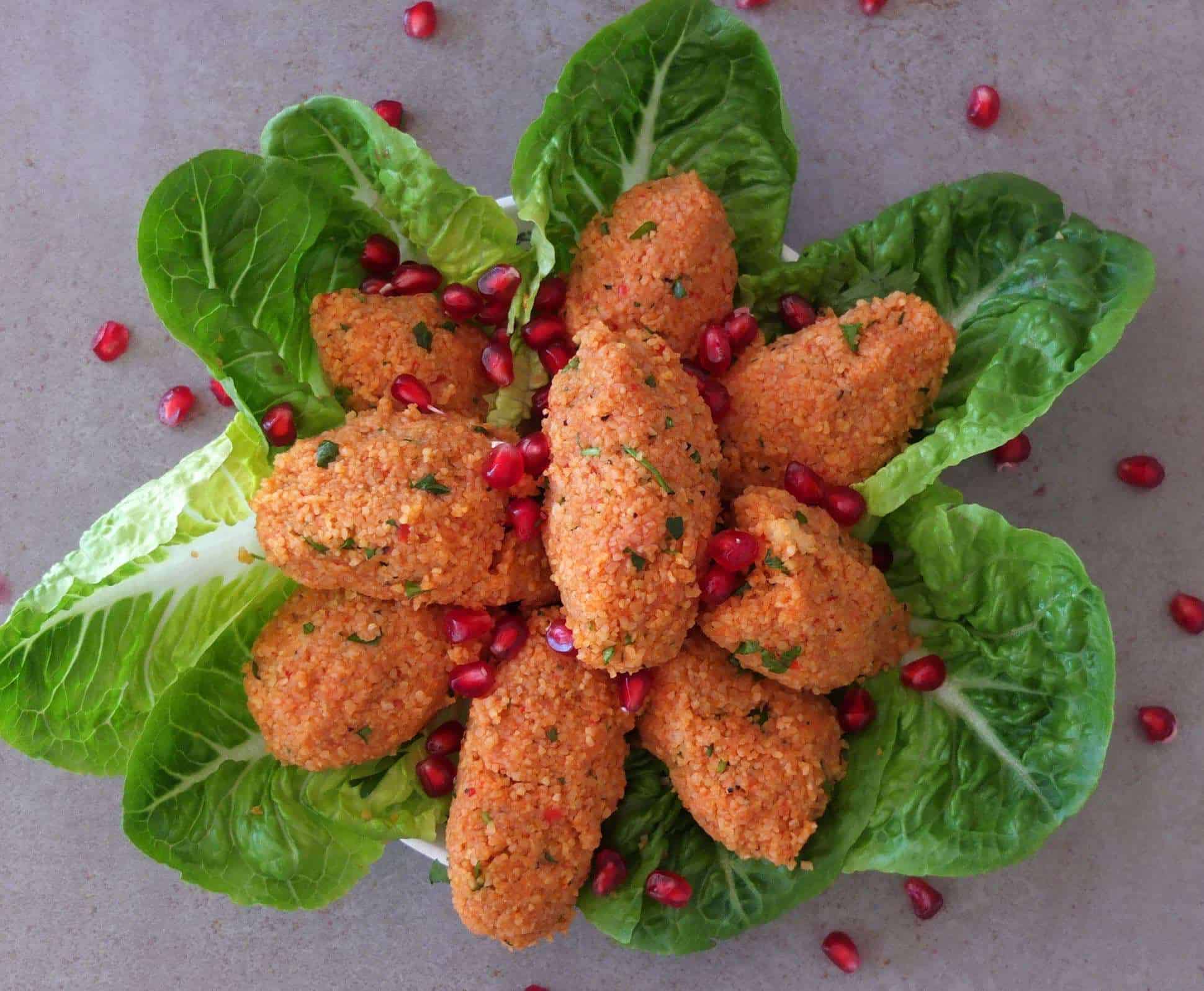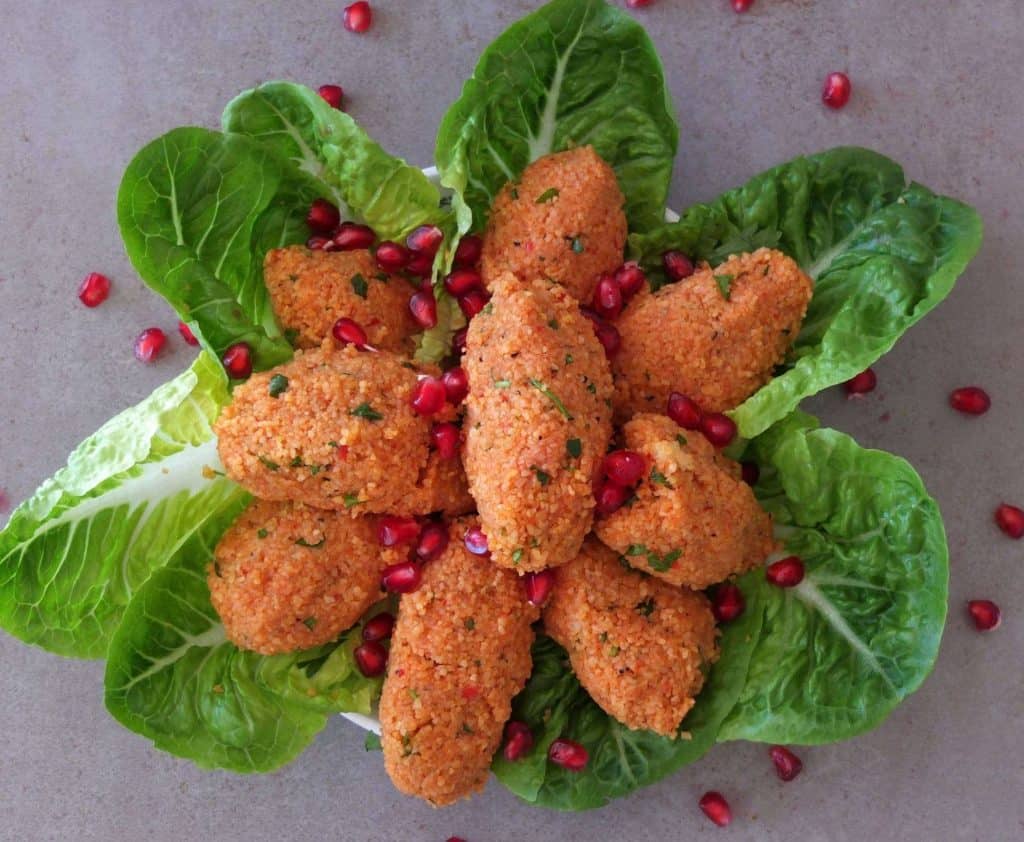 What to serve with Vegetarian Kibbeh? When to eat it?
This dish is usally eated for lunch or dinner in Syria. It is not meant to be eaten by itself but part of a bigger meal. When I first met Haneen she made she served it with a large plate of rice and meat. I was in awe, that I still have the video 😊
They look great if you can dish them up on a plate of lettuce and sprinkle with pomegranate seeds, like I have done in the pictures.
It is perfect for birthday parties or buffets and will be sure to be one of the centrepieces. You serve them carefully with some thongs, as the texture is quite delicate.
I have a few mezze dishes that will go well with this recipe on my blog.
Here are some Lebanese vegetable recipes: Lebanese Spinach, Hummous, Smoked Egg plant, Fattoush and pita bread.
Ingredients that you can find on amazon (affiliate link)
How to store the Vegetarian Kibbeh
The Kibbeh can be prepared in advance, best the day before. You can keep it in the fridge up to 4 days. Make sure they are covered. If necessary, you might need to form them before serving.
Recipe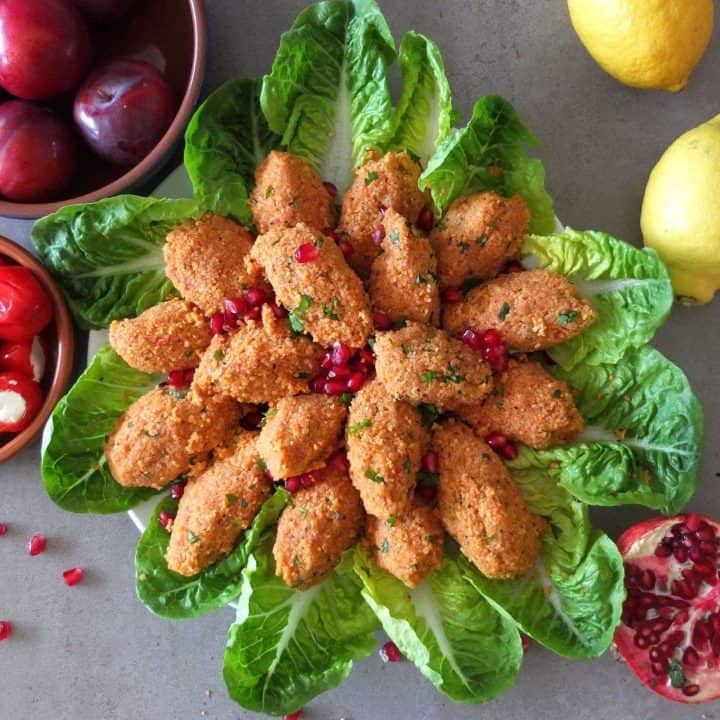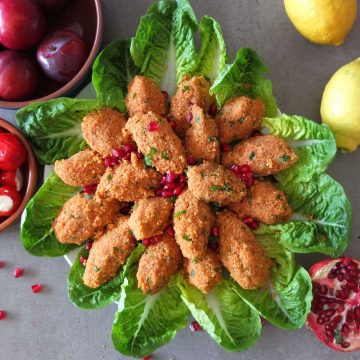 Vegetarian Kibbeh
A easy no fuss recipe for Vegetarian Kibbeh. Infused with Middle Eastern flavour this will be a hit on any mezze spread.
Ingredients
400

g

bulgar wheat

2.5 cups

3

small potatoes

boiled

375

ml

boiling water

1.5 cups

1

small onion

peeled and roughly chopped

½

red pepper

deseeded and roughly chopped

1

small bunch of flatlef parsley

around 60 g (2 oz)

1

tablespoon

mild red pepper paste

1

tablespoon

tomato paste

1

tablespoon

salt

60

ml

olive oil

4 tablespoons

1

tablespoon

black pepper

1

teaspoon

ground cumin

1

teaspoon

ground paprika

4

tablespoon

pomegranate molasses
Instructions
Place the bulgur in a bowl and soak with the boiled water for at least two hours.

In the food processor place the onion, red pepper and potato and puree to a smooth mass.

Add the red pepper and toate paste, salt, pepper, cumin, paprika and pomegranate omolasses and olive oil. One by one. Stir well until thoroughly combined after adding each item.

Now add the parsley and bulgur wheat.

Combine the ingredients with a wooden spoon well until everything is evenly distributed. Taste the mixture to ensure you are happy with the balance of flavours.

Make sure your hands are clean. You can now form balls, or the traditional kibbeh egg shape or a ball shape, with your hands.

Place them on a plate with lettuces ready to serve.
Notes
The kibbeh can be prepared in advance, best the day before. You can keep it in the fridge for up to 4 days. Make sure they are covered. If necessary, you might need to form them before serving.
Nutrition
Calories:
334
kcal
Carbohydrates:
60
g
Protein:
8
g
Fat:
8
g
Saturated Fat:
1
g
Polyunsaturated Fat:
1
g
Monounsaturated Fat:
6
g
Sodium:
903
mg
Potassium:
626
mg
Fiber:
12
g
Sugar:
6
g
Vitamin A:
415
IU
Vitamin C:
27
mg
Calcium:
39
mg
Iron:
2
mg