HEEEELLLO! Sorry, I did not forget about you but I have been absent without very much information about my absence!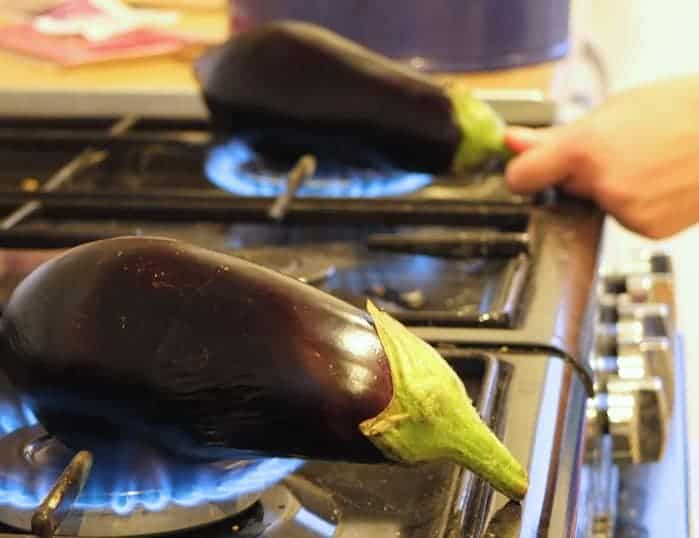 First of all, I was very busy getting ready for the wedding of my lovely sister Eva to her husband Stefan. They got married in Dinkelsbuehl, Bavaria- and I am going to share their fantastic Bavarian wedding menu with you soon.
The week after my husband and I hosted another wedding reception for them here in Sunbury. Then my laptop broke and it took me a while to source a new one.
However, I hope I am not too late to share this amazing Grilled Aubergine Salad with you – which is the perfect companion to any barbeque this summer! I never owned a gas stove before I moved into this house and I have divided option about it. I prefer the electric stove because it is easier to keep clean but then on the other hand you cannot achieve the same char-grilled flavour that is so important for my favourite Lebanese Baba Ganoush dip or this Persian Smoked Aubergine Salad.
Source : Persiana by Sabrina Ghayour
Persian Smoked Aubergine Salad
Ingredients
4

large aubergines

1

orange or red pepper

cored, de-seeded and finely diced

4-5

table spoons olive oil

2

garlic cloves

peeled and crushed

juice of 1 ½ lemons

salt and freshly ground black pepper

1

bunch of flat leaf parsley

finely chopped
Instructions
Grill the aubergines over an open flame (either on your bbq, gas hob or alternatively roast them in your oven.) Grill them until the outside is black and the flesh is soft right through to the centre.

Allow to cool before scooping out the flesh with a large spoon. Drain off any excess juices and roughly chop into smallish chunks.

Stir in the diced pepper and mix well.

Pour in the olive oil into a small bowl, add the crushed garlic, lemon juice and sea salt and black pepper to taste. Mix well and pour over the aubergine salad.

Serve with pita bread