I have been looking for a while for a tasty Lebanese Pita Lamb recipe. This recipe is one of two types of Lebanese pita recipes that I tested and made to go with my Lebanese Butternut Squash soup! They are hearty, filling, healthy and moreish!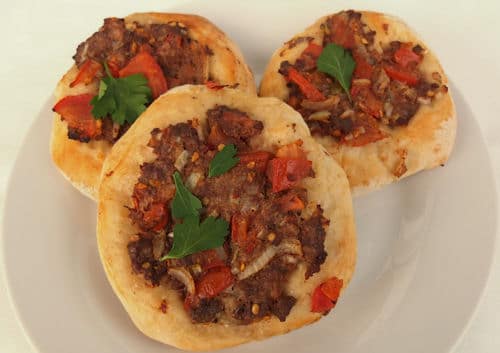 Best of all they are very easy to make! I actually prepared the dough the evening before at 11.30 pm left the dough to rise in the fridge. Placing a yeast dough in the fridge over night will slow down the rising time.
However it is not really to be recommended because I could not sleep out of fear of waking up and realizing the yeast dough had kept on growing and had taken over my kitchen!
The next morning at 7 am I prepared the toppings and at 7.30am I took these pictures. Quickly after that I had to leave for work (because I was actually already late).
They taste best warm. I served them to my guests with the Lebanese Butternut Squash Soup, and a side of hummus and marinated chillies. There were no leftovers.
Source: adapted from Mini Lamb flat breads, Comptoir Libanais