I have been looking for a while for a tasty Lebanese Pita Lamb recipe. This recipe is one of two types of Lebanese pita recipes that I tested and made to go with my Lebanese Butternut Squash soup! They are hearty, filling, healthy and moreish!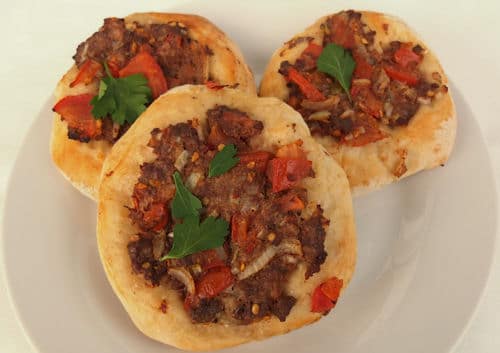 Best of all they are very easy to make! I actually prepared the dough the evening before at 11.30 pm left the dough to rise in the fridge. Placing a yeast dough in the fridge over night will slow down the rising time.
However it is not really to be recommended because I could not sleep out of fear of waking up and realizing the yeast dough had kept on growing and had taken over my kitchen!
The next morning at 7 am I prepared the toppings and at 7.30am I took these pictures. Quickly after that I had to leave for work (because I was actually already late).
They taste best warm. I served them to my guests with the Lebanese Butternut Squash Soup, and a side of hummus and marinated chillies. There were no leftovers.
Lebanese Lamb Pittas
This recipe makes about 6 pitas
Ingredients
200

ml

warm water

1

packet fast-actioning yeast

2

teaspoon

olive oil

300

gram

self-raising flower

1

teaspoon

sugar

1

teaspoon

salt

1

onion chopped into small cubes

150

g

minced lamb

2 to

matoes chopped into small cubes

1

teaspoon

dried chillies

less if you do not like spicy food

½

teaspoon

cinnamon

½

teaspoon

all spice

½

teaspoon

Lebanese 7 spice

1

teaspoon

pomegranate molasses

salt and pepper to taste
Instructions
Dissolve the yeast in the lukewarm water

Add the flour, oil, sugar and salt and knead it to a dough. Add flour or water depending on the consistency of the dough.

Cover the bowl with a wet towel and leave to rise for about 2 hours.

Mix the onion, lamb, chopped onion, molasses and spices together and blend into a thick paste.

Once the dough has risen, divide the dough into 6 portions and roll them out into 15 diameter circles

Spread the mixture evenly on the though. Press them into the dough a little with your fingers if necessary.

Place them in a preheated oven and bake until the dough is golden (about 10-15 min) and the topping has cooked.
Source: adapted from Mini Lamb flat breads, Comptoir Libanais